We recently reviewed the Fenix HM65R headlamp, we referred to it as the Fallout 4 headlamp because it reminded us of the headlamp from the game. That headlamp had a max output of 1,400 lumens, however, if you're looking for even more power, Fenix makes some pretty amazing headlamps.
Enter the Fenix HP30R V2.0 Headlamp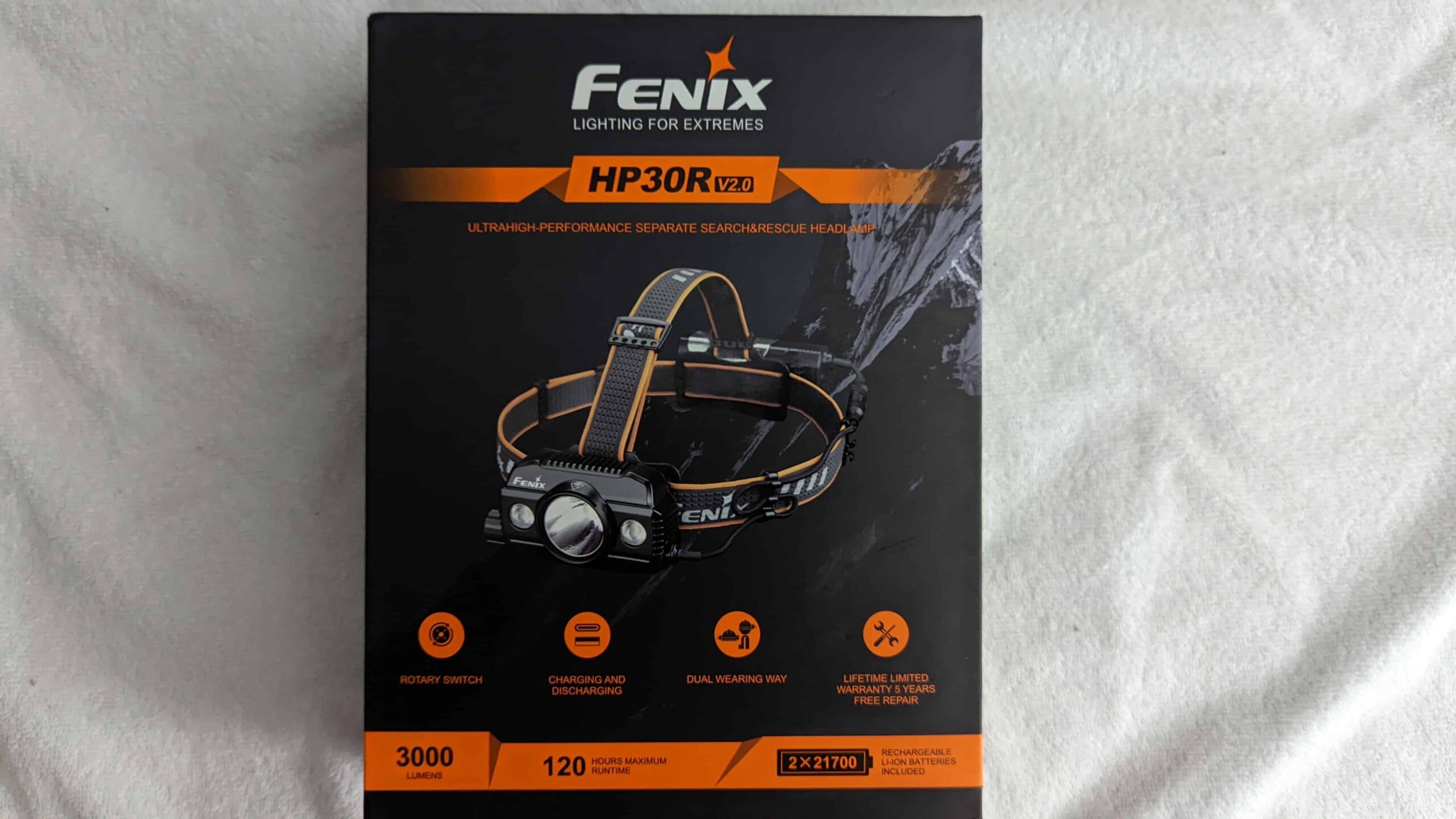 If you're looking to explore super dark caves, go on nighttime wilderness treks, or are searching for someone or something at night, the Fenix HP30R V2.0 headlamp has you covered. The headlamp has a maximum output of 3,000 lumens! Yes, three thousand! The headlamp comes with 2 Fenix ARB-L21-5000mAh rechargeable lithium-ion batteries.
Having this much power means you'll need a decent sized battery, Fenix HP30R V2.0 has you covered. It comes with two Fenix ARB-L21-5000mAh rechargeable Li-ion batteries. The larger the battery, the heavier it gets, which might become a problem for a headlamp as you're carrying all that weight on top of your head. Thankfully, Fenix has a solution for that if you feel like it's too heavy. The HP30R's battery pack can either be placed on your belt (or in your pocket or any place other than your head) and an extension cable connects it to the lamp on your head. However, if you don't want cords hanging around your body, you can put the battery in the head attachment part.
The Fenix HP30R V2.0 headlamp comes with two lighting modes. A spotlight, for when you want concentrated light and a floodlight, for when you want to illuminate a large area. Turning on and off is achieved easily by turning a knob on the side of the headlamp. If you're not using the headlamp at full blast, the battery can last up to 120 hours. Below are the run times based on usage and power levels:
Spotlight
Turbo: 2000 Lumens, 6 hours, 823 feet
High: 800 Lumens, 12 hours, 511 feet
Med: 200 Lumens, 34 hours, 255 feet
Low: 50 Lumens, 120 hours, 137 feet
Floodlight
High: 1000 Lumens, 10 hours, 255 feet
Med: 200 Lumens, 34 hours, 115 feet
Low: 50 Lumens, 120 hours, 55 feet
Spotlight & Floodlight
Turbo: 3000 Lumens, 5 hours, 885 feet
High: 1800 Lumens, 6 hours, 580 feet
Med: 400 Lumens, 17 hours, 278 feet
Low: 100 Lumens, 60 hours, 147 feet
Charging the battery from 0 to 100% takes about 4.5 hours. The battery comes with 4 lights, showing you how much charge is left. The battery pack comes with a USB Type-C plug, which is so much better than those micro and mini ports that are easy to damage because they're hard to align and usually end up getting damaged as you're fiddling with it. There's also a USB-A plug, which can charge your other devices from the battery bank at 2 amps.
The headlamp has an IP66 water-resistance rating, which means it can withstand rain and water splashes, do not submerge it in water though. The headlamps come with Cree XP50 White and XP-G3 S4 Neutral While LED's and have a lifespan of 50,000 hours.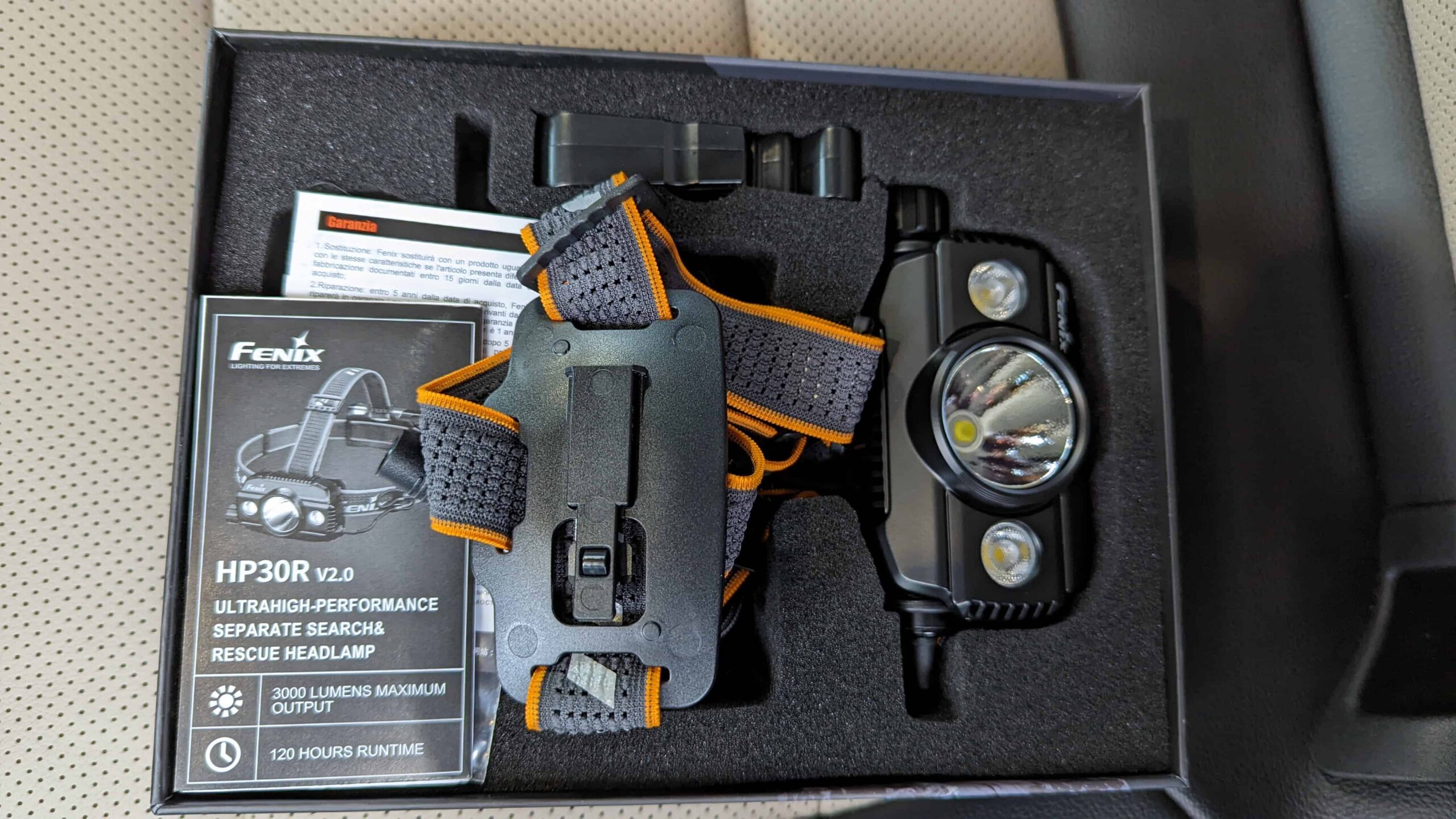 The overall package weighs 15.4 ounces (which includes the headlamp, headband, and battery), just shy of a pound.
I found the HP30R V2.0 easy to use, I like the knob that turns on the light much better than buttons. With buttons, you have to fiddle around by clicking them a few times to get the amount of light you want. The knob is off in the central position, rotating it forward (clockwise) once gives you the lowest setting on the spotlight, with light progressing as you click it forward, for a total of four levels of power. Rotating it backwards (counter clockwise) turns on the floodlight, this setting has three levels of power. Pressing the button within the knob turns on all the lights for maximum output of 3,000 lumens.
The Fenix HP30R V2.0 headlamp is well built with quality feeling materials. It should be able to take quite a beating. I plan on making good use of it when I go camping this summer.
The Fenix HP30R V2.0 headlamp is priced at $219.95 and comes in black or grey colors. Check out the official Fenix website to purchase this headlamp.