As a homeowner embarking on a major kitchen remodel, choosing new cabinets felt like an enormously weighty decision. The cabinets needed to be durable, stylish, and affordable while still providing a luxury feel.
After extensive research, I selected Fabuwood Cabinetry and could not be happier. Here is my in-depth review as an end-user on why I chose Fabuwood and how they performed.
About Fabuwood Cabinetry
Founded in 2009 in Newark, New Jersey, Fabuwood has rapidly grown into one of the largest cabinet manufacturers in North America. Their massive 1 million square foot factory ships luxury-quality cabinets to home improvement retailers and kitchen & bath showrooms across the U.S. and Canada.
By focusing on their most popular styles and finishes, streamlining manufacturing, and buying materials in bulk, Fabuwood can deliver premium features at prices typically 20-40% less than comparable brands.
Pros and Cons of Fabuwood Cabinets
After living with my new Fabuwood cabinets for months now, here are the biggest pros and cons I have experienced first-hand:
The Pros: Why Fabuwood Won Me Over
Superior Value – Simply put, Fabuwood provides the highest quality cabinetry and features in my mid-range budget. Their pricing knocked out competitors like KraftMaid and Wellborn.
Quality Construction – The plywood boxes, soft-close drawer glides, concealed hinges and sturdy joinery live up to Fabuwood's luxury pedigree. They are built to last.
An array of Styles – With over 10 door styles from traditional to contemporary, I found lots of beautiful options to fit my taste and home's style. Even their stock lines offer attractive styles. (That is besides the custom colors that could be any Benjamin Moore Color)
Limited Lifetime Warranty – Fabuwood stands behind their product quality by including a lifetime warranty on their top two product lines, Illume and Allure. This gave me confidence in investing in their cabinets.
Eco-Friendly Manufacturing – Knowing the cabinets complied with CARB 2 formaldehyde emissions standards helped give me peace of mind.
The Cons: Potential Drawbacks to Consider:
Limited Customization – Fabuwood's semi-custom cabinets offer fewer modification options compared to their full custom cabinets which cost about 35% more. However, their organizational accessories allowed some layout customization. The semi-custom line provides more limited flexibility.
Occasional Quality Issues – While overblown online, there are some complaints about shipping damage or finish flaws. However, my dealer quickly resolved any minor issues. Choosing a reputable dealer is key.
Sell Through Dealers Only – Fabuwood does not sell directly to homeowners, which requires finding an experienced, trustworthy dealer. But my dealer provided invaluable support.
Fabuwood's Cabinet Construction and Materials
As I evaluated assorted brands, I paid close attention to how the cabinets were constructed. Here are some stand-out aspects of Fabuwood's cabinetry:
Solid hardwood doors and drawer fronts on most lines provide durability and allow for refinishing if needed.
Plywood cabinet boxes avoid warp and sag while adding stability.
Dovetail joinery on drawers keeps drawer's sturdy under heavy contents.
Full extension and soft-close drawer glides feel ultra-smooth to open and close.
Concealed hinges with 6-way adjustability allow tweaking door alignment.
Veneered cabinet interiors finish the interior nicely when doors are open.
Decorative corbels, crown molding and light rail provide a built-in custom look.
These high-end construction features were noticeable – and noteworthy – differences from the economy brands I considered.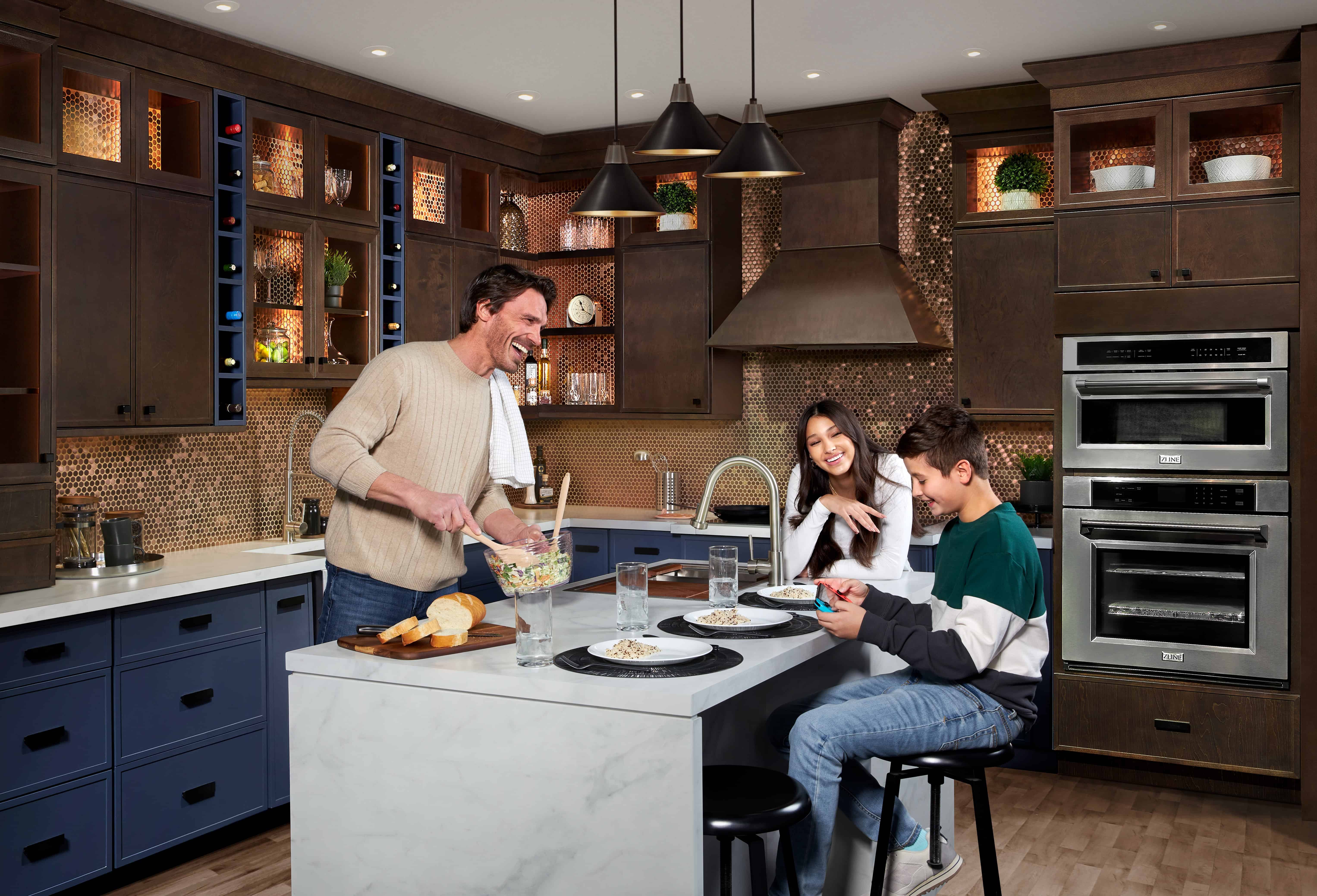 Fabuwood's Warranties
The warranties provided by a manufacturer demonstrate how much they stand behind their products. Here is an overview of Fabuwood's warranties:
Lifetime limited warranty on all products for defects in materials/workmanship.
Lifetime warranty on door hinges and drawer glides.
1 year warranty on any pull-out storage accessories.
The lifetime warranties on their top Allure and Illume lines were especially important, as I wanted assurance that my investment would stand the test of time.
Cost and Budget Considerations
For most homeowners, cost plays a pivotal role in choosing new cabinets. Here's how Fabuwood performed in terms of value:
Fabuwood prices were 20-40% less than comparable mid-priced brands like KraftMaid.
Their economy lines provide an affordable starting point under $100 per linear foot.
Optional upgrades like glass inserts or spice pull-outs let you add touches of luxury without breaking the budget.
My installed Fabuwood cabinets came in 25% under a quote for lower quality cabinets with similar features.
While not the cheapest option, Fabuwood provided the best mix of quality, aesthetics and price that fit my budget. Their pricing combined with financing options made the remodel affordable.
Choosing the Right Dealer Is Key
Since Fabuwood sells through independent dealers, picking the right one is crucial to getting great service. Here is what to look for:
An experienced dealer with a deep knowledge of Fabuwood's products. Being listed on Fabuwood's exclusive "Locate a Dealer" means they meet the brand's lofty standards.
Offer design services to optimize your layout. Their expertise proved invaluable in customizing my kitchen.
Educate you on cabinet construction, warranties, features, and the latest styles. I appreciated learning which options suited my taste and lifestyle best.
Provide support throughout the purchase, delivery, and installation. My dealer made the entire process smooth and stress-free.
While Fabuwood controls manufacturing, your dealer controls the rest of your experience. Do your research to find a reputable dealer you trust completely. It makes all the difference.
Frequently Asked Questions about Fabuwood Cabinets
If you are considering Fabuwood for your own kitchen or bath project, here are answers to some frequent questions:
What colors/finishes are available?
Fabuwood offers a full spectrum from natural wood stains to bold painted colors to innovative finishes like high-gloss lacquer. Their express custom color program opens even more options.
Are Fabuwood cabinets considered Semi-Custom?
Yes, Fabuwood cabinets would be categorized as semi-custom. They offer more customization than stock cabinets but less than fully custom. This provides a middle ground of customization and affordability.
Do Fabuwood cabinets scratch or dent easily?
Their solid wood doors are quite durable and resilient against dings, dents, and scratches. The plywood boxes also hold up well. Just use care around exposed corners.
Does Fabuwood sell cabinets directly to homeowners?
No, Fabuwood cabinets are only sold through authorized dealers. To buy Fabuwood, you must work with an approved kitchen and bath showroom or dealer. Ask a local dealer if they can order Fabuwood products for you. Many showrooms can become authorized dealers.
P.S. If a dealer cannot get approved to carry Fabuwood, I would take that as a negative sign about the dealer.
Final Verdict: Fabuwood Offers Quality Cabinets & Excellent Value
For remodeling homeowners like me wanting fashionable, well-built cabinets without breaking the bank, it is hard to beat the combination of quality, selection and value that Fabuwood provides.
Just be sure to do your due diligence in picking a dealer with extensive Fabuwood experience. With their dealer network guiding you and Fabuwood's expertise behind the scenes, you can feel confident you will end up with a kitchen you will love enjoying for decades to come.
Disclaimer: This review covers Fabuwood's mid-to-upper product lines, including the Allure and Illume series. It does not encompass Fabuwood's most affordable lines such as the Quest and Value Premium series, which may differ in warranties, construction features and overall quality. This review is based on my experience with Fabuwood's mid-range cabinet models, which offer a lifetime limited warranty. Lower-priced Fabuwood lines represent a lower level of quality and value. Please consult your dealer to learn about the warranties and construction details for specific Fabuwood product lines.