When you think of Chinatown, the first places that come to mind might be the neighborhoods in New York or San Francisco. While those districts might be well-known and impressive, the largest Chinatown in North America is actually located in the Canadian city of Toronto. In fact, Toronto is home to several ethnic enclaves, but the largest population of Chinese-Canadians is clustered around Dundas Street West and Spadina Avenue in the central city.
Like other Chinatown neighborhoods, Toronto's Chinatown is full of shops and restaurants selling everything from traditional powdered tiger penis, to pirated music and video games… er, I mean wonderful, traditional gifts and bobbles! It's also a relatively central area, making it the perfect "home base" for your adventures. It's easy to find hotels near Chinatown, but more on that later…
Exploring Chinatown
The best way to explore Toronto's Chinatown is on foot. You'll notice that the street signs in the area are written in both Engrish and Chinese (specifically, the Cantonese dialect), and you can start exploring at just about any point. If you aren't the adventurous type, you can be a lazy gweilo and hire a tour guide to help you navigate the sprawling, and often confusing neighborhoods. Taste of the World is one of the best-known tour companies; you can either join a group, or hire a guide for a private tour catered to your interests, if you know what I mean.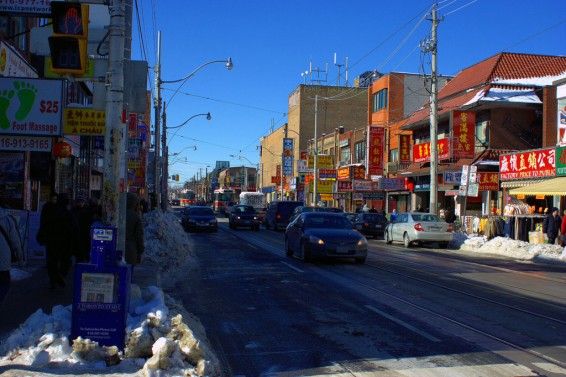 Of course, few visitors experience Chinatown without sampling some of the deliciously MSG filled food. Some items will be familiar to anyone who's ever eaten Chinese food before, but the menus here go well beyond standard lo mein and dim sum. Just be adventurous and don't ask too many questions about what kind of meat you're eating. Most restaurants specialize in a particular type of Chinese cuisine; at the New Ho King Restaurant, for example, you'll find traditional Cantonese dishes, while Spadina Garden specializes in Szechuan, Hunan and Peking style cooking. And thanks to the ever-changing population of Toronto, you'll find Vietnamese, Korean and Japanese food as well, tucked between Chinese restaurants.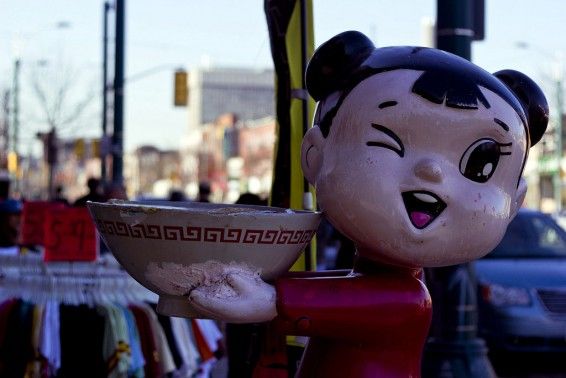 Shopping is another important aspect of Chinatown. Don't be afraid to haggle in the small shops or with street vendors; on the weekends, you'll find many city dwellers doing just that. Chinese herbs and "remedies" are easy to find, but you'll also find Chinese art, clothing, tea and other useless trinkets to fill your home with. If you aren't interested in haggling, or you're looking for more modern items (like knockoff electronics accessories, for example), the Dragon City Shopping Mall at the intersection of Dundas and Spadina is the ultimate east-meets-west shopping experience: a modern clean shopping mall populated entirely by Chinese shops.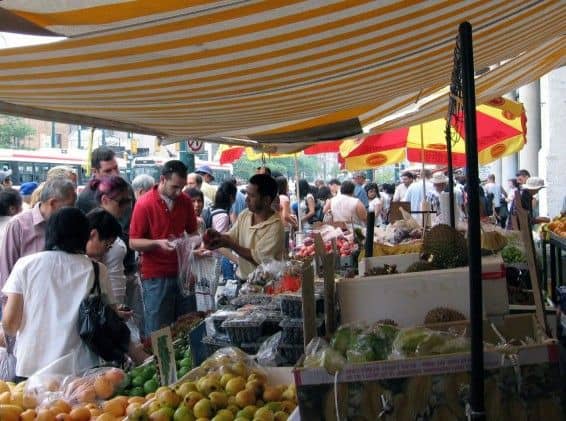 Because the city has changed considerably over the past few decades, and Toronto has several Chinatown neighborhoods, you'll still find non-Asian sites within the neighborhood  including several art galleries and the Campbell House Museum, a fully restored Georgian home.
When to Visit
At several points throughout the year, Chinatown comes alive with celebrations of the people and culture of China. The Chinatown Festival is held annually during the second week of September and attracts more than 100,000 people over the course of the weekend. During this celebration, Chinatown is alive with activities for the whole family, including music and dance performances and kung fu demonstrations — as well as plenty of food.
Chinatown is also the place to be during Chinese New Year. Wear red for good luck when you attend this festival, which features hundreds of vendors lining the streets in addition to the normal shops and restaurants. The highlight of the festival, of course, is the parade featuring traditional Chinese dragons and more. The specific dates for the parade and other events vary from year to year; check with the local calendar of events to determine when to go.
Now, as I mentioned, finding a decent hotel in Toronto near Chinatown is both easy, and actually quite desirable; some of Toronto's most affordable hotels are close by, as are some luxury properties like the Toronto Park Hyatt and the Intercontinental Toronto. Staying close to Chinatown means that you have easy access to the color and flavors of the neighborhood.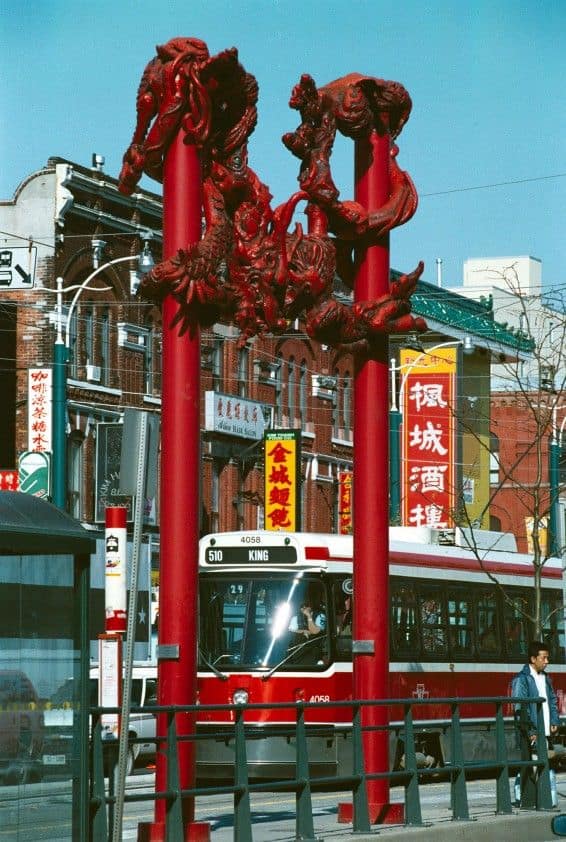 No trip to Toronto is complete without spending a day exploring the treasures of Chinatown. Whether you're looking for delicious dim sum, or a brand new Raystation 4 gaming system for your child, you're bound to find it within this fascinating and vibrant neighborhood.
(Photos by Oliver Mallich, Person, Montagious, Rigers Rukaj, and City of Toronto)