Up until very recently, if you wanted to buy an entry level Mercedes-Benz car, the C-Class was the baby-Merc, at least in North America. However, the C-Class has grown a bit in size and quite a bit in price; over the years, Mercedes-Benz has introduced cars that are smaller than the C-Class, to fill that gap. The first such car was the B-Class, which I personally consider to be more of a mini mini-van. Then the CLA was introduced to North America, and finally the A-Class sedan and hatchback.
The Mercedes-Benz A-Class has been on sale in since 1997 in other markets, the current A-Class is the 4th generation of the car, introduced in 2018. In Canada and other markets, the A-Class is offered as a sedan and hatchback, unfortunately for our American friends, they don't get the hatchback, just like they don't get the C-Class wagon.
We recently had the opportunity to spend a week with the most affordable new Mercedes-Benz car you can buy, a 2020 Mercedes-Benz A220 4MATIC sedan.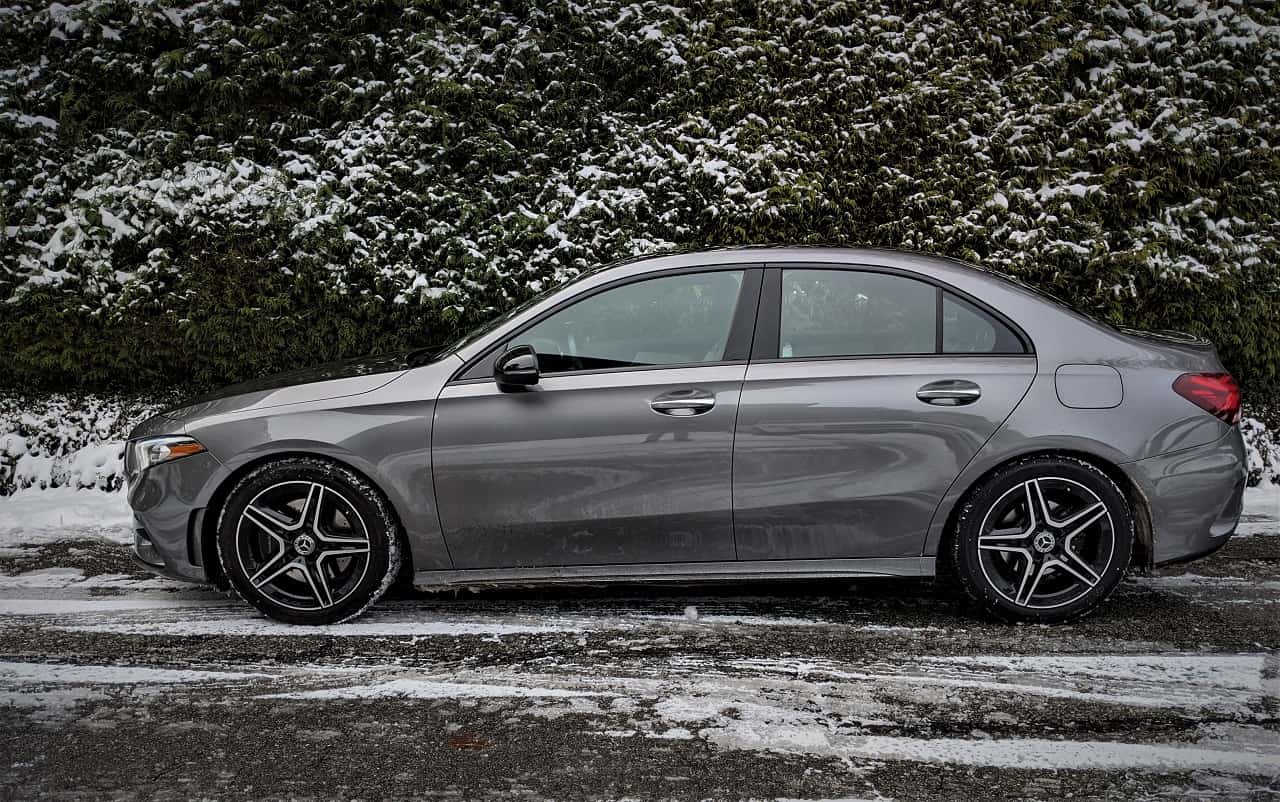 Prices
In Canada, the 2020 Mercedes-Benz A220 has a starting price of $37,300. However, adding all the packages does increase the price significantly, I was able to option out a 2020 A220 to the tune of $55,000, before Freight and PDI and taxes.
Our review car had a before taxes/PDI price of $46,455, it was equipped with the options and packages listed below:
Mountain Grey Metallic – $890
COMAND Navigation Package – $1,000
Night Package – $2,000
Premium Package – $3,000
Technology Package – $1,600
SIRIUS Satellite Radio – $475
Black Open-Pore Wood – $250
Multifunction sports steer – $250
Our review car was well-equipped, for this same price you can also get a base trim 2020 Mercedes-Benz C300 4MATIC Sedan.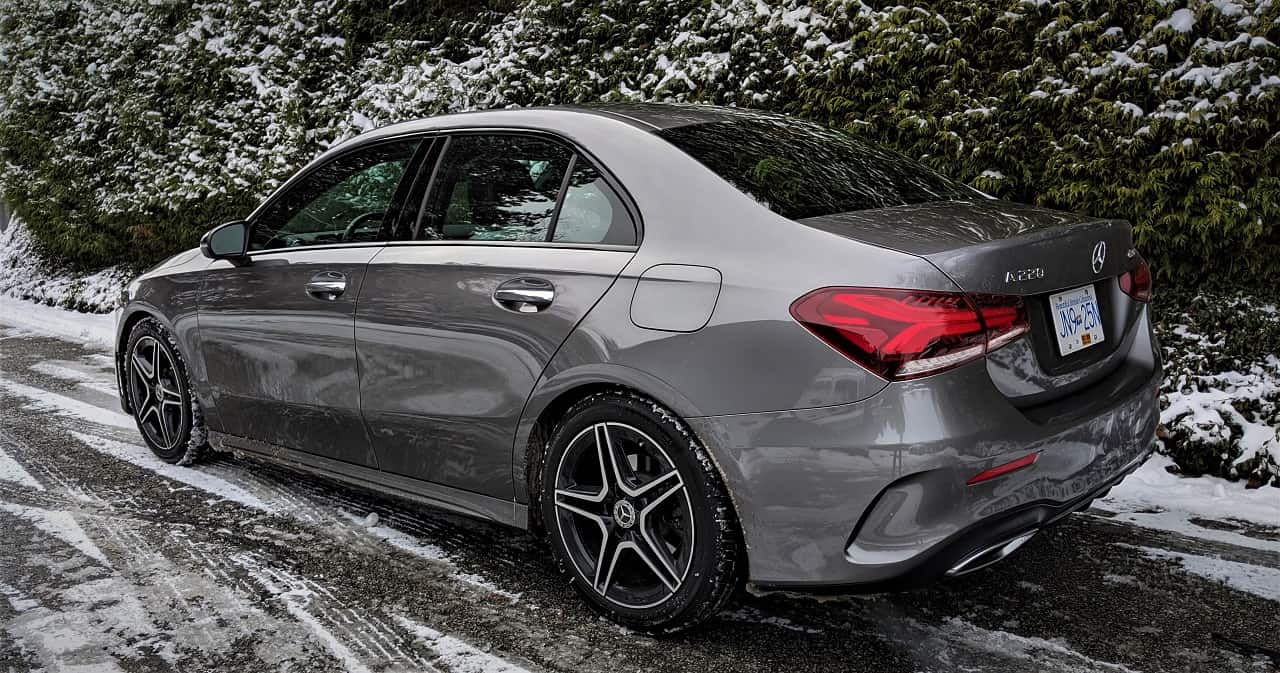 Engine/Driving
The A220 is offered with a 2.0-liter turbocharged 4-cylinder engine, producing 188 horsepower at 5,800 rpm and 221 pound-feet of torque at 1,600 rpm. Power is sent to all four wheels via a 7-speed dual-clutch automatic transmission. In other markets, the A220 is also offered as a front-wheel drive model, the 4MATIC is standard on all trims in Canada. According to Mercedes-Benz, the A220 4MATIC does the 0 – 100 km sprint in 7.2 seconds.
Based on the power/torque and the 0 – 100 km/h numbers above, you'd think the A220 is not going to be much of a performer on the road. But for some odd reason, that's not the case. I had quite a lot of fun driving around in the A220. The 188 HP doesn't seem like much on paper, especially considering the crazy outputs hot hatches are producing nowadays, but somehow the A220 is able to translate those horses into a lot of fun.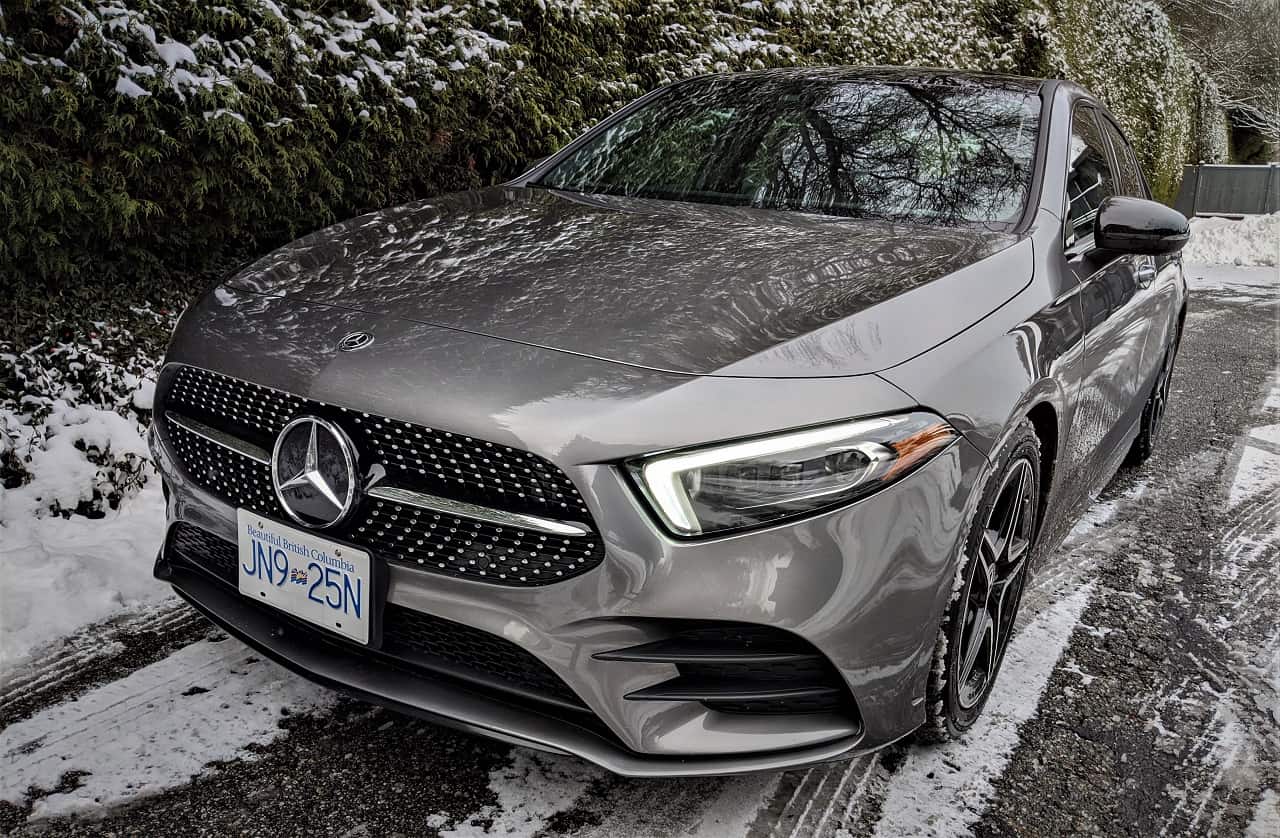 The A220 is not a light car either, but it feels light and nimble, especially in the Sport mode. The A220 comes with DYNAMIC SELECT, which offers four driving modes: Eco, Comfort, Sport, and Individual. These modes are common on a lot of vehicles nowadays, they change the shift points on the transmission, throttle response, and steering feel.
For everyday city driving, I mostly drove in the Eco and Comfort modes, these modes offer good driving dynamics with the best fuel efficiency. I didn't use the Sport mode too much because we had a huge snowstorm during my review week and our review car was not equipped with winter tires, so I didn't get to enjoy it as much as I would've liked to and didn't take the car on any twisty roads because most of the secondary roads were packed with snow and ice. However, even with the all-season tires, the A220 4MATIC did a great job at putting the power down on snow-filled roads.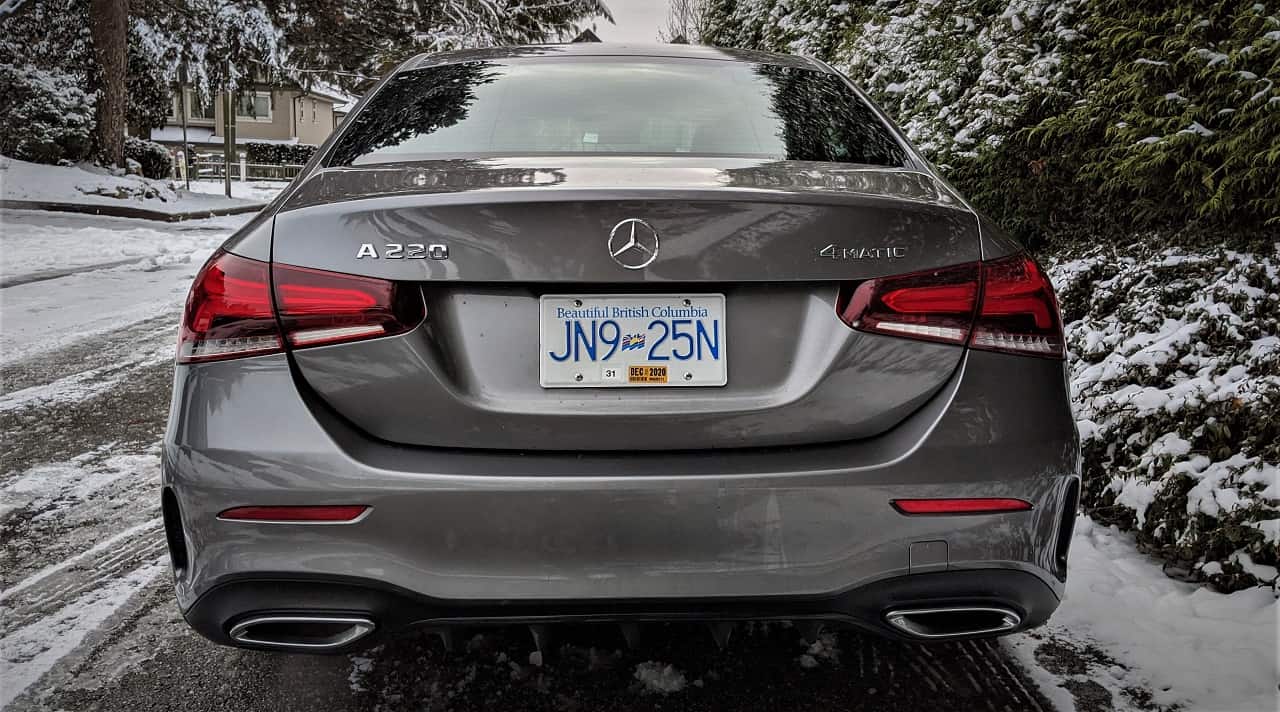 The Sport modes changes the cars personality quite a bit and makes the car really fun to drive. In this mode, the throttle response is the sharpest and the transmission shift points are moved to much higher rpm and on downshifts you get the benefit of quicker downshifts/engine braking. The steering feel is supposed to change as well but I didn't really notice much difference between the modes.
The A220 is equipped with a 7-speed dual-clutch transmission, which I'm normally not a fan of in non-high-performance vehicles. The DCTs I've experienced are usually "jerky" in city driving, they sometimes feel like a teenager with a Learner's permit learning to drive a manual transmission (well, maybe not as extreme). However, Mercedes-Benz has done a great job with the A220's transmission, I did not feel the "jerky" feeling in city traffic that I've grown accustomed to with many DCTs. However, there were times when there was a bit of a jerk in the transmission, especially taking off from standstill, but it was rare and it's something I wouldn't notice if I wasn't writing an article about this car and looking for that "jerk".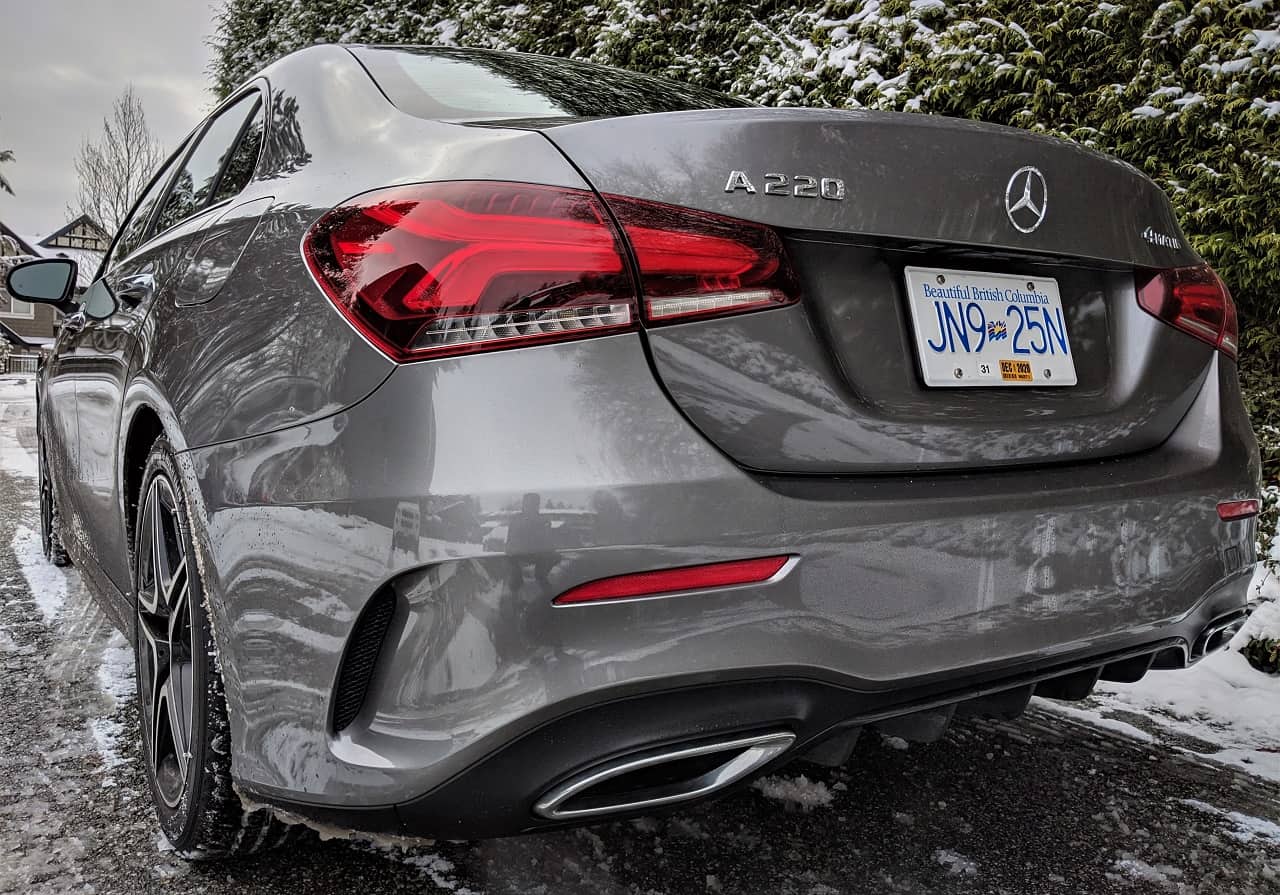 The suspension on the A220 is well-balanced, it's comfortable but not floaty. I wouldn't call it the sportiest suspension, but I really liked the balance between the comfort it provides and sportiness when needed.
Overall, the 2020 Mercedes-Benz A220 is a fun car to drive, despite what the numbers say on paper. I think it would've been even more fun if the weather was more pleasant, giving me more opportunity to drive on some twisty roads.
Interior/Tech/Safety/Convenience Features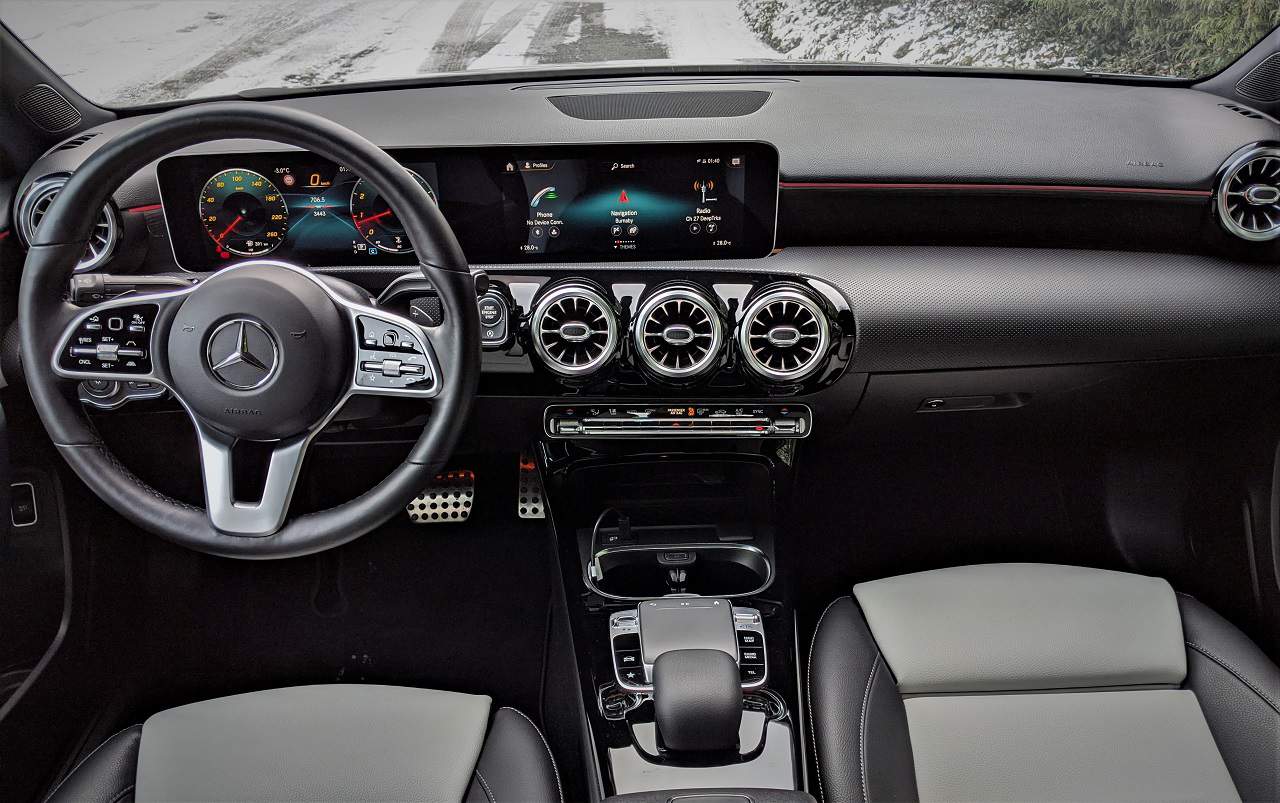 Over the last decade or so, Mercedes-Benz has made huge strides on their vehicles' interior. The A220 may be the entry level Mercedes, but it can be loaded with all the latest tech you'd find in their flagship S-Class. I won't compare the A-Class to the S-Class because I haven't reviewed that car yet, however, I have reviewed the CLS 53 recently, a car that's very luxurious and much pricier than the A220.
As soon as you enter the A220, you'll notice the huge horizontal screen that starts behind the steering wheel and stretches all the way to the middle of the dashboard, just like on the CLS. Under it are three air vents, almost like the CLS, which has four. Below this section is a separate area for the climate control system with buttons for temperature, fan speed, and airflow direction. Below all of this is the wireless phone charging pad, a pair of cup holders, the trackpad for controlling the infotainment system, and a few buttons and knobs for driving modes, volume knob, car settings etc; which is very close looking to the CLS's interior.
Just based on looks, the A220 has a very attractive interior and it looks like something from a flagship sedan rather than an entry level sedan. The interior is comfortable and has a good amount of room for the front occupants, the rear seat isn't too bad either, but it wouldn't be comfortable for taller passengers or average passengers on long trips. But this is a compact sedan, so it makes sense for the rear seat to be on the smaller side. I was able to install two car seats in the back, one forward facing and the other backwards facing, without any trouble and both of the children were comfortable. The trunk is surprisingly large, I was able to fit our kids' double stroller with a bit of room to spare.
The interior is quiet enough for this segment, I don't expect it to be quiet like the higher end cars like the E-Class and S-Class. Unfortunately, there isn't much exhaust noise coming in to the cabin, that would've made the experience a bit sportier.
The A-Class may be the entry level Benz, but it can be loaded up with quite a lot of tech, convenience, and safety features. All trims of the A220 come with MBUX (Mercedes-Benz User Experience), which is an advanced multimedia infotainment system. Over the years I've seen a lot of different cars with "voice-command" type of infotainment systems, but MBUX takes things to the next level. For certain commands, you can talk to the system like a normal human being, for example "Mercedes, it's really cold in here", and the system will automatically set the temperature to what it thinks is appropriate.
In addition to being able to command the system to add an address in the navigation system, it can turn on/off the climate system, change temperature, change fan speed, turn on/off heated seats or cooled seats (if equipped), change radio stations, and even open the screen on the moon roof. This system works really well and is another step closer to the days where we'll get in the car and tell it where to go and let it do all the driving.
The infotainment system can also be controlled by touching the touchscreen, using the trackpad on the center console, or the small touch-sensitive button on the steering wheel. This system doesn't take much time to get used and is even easier if you're already familiar with new Mercedes-Benz vehicles. Personally, I mostly used the small button on the steering wheel to go between the menus and occasionally used voice command.
Below is a list of all the tech, safety, and convenience features that either come as standard or comes with optional packages:
7″ digital instrument cluster
7″ central media display
USB Port in Centre Console Tray and 2 USB Ports in Centre Console
Manual Tilt & Telescoping Steering Wheel
Diamond Grille with Pins in Black
ATTENTION ASSIST
Anti-Slip Regulation (ASR)
Automatic Headlamp Activation
ADAPTIVE BRAKE with HOLD function
Hill Start Assist Brake Assist (BAS)
Crash Responsive Emergency Lighting
Rain Sensing Windshield Wipers
Electronic Stability Program (ESP)
Speed Sensitive Electric Power Steering (EPS) with STEER CONTROL
Rear View Camera
Active Brake Assist
Electric Driver's Seat with Memory 12-way
Split Folding Rear Seats
Panoramic Sunroof
Steering Wheel Shift Paddles
Touchpad 460
Tire Pressure Loss Warning System
High Definition (HD) Radio
THERMOTRONIC Automatic Climate Control Dual Zone
LED High Performance Lighting System
SmartKey Remote w/ Panic Button
Heated Front Seats
Heated Windshield Washer System
Remote Engine Start
17″ 10-Spoke Wheels
DYNAMIC SELECT
Aluminum Trim
Premium Package – $3,000
Blind Spot Assist
Auto Dimming Mirrors (Rearview & Driver's Side)
Vehicle Exit Warning
MBUX Extended Functions Includes LINGUATRONIC voice control
10.25″ Instrument Cluster Display
10.25″ Central Media Display
Exterior Power Folding Mirrors
Foot Activated Trunk Release
Ambient Lighting
KEYLESS-GO
Wireless Charging
Smartphone Integration
Apple CarPlay & Google Android Auto
Sport Package – $1,500
Sport Brake System
AMG Styling Package
18″ AMG 5-Twin-Spoke Aero Wheels
AMG Velour Floor Mats
Silver Steering Wheel Shift Paddles
Sport Seats
Sport Nappa Leather Steering Wheel
Night Package – $2,000
Sport Brake System
AMG Styling Package
18″ AMG 5-Twin-Spoke Aero Wheels, Bi-Colour
AMG Velour Floor Mats
Silver Steering Wheel Shift Paddles
Sport Seats
Sport Nappa Leather Steering Wheel
Night Package
Technology Package – $1,600
MULTIBEAM LED Headlamps
Adaptive Highbeam Assist (AHA)
Active Distance Assist DISTRONIC
Navigation Package – $1,000
MB Navigation with Live Traffic
Navigation Services
Traffic Sign Assist
Connectivity Package
Augmented Reality
Intelligent Drive Package – $1,900
Advanced Driving Assistance Package
Active Distance Assist DISTRONIC
Active Steering Assist
PRE-SAFE
Active Speed Limit Assist
Active Lane Change Assist
Enhanced Stop & Go
Map-Based Speed Adaptation
Overall Impressions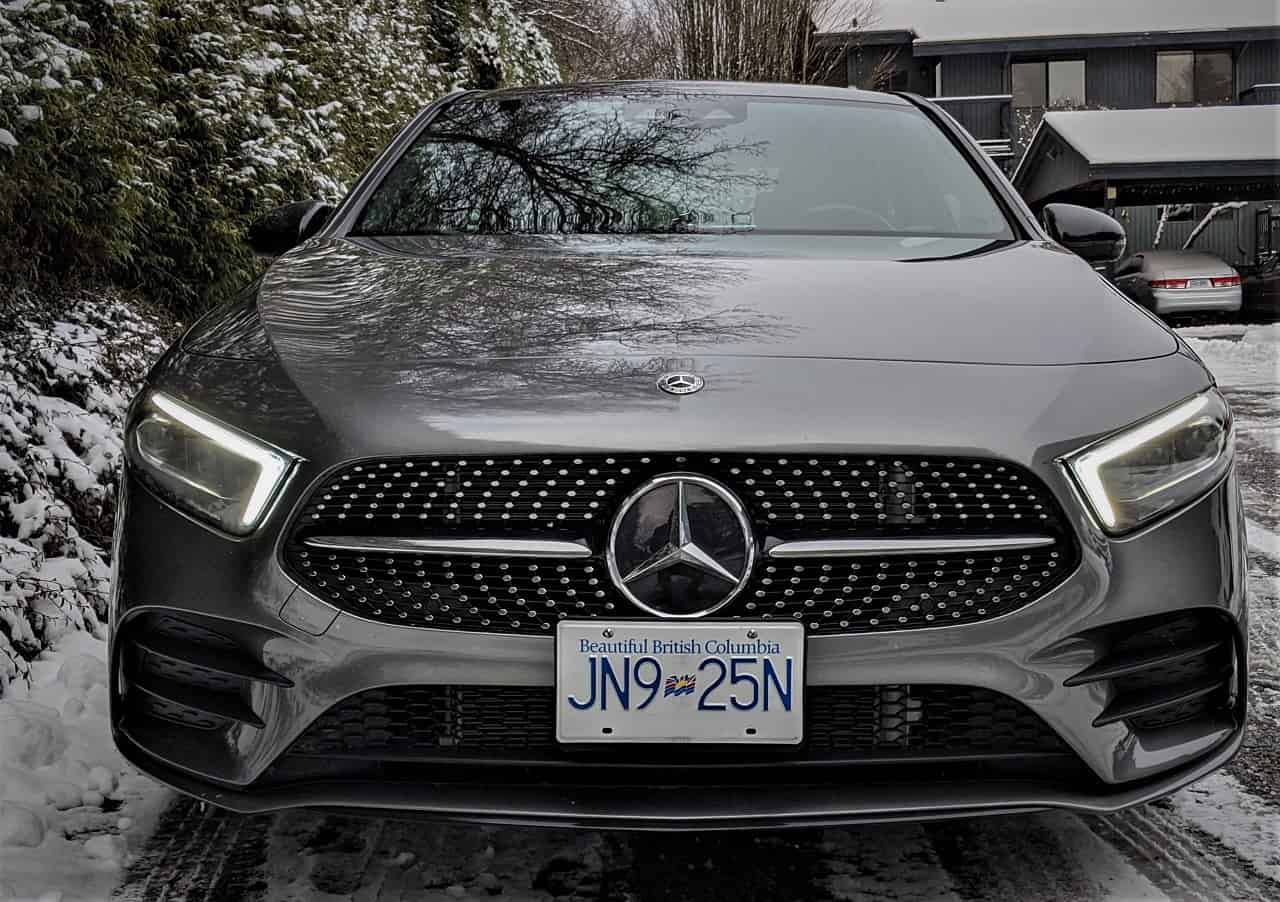 I enjoyed my week with the 2020 Mercedes-Benz A220 4MATIC, I wasn't expecting too much from the car as this is the entry-level Mercedes. However, I was pleasantly surprised by the amount of tech, convenience, and safety features available, albeit at a premium price. I also wasn't expecting the A220 to be as much fun as it turned out to be, on paper it looks slow, but real-life driving tells a different story.
If you're looking to get into the "Mercedes-Benz Lifestyle", the A-Class sedan is a perfectly good place to start.