After years of using standard issue ear buds, I finally dug through all the drawers of my house a few weeks ago and tossed every last pair in the garbage. I was done. Done with inferior sound quality. Done with the discomfort the hard little buds caused in my ear canals.
I was also absolutely and completely done with the tangled mass that I had to deal with every single time I pulled out a pair of the horrible things. You shouldn't have to work a puzzle that's the equivalent of solving a Rubik's cube before being able to plug in and listen to your music.
Doing My Homework
After getting rid of every last pair of ear buds in my abode, I went about the task of researching a high-quality, user-friendly pair to replace them. I definitely wanted in-ear headphones that would be light and easily portable. I wanted them to look great. I also wanted something that sounded really good. When it comes to headphones, I'm more attracted to quality and function than I am to celebrity endorsements or an overpriced brand name.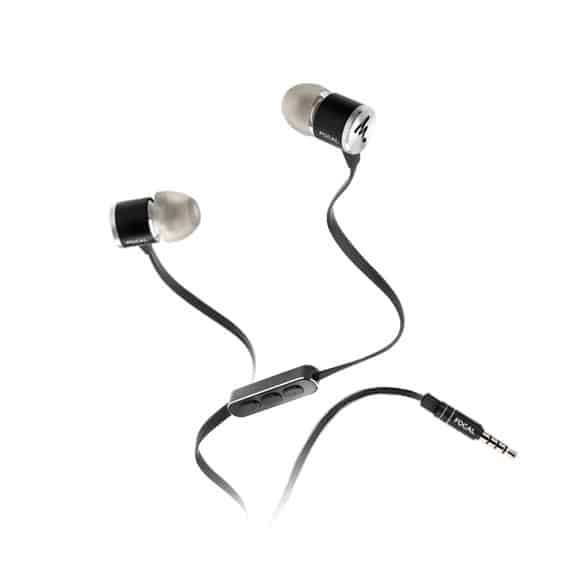 I started digging into online reviews. Some headphones were uncomfortable, while others sounded tinny. Many still had the problem of cord tangle (really, manufacturers?).
One name I kept seeing mentioned was Focal. Specifically, I read glowing reviews of their Spark in-ear headphones. Convinced that these headphones and I were meant to be together, I ordered a pair in striking cobalt blue.
Initial Impressions
When I took my Sparks out of the package, I was immediately struck by how light they are. Their aluminum construction makes them lightweight, gives them a sleek look, and helps improve the clarity of sound (which I will discuss more later). I pulled them out of their zip-up carry case – another huge plus – and immediately tried to ball them up and tangle them. This is made pretty much impossible due to their flat, anti-tangle cable. So far, so good!
On the cord, Focal installed a 3-button remote and a omnidirectional microphone. Because Spark in-ear headphones are compatible with all smartphones, this makes it easy to use them to have comfortable, hands-free conversations. The manufacturer also included three sets of silicone tips, making the headphones customizable for small, medium, or large ears.
Firing Them Up
I must admit that initially, I was a bit concerned about the sound quality of the Sparks due to them being so incredibly light. Surely, such light headphones would mean equally light and tinny sound, right? Not so! I was amazed at the rich sound and incredible bass that the Sparks could produce.
I must add that I love the multi-function buttons on the remote, as well. The top and bottom buttons control the volume, while the middle button answers/hangs up a phone call and can also start/pause, as well as fast-forward/rewind through music. Fantastic!
For my purposes, which were to find something portable, high-quality, and easy to use, Focal Spark in-ear headphones really fit the bill. You'll never see me with another pair of ear buds again.