This drunken bourbon whiskey steak recipe is what you've been waiting for. Delicious quality dry aged steak in a sticky soy and whiskey marinade. You can cook it on the cast iron, grill or the BBQ- this recipe is sure to go down a treat with your family and friends. (Serves 4)
Ingredients:
Bone In or Boneless Ribeye dry aged Steaks
Salt and pepper
4 garlic cloves
1/3 cup of hot mustard
1 tablespoon of oil
Sprig of rosemary
1 tablespoon of brown sugar
⅔ cup of Bourbon Whiskey
1 lemon
Tools
Cast iron/ Grill/ BBQ
Sheet Pan with wire rack
Method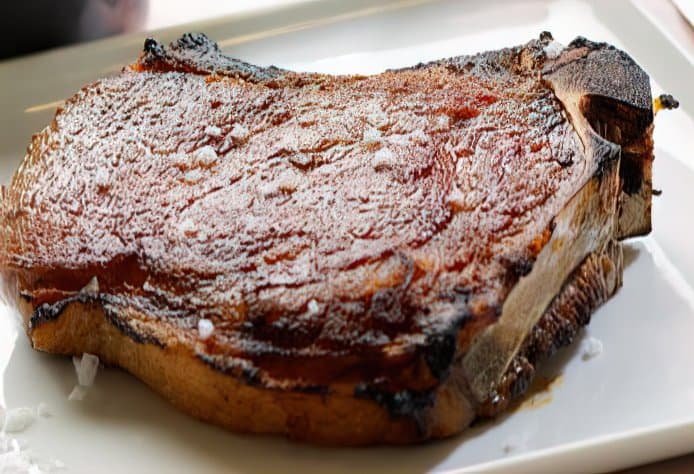 First of all, before you get started, it is important to remember that this recipe involves dry age steaks. You can make dry aged steak at home but if doing so, we recommend using a separate fridge dedicated to the dry aging process of your meat. This is to avoid cross contamination of flavours between your dry aging meat and usual fresh fridge goods.
Step 1:
Dry age your steak for your desired time scale, we suggest a minimum of 21 days to start evoking some really unique flavours from your meat. Our favourite is a 45 day dry aged steak due to the umami tastes and succulent texture.
If you are looking for a high quality dry age refrigerator, the one we use is by Steak Locker who are dry aging experts. Their fridges use SMART technology to monitor the temperature and humidity of the fridge and the steaks to minimise any risks of spoilage that can come with the dry aging process.
Step 2:
Season your steaks using salt and pepper on both sides. In a bowl- preferably a large one, mix together the crushed garlic and mustard.
Step 3:
Place the steaks on a plate and cover with the garlic and mustard concoction over both sides of the steaks.Let them stand for 30 minutes to absorb all of the flavours.
Step 4:
Heat up a skillet if that is the method you are going for cooking on a medium-high heat, adding oil to cover the pan.
Step 5:
Fry the steaks mustard side down until golden brown- this usually takes around 5 minutes. Flip the steaks and repeat the process but only for around 2 minutes, then remove the steaks and cover in foil so they remain warm.
Step 6:
Keeping the pan on a medium-high heat, add the rosemary sprigs and whiskey and stir into the existing mustard and garlic sauce. Next, add the brown sugar and sliced lemon simmering the mixture for about 2 minutes.
Step 7:
Top the steaks with the sticky mixture and serve.It should look like this when finished. Trust us, this recipe is sure to impress.