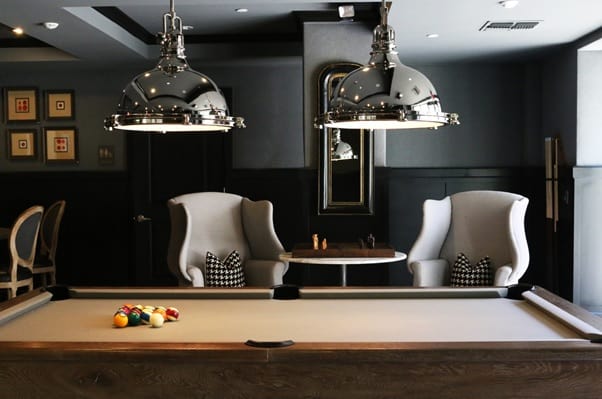 As long as men have been alive, they have needed a cave full of their worldly possessions. Whether you're only allocated a single room in the house where you can put your Playstation and memorabilia, an outdoor shed or outhouse in which all your friends gather for beer and football or a whole bachelor pad on which to put your stamp on, how you decorate your man cave can make or break how epic it is!
So, you have a blank canvas… what's the first step in decorating? Deciding on a theme is the best place to start (and probably the most fun!). If you're into westerns, why not make up your room like an old Saloon- with air pistols attached to the walls and an old, polished wooden bar that your friends can sit at? Or, if you're into sports, why not get all your teams' memorabilia and proudly make a wall to show your support? Install some sturdy shelves onto the walls to house all your collectibles, these will make great conversational pieces for when your friends come to visit your abode.
The room or house should, without a doubt, reflect your personality, so make sure you have all the gadgets and features that make this space your perfect getaway!
Consider the colours and wallpaper carefully, but remember that you have full control over this- so, go wild! Monotone colours, such as whites, blacks and greys can look particularly classy and suave- and these colour choices are generally the most popular in decorating man caves. Although, if you want a feature wall of cartoon wallpaper or a bold colour, go ahead. Why not consider a vintage map and log all the places you have been or plan to go? This way your feature wall is not only a decorative piece but a visual reminder of all the great times you've had or will have in the future! Whatever you do, just make sure that you stick to your theme continuously, else the room may become a bit of an eye-sore that you or your friends end up resenting spending time in.
The second decision in your decoration plan is to consider what features will be in the room. A bar is a great addition that will keep your friends entertained when they come over to visit. You can install shelves and display all your favourite spirits or, if you're limited for space, make a neat little corner bar with a few of the essentials! (Just remember to have a mini-fridge and freezer- there's nothing worse than a warm beer!). A second essential is furniture. Consider textures for these key features, such as wood, stone or leather textures to make the room feel masculine. If your room is for gaming, make sure you have leather recliners to allow you to game in comfort or if you have a lot of friends, make sure you provide plenty of space so everyone can sit down. There's nothing worse than not being able to sit anywhere in someone's house, so you end up awkwardly leaning against their wall or sitting on the floor!
Make sure you include a focal point in your room- whether it's your collectibles or an incredible art piece. The main focal point should bring the whole room together and be the key piece in your theme. Then add in all the features your friends will be jealous of, whether it's the big TV, pin-ball machines or pool tables. Things like this will make sure your pad the go to place for all your friends.
Lastly, remember to have fun whilst decorating your cave- sometimes, the most exciting part of having your own man cave is turning it into the place of your dreams!