I know what you're thinking. "Another guy trying to sell me some boots." But trust me, these are not just any boots. These are Tachyon Boots, and they may be the best everyday boot for men on the market. With a unique design and high-quality construction, Tachyon Boots are perfect for wearing everywhere, from the office to the great outdoors.
But I'm getting ahead of myself. Let's start at the beginning. Danner, the company behind Tachyon Boots, has been making boots since 1932. That's over 80 years of experience! So when they decided to create a lightweight trainer, they took their wealth of experience and created a boot that acts like a shoe, not a shoe that acts like a boot.
The main reason I never bothered trying any tactical or combat-style boots was the weight. I don't know about you, but I don't like feeling like I'm lugging around cinder blocks on my feet all day. That's why Danner's Tachyon Boots are so great, but I'll discuss that more in a minute.
What's the Deal With the Danner Tachyon Boots?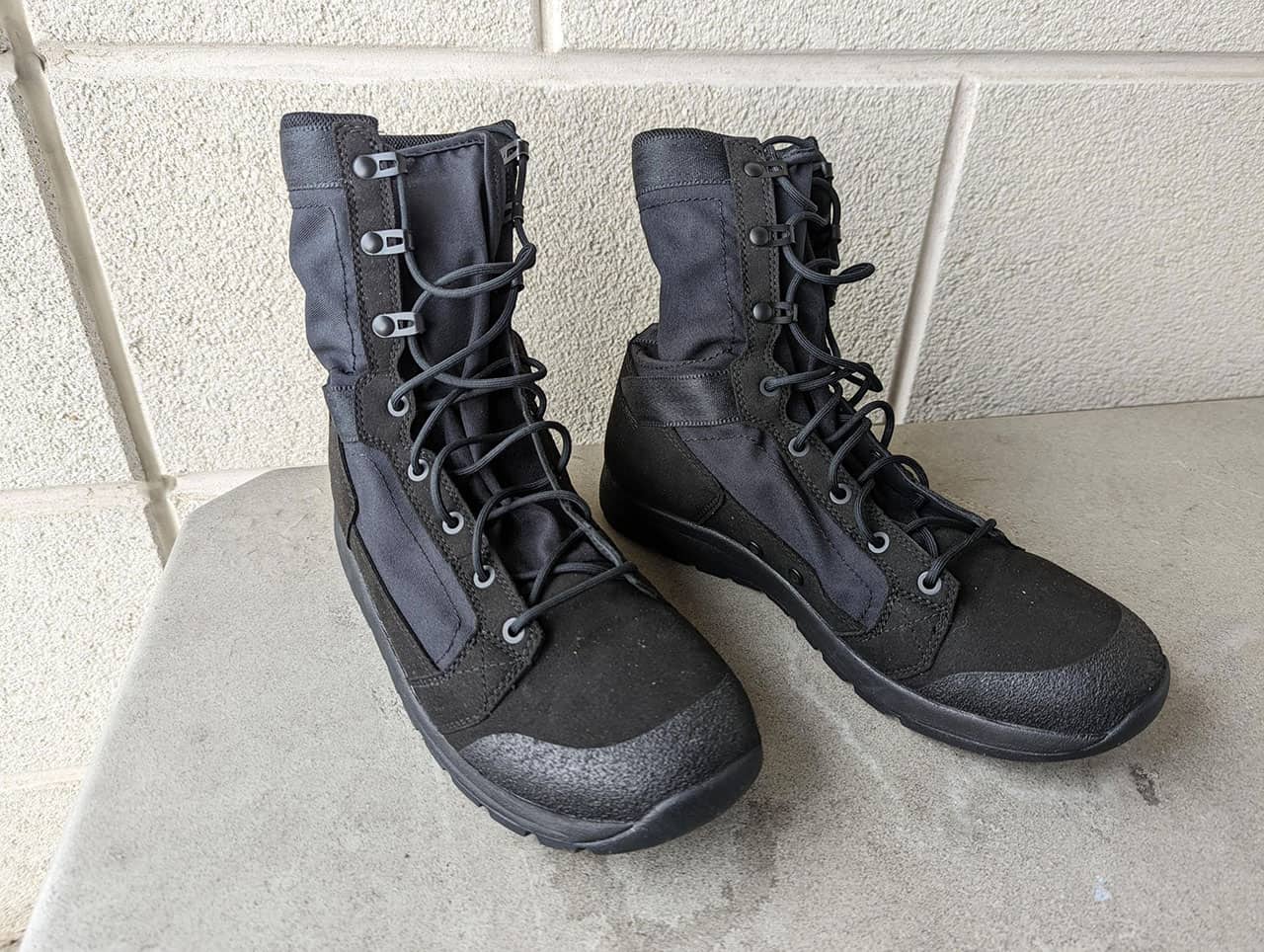 Are you looking for a versatile and durable pair of boots that can be worn anywhere? If so, the Danner Tachyon Boots may be perfect for you. With a synthetic upper, Speed Lace System, and Abrasion Resistant Toe Cap, these boots are built to last. The Open Cell Polyurethane Footbed and EVA Midsole provide superior cushioning and shock absorption, while the Danner Tachyon Outsole ensures maximum abrasion resistance. So whether you're hiking in the mountains or walking through town, the Danner Tachyon Boots will keep your feet comfortable all day long.
Here's My Danner Tachyon Boots Review
After having tested the Danner Tachyon "Black Hot" version of these boots for the past few weeks, I can say without a doubt that the Danner Tachyon Boots are one of the best everyday boots for men. Thanks to the Open Cell Polyurethane Footbed and EVA Midsole, they are incredibly comfortable and look great with any outfit. I also appreciate the Speed Lace System, which makes it easy to slip the boots on and off, and the Abrasion Resistant Toe Cap, which protects my toes from scuffs and scrapes.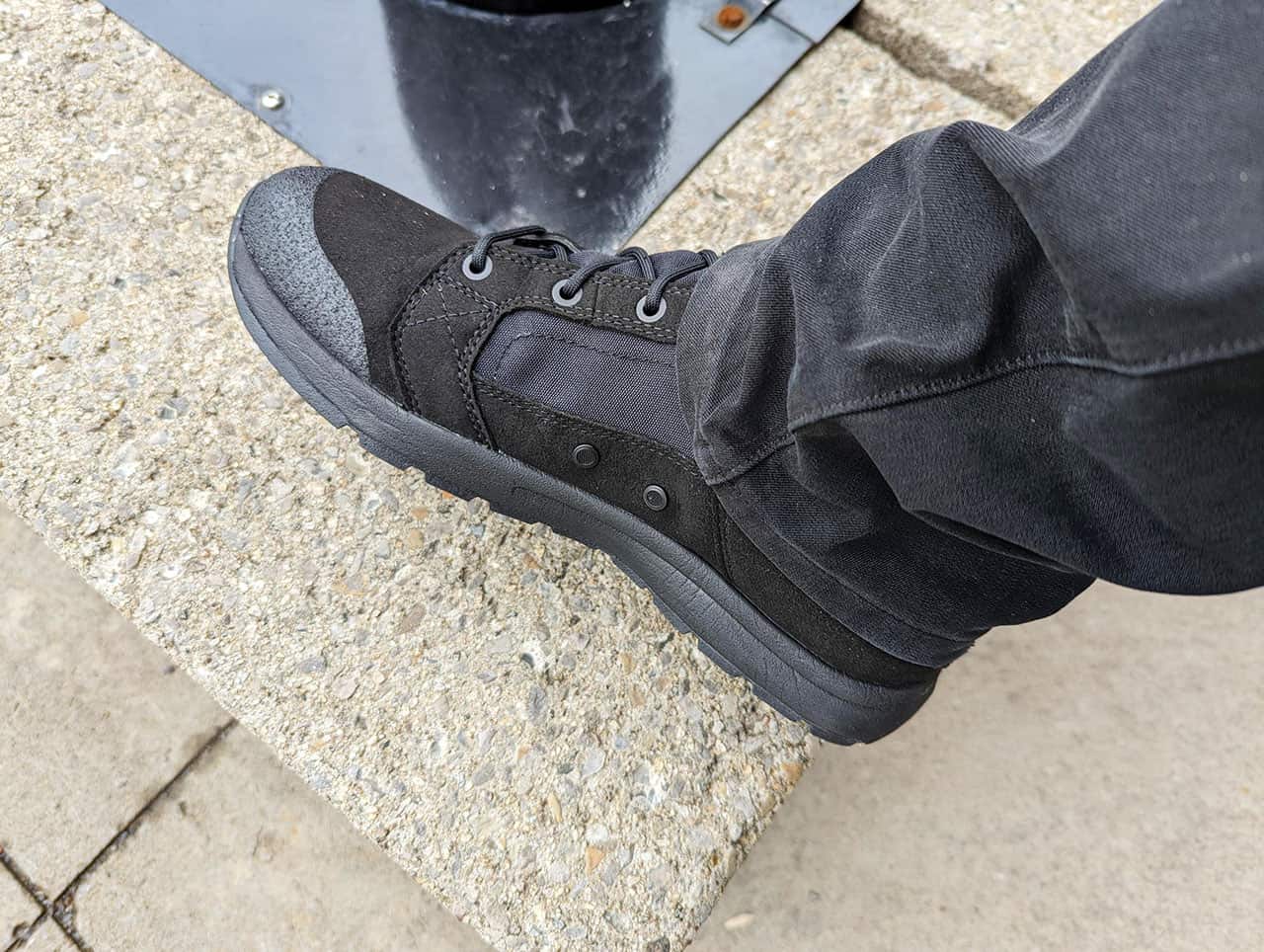 And because I'm one of those weirdo minimalist shoe type people, I'll say that I've been extremely impressed with how light these boots are. Danner didn't skimp on quality in the construction of these boots, and it shows. I can wear them all day without my feet feeling fatigued, even when walking long distances, because they only weigh 26 oz per pair. They've still got the army boots aesthetic but without the weight.
Speaking of aesthetics, the Danner Tachyon boots look just tactical enough that I can pretend to be Jason Bourne without slipping into TactiCool territory. I appreciate that Danner managed to strike a perfect balance between style and function with these boots.
And as an avid cyclist, I was happy to realize that the Tachyon boots are also quite comfortable for long-distance bike rides. I was skeptical since they don't have the same ventilation as my usual cycling shoes, but my feet stayed dry and comfortable even after 10 miles in the saddle.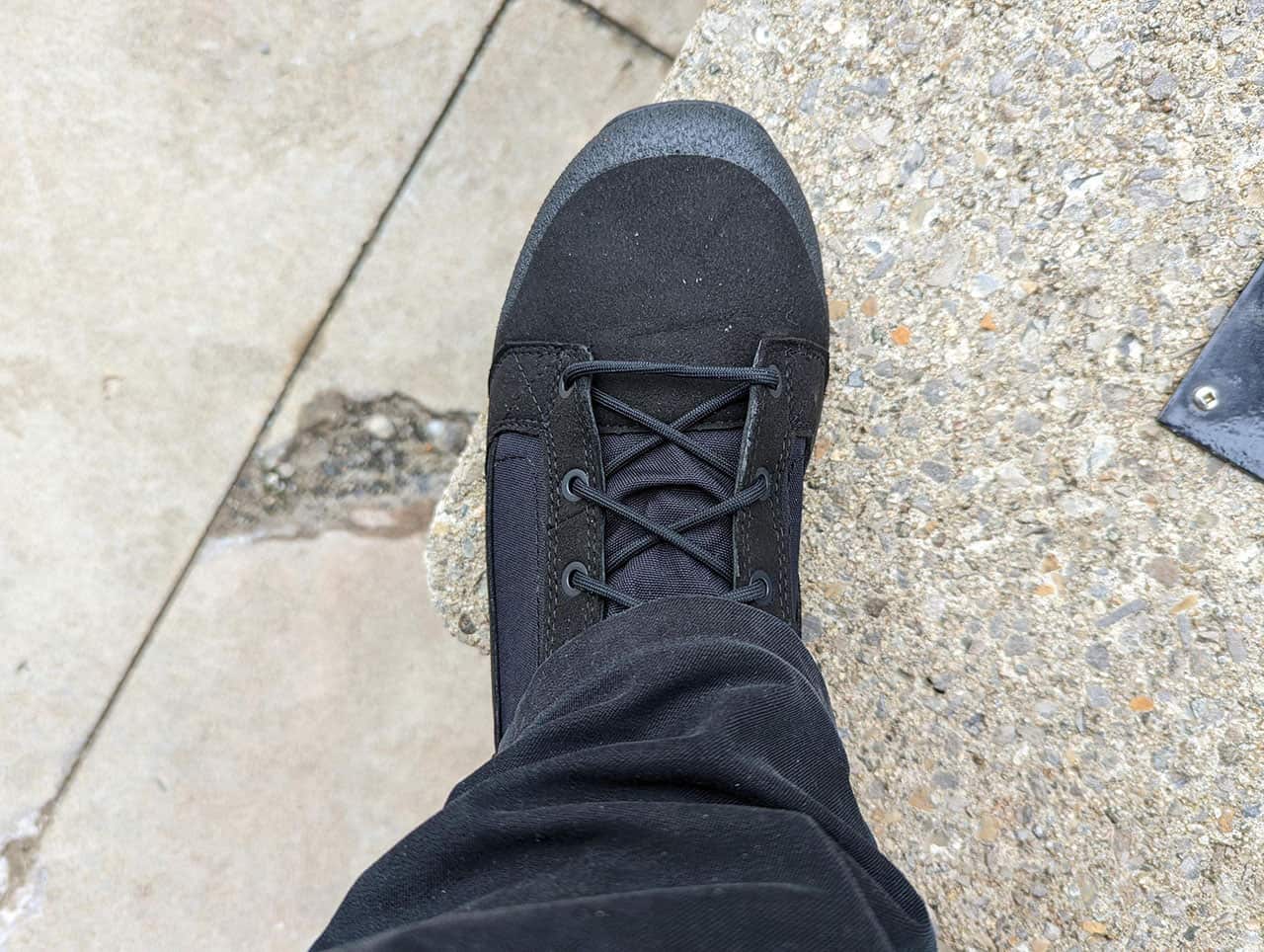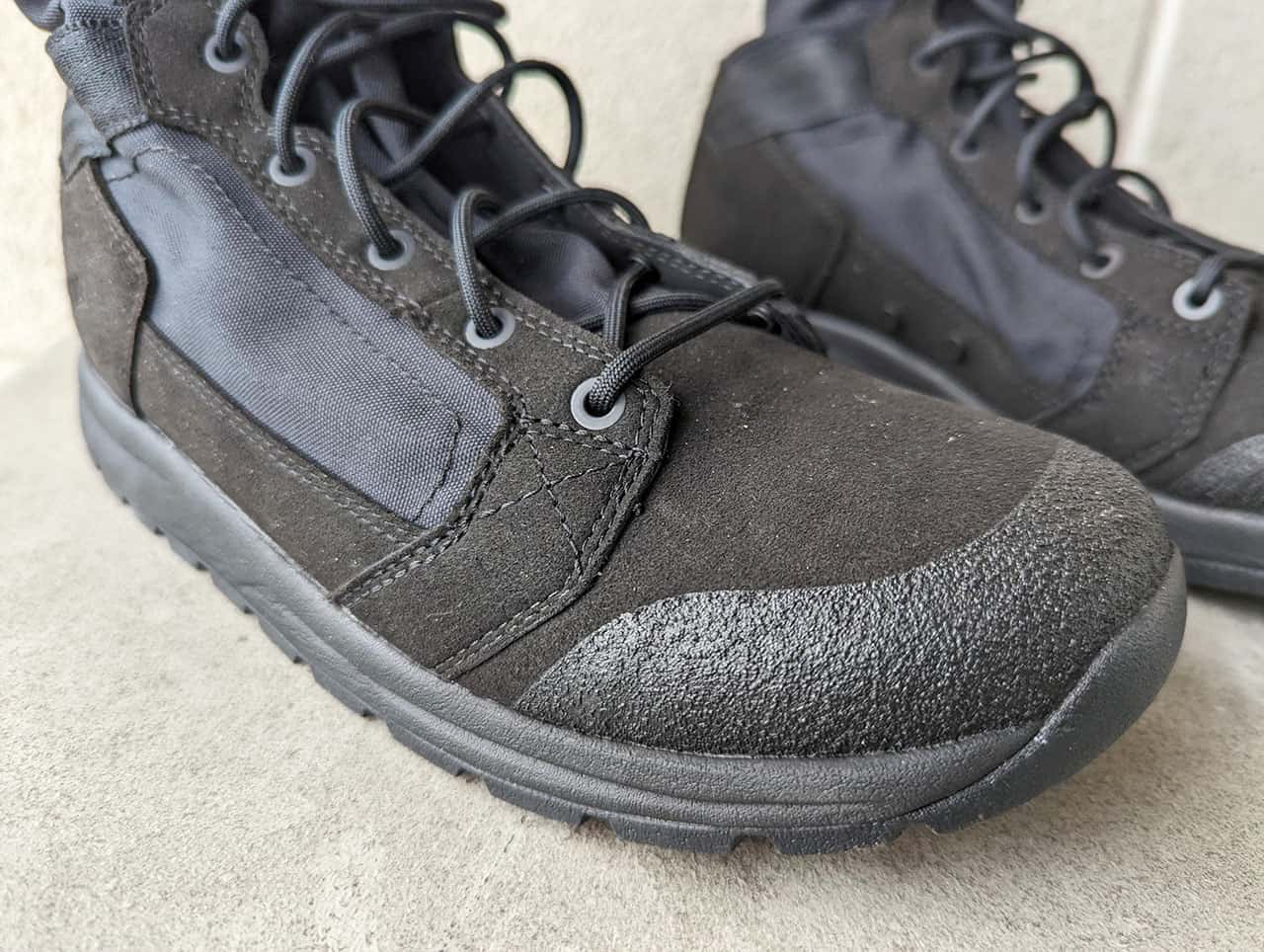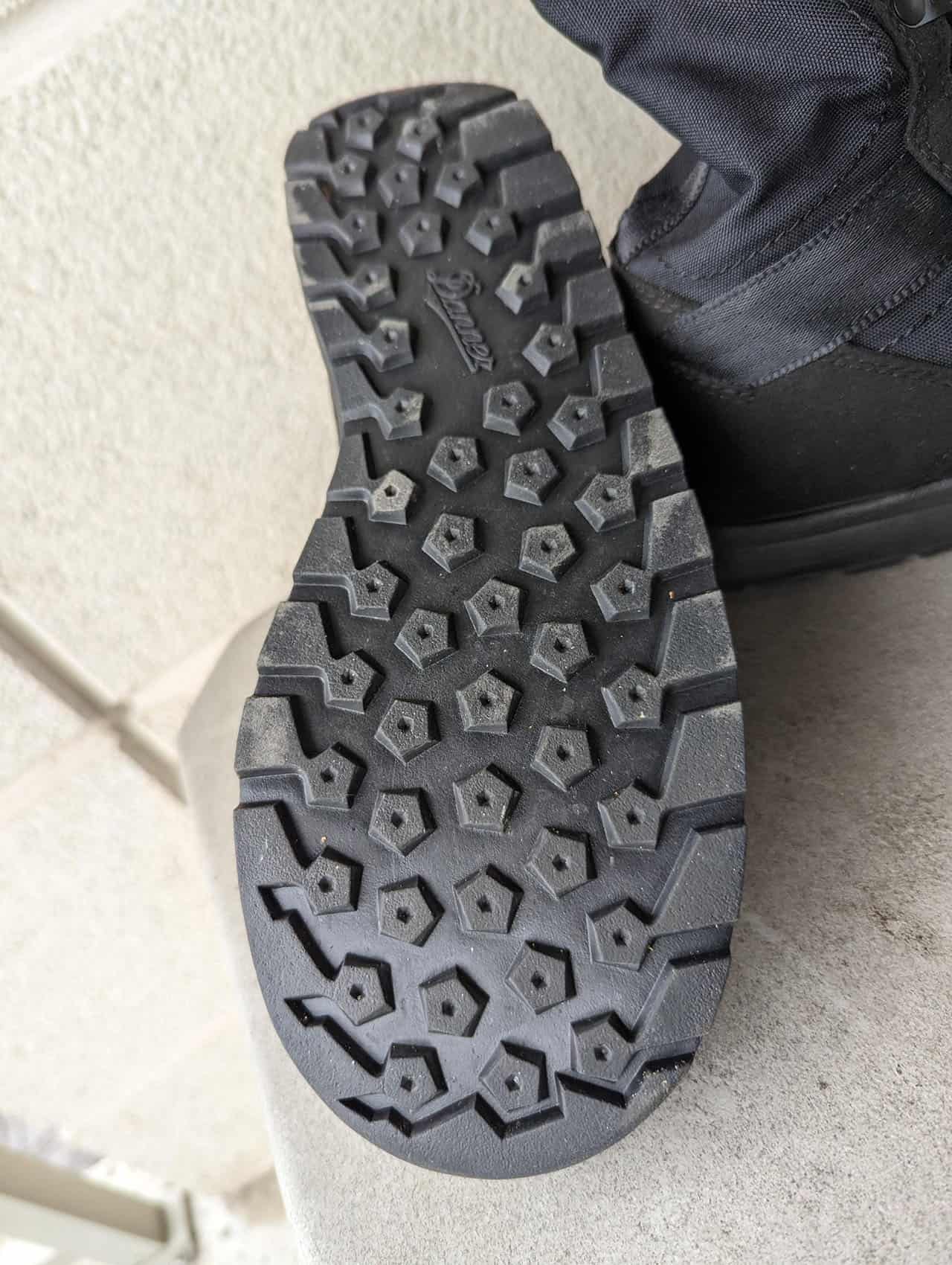 One of the benefits of such a tough footbed is that I didn't feel any discomfort from the magnesium tines on my bike pedals, which can sometimes be an issue with cycling shoes. And obviously, the sturdy footbed will ensure that your feet don't take a beating on hikes or gravel heavy trails. Though I like wearing thin, ballet-like shoes around the neighborhood, if you've ever worn a pair of Merrell Vapour Gloves and stepped on a rock, you know it's not a fun experience. The Danner Tachyon will save you from that fate.
The only drawback I've found with the Danner Tachyon Boots is that they're not particularly warm, so I wouldn't recommend wearing them in cold weather. But other than that, I think they're an excellent choice for everyday boots, and I would highly recommend them to any man seeking a versatile and durable boot outside of the cold winter months.
What's the Verdict?
The Danner Tachyon Boots are the perfect everyday boot for men who want a versatile and durable shoe that looks great and feels even better. With superior cushioning and support, these boots will keep your feet comfortable all day long. So if you're in the market for a new pair of everyday boots, I highly recommend giving the Danner Tachyon Boots a try.
I'm not going to include the price here because prices change, and I don't want this review to be outdated in a month. But I will say that the Danner Tachyon Boots are a great value for the price, and they're definitely worth checking out.