Most car guys know what a limited slip differential is. They probably also recognize Positrac – or Positraction – by other marketing names used by the Big Three manufacturers, such as Sure-grip, Traction Lock, Safe-T-Lok, and so on. Well, I'm a car guy from way back; I got my drivers license in 1972. (Please hold those age jokes.) As is typically the case with older more intelligent car guys, I have a special appreciation for domestic cars built in the 67, 68, 69 and 1970 model years: those built and roaming the streets while I was counting the days until I could get my own drivers permit.
So, what did I learn during those formative years, when I had more brain cells and my synapse connections were still being hardwired?
Custom 1970 Dodge Challenger T/A – Performance Preferences, Now and Then
1.) Positrac
2.) Four Speed transmission
3.) Eight cylinders
I know the main reason I was conditioned to think about this particular option list. As a newbie car guy, I was influenced by hours of performance talk with my car savvy peers. If I think back to recall the first time I was finally driving solo – hmmm, where did I go? Well, to make the rounds and see my high school buddies, of course. When I rolled up, the conversation would go a little something like this:
"Hey Diamond, looks great – you're the new man cruising the street. Whatcha driving? (Nova.) Automatic? (Yes.) Six Cylinders? (Yes.) POSITRAC? (No.)"
"Oh. So you got your Mom's car for the night."
Instant ego deflation. I have hot new transportation, but it's a light weight in the current generation of muscle cars. No one's going to come to start up a BS session or admire an engine bay when I pop this hood at the A&W!
While automotive offerings always change, the basic concepts of what's cool and what's not are usually fundamentally the same. I always like to see the passion an owner has for his ride, no matter the make or model. These are the kind of car guys that have a unique vision for their vehicle and will talk at ease with anyone showing even the slightest interest. To see what I mean, just do a walk around at the next Show & Shine in your area and listen in on the conversations going on while onlookers circle a classic or custom car.
Enough introductions! Nowadays, I like all cars and rods, but, of course I do have personal favourites and interesting finds to share with the Unfinished Man community. Opinions are strictly mine, but hopefully, I can share some classic automotive gems that everyone can enjoy.
Speaking of which, for your consideration: a special order 1970 Dodge Challenger T/A.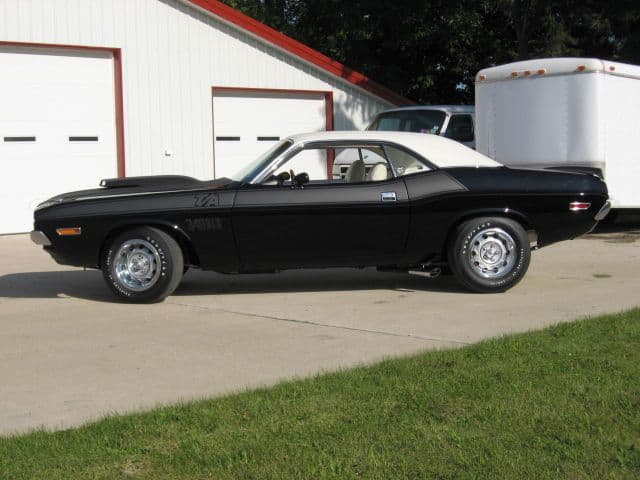 I know, I know. Without doubt, the hardest automotive colour combination to keep clean.
Mr. Norm's Grand Spaulding Dodge was – and still is – a high performance dealership in Chicago, with a rich racing heritage that has produced some awesome street machines. Someone at Grand Spaulding envisioned and ordered a very different look T/A Challenger in 1970. Black paint, flat black fiberglass hood, and if you look closely enough you will see the TA Challenger side stripes in satin black. Now, set this combo off with a white interior and white top – can you say wow factor? Back in the day, I never had the means to factory order a spanking new muscle car. But if I had… well, let's just say "dream on"!
Want to know more about muscle cars, or have a great hot rod to show me? Shoot me an email. See ya next time – Diamond Don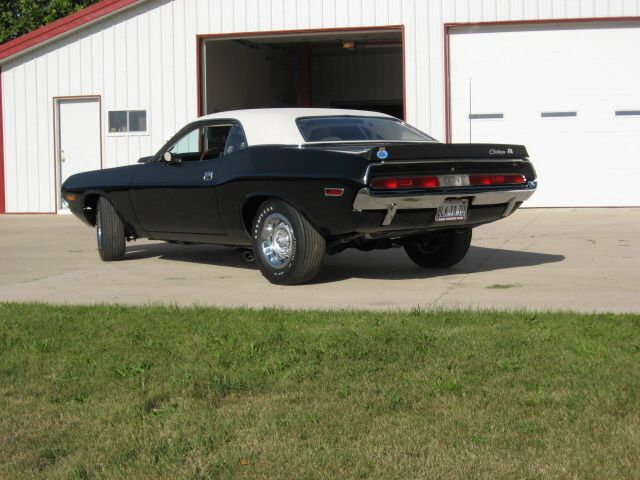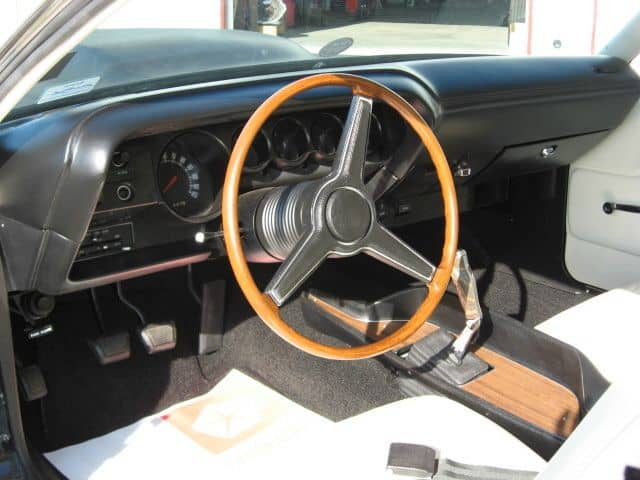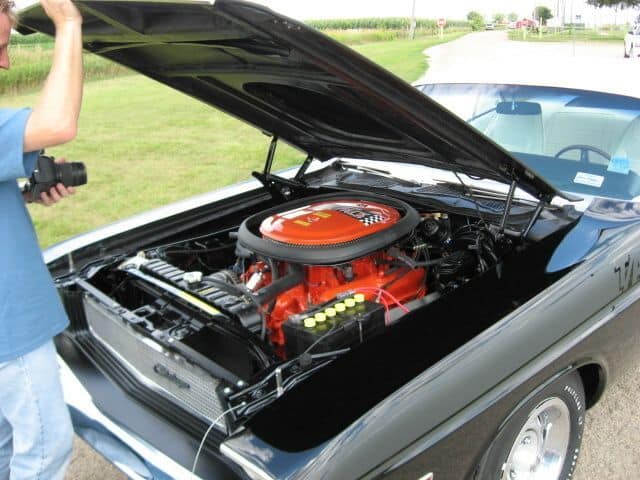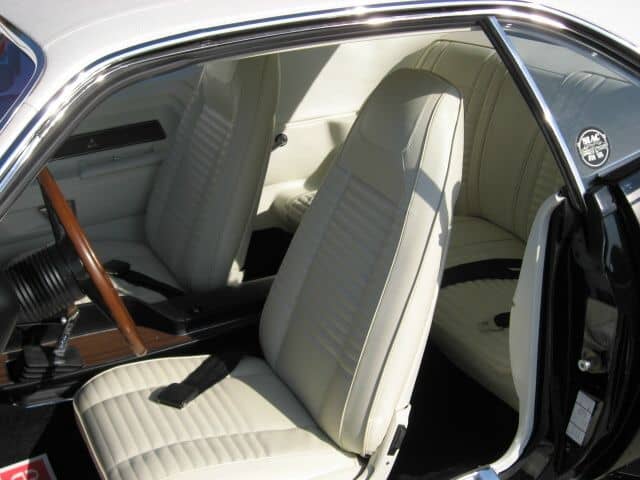 photographs © Blue Star Bodyworks