The first car I remember spending a significant amount of time in as a child was the 1979 Toyota Corolla; it was our first family car. It was red, and had been on the road for over a decade when we first bought it. We loved it. That car has a very special place in my heart, and whenever I see a 79 Toyota in town once every few years, it brings back a lot of memories (see image below for reference).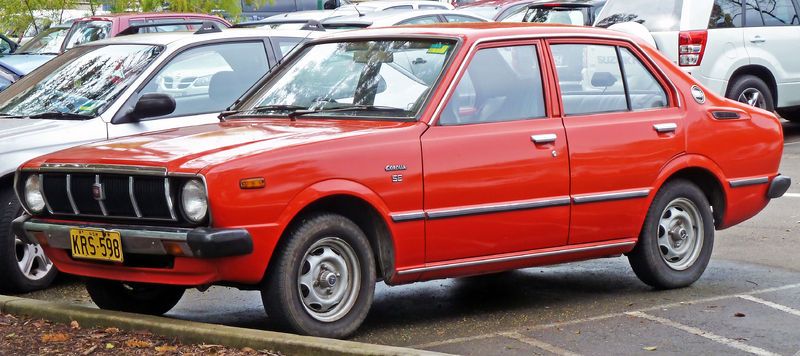 Fast forward many decades, with over 40 million units sold worldwide and 11 generations of redesigns, here we have the 2014 Toyota Corolla S, which just happens to be red like our beloved little 1979 Corolla. The Corolla has come a long way since then, and it has also grown quite a bit in size, as have all other cars.
The Toyota Corolla was introduced in 1966 and it's still going strong. It has become the bestselling nameplate in the world. I doubt you can go on a car ride, or even a walk near a road, without seeing at least one Corolla. With all these Corollas running around, you'd think I'd have driven one, but no, this is the first time I've gotten behind the wheel of a Corolla; hard to believe.
For our review, we had the 2014 Toyota Corolla S, the fully loaded top of the line car. In Canada, the 11th generation Corolla is available in four trims: CE with a starting price of $15,995, LE starting at $19,725, LE ECO starting at $20,475, and Corolla S with a starting price of $19,365 (not including Freight & PDI of $1,520).
Design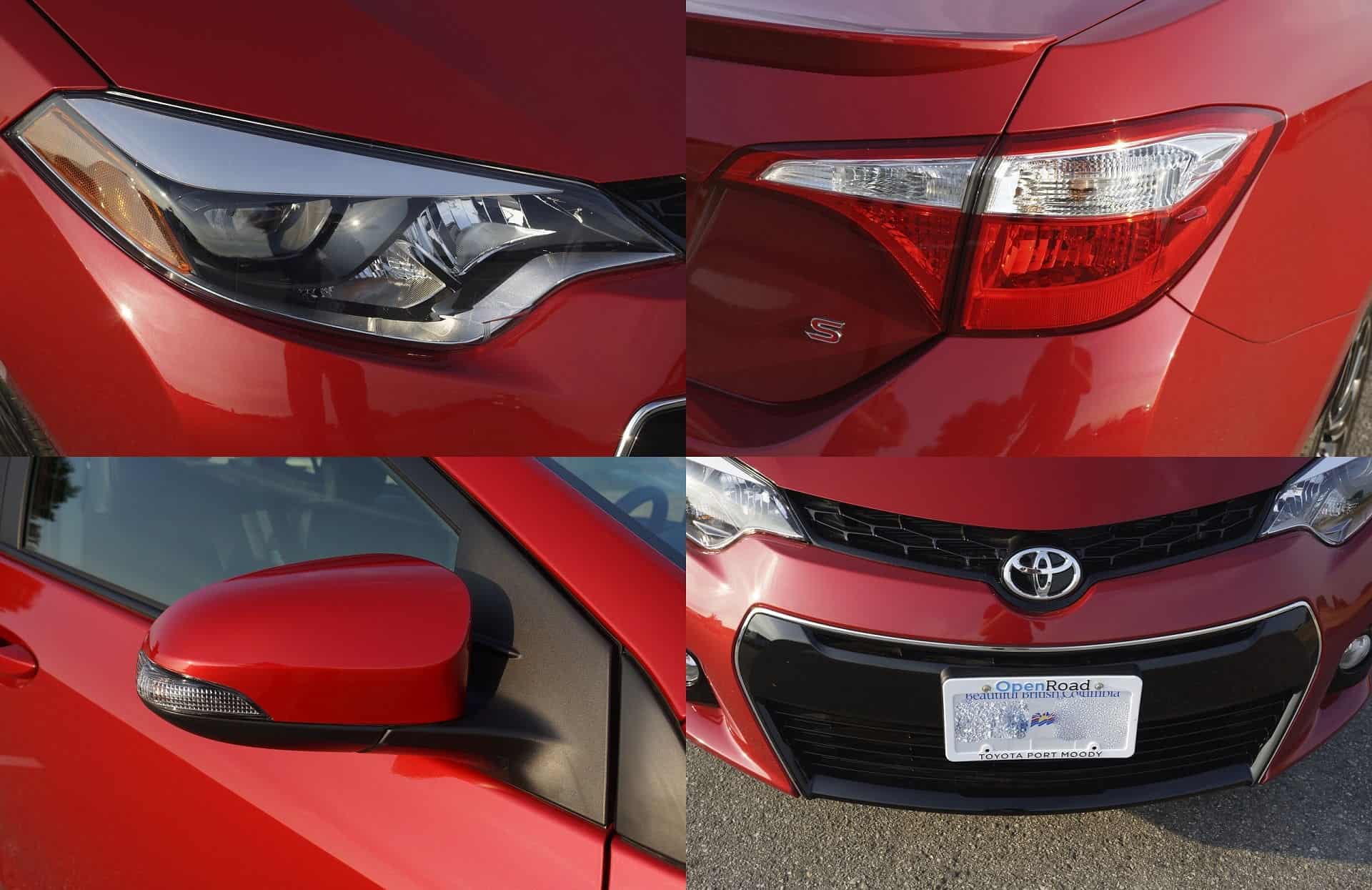 The Toyota Corolla has been criticized by car enthusiasts for being too plain looking, so Toyota decided to give the car more character for its 11th redesign. The 2014 Corolla does look much better than the car it replaces, with much sharper lines and pretty decent – especially in the S trim with larger wheels (optional 17" wheels on our car) – chrome accents, and the bright red color. In the S trim, the car definitely stands out, and we did notice a handful of people actually checking out the car.
The 11th generation car has grown in size, making it more like a mid-sized sedan than a compact sedan. Overall, the car has grown in length by 9.91 cm (3.9") over the last generation Corolla, it is 1.6 cm (0.63") wider, 0.99 cm (0.39") lower, and the wheelbase is about 10 cm (3.94") longer.
Engine
The 2014 Toyota Corolla is offered with two engine choices, a 1.8 liter 4-cylinder producing 132 horsepower at 6,000 rpm and 128 pound-feet of torque at 4,400 rpm. This engine is carried over from the 10th generation car and is available on the CE, LE, and S models. The second engine is only available on the LE ECO model, which is also an inline-4 producing 140 horsepower at 6,100 rpm and 126 lb-ft of torque at 4,000 rpm.
As for transmissions, the base model is offered with an optional 4-speed automatic from the previous generation car, a 6-speed manual is standard, and a CVT that has 7 pre-set simulated shift points. The S model comes with steering wheel mounted paddle shifters and a "Sport" mode, which increases the simulated shift point rpm by a bit.
According to Toyota, the CVT equipped Corolla sedans consume 8.2 L/100 km (28.69 US mpg) in the city, 6.2 L/100 km (37.94 mpg) on the highway, and 7.3 L/100 km (32.22 mpg) in combined driving. We were able to achieve 8.1 L/100 km (29.04) with mostly city and some highway driving. The fuel consumption number was dropping, after we initially drove the car a bit too enthusiastically, I think we could have brought the number down to 7.5 – 7.8 L/100 km, which would be fairly close to the manufacturer's claimed numbers.
Driving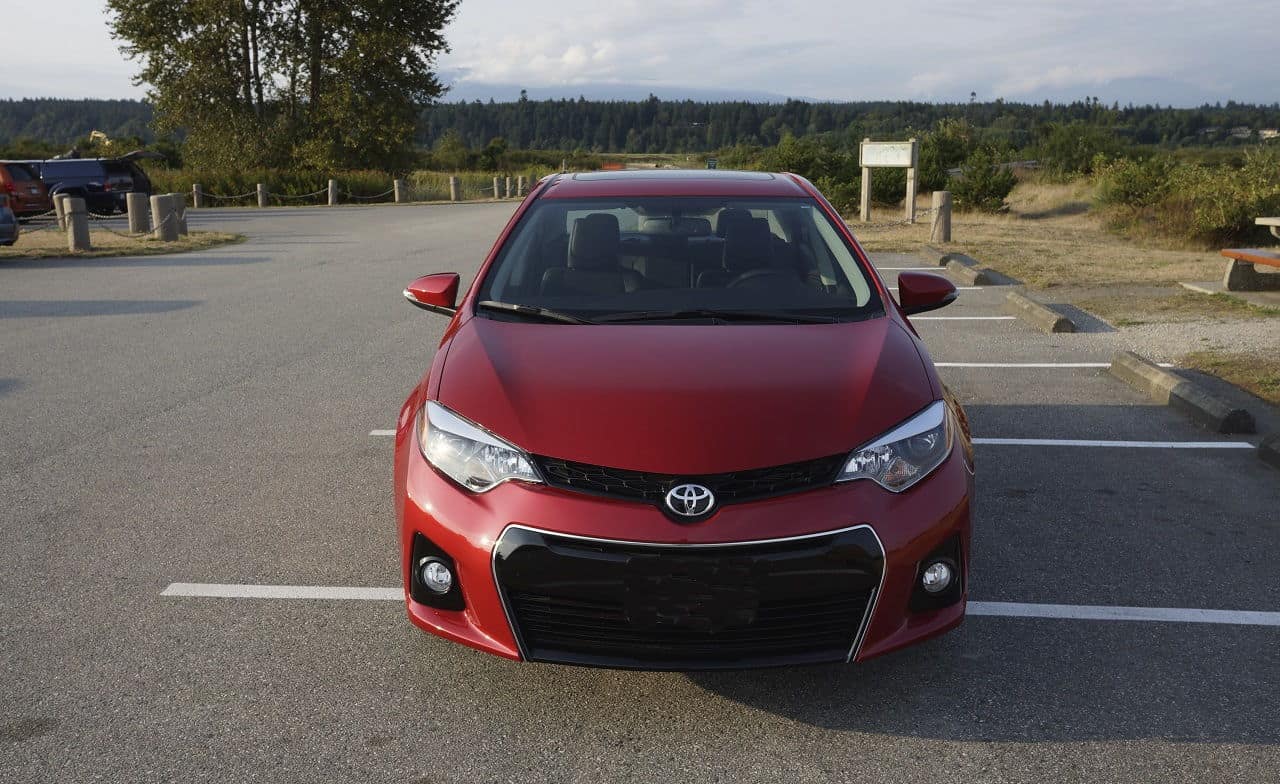 Driving the Corolla for the first time wasn't as different as I had expected it to be, I was expecting a "boat-of-a-car" feeling. Don't get me wrong, this is not a sporty car, but it's not as "un-sporty" as most reviewers make it out to be. This is a mass-market vehicle and is mostly purchased as a practical, reliable, and comfortable car.
I found driving the 2014 Corolla very relaxing, the car is tuned with comfort in mind, rather than sportiness; which I think is the right way to do it. If I want to drive around in a car for my various daily tasks like going to work, going to the grocery store, taking the kids place, and other city driving, I want the car to be relaxing. I'm not going to win any races with this car, but that's not the purpose of cars like this.
The electric steering doesn't give much feedback (which is normal in modern cars, I have yet to drive a car with electric steering that has given me much road-feel), but is precise. The steering has a good feel to it and turning the car in tights spots is easy and effortless.
I've always hated CVT transmissions, but I actually didn't mind the CVT on the Corolla. It might have something to do with the simulated shift points; it didn't feel buzzy like other CVT cars I've driven. You can even upshift and downshift with the paddle-shifters, even when the car is not in manual mode. I like this feature, because you do need to downshift when you want to pass someone on the highway or on steep hills.
The 1.8 liter with 132 HP is sufficient for normal driving, and is pretty quiet under normal stress. However, going uphill you need to push the gas pedal hard or downshift. For passing and under heavy stress, the engine does get loud but once you're back to cruising speed, it's barely noticeable.
Interior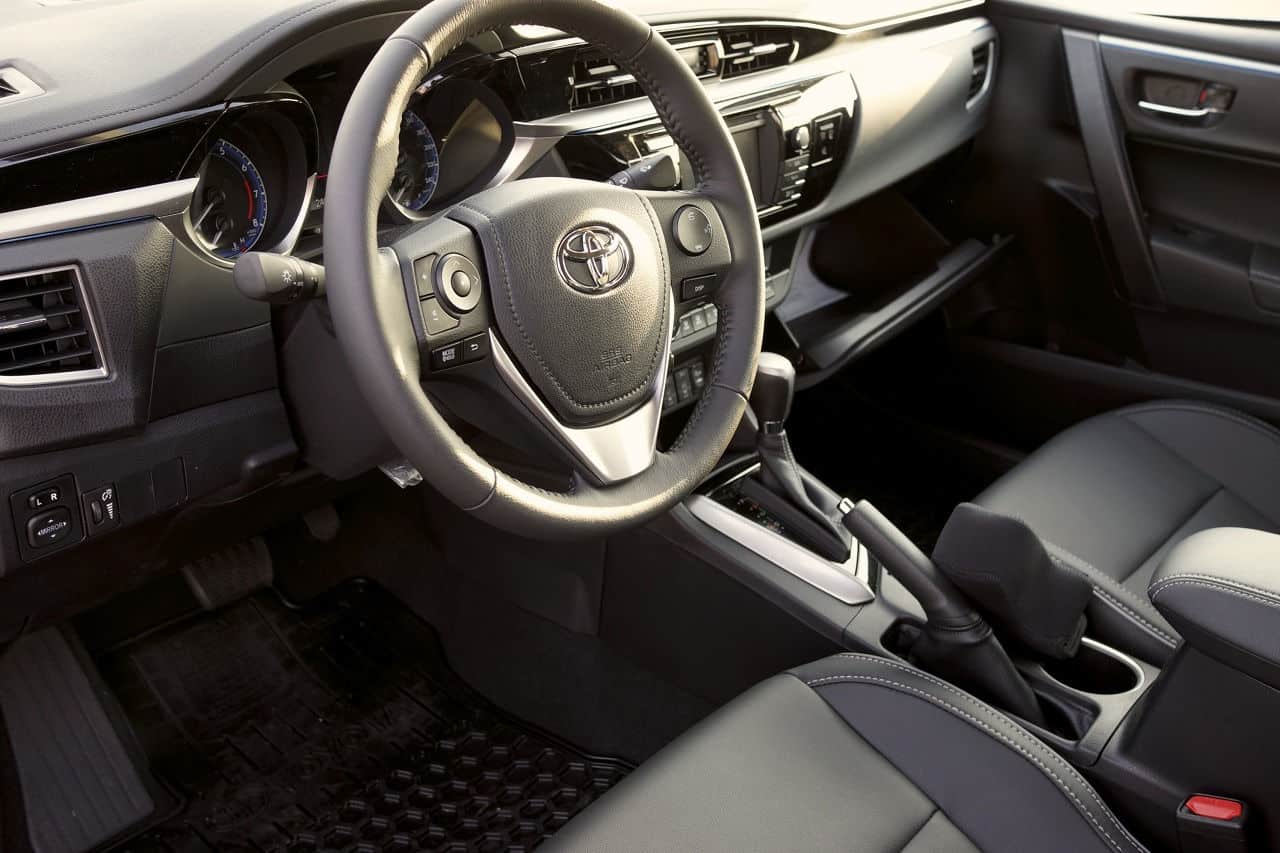 Continuing the driving review part of the Corolla, the interior is very comfortable and pretty quiet. Like I said above, the engine is quite and the overall cabin is also quite with not too much road noise, but there is a bit of wind noise around the windows.
The interior is surprisingly room, sitting behind my 5' 8.5" frame, I had lots of leg room and I was still comfortable sitting behind my 6' 2" friend's front seating position. There is plenty of room for 2 adults in the back and lots of headroom; the Corolla is a 5 passenger vehicle, but the middle seat doesn't have much room for an adult, even though there is a flat floor at the back, no hump in the middle. Our test Corolla S came with black leatherette seats, with driver 8-way adjustable power seat which are heated for the front two occupants. The seats are comfortable at the front and back; I would have like to have a center arm rest on the back seat.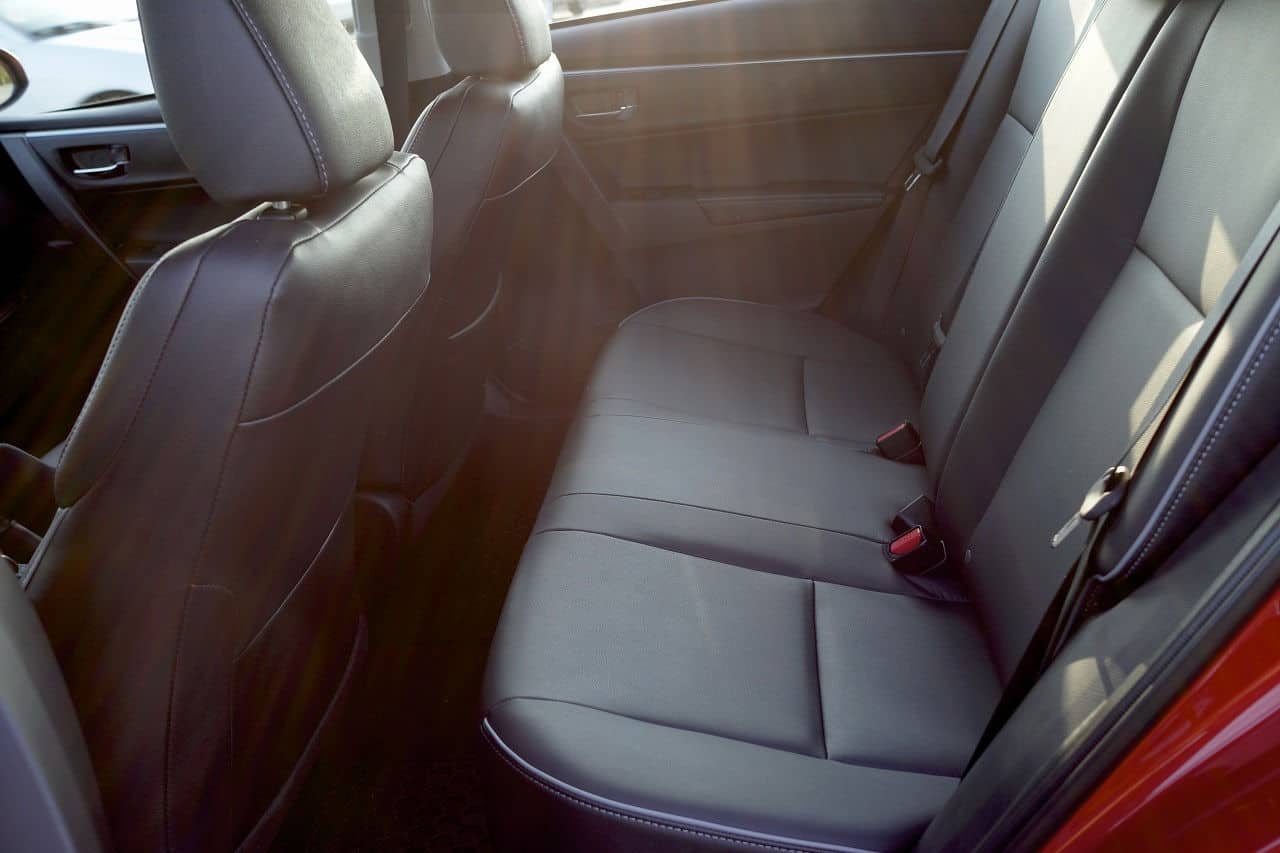 The interior layout is quite simple, with a 6.1" infotainment demanding most of the attention, the screen displays navigation, entertainment, and acts as a display screen for the backup camera. I would have preferred a bit bigger screen though, I think 8" screen should be the standard. The controls for the entertainment, climate, and navigation systems are well laid out and very easy to understand.
I do have a very minor complaint about one of the buttons for the climate control; in order to change where the air blows, there is only button that you click through to get to the right setting (e.g. blowing air at your face and the windows), if you miss the right setting, you have to go through all the different settings all over again. I think specific buttons or a knob with each setting would work much better. I know this is a very minor complaint, but hey, I have to find something to complain about.
The materials on the dashboard look pretty good with some black and aluminum trim. The dashboard is finished with soft plastic, which looks and feels luxurious. However, the door panels and the sides of the center console are hard plastics, which I would've like Toyota to use the same materials they used on the dashboard.
Technology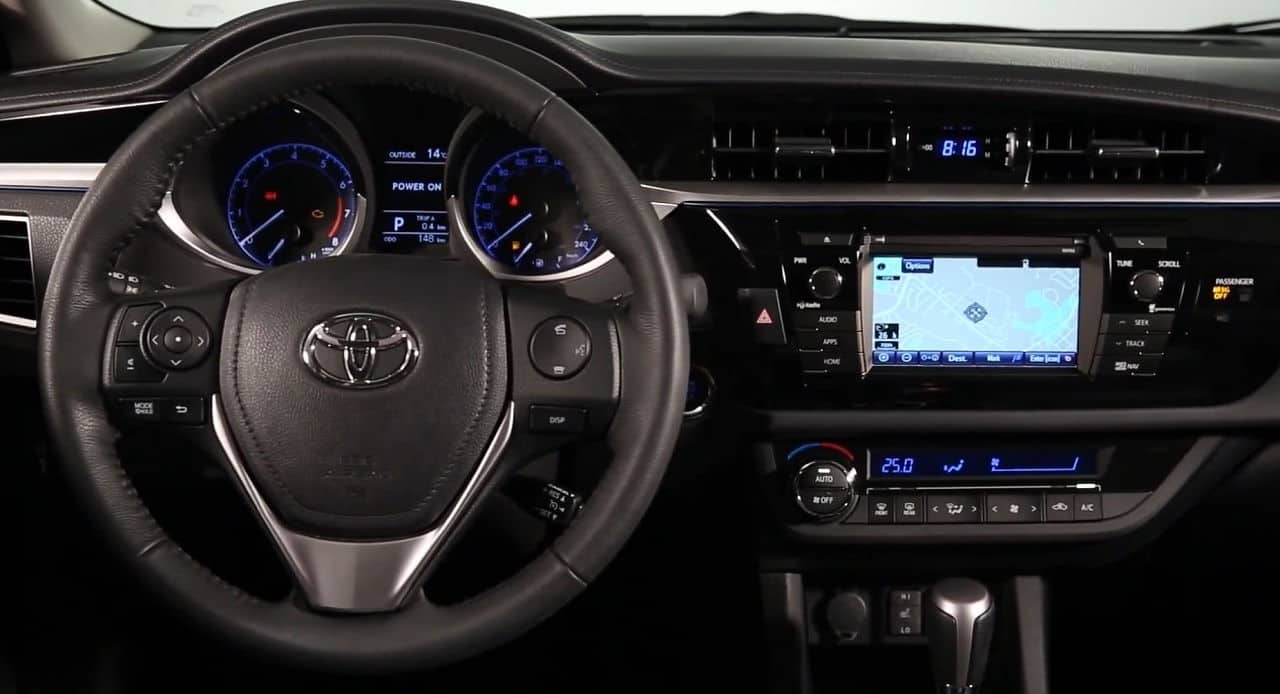 Our review Corolla S came with the full list of tech gadgets available on these cars and included navigation with voice command, hands-free phone, steering wheel mounted volume buttons, Bluetooth connectivity, iPod/MP3 connectivity, built-in garage door opener, backup camera, smart key with proximity sensors, push button start, and LED projector lamps. The LED headlights really work great and give the car a distinct look.
Safety
There are lots of active and passive safety features on the new Corolla; the car is more rigid than the one it replaces, making safer for the passengers; and features a new front crumple zone. The car is equipped with Vehicle Stability Control (VSC), Traction Control, and Anti-lock brakes. All Corollas come with front disc and rear drum brakes, rear discs are optional on the S model, which our test car was equipped with.
The Corolla is also equipped with 8 airbags, including front seat side airbags, driver knee airbags, passenger seat cushion airbags, and side curtain airbags.
Overall Impressions
I think the 11th generation 2014 Toyota Corolla is a great car for people looking for a reliable, comfortable, and relatively affordable car that will get you to where you need to get. Sure, the Corolla might not be the sportiest car in the segment, but I don't think you'll be taking the other cars in this segment to racetracks. I actually liked the car a lot; I surprisingly enjoyed the softer ride.
2014 Toyota Corolla S Review Photo Gallery