When people ask me what I do for fun, I usually tell them about drinking, reading, and rock climbing. It's a pretty good mix if you ask me. I've got the drinking to relax, the reading to engage my mind in something that isn't work-related, and the rock climbing to maintain my rock-hard… abs.
I assume that all of you have heard about rock climbing and probably tried it for yourselves. After all, it's a staple of high-school outings and workplace team-building exercises. What you may not have heard of, though, is bouldering… my absolute favorite kind of climbing. The type of climbing combined with practical workout programs featuring strong lifts will turn you into an agile, wiry, strong little ninja.
Bouldering for Fun and Fitness
When you think of rock climbing, you probably picture a person in a harness tied to some rope, climbing up a tall wall with a wide range of brightly colored holds. Bouldering is similar, with one significant difference: no harness. That means that when you're tired, you can't just sit back in the harness and let your partner hold the line. No, sir, you have to rely on your technique and strength to help you through the challenge, which means the climbs are much more difficult. Bouldering grades start at the equivalent of around a V9 in top-roping!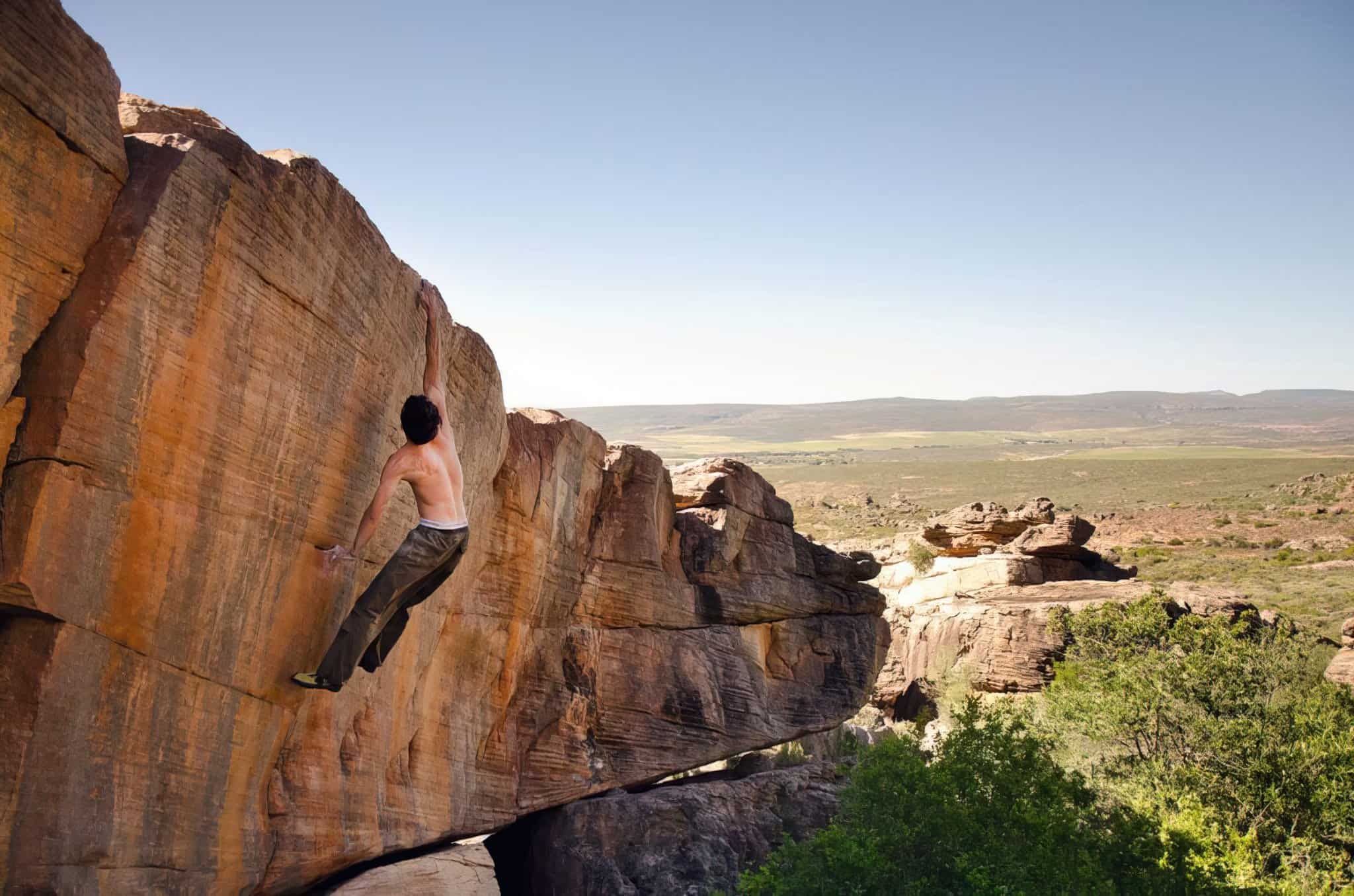 So, as you can probably tell, bouldering gets me pretty hot and bothered. So, here are two awesome bouldering videos to get your motor running and inspire you to get out and try bouldering.
Tomorrow I Will Be Gone
This first video features some of the most talented climbers in the world doing their thing in Rocklands, South Africa. The footage is fantastic, the music is excellent, and there are no bullshit, time-waster interviews—just pure climbing goodness.
It wasn't until I watched this film that I realized just how smooth a climber could become with the proper technique and strength. Even when these fellows fail, they're still imposing in my books. Climbing is a natural way to get fit; it's incredible that everyone isn't doing it.
IFSC Climbing World Cup Vail 2019 – Bouldering Finals
Some of the most talented climbers in the world are women, and this highlights reel of the IFSC Climbing World Cup from 2019 is sure to get you excited. I mean… excited for climbing, of course. Remember, bouldering gives a person strong fingers. Some people appreciate that if you know what I mean…
A tip for those of you still debating giving this a try: bouldering gyms are full of women. Like… riddled with them. If you're looking for a better way to meet women than a bar, and get fit simultaneously, do yourself a favor and give bouldering a try. It's inexpensive, a lot of fun, and it might get you laid. Either way, you'll get fit.
If you have questions for a relative newbie like myself or anything you want to add, please comment below!