Ever had a music session stop because the earphones are just too uncomfortable to continue listening? Are you feeling a bit conscious by the loud volume of sound that goes through your ears on a regular basis? Do you want to feel like the lead in a spy movie, with all the thrills of having gadgets that blend in with everyday items? Does the thought of having too many items to carry frustrate you when traveling?
If you answered yes to any of these questions, this new modern tech eyewear should definitely be on your list. For those wanting an alternative to the traditional earphones and headphones on the market, meet the Boneheads Eyewear.
Swiss Army Eyewear
Boneheads, as the name hints, is a startup creation that offers bone-conduction delivery instead of shoving buds into your ears. The mind behind this is AViwear Inc, and they plan on something more than just headgear you can listen to. Labeled as the Swiss Army Knife of wearable tech, the glasses offer a 15-megapixel camera, as well as sound and video recording capabilities. This along with video and sound streaming straight from the device makes it a very all in one item that removes clutter in your luggage. On top of all that, it is completely wireless in design. You get a ton of items crammed into one reliable headgear, giving you the opportunity to leave everything else at home.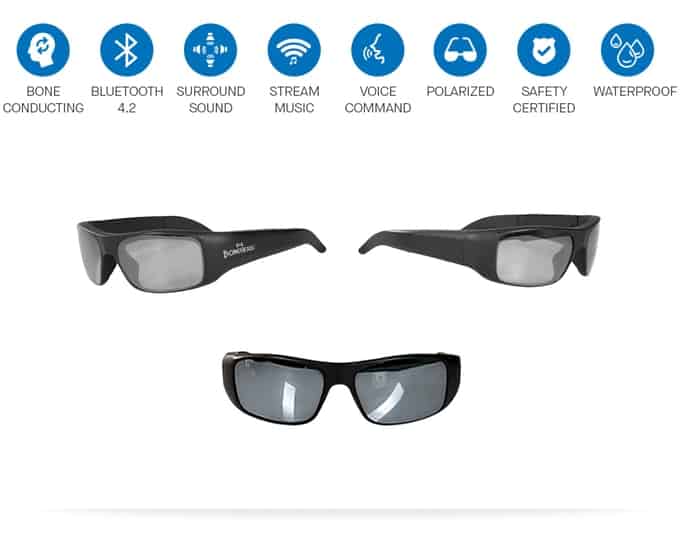 The Boneheads eyewear is also built to last. It is waterproof, lightweight, wind resistant, durable, and it can stand against any weather condition. A great thing about this is you can wear it and guarantee your eyes are safe from any dust or dirt that comes flying your direction. Visibility will also not be a problem so it is a perfect tool for the outdoorsy/traveler types. You get your hands free of clutter like mobile phones or digital cameras, giving you more time to enjoy the trek. For those worried about putting all your eggs in one basket, aside from durability the eyewear also offers adjustable fitting. This means it can fit your facial features and ensure it does not fall at the first sign of movement.
Another great thing about it is the subtlety. The eyewear looks just like your regular glasses. You can wear it anywhere without sticking out like a sore thumb. For those wanting the subtlety and low-key style but still want a ton of benefits, this is definitely for you.
Boneheads Bounty
For those interested, the Boneheads Eyewear is currently undergoing its Kickstarter campaign. Here you can back the product with pledges, and receive goodies in the process. Pledges can be from $10 to over a hundred, with a different reward/item for each tier. Of course, the more you or your friends donate, the more likelihood these will become a reality in stores near you. The product still has a month left to receive funding, so if you really want this to be your go-to travel companion, you better act fast.