Do you live in an area that is prone to power outages? Even if you don't, with climate change, weather is not predictable. Most of the world is either suffering from droughts, flooding, or major hurricanes/cyclones. Losing power in storms is frustrating and inconvenient; we rely heavily on electricity to run our modern lives. No lights, no heat, no AC, and no way to charge your phone. It's enough to make anyone go crazy!
But what if I told you there was a way to avoid all that hassle? A way to keep your lights on, your fridge running, and your phone charged even when the power is out? Sounds pretty great, right?
Well, there is a way…and it's called a battery bank.
A battery bank is simply a collection of batteries that are connected together. They can be used to power just about anything that uses electricity, from lights and appliances to phones and computers. And best of all, they can keep your power running even when the grid is down.
So why do you need emergency backup power? Here are just a few reasons:
1. To keep your lights on. Battery banks can be used to power lights, so you don't have to stumble around in the dark when the power goes out.
2. To keep your fridge running. No one wants their food to go bad, so having a way to keep your fridge running during a power outage is essential.
3. To keep your phone charged. This is especially important if you rely on your phone for work or communication. With a battery bank, you can charge your phone even when there's no power.
4. To keep your family safe. Having a backup power source can mean the difference between life and death in an emergency. If you have a medical device that needs electricity to operate or if you need to power a sump pump to prevent flooding, battery banks can keep your family safe.
5. To avoid costly repairs. Power outages can damage electronics, so it's important to have a way to protect your investment. With a battery bank, you can avoid costly repairs by keeping your devices powered during an outage.
So, there you have it! These are just a few of the many reasons why you need emergency backup power. Battery banks are essential to any emergency preparedness plan, so don't wait until the power goes out to get one. Be prepared and get a battery bank today! So, you're wondering what type of battery bank is good for you. Personally, I would start with something small and portable to get the hang of things.
Best Portable Power Bank…. Bluetti EB3A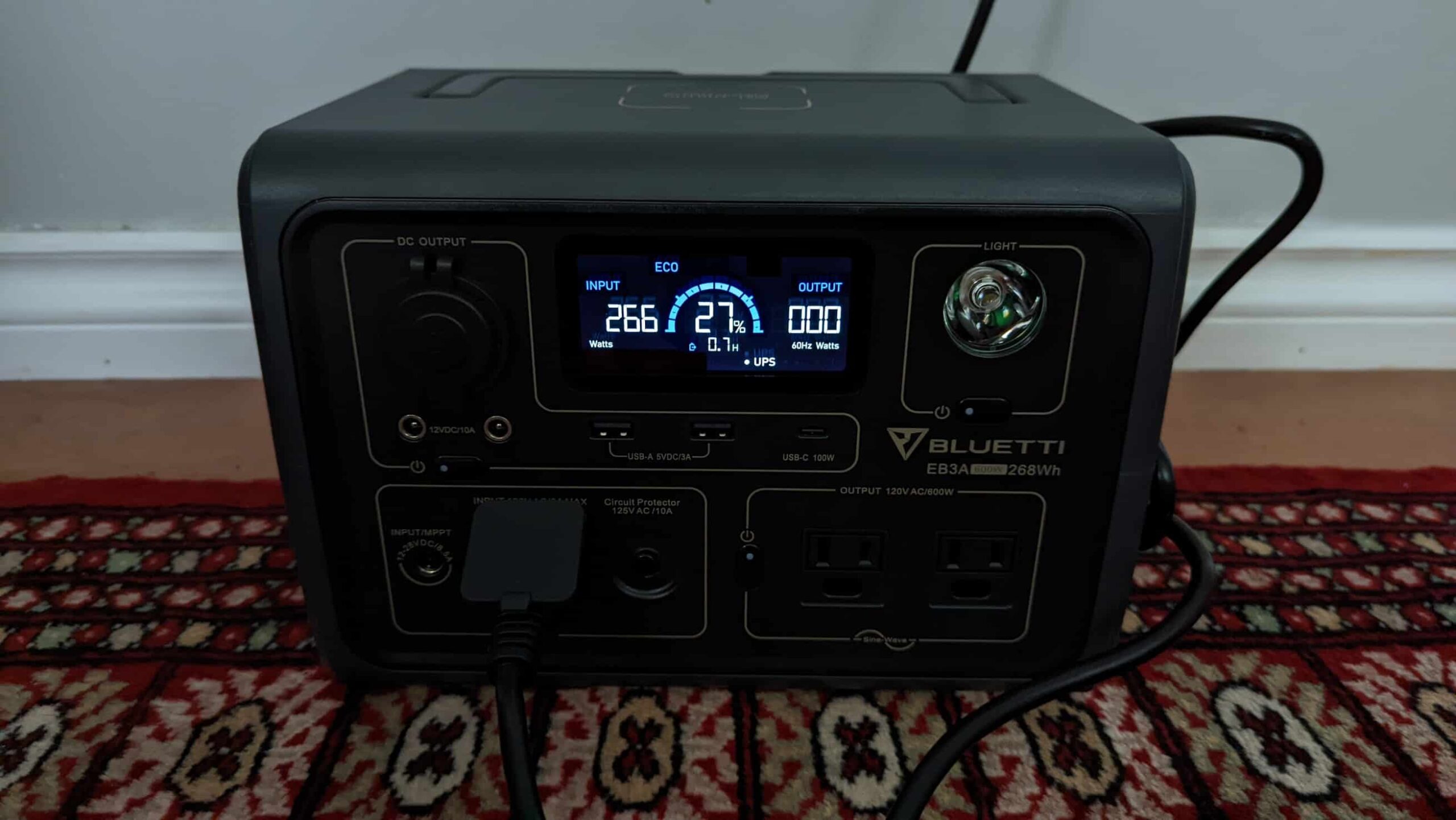 We've written extensively about Bluetti products on our site for over a year. Bluetti has been in the solar/power bank market since 2019; the company was founded by Wondar Law and James Ray in California. Currently, the company is headquartered in Las Vegas, Nevada.
Bluetti has been introducing many power storage solutions to the market recently; their latest offering is the Bluetti EB3A, one of their most affordable and portable power banks. The EB3A is the perfect solution for city dwellers, especially those living in apartments, because of its compact size and easy-to-carry weight.
The Bluetti EB3A was launched in the summer of 2022 with a price tag of $299 US, which is quite reasonable. However, you can get a $60 off coupon by typing in EB3A60 at check out to bring the price down to an even more reasonable $239. [Buy the EB3A here]
BLUETTI EB3A Portable Power Station Specifications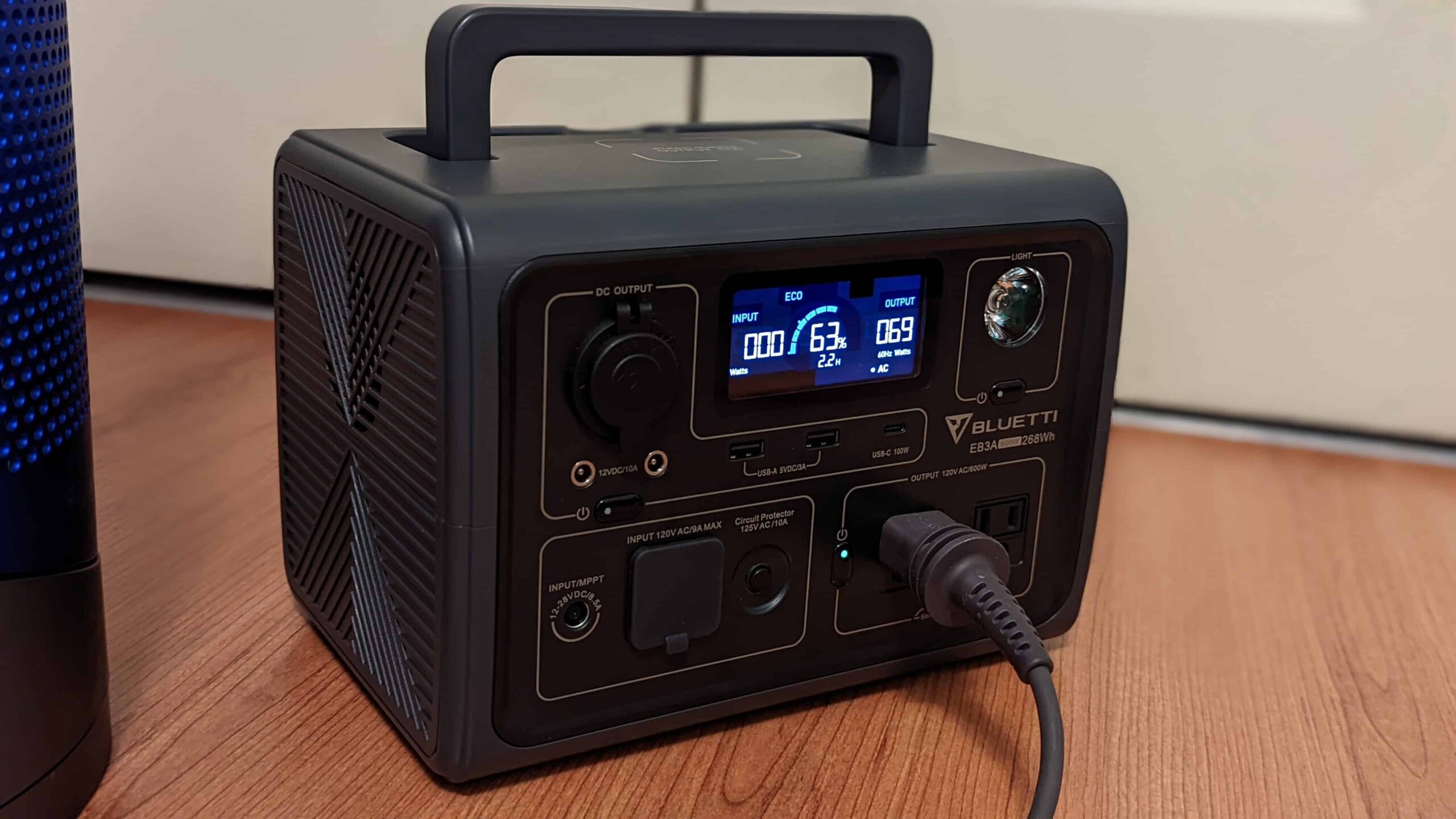 The Bluetti EB3A comes with 268Wh Lithium Iron Phosphate (LiFePO4) batteries and a 600-watt AC pure sine waver inverter with a 1,200-watt surge. It has a max charging rate of 430W using an AC plug and solar panels simultaneously. The EB3A's battery pack is rated at 2,500+ charging cycles to 80%.
The Bluetti EB3A has multiple outlets to run all sorts of gadgets. There are 9 total outlets, including 2 AC three-prong outlets, 2 USB-A ports, 1 USB-C 100-watt port, 2 DC5521 outlets, a 12-volt car socket, and my favorite, a 15-watt wireless charging pad on top of the unit. I love the convenience of the wireless charging pad because if you camping or on an outdoors day trip, you don't have to worry about bringing your phone cables to charge it, just place your phone on top of the Bluetti EB3A, and it charges like a wireless charging pad we're used in modern cars.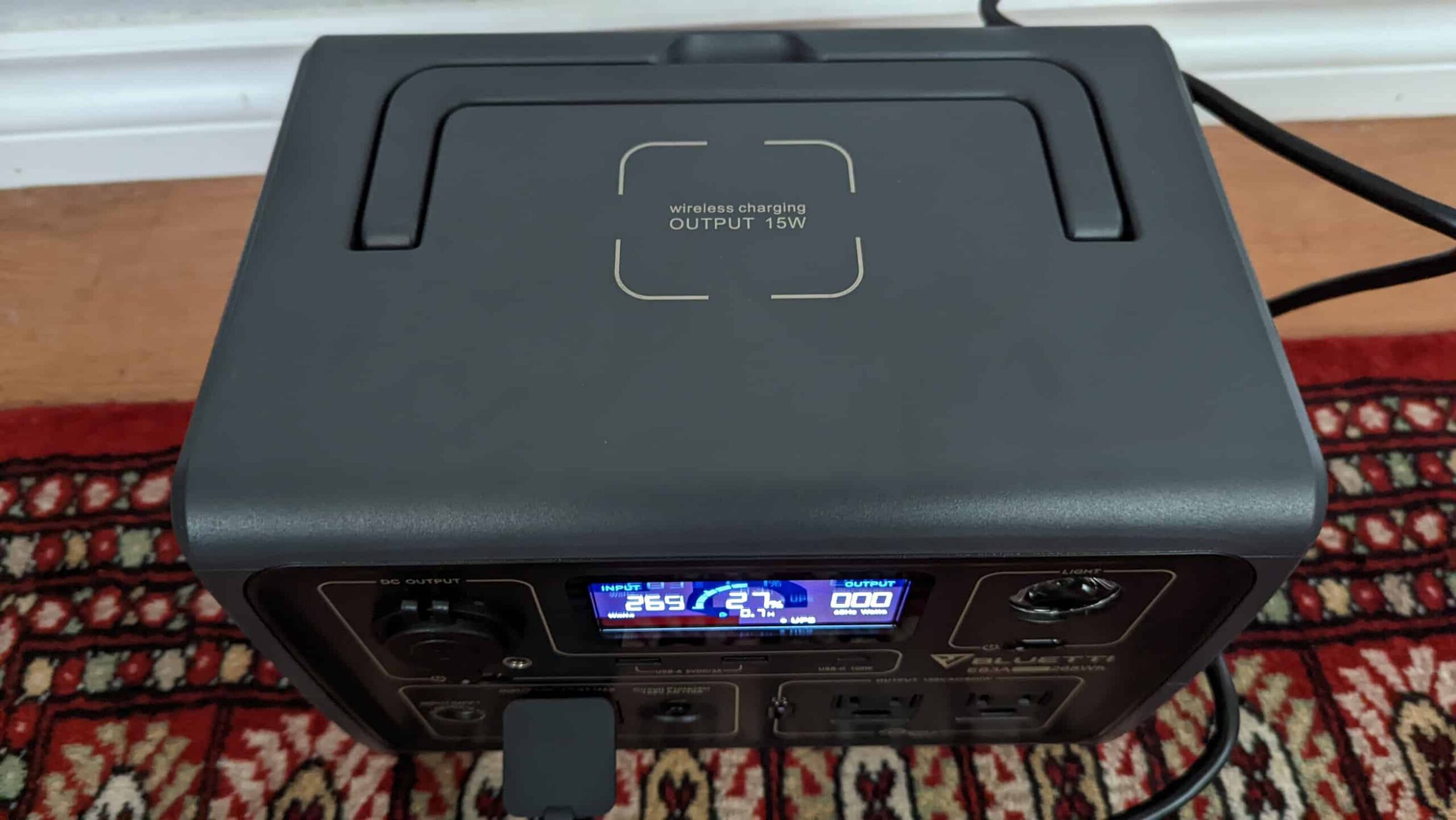 The EB3A power station can be charged via a standard household 120-volt outlet. It takes 1.5 to 2 hours to fully charge it using the standard mode with the 120-volt cable or 1.3 to 1.8 hours using the Turbo Mode (350W). The EB3A can also be charged using the sun's power; you'll need solar panels, sold separately. Using 200W solar panels should take between 1.8 to 2.0 hours, with full sunshine and proper placement of the solar panels. A third option is using the 12V/24V car outlet, which should take between 3.2 to 3.7 hours with 100W input and 1.9 to 2.4 hours with 200W input. The ideal operating temperature is between -4 to 104 Fahrenheit (-20 to 40 Celsius).
The Bluetti EB3A measures 10.4" x 7.09" x 7.2" and weighs 10.14 pounds (4.6 kilograms). The Bluetti EB3A comes in a simple box shape like most power banks. It features the signature Bluetti grey color. The overall design is simple to use and easy to understand. The power bank comes with a sturdy handle, which makes carrying it easy. The EB3A also has a built-in flashlight with two light intensities and an SOS signal. The SOS signal could come in handy in case of an emergency.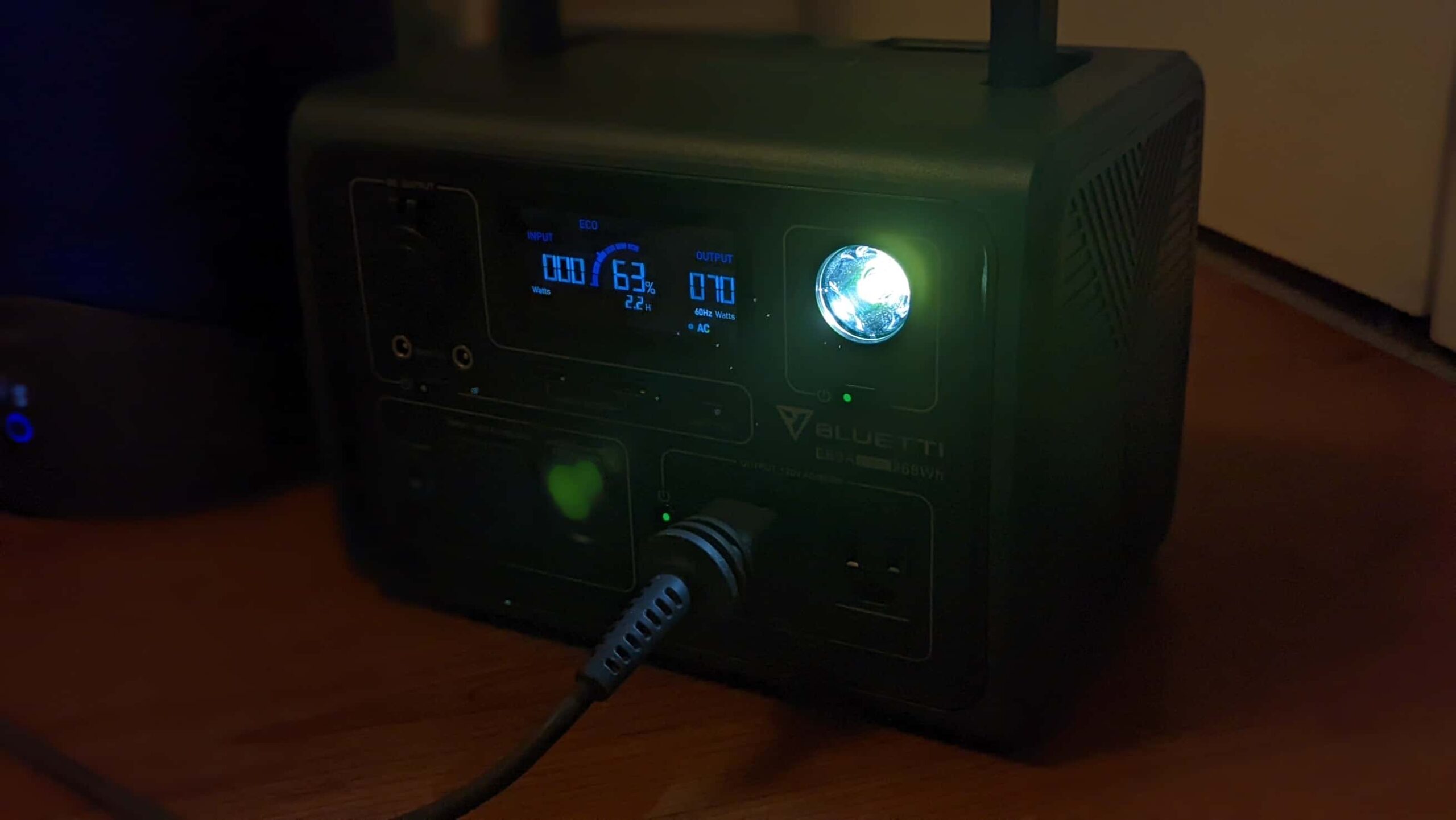 The Bluetti EB3A comes with an LCD screen that displays the power input, power output, and state of charge. While powering devices, the display shows the expected time remaining before the power bank is fully depleted. I find this quite useful; unlike other battery banks, you have an idea of approximately how much time you can use the power bank before running out of juice. When charging the power bank, the same display also shows how much time it would take to fully charge it, whether it's a 120-volt outlet, solar, or 12V car plug.
Overall Thoughts On The Bluetti EB3A Power Bank
Bluetti has become a household name recently, offering a variety of power banks to suit all sorts of needs. Their smallest power bank, the EB3A, is a compact backup power bank perfect for those with limited space. It looks sturdy and is made out of high-quality materials. The battery bank should last a long time as long as you take care of the battery.