This post is dedicated to all you bacon lovers.  In the past, we brought you two bacon infested recipes: the bacon-wrapped eggs and bacon-wrapped chicken, which are sure to please your palate. Today, we'll show you a few examples of regular items which have been blessed with bacon. If you are impressed and willing to purchase at least a couple of the items below, it's safe to say you are a bacon addict and may need help.
Bacon Scented Hand Soap
Wake up in the morning, take a shower, and clean up with bacon scented hand soap? That's right! What an excellent way to start off the day and prepare  for breakfast.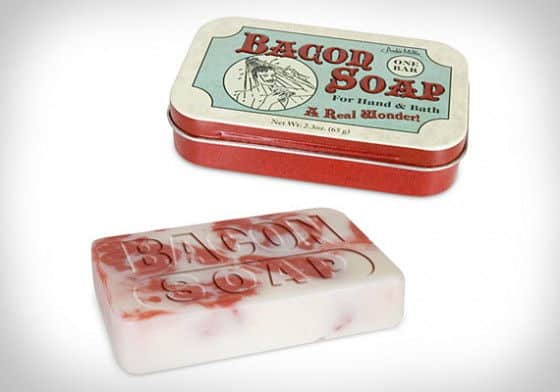 Maple Bacon Coffee
In a rush to leave for work in the morning? You got enough time for coffee but not enough time to make a proper breakfast? Not to worry, my friends. How about you kill two birds with one stone? You can now have a cup of Maple Bacon Coffee from Boca Java. It's a delicious blend of Brazilian Arabica coffee beans infused with flavors of maple and bacon.
Bacon Flavored Mmmvelopes
All you had for breakfast was that delicious coffee, and lunch is still hours away. What's a man to do? Well, you can actually do some work and do some mailing. These bacon flavored envelopes will keep your hunger at bay and you'll be productive as well.
Baconnaise
Heart attack in a jar! For those who want heart disease but are too lazy to prepare bacon.
Bacon Floss
Pick that bacon out of your teeth with, of course, bacon floss!
The list goes on and on. Check out uncrate for everything bacon.