Overview
With the wireless headphones market becoming increasingly saturated, it's becoming more and more difficult to choose which headphones are top quality, and which belong in the gutter. Either way, whoever holds the top spot is still being challenged by the wonderful ATH-ANC300TW, which are my new favorite.
These in-ear headphones rock the eardrums with excellent sound quality with no distractions due to the noise cancellation. All while sleeping snug in your ears with no discomfort whatsoever. Personally I feel as though I'm incomplete without them, and I'm questioning everything I thought I heard in the best quality before. The ATH-ANC300TW headphones are pushing boundaries in every spectrum of the market.
Noise-cancelling
The sound of these headphones is astounding, but what might go unnoticed is how great the lack of noise can be too. The QuietPoint digital hybrid noise-cancelling technology does the perfect job when it comes to reducing ambient noise, defining a clear listening experience with no interruptions.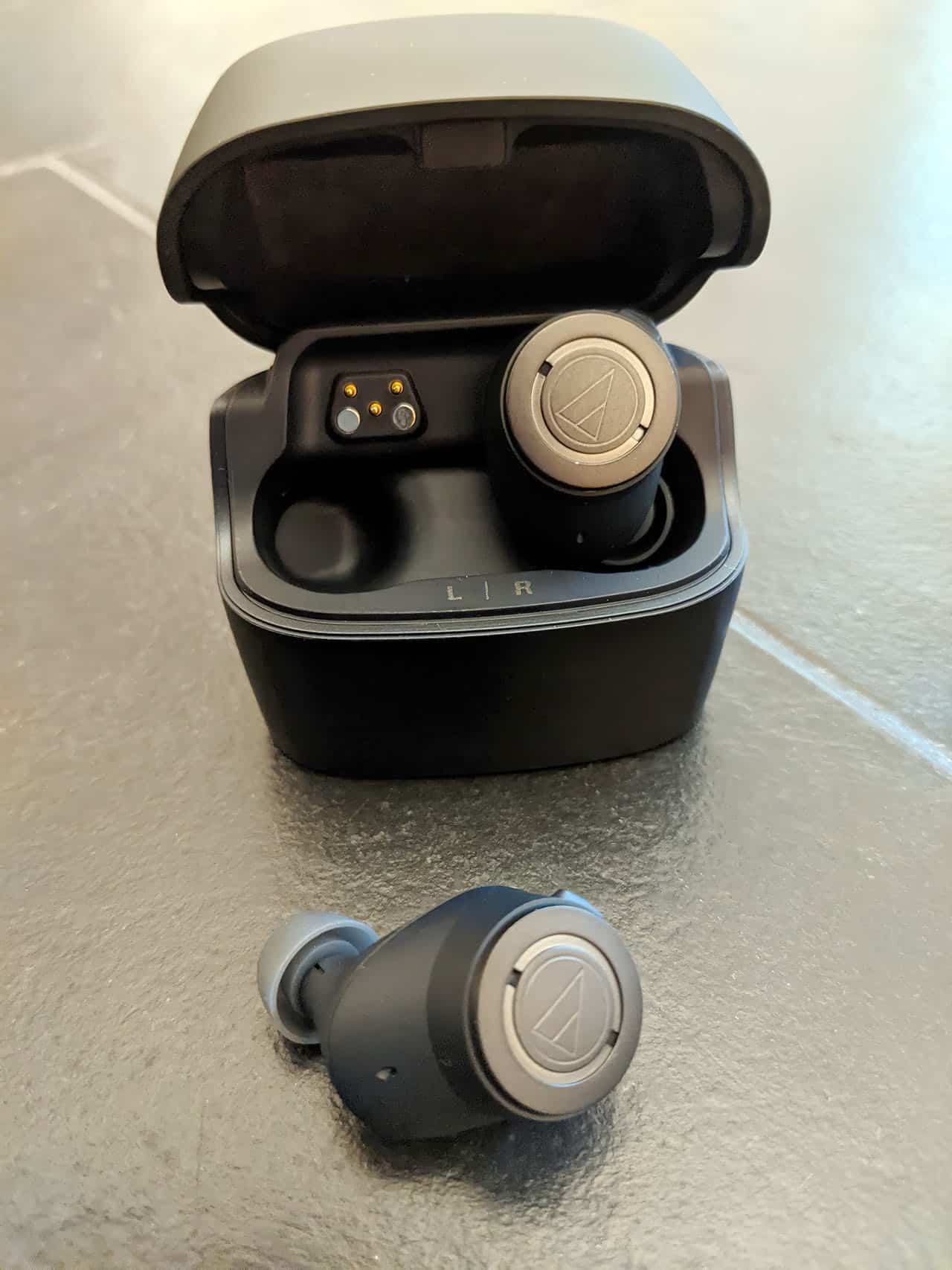 The majority of the time when I'm listening to music, it's at work with loud machinery. The beeping of reversing forklift trucks, or lorries moving about; it all drives me crazy but eventually you just drown it out, right? Well, with the ATH-ANC300TW, I don't have to worry about those intrusions at all because they're virtually inaudible. Drowning it all out entirely has been a huge help with headaches as well, since I don't need to crank the volume all the way up so that I can hear the voices in the podcasts that I listen to.
There's actually three noise-cancelling modes to choose from, which is very handy depending on the situation you're in so that you can fine tune how much you want to block out. The left-hand button on the earphones guides you easily through the noise-cancelling options and the playback volume, which is pretty nifty
The app is where the most connectivity lies, with options for three different intensity levels of noise in the 'Hear-Through' mode. Additionally you'll easily find some situational algorithms for noise cancelling, including 'On The Go', 'Office/Study', or a classic 'Airplane' mode. Honestly, they're all pretty good, but 'On The Go' is what I'd say is my go-to, per se.
Battery and design
This can be a make or break for some people especially if, like me, you listen to music for extended periods of time. The ATH-ANC300TW headphones offer 4 and a half hours of battery life, and an extra 13 and a half hours of case charging.
I found this to be perfectly manageable for my own use, as they won't run out of battery by the halfway point of my 8-hour day, and I can charge them using the case on my break. I'm loving how portable and convenient they are, plus they don't take up a huge amount of space in my pocket when idle. The case is a sleek design that complements the geometry of the headphones, and fits right in line with the minimal theme I've got going on.
Speaking of the design, the Audio-Technica logo accents both headphones, and brings a stylish essence that I didn't know my ears were capable of. They're a little bulky due to the noise-cancelling, but you really don't feel any kind of weight or unnecessary baggage on these things because they sit comfortably without a hitch. I was rather surprised by that, if I'm honest. Coming in at 14 grams for both headphones combined, and around 50 grams for the charging case, it's like lifting a feather.
Sound quality
Again, the audio in these little guys is absolutely fantastic. For official numbers, you're looking at a 20-25,000 Hz frequency response, 106 dB/mW sensitivity, and 14 ohms in impedance. The bass is a little lacking, but that doesn't bother me much since I dislike headaches, and the noise-cancelling more than makes up for it.
When it comes to music taste, mine is quite varied, which the ATH-ANC300TW headphones complement greatly with the neutral reproduction of the source audio material within the headphones. The little drivers at 5.8mm really pack more of a punch than you'd expect, and provide a great strength in audio clarity no matter what I'm jamming to each day. They're just the perfect all-around headphones, in my honest opinion. Not to mention the Bluetooth 5.0 connection works flawlessly, so there's no issues on that front either.