The Audi A5 coupe is one of my favorite cars currently being produced, I love its elegant design and I think what attracts me most is the roof, especially the area around the C-Pillar.  Now if you chop off the roof, the A5 turns into just another A4 with two missing doors and a missing roof, or an A4 Cabriolet, which is not bad looking but not as appealing as the A5 Coupe (to me, at least).  However, I'll forgive Audi for chopping the roof off of the RS5 because it makes up for the looks with LOTS of power!!
Today Audi showcased the 2013 RS5 Cabriolet; the car will make its public debut at next month's Paris Auto Show.  Like the RS5 Coupe, the Cabriolet is powered by the mighty 4.2 liter naturally aspirated V8 engine that produces 444 horsepower and 318 pound-feet (430 Nm) of torque.  All those ponies are sent to all four wheels via a 7-speed S-tronic dual clutch automatic transmission.  Under normal driving conditions, the power is split 40:60 between the front and rear wheels but, if needed, 70% of the power can be sent to the front wheel and 85% to the rear wheels (of course not at the same time).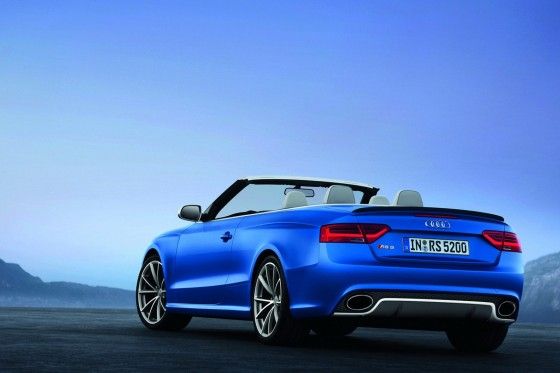 The soft-top convertible opens in 15 seconds and closes in 17 seconds and can be operated at speeds of up to 31 mph.  Since the Audi RS5 Cabriolet is heavier than the coupe, it is a bit slower with a 0 – 62 mph (100 km/h) time of 4.9 seconds compared to 4.5 seconds in coupe format, the top speed is electronically limited to 155 mph (250 km/h) but Audi can raise that to 174 mph (280 km/h) upon request, I don't know why you have to request it, just give everyone the 174 mph top speed.
The 2013 Audi RS5 Cabriolet will go on sale in Europe in the spring of 2013 with a starting price of €88,500 (approximately $112,000 US) in Germany.  Audi didn't say whether the RS5 Cabriolet will be sold in North American markets.
 2013 Audi RS5 Cabriolet Pictures