With the ever-increasing number of watch makers, it's pretty hard to keep track of all the watches that are available to consumers. On one hand, you have the luxury watchmakers that have been around for a long time and everyone knows them, watchmakers like Rolex, Omega, Breitling etc. Then we have more affordable watchmakers like Citizen, Seiko, Hamilton that are also well-known and have been around for a very long time. On the other hand there are lots of new watchmakers popping up on kickstarter, trying to get a piece of the market.
There one affordable watchmaker that has been around for a while, since 1956, I think I have heard of them before but like I said above, it's pretty hard to keep track of so many watchmakers. Said watchmaker is Armitron, a few weeks ago Armitron reached out to us to introduce their latest line of watches, the Armitron Adventure line.
The Armitron Adventure line consists of three different categories of watches, including "Adventure Tracker", "Solar", and "Visible247". The Adventure Tracker watches are digital watches with resin bands, they're closer in function to G-Shock watches, and consist of two different watches with three variations. The Solar line watches consist of four watches, these watches are analog and are powered by light. The Visible247 consist of one watch with two variations, these watches are also analog with bright luminescent dials.
The best part of Armitron Adventure watch line, and most of their other watches, is the price. The Adventure line watches start at $75 US and the most expensive watch is priced at $120.
For our review, I was given a choice of any of the watches from this line, most of the watches in this line are on the larger side (especially for my wrists), so I picked the two smallest ones. For our review, I picked the Armitron Adventure Solar Analog watch with brown leather strap and the Armitron Adventure Solar Analog watch with grey and tan nylon strap.
The Solar-Powered Analog Watch with Light Brown Leather Strap (ref # AD/1002NVSVBN) comes in a 41-mm case, which is the perfect size for my wrist. The watch needs a bit of light to start ticking, I've had it in the sun while I walked for a few days and then left it inside my room, without any direct sunlight, it's been a month or so and the watch is still going strong. According to Armitron website, one full charge in the sun (not sure exactly how many hours) should keep the watch running for over 4 months. Based on my experience, I believe the claimed numbers.
This watch looks very familiar, it's one of many watches that we call homage watches, paying homage to the famous Rolex Submariner watch. I actually own another watch that looks very similar, the Orient Mako. The Armitron 41mm watch is a good looking watch, with a black dial and a black rotating bezel. Unlike the Rolex, the Armitron watch comes with Arabic numerals at 2, 4, 6, 8, 10, and 12 o'clock positions and batons for the other hours. There is a date window at the 3 o'clock position next to the crown. Below the hours markers the watch has very small Arabic numerals, in orange, for the 24-hour time format. The watch comes with the standard three hands, the hour and minute hands are quite thick and come with luminescent material, the second hand is orange. The watch is rated at water resistance of 50 meters.
The brown leather strap is very comfortable and comes with a brushed aluminum (looking?) buckle. The watch sits comfortably on the wrist and has a nice weight to it, it's not too heavy and not too light. It has kept very good time, it hasn't lost or gained more than a few seconds in the last month or so. Looking closely at the second hand, I did notice it skips a second once in a while, it ticks normally and then suddenly it doesn't tick for a second and then jumps two seconds ahead. I'm not sure if it's normal for all of the watches in this line or it's an anomaly on my watch, nevertheless, it doesn't lose or gain time. Or it could also mean the watch needs a charge in the sun.
The Armitron Adventure Solar-Powered Analog Watch with Light Brown Leather Strap (ref # AD/1002NVSVBN) is priced at $95 US, which in my opinion is a good price for this watch. So far, the watch has been very accurate and it looks pretty tough, it should last at least a few years and the way I use my watches, I'm thinking I'll still own this watch 10 years from now.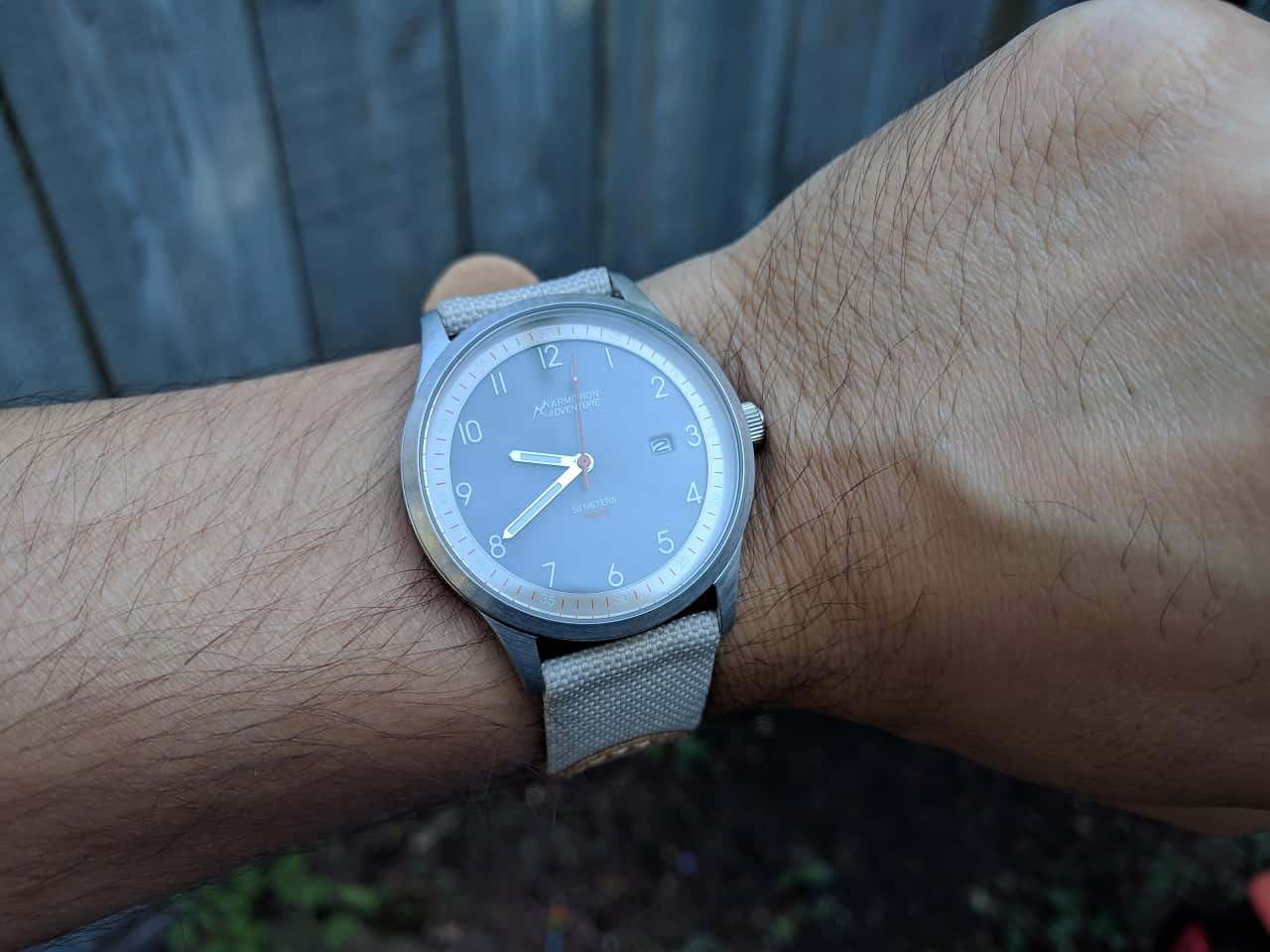 The second watch we received was the Armitron Adventure Solar-Powered Analog Watch with Light Gray and Tan Nylon Strap (ref # AD/1007GYSVTN), this watch comes in a 38 mm case. This watch is also light powered and it started ticking within a minute of being exposed to sunlight (after sitting in the dark box). This watch has a simple and clean design with a stainless steel case, grey dial with 12 white Arabic numerals and a date window next to the 3. It also comes with the traditional three hand layout, with steel minute and hour hands with luminescent material and an orange second hand. There are orange minute markers on the outer rim of the dial which also comes with small 5, 10, 15… numerals for the minutes markers.
The nylon strap on this watch is very comfortable, it's perfect for hot summer days, as it allows air to come through and keeping your wrists sweat free. This watch is also water resistant to 50 meters and is priced at $95.
Neither of the watches say where they're made, they're most likely made in China but I would like to see that marked somewhere on the watch. Other than that, I think these are pretty good watches for the price, perfect for the everyday watch and they can also make for a good gift. Both of the Armitron watches have good build quality and they definitely look more expensive than the asking price. For more information on the Armitron Adventure and other watches in their collection, check out armitron.com.