If you are someone who needs a trusty bag for your everyday working life, adventures, or travels, investing in a decent backpack is pretty key. Being able to find a backpack that isn't going to let you down by a bit of wear and tear, or soaking your electronic equipment in the rain can be tiresome.
Fortunately, the team behind Able Carry has researched, tried, and tested their Daily Backpack to ensure you have a functional, modern and reliable companion.
The Able Carry Daily backpack is built with the customer solely in mind. Everything from the design, fit, storage, and material has been thought out and evaluated to give you a life-long backpack.
With 20L of storage, the Able Carry Backpack is a day-sized bag made with durable materials and a water-resistant coating. The bag includes a main compartment fit for 15" laptops, and additional external and internal pockets for organization.
Able Carry is so sure that you'll fall in love with their backpack, that they've even offered a lifetime guarantee and a 14-day test run.
A Lightweight Everyday Companion
Light and versatile, the Able Carry backpack has been designed to ensure maximum comfort and ease when carrying.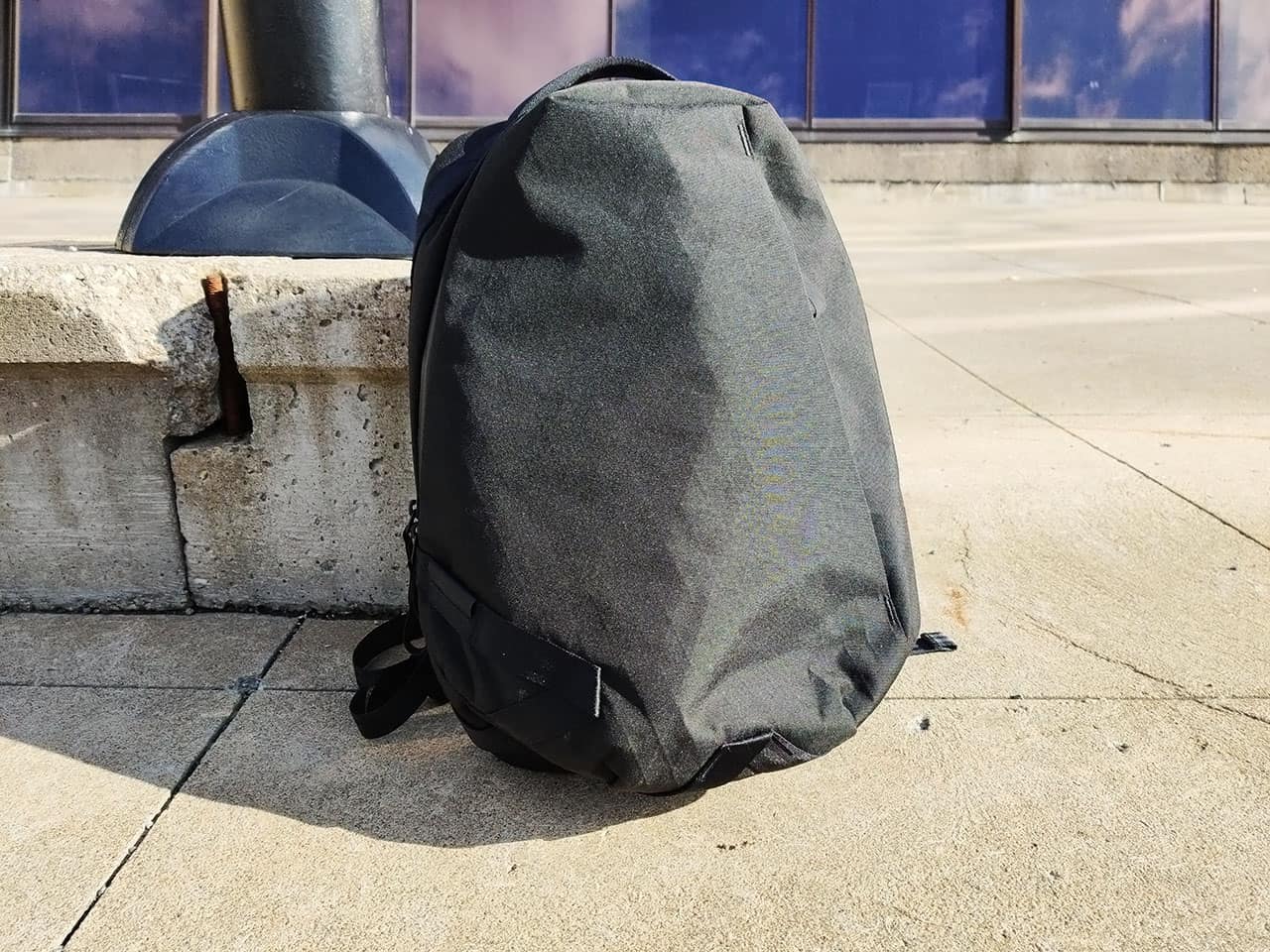 A clean and modern style, the Able Carry Daily backpack is fitted with sternum straps, ensuring full comfort and in keeping with the modern design by being able to be stowed away when needed.
The backpack comes with a handy 360-degree key leash, ensuring small essentials don't slip away into the depth of any pockets when you most need them. Additionally, the bag has some side hooks for bike locks, shoes, grocery bags, or anything else you see fit.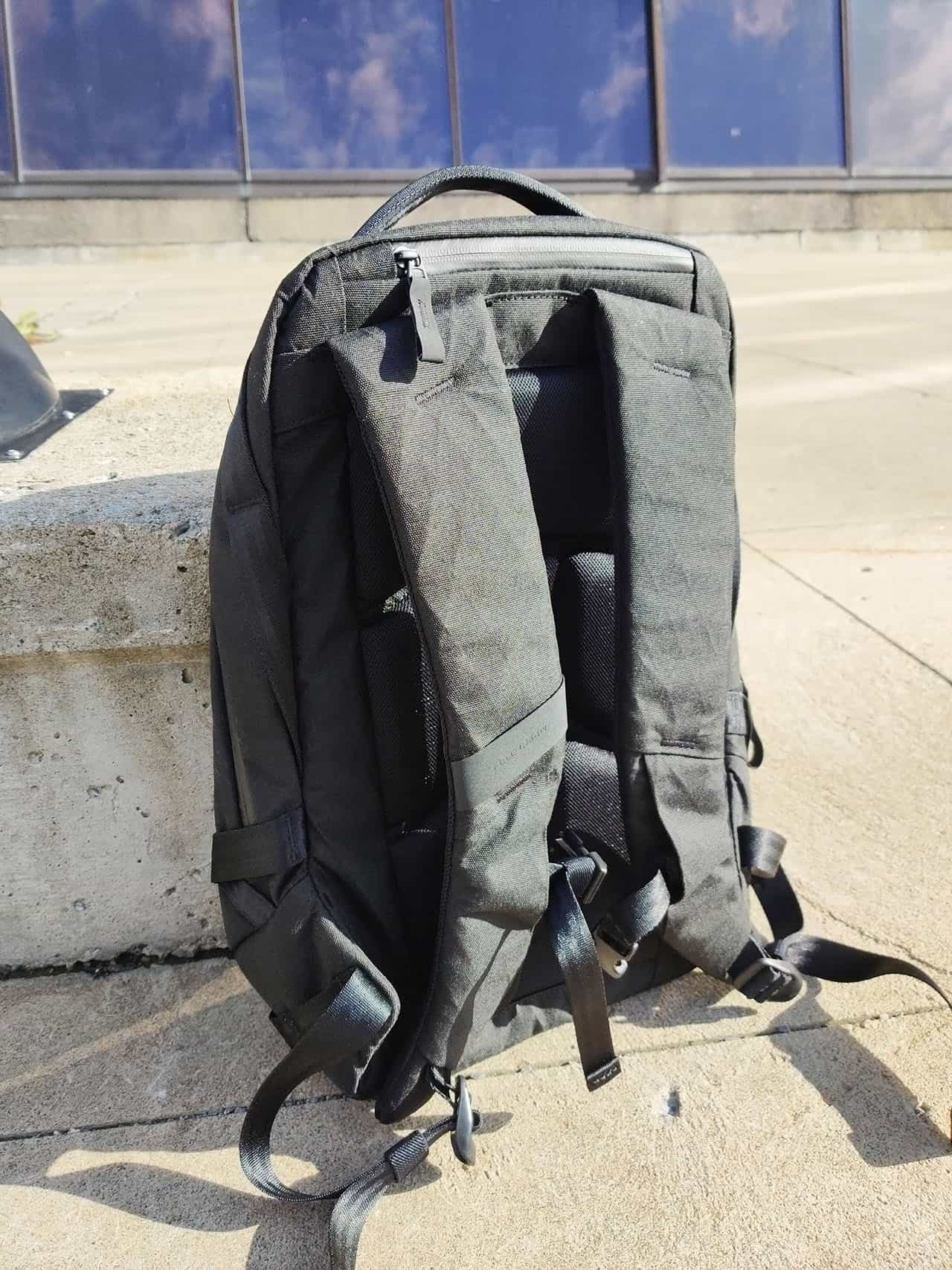 When purchasing a new backpack, one of the key components most consumers look for is the eight of the bag. The last thing you want is a heavy and bulky bag adding weight to your already heavy belongings. The Able Carry Daily backpack is made from high-quality, lightweight materials, that are not only pretty weightless but are comfortable to carry all day long.
The Ultimate Storage Pro
Not only are the external parts of the Able Carry backpack modern, sleek, and minimalist, but the inside of the bag is where the organization and pro-storage really begins.
The backpack itself is simple and uncomplicated. There are two medium-sized pockets that can be accessed from the front, and the main compartment which would hold the bulk of your items.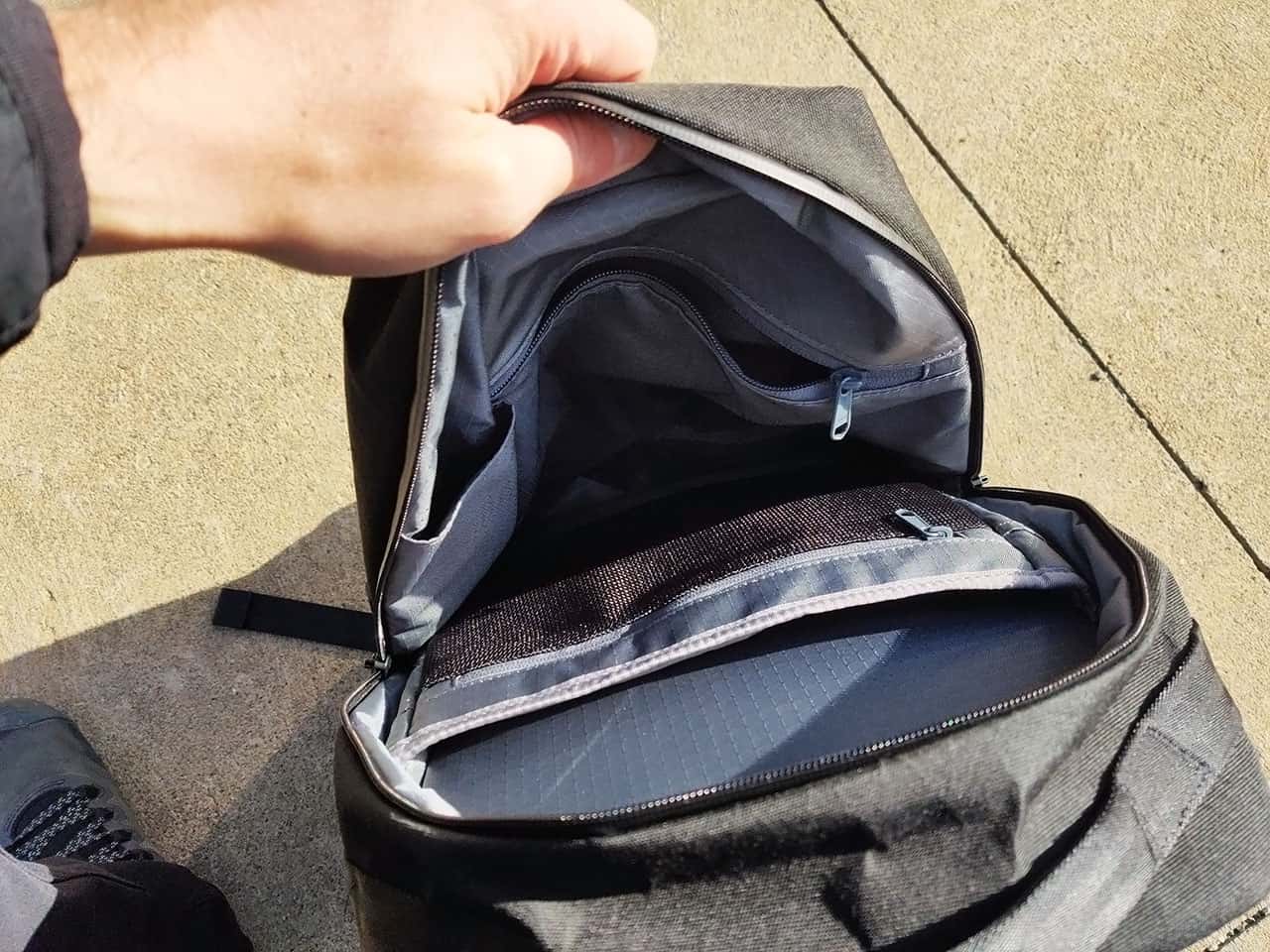 In the front pocket, you'll find space to store your smaller items, such as your passport, earphones or stowing your keys on the plastic clip. hang your keys on the clip . The pocket is deep enough to fit a water bottle or notebook and is the best place for important items you may want to access regularly.
The main compartment of the bag has two pockets on the backpack's front flap. One sized perfectly for a mobile phone or a pair of sunglasses, or even a laptop stand or something similarly narrow. The other, just a little bigger, could be used for similar items or a larger pair of headphones or a sunglasses case.
At the back of the main compartment is a zippered mesh pocket. This is ideal for small tech accessories, such as USB cables, tablets, or a stylus. Its soft and secure mesh material adds extra protection for your valuables and ensures they're kept undamaged from any other accessories in your bag.
At the back of the main compartment is the main attraction – a 15" laptop sleeve with thick padding and protection. Additionally to this, the pouch has a false bottom of protection for when your backpack is flung on the floor and the precious laptop in there is forgotten about.
The final pocket is at the top of the backpack, which is a perfect quick access compartment for much-needed items such as your phone, wallet, or passport. With enough depth to hold all three, you can fill it up with whichever items you seem suitable for.
Unique durable materials and sleek design
Not only is the backpack made of durable and high-quality materials, but even the delivery to your front door has been thought about.
With an impressive drawstring bag to keep your Able Carry Backpack in perfect condition on arrival, the backpack is delivered in pristine condition and ready to use immediately.
Perfect for a minimalist, the sleek and simple design is made up of different colors depending on the material. All pockets, zippers, and compartments are pretty hidden, giving the bag an overall simple and sleek design.
The Able Carry Daily backpack has a standard box shape, with very few straps to clutter the appearance of the bag. All additional features can easily be tucked away to give a minimalist appearance.
Certain colors are available in different fabrics, which include 1000D Cordura nylon or X-Pac. Both have a layer of Dynamic Water Repellant (DWR) coating, which ensures your backpack is completely water-resistant.
The external back of the pack is made up of breathable pads which allow airflow, meaning you can wear the backpack for an extended period of time without sweat build-up. They've also been designed with a dual-density foam, which adds to the comfort of having the bag on your back all day.
In addition to this, the backpack has a top carry handle for an alternative way to hold the bag. The top handle's webbing makes it comfortable, light, and easy to use, and just feels good in your hand.
A lifetime companion
Overall, the Able Carry Daily Backpack is a simple, high-quality, minimalist backpack that can be used every day to hold essentials.
Whether you're heading to the office, meeting a friend for lunch or hiking through the woods, the Able Carry Daily backpack's durable and sturdy materials make it worth every penny.
With a 14-day test run and a lifetime guarantee promise, you'd be a fool to not make the Able Carry Daily Backpack your new companion.