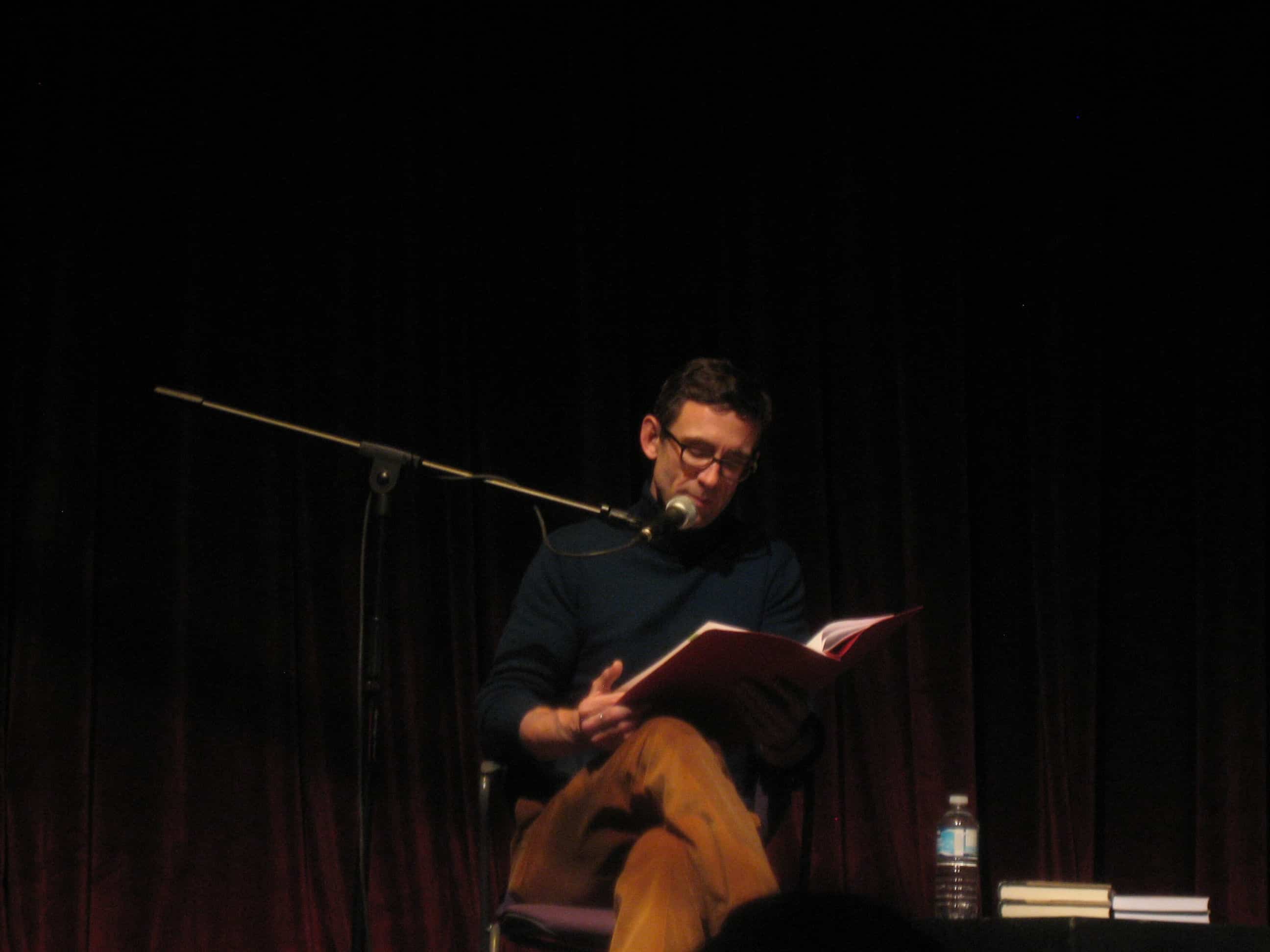 Every time the name Chuck Palahniuk arrives in conversation, I can't help smiling from ear to ear, eyes glowing with excitement like a sycophantic teenage groupie ranting about their favorite rock star. Most people recognize the author's name behind the David Fincher masterpiece, Fight Club. Others, well, they are the work of the mischievous few who recommend to their friends to read such titles as, Choke or Snuff. Soon enough, the satirical black humor that enslaves the characters under consumerism, sex addiction, party crashing or even hell, infects readers like a good case of the rabies. And those few, who yearn to read Palahnhiuk's every word, they are The Cult. So when his latest book, Damned, was announced, I was drooling with anticipation to be able to see him once again on his book tour. But since Vancouver was at the very end of the tour, I've been staring at those damn tickets on my desk for months now. Finally, I can say it was well worth the wait.
The first time I saw Chuck Palahniuk live was in 2009 during the release of Pygmy, the story of a young boy from a North-Korean-like country that was sent to the mid-west US as an exchange student, which was only a cover to being a highly trained sleeper agent to commit a terrorist attack. For me its was a fun read that reminded me of a mix of Manchurain Candidate meets an over the top episode of South Park. The live "book reading" exceeded any expectations as I was in awe by the selected readings, the highly memorable and often recitable anecdotes, topped with a prize giveaway where fans all raced to be the first to blow up their free giant inflatable signed squeaking penguins. Oh Chuck, how I missed thy.
DAMNED
Being one of the lucky few who got the chance to get the book/signing/ticket package for only $35, I arrived a few hours early before the show started to pick up my book and meet Chuck. The book, Damned, is about a 13 year old girl who 'overdoses' on marijuana and has to make due in her afterlife in hell. I haven't read it but I'm already trying to race through this article to get a decent start on it. One of the first things I did notice though is that the book's dust cover eerily looks and, especially, feels like human skin with the added touch of the raised print on the tattoo of Satan.
After being introduced, Chuck Palahniuk graced the stage to the sound of what seemed like a long but restrained cheer from the crowd. The tension was almost too insurmountable, as if, everyone was being too polite, too Canadian, holding back from erupting into a roar.
Before starting into his first reading, Palahniuk grabed a few fully-loaded plastic bags that were on stage and then proceeded to pull out candy bars and bags of chocolate eggs and loonies. Unbeknownst to the crowd, Palahniuk's candy throwing arm had the capacity to compete with professional baseball pitchers as unsuspecting audience members were berated with fastball pitches of chocolate. It just so happens, halloween candy is the currency used in the afterlife in Damned.

"PUPPET SHOW!" "MAGIC TRICK!"
Soon after, Palahniuk dove into his first reading, Romance, which was published in the August 2011 issue of Playboy. No spoilers here, but it was fun to follow in it's inevitable hook that reminded me of a Jason Rouse joke that starts around the 3:35 mark.
More chocolate throwing ensued before Palahniuk introduced the giant inflatable signed brains that represented his so called, 'Blow Your Brains Out Tour'. Mascot isn't the right word, but it's the first word that comes to mind. With the help of satan's little helpers (the name given to the people that worked there that night), he tossed dozens of these brains into the audience. After a countdown of 3, fans raced to the inflate the brains for some free books that Palahniuk had enjoyed over the summer. Being there early, I made sure I sat close to the front, so I was lucky enough to grab one to add to my collection.
GUTS
The highlight of the night was most definitely the reading of his short story Guts, from the 2005 novel Haunted. Now if you haven't heard the story behind the Guts Effect, the story itself is so descriptively vial, that some people are known to faint during the readings. I'm not talking about a few events here and there but if you read the the link, it seems to happen at almost every other event. Apparently, two people at a reading in Miami either fainted or had seizures two weeks ago. Last night, there was even the exact same paramedic in attendence who assisted a fainting just last week in Victoria, BC. Palahniuk now says Guts is responsible for over 200 people fainting. So after a disclaimer and a quick enthusiastic poll from the audience, he offered the chance to read it.
You can read the story here but, I highly recommend you first find a decent video or two to hear Chuck read it himself.
No one fainted at my reading but I have a feeling there's at least one concussion out there from a chocolate fastball to the head.