Unrivalled comfort
You may be wondering why this is first on the agenda – well that's because before you experience the high resolution 24-bit audio processing that hits your eardrums, the headphones need to slide nicely into place first. For someone who has their earphones in for the majority of the work day, they need a long battery life, and they need to be very comfortable otherwise good just isn't good enough.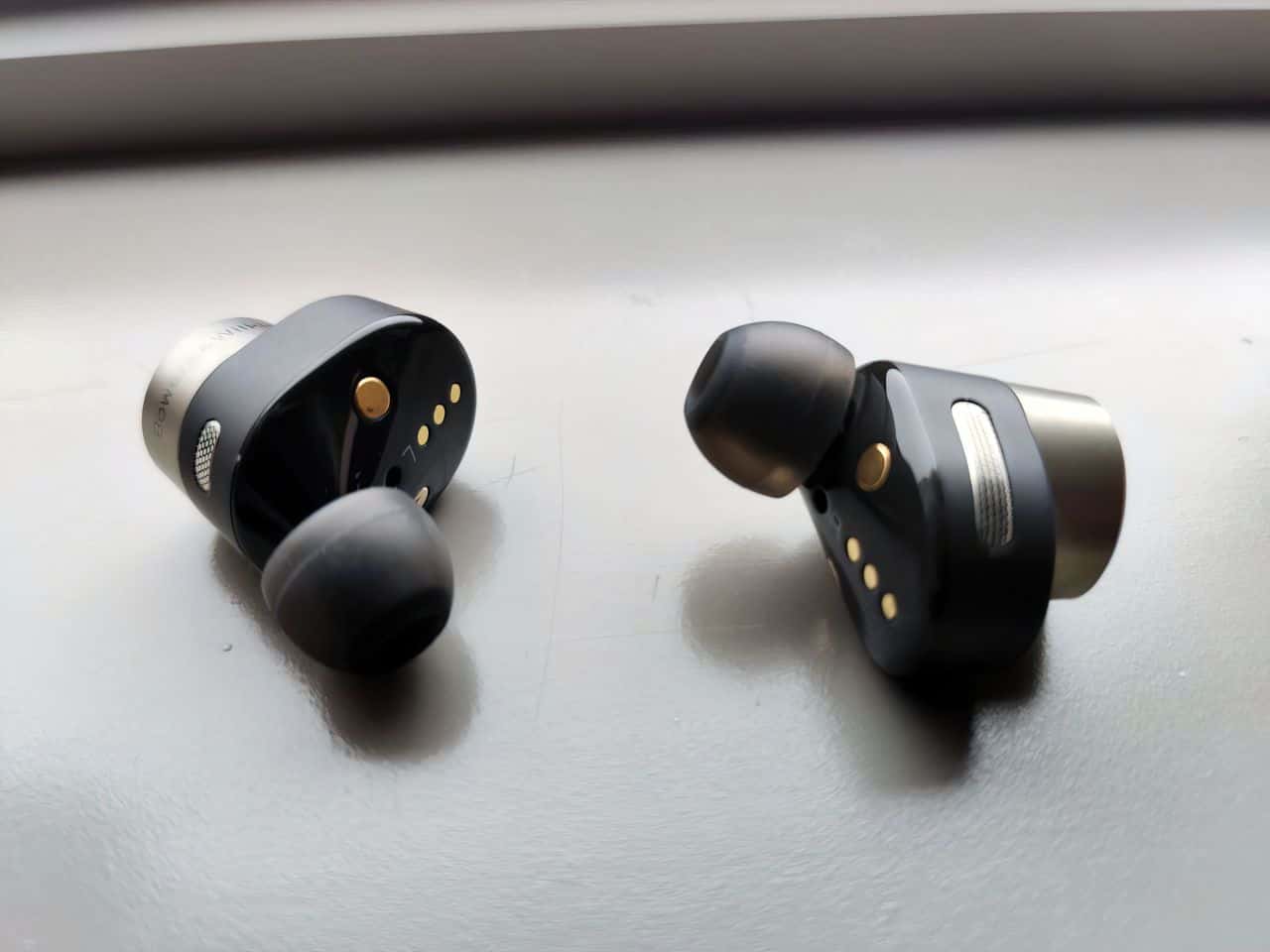 Thankfully, British audio brand Bowers & Wilkins are making leaps and bounds in both of those departments, presenting a very easy fitting design no matter your ear shape. Not only that, but my 8 hour shift is nothing compared to the 24 hour battery life provided by these little beauties. On top of that, the case has a fast charging feature which gives you 2 hours of battery life just from a 15 minute charge so you're almost guaranteed to never run out of battery.
The case itself is an industry first smartcase, also doubling as a unique retransmission system for in-flight entertainment, available on various gaming systems. It's pretty good for size, fitting snug in your pocket; and the accented color makes it look more stylish than gimmicky.
How's the sound?
In short, it's awesome. As to why it's awesome, keep reading. Both the PI7 and PI5 are state of the art headphones releasing April 21st with true wireless functionality, but without losing any of the auditory benefits that come with wires. The active noise cancellation feature has proven useful to block out sounds that you don't want to hear like car horns on a busy street, or just avoiding conversations with your coworkers.
The PI7 though, also has Dual Hybrid Drive units which creates an immersive listening experience, acting like high performance speakers. It's sort of like having a concert crisp sound straight into your ears. Except without ruining your hearing – that is of course, unless you have the volume cranked all the way up for hours on end. If that's your taste though, these bad boys do get very loud so there are absolutely zero complaints about being able to hear clearly through them for phone calls.
Speaking of calls, the PI7 comes with a 6-Mic Array, ensuring high performance benefits from not one, not two, but three completely separate microphones to accurately capture your voice and give a crystal clear transmission. The aforementioned adaptive noise cancellation will certainly assist with this too.
Bonus features
The Bowers & Wilkins companion app makes controlling your headphones extremely straightforward, and there's only one button on them so it's hard to be confused about what it does. Additionally, voice assistants such as Siri and Google Assistant are supported. Multiple devices can also be paired simultaneously – whether it be your phone, computer, speakers, television, or even a gaming console – you can change between them at will for the ultimate confusion as to where your music is originating from.
Another cool thing to note is that the same team behind the Bowers & Wilkins 800 Series Diamond loudspeakers also developed the PI7 and PI5, achieving an audio performance that may be yet unrivalled. This design comes through with its accented charcoal and white color variations, helping you stand out amongst the general increase of wireless headphones in everyone's ears.
While it has less features, the PI5 is just as good of an option at $249 USD instead of the hefty $399 USD price tag of the PI7. However the PI5 still has great feats such as the TWS+ technology which synchronizes the earbuds fluently; Qualcomm aptX audio which supports transmission for audio playback at a high quality; as well as several other PI7 attributes.
Where can I get them?
You'll find the PI7 and PI5 True Wireless headphones over at their official website, available on April 21st. Be sure to act quick if you want a pair though, as these may be highly sought after considering all their technological factors that they bring to the table.