Orlando is one of the most popular family vacation destinations on the planet. It is near impossible to feel bored in the city, as it is home to the world's finest theme parks, coolest water parks, and unique nature activities.
If you have never visited O-Town before, you might feel torn between the hundreds of resorts available. Each will have different accommodation options, amenities, activities, and standards, and you mustn't rush the booking process to avoid a big mistake.
Make your decision a breeze. Check out the following eight reasons these stays should be your FIRST resort for Orlando fun in 2022.
1. Westgate Lakes Resort & Spa – A New Pirate-themed Water Park
Westgate Lakes Resort & Spa has endless family-friendly activities your kids will love, especially the 161,000-gallon pirate-themed water park.
If you're unfamiliar with the best Orlando resorts, find a brand with an exceptional reputation in the city.Westgate Resorts provides some great Central Florida resort options for a fun-filled, comfortable stay, and Westgate Lakes Resort & Spa should be at the top of your list.
It features spacious, family-friendly studios to four-bedroom villas that ooze style and comfort.You and your loved ones will have plenty of freedom inside the roomy accommodation, which can help your kids maintain a healthy rapport throughout a vacation.
Yet, the most obvious reason to visit Westgate Lakes Resort & Spa is for Treasure Cove Water Park. Kids will never want to leave the state-of-the-art, Pirate-themed water park, as it features dual 30-foot water slides, wave pools, splash pads, and a lazy river. Your children will be smiling long after splashing in the water.
2. Four Seasons Orlando – Firework Views
Upgrade to a park view room at Four Seasons Orlando to watch Walt Disney World's nightly firework display from the comfort of your private balcony.
Stay close to the magic by checking in to the Four Seasons Orlando, as it is minutes away from Walt Disney World Resort. You can even make your resort experience more enchanting for your children by paying a little extra for a park view room. The whole family can then enjoy an unforgettable view of Walt Disney World's nightly fireworks display from the comfort of your guest room.
On top of the view, Four Seasons Orlando now allows guests to add a private fireworks dessert party to their booking. Your nearest and dearest can then indulge in Disney-inspired desserts, drink glow-in-the-dark beverages, and enjoy various party favors while watching the spectacular fireworks. It will create a more magical stay in Orlando.
3. Cabana Bay Beach Resort – A Fun Beach Area
Cabana Bay Beach Resort, Universal Orlando's newest resort, is the perfect place for some fun in the sun and sand in Orlando, as it features one of the few beach areas available in Central Florida.
The fun yet affordable Cabana Bay Beach Resort is not only set inside Universal Orlando Resort, but it features bold, retro rooms and suites to inject some fun into a vacation. Inspired by classic Florida beach resorts during the 1950s and 60s, you can expect a vibrant interior design and a laid back atmosphere.
However, it is the Lazy River Courtyard that will make this resort stand out from the crowd. It not only features a visually appealing swimming pool and ample outdoor seating, but it includes a beautiful sandy beach for kids to play and relax under the sun. It might not sound like a big deal, but the closest beach is Cocoa Beach, which is nearly an hour away from Central Florida.
4. B Resort & Spa – Disney Perks
Enjoy various Walt Disney World perks after checking in to B Resort & Spa, such as extra magic hours and a Disney FastPass+ service.
B Resort & Spa is an official Walt Disney World Hotel, despite not being owned by the entertainment complex. The 394-room hotel provides its guests with various Disney perks throughout their stay, including a Disney FastPass+ service, extra magic hours, and complimentary shuttle services to and from the Disney theme parks.
As the chic, affordable resort is inside the Disney Springs area, you will stay a short walk away from one-of-a-kind restaurants, unique stores, and live entertainment. Plus, young and old can have fun in the zero-entry pool, lounge poolside, and dine at three restaurants. Also, children can spark their imagination at the cool Kids' Zone.
5. Holiday Inn Resort Orlando Suites – 4D Experience
Enjoy a family movie night during your stay at Holiday Inn Resort Orlando Suites, which offers a state-of-the-art 4D movie theater experience.
As Holiday Inn Resort Orlando Suites is a mile away from Walt Disney World Resort, you will likely expect it to be full of fun. Well, you will be happy to learn that it will not disappoint when it comes to family-friendly activities, as it offers a large kid's playground, a 9-hole mini-golf course, an arcade, and outdoor basketball courts.
What separates the resort from other accommodation options is its impressive 4D experience, which will immerse guests in an enjoyable movie experience. Also, the resort hosts family movie nights to keep all ages entertained when they are not splashing in the pools or playing in the Candy Club Activity Center.
6. Hilton Orlando Buena Vista Palace – Disney Character Breakfasts
Hilton Orlando Buena Vista Palace hosts a fun Disney character breakfast every Sunday. It is an ideal place to cuddle some of the most famous cartoon characters, including Mickey Mouse himself.
What could be more fun than breakfast with a Disney character? Put a wide smile on your children's faces with a stay at Hilton Orlando Buena Vista Palace, as they can enjoy Sunday breakfast with Mickey Mouse, Minnie Mouse, and Pluto at the Letterpress Restaurant.
The breakfast experience will likely be a highlight of their Orlando vacation. The whole family can even cuddle the much-loved Disney characters while enjoying a yummy meal at the airy restaurant that overlooks tranquil water. It is a perfect start to a fantastic day in O-Town.
7. Hilton Orlando – The World's Largest & Tallest Escape Room Experience
Check into Hilton Orlando to enjoy its virtual, interactive escape room experience, which requires participants to unlock the resort's secret.
Florida fun doesn't get much bigger than the world's largest and tallest escape room, which is exactly what you will find at Hilton Orlando. Once you are ready to put your intellect to the test, the entire resort will transform into an interactive escape room filled with fun challenges, complex clues, and an augmented reality experience. It is unlike any other escape room you have tried in terms of scale and style, as you will not need to break out of a room, but you will need to unlock a big resort secret.
Once you have unlocked the secret, you and your loved ones can return to the comfort of your stylish guest room and suite to talk about the experience. You can even continue the fun at the resort by swimming in one of two pools, playing tennis, floating down the lazy river, or shooting hoops on the basketball court.
8. Disney's Animal Kingdom Lodge – Hundreds of Animals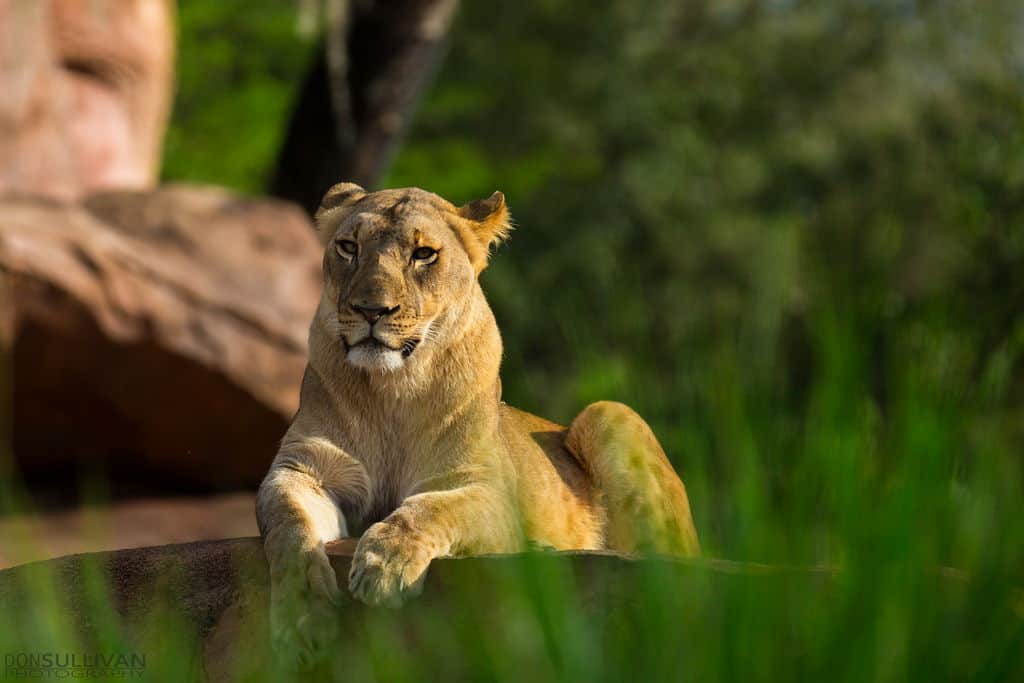 If you or your children dream of experiencing an African safari, Disney can help make your dreams come true at its Animal Kingdom Lodge.
Turn an Orlando vacation into an African safari by checking in to Disney's Animal Kingdom Lodge. It will allow you to experience all the luxurious creature comforts you would expect from a resort while enjoying safari-style experiences, such as watching giraffes grazing, zebras exploring, or ostriches padding along a stunning savanna.
The magnificent resort features a modern barrier system that will allow you to safely view wildlife, and you can even gaze at them from the comfort of your guest room balcony. Featuring four lush savannas, you can spot more than 200 animals from 30 species during your stay, including gazelles, giraffes, zebras, kudu, wildebeests, flamingos, waterbucks, and more.
Conclusion
Most resorts will differ when it comes to accommodations, dining options, location, and activities. Carefully consider your loved ones' age, personality, and preferences to pick a venue that will ensure they never feel bored between theme parks, shopping, and attractions.
If you want to stay in a fun resort that will help your family or friends create many memories, you cannot go wrong with the above resort options. Each offers various activities designed to beat boredom and help you enjoy a memorable vacation in Orlando, Florida.