Are you looking to reignite the spark in your relationship or keep the burning fires of passion bright? Look no further! We've crafted a list of 26 sexy date night ideas guaranteed to spice up your love life and make each moment count, whether venturing into the great outdoors or staying cozy at home.
Sexy Date Night Ideas (Key Takeaways)

Plan the perfect date night by choosing the right day and time, setting the mood with candles and music, and selecting an outfit that makes you feel confident and sexy.
Indoor date night ideas include cooking a romantic dinner together, having a movie night with a twist, playing board games or card games, wine tasting, couples massage, karaoke night, and art classes.
These indoor ideas are cost-effective ways to spend quality time with your partner while creating memories that will last forever. Remember to have fun by exploring each other's fantasies and experimenting with new experiences.
Table of Contents
Planning The Perfect Sexy Date Night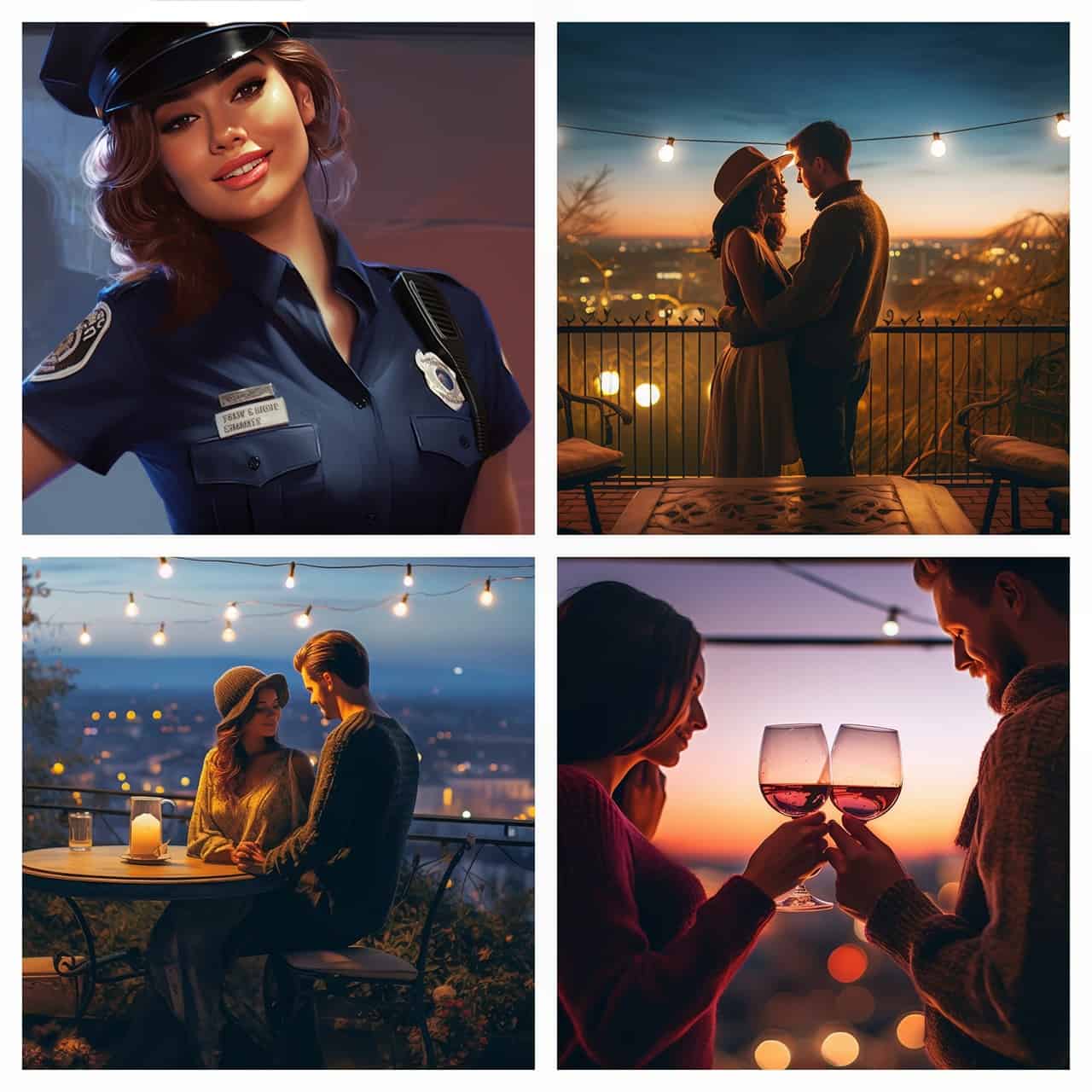 Choose the perfect day and time that works for both of you, set a romantic mood with candles and music, and pick out an outfit that makes you feel confident and sexy.
Choosing The Right Day And Time
Selecting the perfect day and time for your sexy date night is crucial to ensure you can both enjoy each other's company without distractions or stress. Consider syncing up schedules well in advance so that you can block off a certain evening, dedicating it solely to one another.
Avoid scheduling your date night on days when you have had a long day at work or are dealing with personal issues, as these factors may hinder the romantic atmosphere.
Remember any ongoing events – such as watching sports or TV shows – that might compete for attention.
Pro tip: If possible, surprise your partner by unexpectedly clearing their calendar for one night and taking charge of planning everything yourself.
Setting The Mood And Ambiance
Creating the perfect sexy date night atmosphere is an essential element for a memorable evening. The ambiance should be inviting, intimate, and sensual to set the stage for romance.
To achieve this, start by dimming the lights and using candles or fairy lights as a delicate source of illumination, which will help turn up the heat in any room.
Pay attention to small details that evoke intimacy and pleasure; try adding silky fabrics and plush pillows for added comfort during your date night setup. Aromatherapy can have a significant impact on setting a romantic vibe – use scented candles, essential oils, or even incense to add an alluring fragrance to your space.
Don't forget about personal grooming before your special evening together – dress up in your most appealing outfit to create an irresistible allure for your partner. And remember: presentation matters! Whether you're serving dinner at home or bringing snacks on an outdoor adventure, take time arranging everything beautifully because nothing says "I love you" more than going the extra mile in making even mundane things extraordinary just for them.
Selecting The Perfect Outfit
Selecting the perfect outfit for your sexy date night can truly make a difference in setting the tone for the evening. The right attire not only boosts your confidence but also sends a subtle message to your partner that you've put thought and effort into impressing them.
For instance, if you're going for a romantic walk followed by dinner at an upscale restaurant, opt for chic yet comfortable clothing such as tailored pants or dark denim paired with a crisp button-up shirt.
On the other hand, if you're staying in and trying something adventurous like role play or an erotic board game, feel free to dress up in more provocative and sensual attire – think silky robes or even costumes that cater to each other's fantasies.
Indoor Sexy Date Night Ideas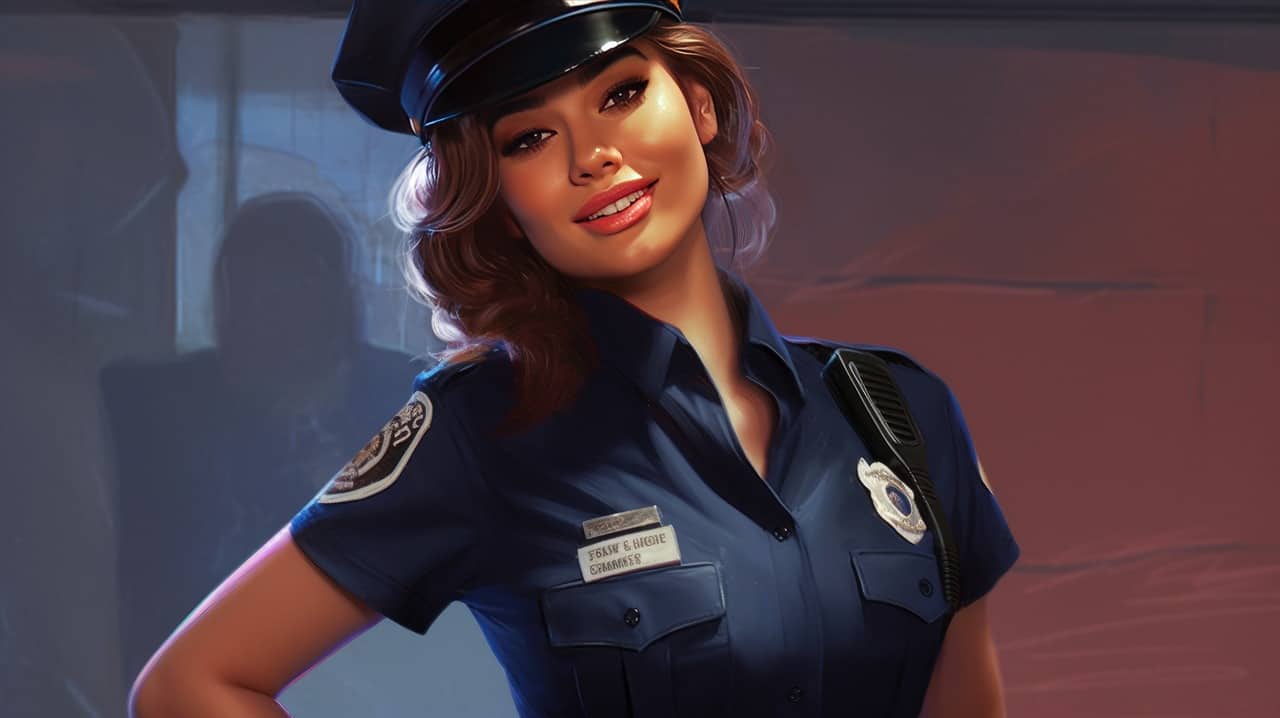 Cooking A Romantic Dinner Together
If you're looking for an intimate and romantic date idea, consider cooking a meal together with your partner. This activity allows you to spend quality time in the kitchen while creating a delicious dish that you can both enjoy.
Plus, it's a cost-effective way to have a fun night without breaking the bank. You can divide up tasks and make different dishes or team up to create one mouth-watering meal.
Not only is cooking together enjoyable, but it also allows you to learn new skills and experiment with different flavors. It's the perfect opportunity to try out that recipe you've been wanting to make for months or whip up something completely new.
And once the meal is ready, sit down at the table together and savor every bite of your joint creation.
Having A Movie Night With A Twist
Ready to turn up the heat on your next movie night? Why not add a little spice with a twist? Instead of just watching a film, why not make it into an interactive experience? One idea is to pick a theme or genre and create your own costumes, drinks, and snacks.
For example, if you're watching a classic western, dress up in cowboy hats and boots while sipping on whiskey cocktails.
Another way to switch things up is by playing drinking games that are tailored to the movie you're viewing. You can add rules like taking a sip every time someone says a certain phrase or takes off their shirt.
This adds another layer of fun and excitement to your evening together.
Playing Board Games Or Card Games
Board games and card games might not be the first things that come to mind when it comes to date nights, but they can certainly add some spark to your evening. These games are a great way to spend quality time with your partner while laughing, teasing, and challenging each other.
Games like Talk, Flirt, Dare!, Scrabble, or Uno can be particularly fun for couples. But don't limit yourself only to these classic choices- you could play slapjack if you're in the mood for something fast-paced or try golf if you're looking for something more strategic.
Mind games like poker or rummy can also bring excitement and flirting into the mix as you bluff and act coy toward each other.
Wine Tasting
Get ready for a sensory experience with your partner during an at-home wine tasting. You can save money by purchasing wines and hosting the tasting in the comfort of your own home.
Settle in for an evening of exploring and savoring different grape varieties, from bold reds to crisp whites. Or, make it a blind taste test where you try to guess which glass contains which type of wine.
Add some cheese or charcuterie to the mix to enhance the flavors even further.
If you're looking for a way to turn up the heat, this sexy date idea is perfect! Sipping on glasses of wine together can be sensuous and relaxing while giving you both time to connect emotionally and physically.
Couples Massage
A couples massage is a surefire way to set the tone for a romantic and pleasurable date night. This intimate activity allows you and your partner to relax, unwind, and connect on a deeper level.
A couples massage involves side-by-side massages performed by two trained therapists in the same room. The experience can range from soothing Swedish massages to more intense deep tissue work, depending on what you and your partner prefer.
Not only does it feel amazing, but the physical touch also releases oxytocin, known as the "love hormone," which can enhance intimacy between partners.
Additionally, if you're looking for at-home ideas that involve relaxation and intimacy, consider creating a spa-like ambiance with dimmed lights, scented candles, or diffusers filled with calming essential oils such as lavender or chamomile – both great for reducing stress levels – warm bubble baths filled with rose petals or Epsom salts followed by face masks or other treatments like foot scrubs could be something fun to do together in preparation before having an at-home couples massage session.
Karaoke Night
Are you looking for a fun and sexy date night idea to spice up your love life? Karaoke is the perfect activity for couples who love to sing and have a good time.
Sing your favorite duet together, or take turns belting out your go-to power ballads. You'll be surprised how much laughter and bonding can come from attempting some terrible singing together.
Art Classes
Art classes make for a fantastic indoor sexy date night idea that can help you tap into your creative side. Working on a project together, whether it's painting or sculpting, allows you to bond in new ways and create something special together.
Plus, it's an opportunity to learn something new and express yourself through art.
If you're looking for inspiration for your next sexy date night, consider signing up for an art class at a local studio or community center. Alternatively, you could purchase some supplies online and set up your own makeshift studio at home.
Take turns choosing the subject matter or collaborate on a joint piece that represents both of your unique styles.
DIY Cocktail Making
One of the sexiest and most fun date night ideas is to try your hand at DIY Cocktail Making. No need to leave your house when you can have your own bar set up right in your kitchen! Head to the liquor store and grab some of your favorite spirits, mixers, and garnishes – then get creative! Use this as an opportunity to experiment with new flavor combinations or try out classic cocktail recipes.
Not sure where to start? Look up easy cocktail recipes online or watch videos on YouTube for inspiration. Don't forget the importance of presentation – serve them up in fancy glasses with colorful straws and fresh fruit garnishes for that extra touch.
With music playing in the background and good company, you'll be feeling sexy, relaxed, and ready for a night full of fun.
Spa Night At Home
Creating a spa night at home with your significant other is a fun and intimate way to spend time together. It doesn't have to be complicated or expensive, either.
You can give each other massages, take a hot bath together, or make your own DIY face masks using ingredients like honey and avocado. To set the mood for your spa night at home, light some candles and prepare a playlist of calming music.
Many couples enjoy having regular spa nights at home as it's an easy way to connect with their partner while reducing stress levels – something that almost all of us can benefit from in our busy lives! There are plenty of online guides available that offer tips for how to create the perfect romantic atmosphere with things like massage oil, hot towels, and more so you can turn up the heat on your love life without leaving the house.
Outdoor Sexy Date Night Ideas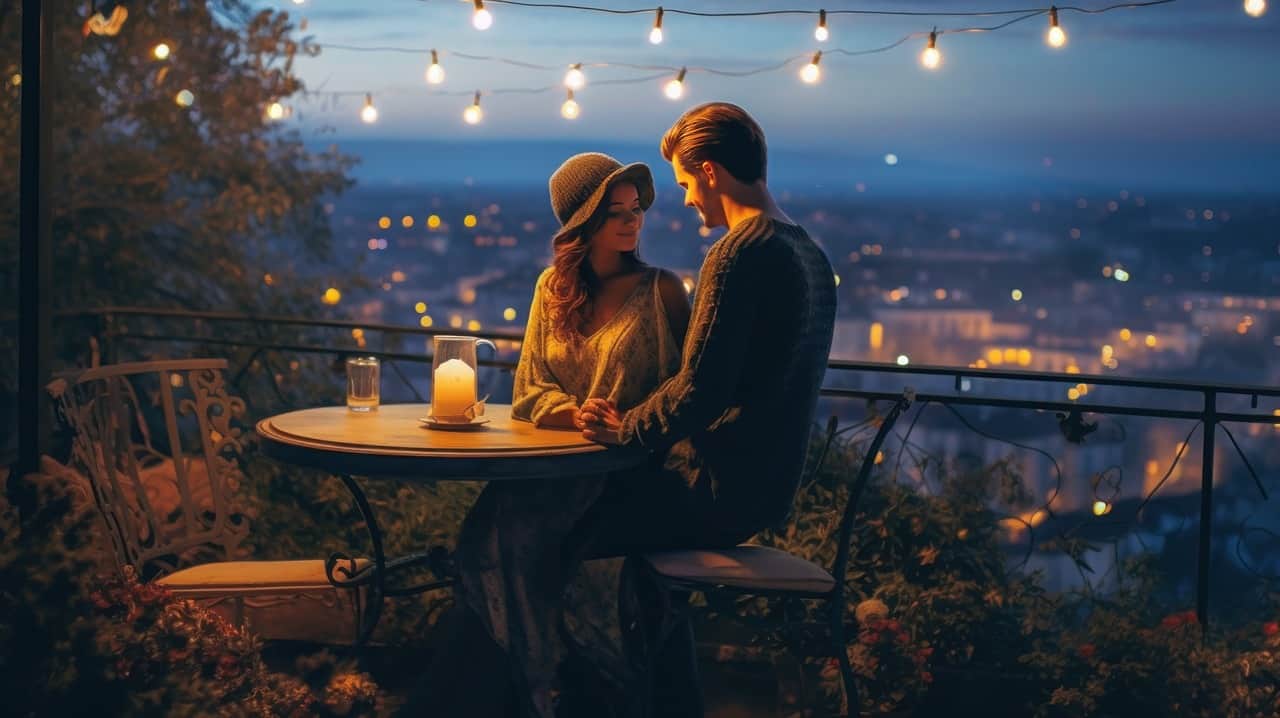 Explore the great outdoors with these thrilling outdoor date night ideas, such as a romantic picnic or sunset cruise.
Going For A Romantic Picnic
One great way to spend a romantic day outdoors is by going for a picnic. It's an affordable and intimate experience that allows couples to savor each other's company in beautiful surroundings.
There are many locations to choose from, such as a local park, botanical garden, or even your backyard if you have a nice setup. Prepare some delicious sandwiches and snacks, bring along some refreshing drinks, and don't forget the blanket! Use this opportunity to disconnect from technology and connect with one another while enjoying nature's beauty.
Stargazing Together
One of the best romantic date night ideas is stargazing together, which involves lying outside and gazing up at the stars. This idea is not only cost-effective but also very easy to plan.
It can be made more special by preparing a star-gazing date night basket, which could include blankets, pillows, snacks, and wine. Stargazing can be enjoyed after dinner or by climbing onto the roof for a better view.
According to important facts outlined earlier in our blog post, stargazing is one of those activities that don't require much planning yet are super fun and romantic, thanks to its peaceful ambiance and natural setting.
Couples looking to connect with nature during their outdoor adventures will love this unique activity that encourages relaxation while being surrounded by breathtaking views of the stars above.
Nature Walk Or Hike
A nature walk or hike can be a fun and romantic way to spice up your date night. Exploring the great outdoors together provides an opportunity to connect with each other and with nature.
Whether you choose a local park or venture out into the wilderness, hiking is a great way to get exercise while enjoying beautiful scenery. You can bring along a picnic lunch, sit by a babbling brook, and soak in the sunshine.
Hiking also provides opportunities for adventure – perhaps you'll discover hidden waterfalls or spot wildlife along the trail.
Incorporating outdoor activities like hiking into your date nights lets you enjoy quality time together while exercising body-and-brain health benefits. It's much easier than one may think to spark creativity in romance with these adventurous outings away from Netflix binging indoors.
Shooting Range
If you're looking for an adventurous and unique date idea, consider going to a shooting range with your significant other. Not only is it a fun way to learn a new skill together, but it also allows you to let off some steam and feel like action movie stars for the day.
Plus, you'll both get a rush of adrenaline as you aim down the sights at your target. The shooting range is just one option among many exciting date night activities that can help spice up your love life.
Other outdoor adventure date ideas include going on a romantic picnic or hiking in nature together. Or if you prefer indoor activities, try cooking a delicious meal together or getting creative with art classes or DIY cocktail making.
Don't be afraid to experiment with something new and unconventional; trying out different activities can bring couples closer and deepen their connection over time.
Mini Golf
Looking to add some fun and excitement while also being outdoors for your next sexy date night? Look no further than mini golf! Mini golf is not just a classic childhood activity, but it's also a perfect way to bond as a couple and have some flirty competition.
There are even adult-only courses with more challenging holes and themes like pirate ships or glow-in-the-dark designs. Plus, you can easily incorporate mini golf into other activities like having drinks or sharing a picnic on the course.
Mini golf is just one option in our list of 26 Sexy Date Night Ideas To Spice Up Your Love Life. With so many options out there that range from indoor cooking classes to outdoor sunset cruises, we hope this list inspires you and your partner to find something new to experience together.
Beach Date
Imagine taking your partner on a romantic beach date at sunset. It could be the perfect setting for an intimate and sensual evening. You can pack a picnic basket with all of your favorite snacks, grab a bottle of wine, and cozy up on a blanket while listening to the sound of waves crashing against the shore.
Take this opportunity to connect with one another and enjoy each other's company without any distractions.
As mentioned in our list of outdoor sexy date night ideas, going to the beach is just one way to create memories with your significant other. The articles aim to provide unique and creative ideas so you can spice things up and try new things as a couple.
Don't forget to bring some sunscreen, towels, and maybe even some board games or cards if you want to keep yourselves entertained throughout the day or night.
Sunset Cruise
For a truly magical and romantic experience, why not consider taking your partner on a sunset cruise? Watching the sun dip below the horizon while on the water is an unforgettable moment of beauty that you can share with the one you love.
You can dress up in your finest clothes and enjoy some champagne or cocktails as you sail off into the distance.
According to our list of 159 romantic things to do with the one you love, a sunset cruise is definitely in the top 5. It's a bucket list item that every couple should try at least once.
A sunset cruise also provides privacy, meaning it's just two of you experiencing this magnificent view without interruption.
Outdoor Concert Or Movie Screening
One of the most romantic and fun date night ideas is going to an outdoor concert or movie screening. It's a great way to enjoy each other's company while also experiencing live entertainment under the stars.
Many cities offer free outdoor concerts during the summer months, featuring local bands and artists playing a range of genres from jazz to rock.
Alternatively, if you're in the mood for some cinematic romance, outdoor movie screenings are also a great option. Many venues across different cities host outdoor movie nights where couples can snuggle up together with popcorn and enjoy classic films like The Notebook or Titanic under the moonlit sky.
These events are usually inexpensive and often have food trucks, so you don't have to worry about packing your own snacks or drinks.
Creative And Unconventional Sexy Date Night Ideas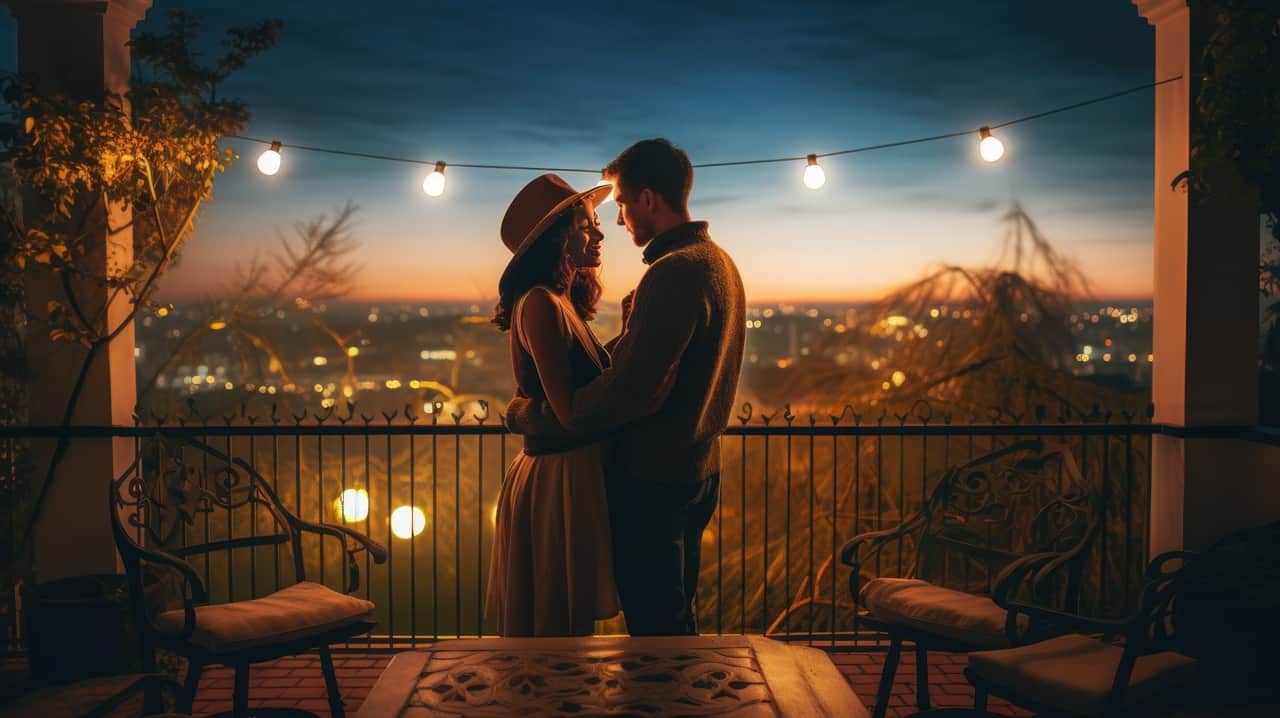 Unleash your adventurous side with these unique and exciting date night ideas that will take your relationship to the next level. From escape room adventures to exotic virtual tours, each activity is designed to turn up the heat and make for a memorable and fun-filled experience.
Don't settle for boring date nights – try something new, spice things up, and discover new ways to enjoy each other's company.
Dancing Lessons
Dancing lessons are an excellent way to add some creativity and excitement to your date night with your significant other. Consider taking up a new dance style like the blues, ballroom, or salsa, which can be both fun and romantic.
Learning how to dance together has numerous benefits for couples, including improving communication and physical intimacy. As you move across the floor and listen to music as one, it creates a strong bond between partners that can last long after the lesson is over.
Escape Room Adventures
Looking for a date night idea that's both exciting and challenging? Look no further than an escape room adventure. This unique activity involves being locked in a themed room with your partner and solving puzzles together to try to find the key to escape.
What's even better is that some companies offer "sexy" versions of these rooms, where the goal is not just to escape the room but also make it to the bedroom.
It's definitely not your typical date night activity, but if you're up for something new and adventurous with your significant other, consider adding this one to your bucket list.
Virtual Tours Of Exotic Places
For couples who love to travel, going on a virtual tour of exotic places can be a fun and exciting date night idea. With technology at our fingertips, we can explore the world from the comfort of our own home.
Virtual tours are perfect for couples who have busy schedules or are unable to travel due to budget constraints or health concerns. They offer an opportunity for exploration without leaving your living room – all you need is an internet connection and a device such as a laptop, tablet, or smartphone.
Virtual tours can transport us to far-off lands without ever having to leave our house, providing an escape from reality that's both affordable and unique.
Comedy Clubs
A comedy club is an excellent choice for a sexy date night with your significant other. If you both enjoy humor, laughter, and good times, then this idea should be on top of your bucket list.
You can make reservations at a local comedy club and laugh together while enjoying cocktails or dinner.
Comedy clubs provide a unique experience where you can witness professional comedians performing live stand-up routines. It's also an opportunity to discover new comedic talents in the area who may become your favorite comedian.
Paint And Sip Classes
One of the most creative and fun date night ideas is attending a Paint and Sip class together. This unique activity involves couples enjoying some wine while painting together in a relaxed and casual setting.
Whether you choose to attend a studio or host your own at-home version, these classes offer a great way to bond while exploring your artistic side.
With three different activities offered – canvas painting, pottery painting, and glass painting – there are plenty of options for every couple to try something new.
Not only will you create beautiful pieces of art together, but you'll also get to enjoy each other's company in a fun and creative environment that encourages laughter and conversation.
Plus, it's an opportunity to add some sexy spice to your relationship by sharing this intimate experience with one another.
Pottery Classes
Pottery classes offer a fun and creative way to spice up your love life. Not only can they be relaxing and therapeutic, but they also provide an opportunity for couples to work together and express themselves artistically.
According to "101 Adventurous Date Ideas to Fall Deeper in Love", trying new things as a couple is essential for creating a strong romantic connection. Pottery classes are just one example of how couples can come together and try something playful while learning a new skill at the same time.
Food And Wine Festivals
Indulging in food and wine festivals can make for a unique and exciting date night idea. These festivals offer an opportunity to taste various cuisines, explore new flavors, and discover wines from different regions.
Food and wine events are often held in romantic venues such as vineyards or scenic gardens. You can enjoy live music, sample gourmet treats, and sip delicious drinks while taking in the ambiance of the event.
Plus, it gives you something to look forward to if it's happening soon or added to your bucket list for future date nights.
Live Theater Or Ballet Performance
Attending a live theater or ballet performance can be an incredibly romantic and sophisticated way to spend date night with your significant other. You'll have the opportunity to enjoy captivating storytelling, breathtaking performances, and beautiful costumes and sets.
During intermission, you can discuss your favorite moments of the show while sipping on wine or champagne.
In fact, several articles about date night ideas suggest attending live theater or ballet performances as a great option for couples looking to rekindle their romance.
Whether it's checking out the latest Broadway hit or watching an intimate dance performance in a local theater, this type of outing is sure to leave a lasting impression on both you and your partner.
Role Play
Have you ever considered role-playing with your partner? It's a type of erotic play that allows couples to explore their fantasies and add variety to their relationship.
Whether it's the classic French maid and master scenario or something more unconventional, there are many sexy role-play ideas for couples to try in bed.
Role-playing can be a great way to spice things up in the bedroom or on date night without necessarily involving sex. It adds an element of excitement, creativity, and playfulness that can enhance intimacy between partners.
Dress Up
Another exciting and creative way to spice up your love life is by dressing up. You can choose a theme, like a favorite movie or era, and get into character.
Dressing up allows you to explore different sides of yourselves and adds an element of fun.
For instance, you can dress up as characters from "The Great Gatsby" or rock n roll stars from the '50s. Alternatively, you could opt for playful costumes like superheroes or cartoon characters.
Try Something Unconventional
If you're looking to add a little excitement and creativity to your date night, why not try something unconventional? Break out of your routine and surprise your partner with a new experience that's both fun and sexy.
Consider taking dance lessons together or dressing up for an evening of roleplay. If you're feeling daring, try experimenting with new sex toys or engaging in a steamy shower together.
You might even want to plan a sexy scavenger hunt or striptease as part of your date night.
Take A Steamy Shower Together
One of the sexiest and most intimate things you can do with your partner is to take a steamy shower together. This date night idea allows you to connect physically and emotionally while also getting clean.
To make it even more exciting, consider adding some shower games into the mix. For example, playing "truth or dare" while in the shower can be a great way to explore each other's fantasies and desires.
No matter how you choose to spend your steamy shower date night, it is sure to be an experience that will bring you closer together as a couple.
Take A Candlelit Bubble Bath
One of the most relaxing and intimate date night ideas is taking a candlelit bubble bath together. This simple yet sensual activity can help you both unwind after a long week while also providing the perfect opportunity to reconnect with your partner on a deeper level.
To make this experience more romantic, you can add scented candles and rose petals around the tub or even bring in some of your favorite drinks to enjoy as you soak.
While many people think of bubble baths as an indulgence reserved for women, they actually have therapeutic benefits that are beneficial to everyone. Research has shown that soaking in warm water helps to lower cortisol levels (stress hormones) and promote feelings of well-being and relaxation.
Go Dancing Together
Dancing together can be a fun and romantic way to connect with your partner. Whether you're twirling on the dance floor or grinding in a club, dancing can bring out your sensual side and help you let loose.
You don't have to be an expert dancer to enjoy this sexy date night idea – just choose a style of music that you both love and move to the beat. If you want to take things up a notch, try taking a dance class together.
Not only will it improve your moves, but it'll also give you an opportunity to get closer and learn something new as a couple.
Plan A Sexy Scavenger Hunt
If you're looking for something fun and adventurous to do on your next date night, why not plan a sexy scavenger hunt? This is the perfect way to spice things up and bring some excitement into your love life.
Start by hiding clues around the house that lead to different rooms or objects. Get creative with your clues by describing everyday objects in sensual ways, such as "where we share steamy showers together" or "where we make love under the sheets."
To take your sexy scavenger hunt to the next level, consider adding some naughty surprises along the way. Think about incorporating massages, strip poker, or experimenting with new sex toys into each room or location.
Try A Sexy Striptease
One creative and unconventional way to add some steamy excitement to your date night is by trying a sexy striptease. It may seem intimidating at first, but it can be an exciting and thrilling way to rekindle the fires in your relationship.
You don't have to be a professional dancer or know any fancy moves; all you need is confidence and a willing partner.
If doing a full-on striptease isn't for you, there are plenty of other strip games for couples that can also add some spice to your date night. For instance, you could try playing strip poker or strip blackjack with your partner.
Remember that communication is key when trying something new in the bedroom, so make sure to discuss boundaries and consent beforehand.
Experiment With New Sex Toys
Trying out new sex toys together can be a fun and sexy way to spice up your love life. From vibrators to handcuffs, the possibilities are endless. A great option for couples who are new to using toys in the bedroom is the Satisfyer Pro 2, which provides incredible stimulation without being intimidating or overwhelming.
If you're feeling more adventurous, consider trying the We-Vibe Sync Couples Vibrator, which can be used during intercourse and controlled via an app on your phone.
Additionally, exploring different types of erotic play can heighten intimacy between partners while introducing an exciting element of novelty into their relationship.
Some popular options include light bondage or sensory deprivation using blindfolds.
Frequently Asked Questions (About Sexy Date Night Ideas)
What are some sexy date night ideas to spice up my love life?
Some sexy date night ideas include trying a new restaurant, taking a dance class together, going on a romantic hike or walk, having a picnic under the stars, booking a couples massage or spa day, and even just setting aside time for an intimate movie night at home.
How do I plan the perfect surprise date for my partner?
When planning a surprise date for your partner, consider their interests and preferences when choosing activities or destinations. Make reservations ahead of time if necessary, and be sure to keep the details of the date secret until you're ready to reveal them.
How important is communication in maintaining intimacy during dates?
Communication is crucial in maintaining intimacy during dates as it helps both partners understand each other's needs and desires better. Be open and honest with your partner about what turns you on and what doesn't work so that you can both enjoy yourselves fully.
Are there any risks associated with spicing up your love life?
While adding some excitement to your love life can be fun and rewarding, it's important to communicate clearly with your partner about boundaries and consent to avoid crossing any uncomfortable lines. Additionally, always practice safe sex measures to protect yourself from unwanted pregnancy or STIs.
Conclusion
In conclusion, planning a sexy date night can be the perfect way to turn up the heat in your relationship. With these 26 ideas, there's no excuse not to spice things up and have some fun with your significant other.
Whether you choose an indoor activity or venture outdoors, set the mood and ambiance for a sensual evening. Remember that date nights are important for any couple looking to strengthen their bond and keep things exciting.