The Nissan Pathfinder has been on sale since 1986 and has been quite a popular vehicle, especially among the off-road loving crowd. However, the fourth generation (R52 series) moved to a unibody construction, which angered some hard-core fans of the vehicle. But in reality, that's a very small group of people, and most people that buy SUV/CUVs nowadays want better ride quality, good fuel efficiency, and added interior room, all of which is achieved by moving away from body-on-frame to unibody layout.
I don't blame Nissan for going this route, I highly doubt most off-roaders would take a brand-new Pathfinder (or any other SUV) on rough and rocky roads where body damage is guaranteed. Instead, people into that type of hobby usually buy used vehicles and then customize them to their liking. For "normal" off-roading (going on the occasional camping trip with unpaved roads, detours etc), the current generation Nissan Pathfinder is more than capable of handling pretty rough conditions.
A few of weeks ago we were handed the keys to a 2020 Nissan Pathfinder SL Rock Creek Edition for our weekly review, I took advantage of the opportunity and planned a trip to a cabin with the Pathfinder.
Prices
The 2020 Nissan Pathfinder is offered in 6 different trims, ranging in price from $36,498 for the S 4WD and going all the way up to $49,498 for the Platinum 4WD trim, below is a list of all trims and prices.
| | |
| --- | --- |
| Trim | Price |
| S 4WD | $36,498 |
| SV Tech 4WD | $40,298 |
| SV Rock Creek | $41,698 |
| SL Premium | $45,898 |
| SL Rock Creek | $47,298 |
| Platinum AWD | $49,498 |
Our review car for the week had a price tag of $47,298 plus $1,840 for Freight & PDI. Our test car had the $135 optional Magnetic Black paint.
The "Rock Creek Edition" adds the following to the exterior and interior of the standard Pathfinder:
Dark 18″ wheels
Black mesh grille
Black roof rails and crossbars
Black door handles and side mirrors
Unique lower front fascia
Black rear license plate finisher
Black molded wheel arches
Blacked out model, grade and 4WD badges
unique badging on the front doors
Unique Rock Creek Edition two-tone seating surfaces and badging
High contrast stitching on seats, door, console lid and steering wheel
All-season rubber floor mats
Premium metallic interior trim
Engine
All trims of the 2020 Nissan Pathfinder are equipped with 3.5-liter V6 engines, producing 284 horsepower at 6,400 rpm and 259 pound-feet of torque at 4,800 rpm. Power is sent to all four wheels via a Continuously Variable transmission.
According to Nissan, the Pathfinder should consume 12.1/8.9 L/100 kilometers in city/highway driving. On our trip the on-board computer showed 10.5 L/100 km of highway driving, however our Pathfinder was loaded with hundreds of pounds of "stuff" and we had two plastic kayaks strapped to the roof, which I'm sure created some drag, which would increase fuel consumption.
Driving
Driving the 2020 Nissan Pathfinder feels like driving a big car, it's a unibody construction after all, it has a big SUV/CUV ride; which is comfortable and with a good amount of body roll, but nothing like the old body on frame. The ride quality is perfect for city or highway driving, it's very comfortable and relaxing. The suspension soaks up bumps effortlessly, perfect for cities where roads aren't maintained well.
The V6 engine provides plenty of power in city and highway driving; during normal city driving, you'd be hard pressed to notice the Pathfinder is equipped with a CVT, it's only when you are hard on the gas peddle when you feel the "CVT-ness" of the transmission. Overall, the CVT transmission works well with the V6 engine and it does help save a bit of fuel.
We did take the Pathfinder on unpaved roads, forestry roads; these types of roads can be driven on with a car but it would be very slow going. The Pathfinder worked perfectly well on these roads and we were able to achieve high speeds through all the ruts and loose rocks, this is about the extent of how far these vehicles will be taken by their owners, if they ever leave paved roads.
Styling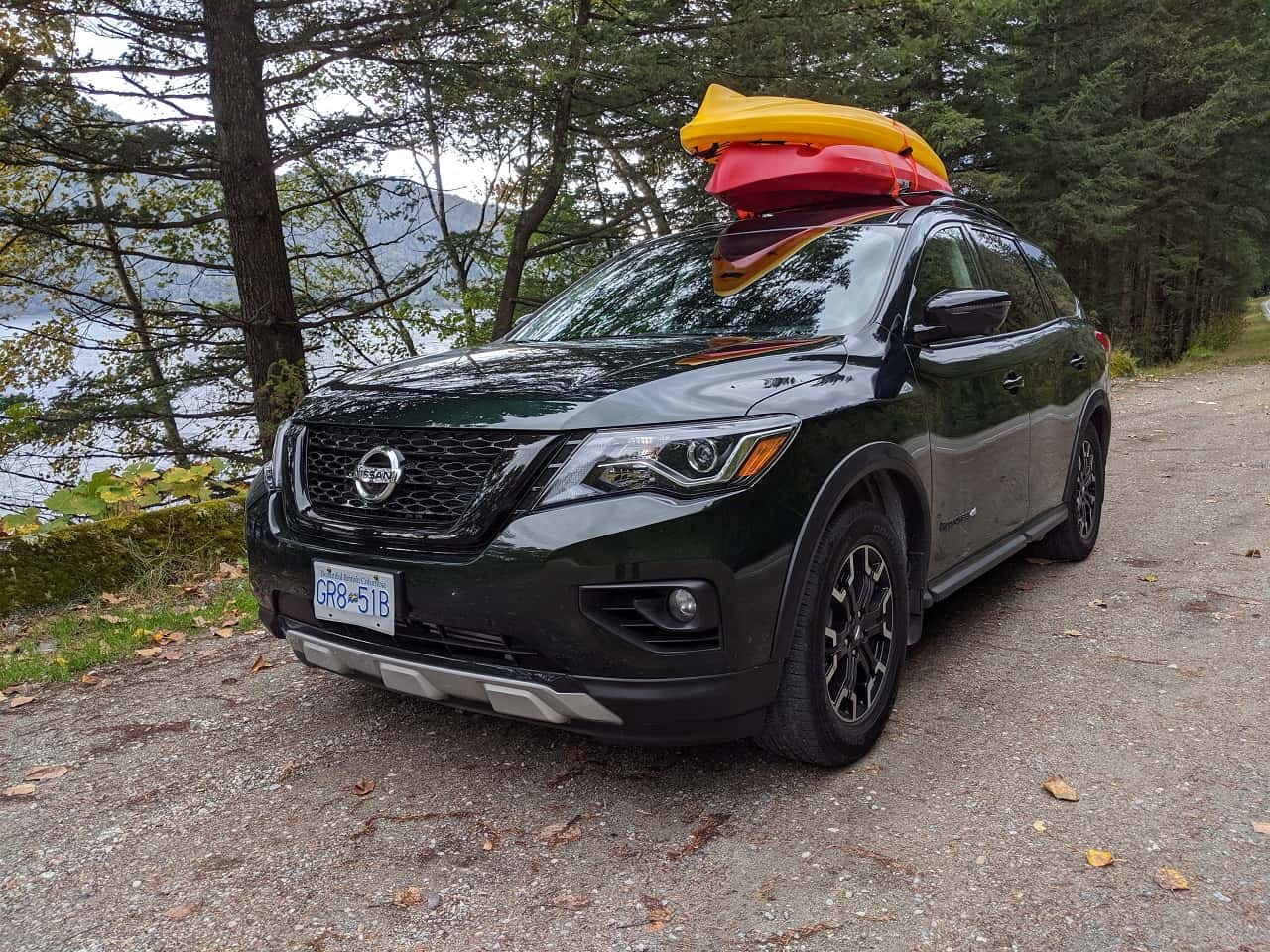 Styling is a matter of personal taste; in my opinion the 2020 Nissan Pathfinder is an ok-ish looking vehicle, it has a very unoffensive design and there's nothing distinctive about it. The previous generation Pathfinders did have unique looks that made them stand out from the crowd, the 4th generation Pathfinder blends with the rest of vanilla-looking CUV/SUVs.
Interior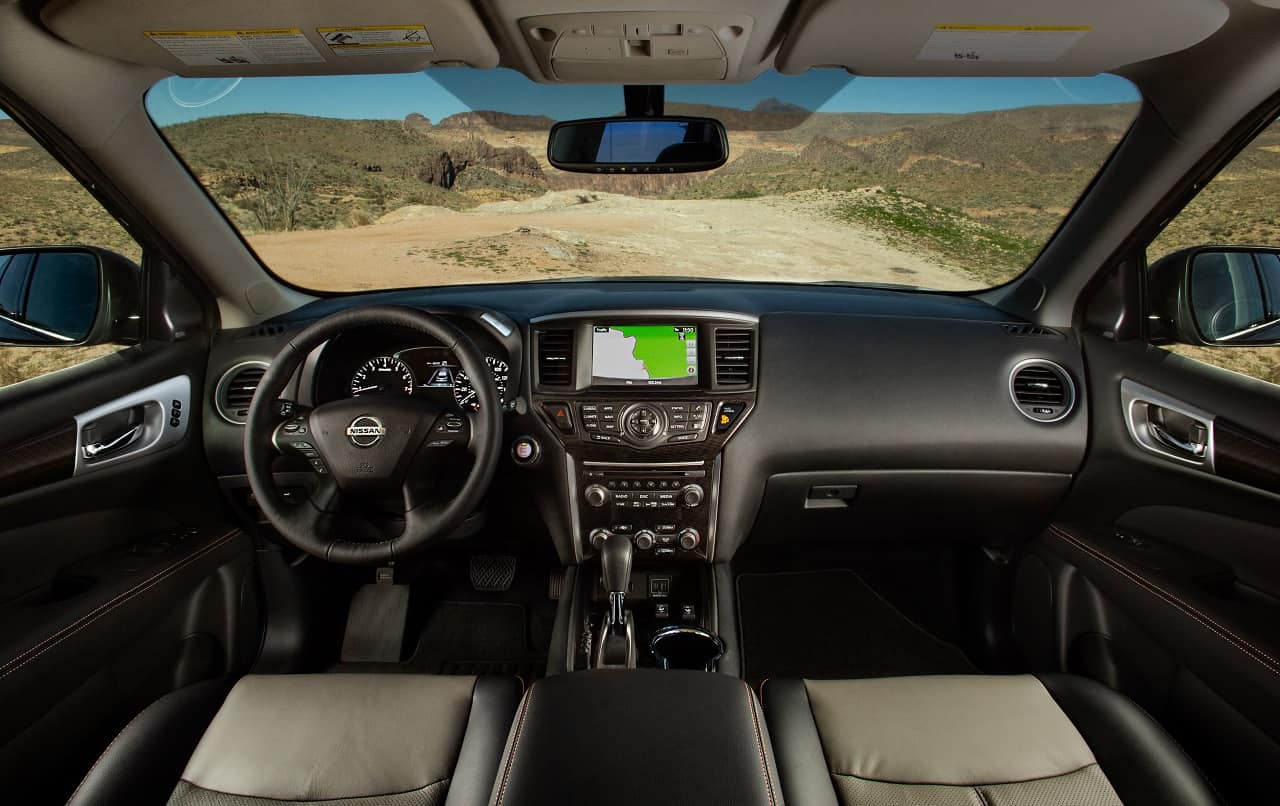 The interior is not bad looking, it has a fairly straight forward design; I wouldn't call it modern but I wouldn't call it outdated either. The center of the dashboard features an 8" display screen, which is responsive enough, but slower than a lot of the newer vehicles in this class and I'm not a big fan of the graphics on the navigation system; these graphics do look outdated.
The interior is quiet and comfortable, with supportive leather seats that kept me comfortable for our 4+ hour trip to the cabin. Our review SL Rock Creak Edition Pathfinder came with heated seats (cooled are available on higher trims) and 8-way power adjustability for the driver's side.
There is more than enough room for the front and second row seats, the third-row seats have a decent amount of room but I wouldn't want to go on a 4+ hour trip in the third row. Getting in and out of the third row is also not much of a hassle.
Overall Impressions
The 2020 Nissan Pathfinder is a great option for those looking for a larger vehicle with a V6 engine and seating for 7. This segment is pretty crowded, but the Pathfinder name has been around for over three decades and some of old DNA is still in the new fourth generation Pathfinder. It may not be what the hardcore off-road enthusiasts want, but it's still a very attractive package.