Hyundai unveiled the 8th generation Sonata early last year in South Korea, it made its North American debut at the 2019 New York International Show in April. It's finally available for sale in North America and last week we got our hands on a brand-new 2020 Hyundai Sonata Ultimate.
The 2020 Hyundai Sonata see a complete makeover, with bold design on the outside and an elegant interior that looks like it belongs in a luxury car.
2020 Hyundai Sonata Canadian Prices
The 8th generation 2020 Hyundai Sonata is offered in four trims; the Sonata Preferred has a starting price of $26,999, the Sonata Sport starts at $31,299, the Sonata Luxury starts at $35,999 and the Sonata Ultimate starts at $38,599. Prices are similar to Sonata's main competitors, the Honda Accord and Toyota Camry, although the Camry does offer AWD on the higher trims.
Our review car was the top of the line Ultimate trim, and the only available option was the $200 Stormy Sea (blue) paint. The white is the only color that is free, every other color is $200. The Sonata comes with Hyundai's 5 year/100,000 kilometer powertrain warranty.
2020 Hyundai Sonata Engines
The 2020 Hyundai Sonata is offered with a pair of engines, the Sonata Preferred is equipped with a 2.5-liter Theta III naturally aspirated 4-cylinder engine, producing 191 horsepower at 6,100 rpm and 181 pound-feet of torque at 4,000 rpm. The other three trims come with a turbocharged 1.6-liter Gamma II 4-cylinder engine, producing 180 horsepower at 5,500 rpm and 195 pound-feet of torque between 1,500 – 4,500 rpm.
You might ask if I made a mistake with those horsepower figures, the answer is no. Yes, the base engine is more powerful than the higher trim, which is not something I've ever seen. However, the 1.6-liter engine has more torque which is available at much lower rpm.
Both of these engines send power to the front wheels via a Smartstream 8-speed automatic transmission with steering wheel mounted paddle shifters.
The 2.5-liter naturally aspirated engine is rated at 8.8/6.4/7.7 liters/100 kilometers in city/highway/combined driving, while the 1.6-liter turbocharged engine is rated at 8.6/6.6/7.7 L/100 km. After a week of driving, 99% in the city, the onboard computer showed 9.8 L/100 km; these trips were on the short side, the consumption might have been a bit better with longer trips.
If you're looking for a more fuel efficient version of the 8th generation Sonata, Hyundai also offers a Sonata Hybrid, which will discussed in a separate review.
Driving
180 horsepower may not seem like much power for a modern large car, but thanks to the available torque at such low rpms, the 2020 Sonata actually feels quite lively. The Sonata is quick off the line in the normal mode and even quicker in the Sport mode, it did catch me off guard the first few times, I wasn't expecting it to be that quick off the line.
The transmission is smooth and changes gears quick enough, for a family sedan. The ride quality emphasizes comfort rather than sportiness, but that's to be expected. The steering feel is numb, which is what I've come to expect from most modern cars. However, overall, I think the 2020 Sonata has decent driving dynamics, it's not the sportiest nor is it the most boring car available in this segment.
Styling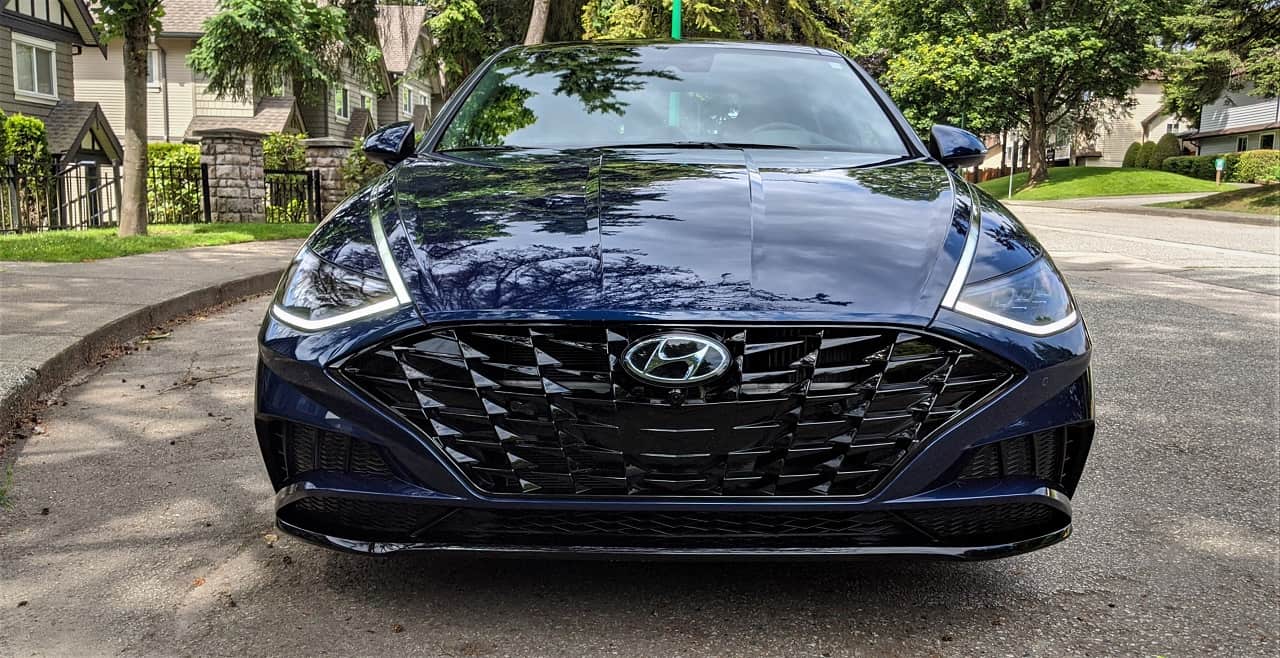 I complained about the last generation Hyundai Sonata being very plain looking, that's certainly not the case with the 2020 Sonata. The styling is very bold and, in your face, this is not a car that will blend in at your local mall parking lot. I liked the styling a lot, but only from certain angles. The front three-quarters view and the side profile look absolutely fantastic, I personally didn't like looking at it head-on, the front grill reminds me of a puffer fish or something like that; it looks like a sad drooping face.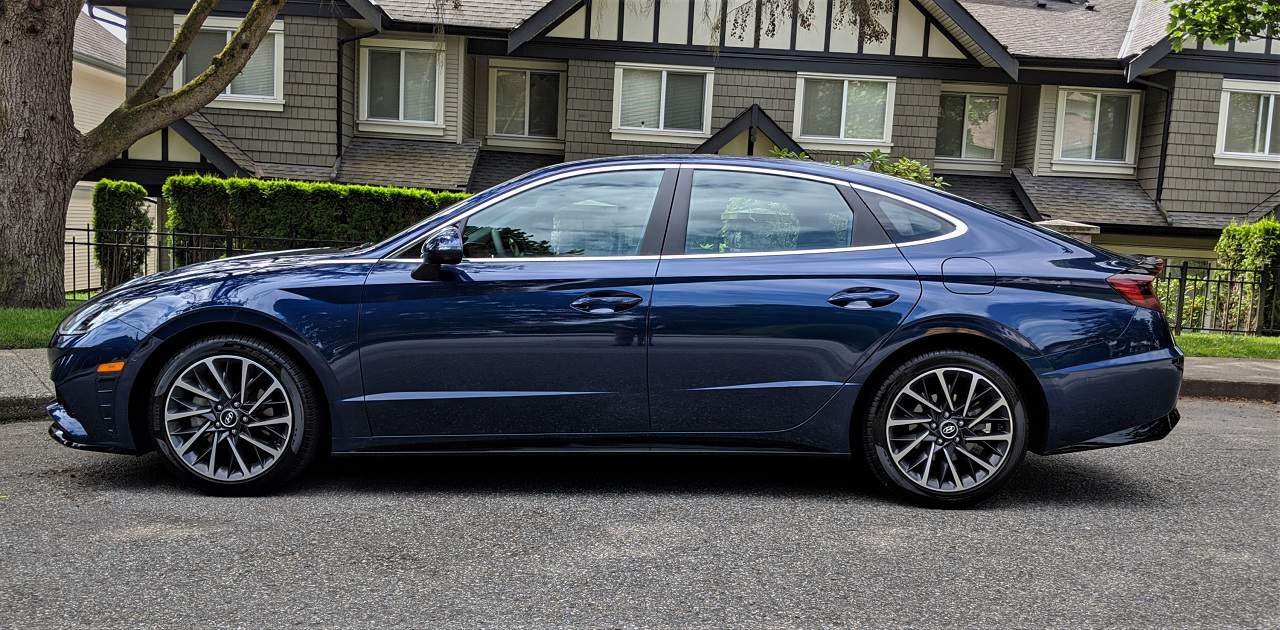 The overall look of the Sonata is sophisticated (minus the front grill), it looks very sporty and does have a bit of Genesis look to it from certain angles, which is a good thing. One of the party tricks of the 2002 Sonata is the chrome lines that runs across the hood, when the car is off, the two lines are your average chrome strips, but with the car turned on, part of the chrome strips light up, giving the car huge daytime running lights.
Interior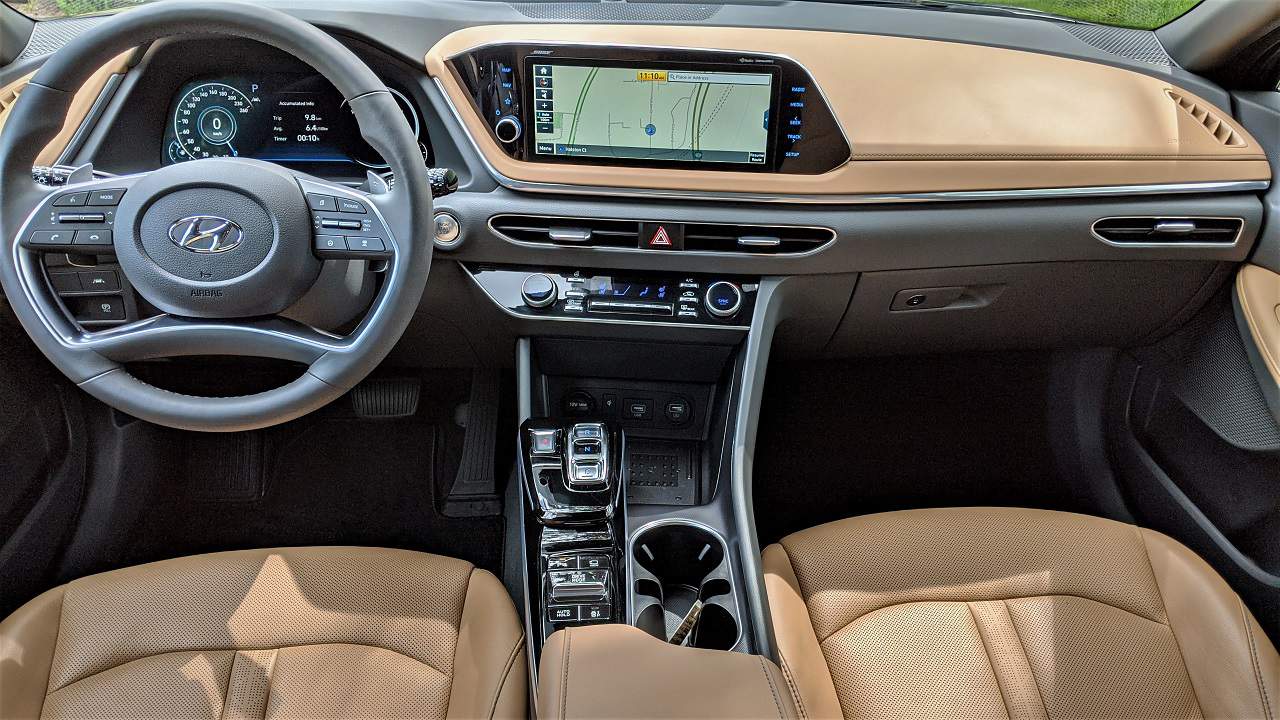 The exterior styling might be controversial, but there's nothing controversial about the interior. I personally think it looks amazing, something straight out of a luxury car. Everyone that had a chance to look inside our review Sonata, loved the way the interior looked. The two-tone makes the interior that much more appealing, you can have the interior all black or beige and black.
The layout is very clean and easy to understand with easy access the functions you'd use most. Our review car came with a 10.25" widescreen display for the navigation, entertainment, camera display etc. This screen is responsive and has crystal clear graphics; the bigger screen is only available on the Ultimate trim; all other trims get an 8" screen.
Below the screen is a separate area for the climate control, with a digital display and a few buttons. I really liked this layout, it has modern touches, yet it operates like an old-fashioned climate control system. This area also houses the buttons for the heated steering wheel and the heated and cooled front seats.
Below this area is a large storage area for phones, which can house the biggest of modern phones with ease, our car also came with wireless charging. This area also has a pair of USB outlets and a 12V charger. Next to this area are the buttons for gear selection, I guess if I had one dislike of the interior, it would be the missing gear shifter. I guess I'm old-fashioned about my gear levers. Below these buttons are the parking assist, camera, and driving mode buttons. Besides these buttons are two large cup holders with a slot between them for, what I'm guessing, is holding your phone vertically.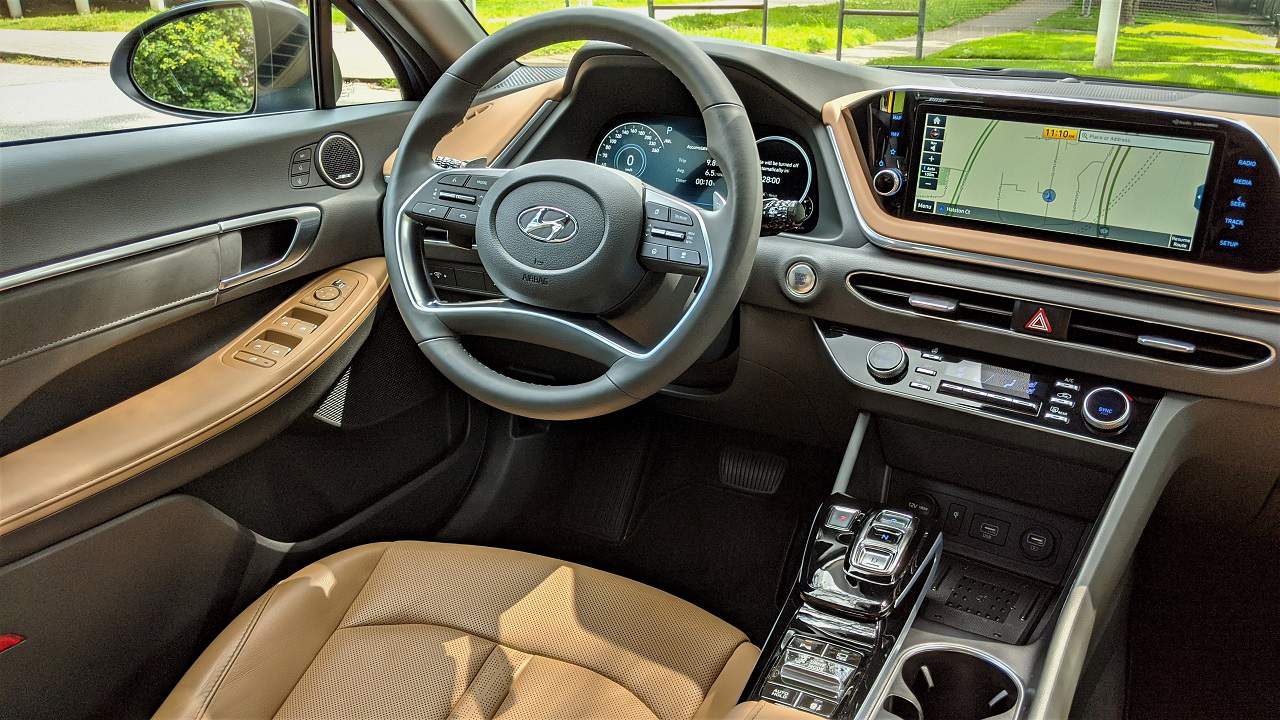 Our Sonata Ultimate came with a 12.3" full digital display instrument cluster, this is only available on the top trim, the lower trims come with analogue gauges with a 4.2" TFT screen in the middle. The digital display has crisp graphics and it displays various information like trip computer, compass, navigation directions etc. The display also changes the color of the digital "gauges" to red in the Sport mode.
The interior is quite and a comfortable place to be in, there's barely any engine or road noise. The seats are comfortable and there's plenty of room for even tall passengers, thanks to the car's large size. The rear seats are comfortable and have plenty of leg and head room.
Technology/Safety/Convenience
Hyundai was the first carmakers to bring many features that were considered luxury-car-only to the masses, thanks to them, other carmakers started offering premium features that were reserved for the more expensive luxury cars. The 2020 Hyundai Sonata continues that legacy, offering a lot of tech, safety, and convenience features; our review car was the top trim, so it was equipped with every piece of equipment offered, not all of the features below are available on all trims, but the list should give you an idea of what you can have.
Proximity keyless entry with push-button ignition
Remote engine start on keyfob
Heated, leather-wrapped steering wheel
Heated & ventilated front seats
Heated rear seats
Rear USB charge port
8-way power-adjustable driver's seat with lumbar support
4-way manually-adjustable front passenger's seat
BlueLink® Connected Vehicle System
Dual-zone automatic climate control
Panoramic sunroof (power tilt and slide with one-touch operation)
Bose AM/FM/XM/MP3 premium audio system with 12 speakers
Head-Up Display (projection)
Blind View Monitor (BVM)
Remote Smart Parking Assist (RSPA)
Tire Pressure Monitoring System (TPMS)
Adaptive Cruise Control (ACC) with stop-and-go capability
Blind-Spot Collision-Avoidance Assist (BCA) & Rear Cross-Traffic Collision-Avoidance Assist (RCCA)
Forward Collision-Avoidance Assist (FCA) with Pedestrian & Cyclist Detection
Lane Following Assist (LFA)
Lane Keeping Assist (LKA)
High Beam Assist (HBA)
Driver Attention Warning (DAW)
Rear Occupant Alert (ROA) – door logic type
Surround View Monitor (SVM)
Highway Driving Assist (HDA) & Highway Auto Curve Slowdown
Parking Collision-Avoidance Assist – Reverse (PCA-R)
The list of available equipment is impressive; however, I did have a small gripe. Even though we had the top of the line trim for our review, it didn't come with auto up/down rear windows, it's not really a big deal but when you're paying almost $40k for a car, a car that comes with so much tech/convenience features, I'd expect all four windows to have the auto up/down function, not just the front two windows.
Final Thoughts on the 2020 Hyundai Sonata
I enjoyed my time with the 2020 Hyundai Sonata Ultimate, it's a great family sedan that's roomy, comfortable, luxurious, and not too bad to drive. The styling might not be for everyone but I'm sure everyone is going to love the interior.
For more information on the 2020 Hyundai Sonata and all the trims, have a look at hyundaicanada.com.
Hyundai Sonata Review Photo Gallery