If you're looking for a mid-size family sedan, you have quite a few cars to choose from. The heavy hitters in this segment have been the Toyota Camry and the Honda Accord, but Hyundai is really pushing hard with the Sonata sedan.
The Hyundai Sonata has been around for a very long time, maybe not in every market around the world, but it has been in production since 1985 in their home market of South Korea and a small number of cars made it into Canada and New Zealand. The second generation Sonata was sold in more markets, including the United States.
In my opinion, the sixth generation (2009 – 2014) Sonata was the big hit for Hyundai, and it is the car I remember that put Hyundai in the spotlight, with its reliability, affordable pricing, and the amount of available technology. The sixth generation Sonata featured a bold design, in a segment that's known for creating "vanilla" designs. Thanks to that car, other manufacturers had to step up their game in terms of exterior design and available features.
The 2016 Hyundai Sonata is the 7th iteration of this car, although the styling is more conservative than the previous model, it is a pretty decent looking car. The car was introduced as a 2015 model at the 2014 New York Auto Show.
Pricing
The 2016 Hyundai Sonata comes with three powertrain options: the standard (gasoline) Sonata, which starts at $24,749, Sonata Hybrid with a starting price of $29,649, and the Sonata Plug-in Hybrid, priced at $43,999.
Our review car for the week was the Sonata Plug-in Hybrid (PHEV), with a sticker price of $43,999. There are no options available on this model.
Engines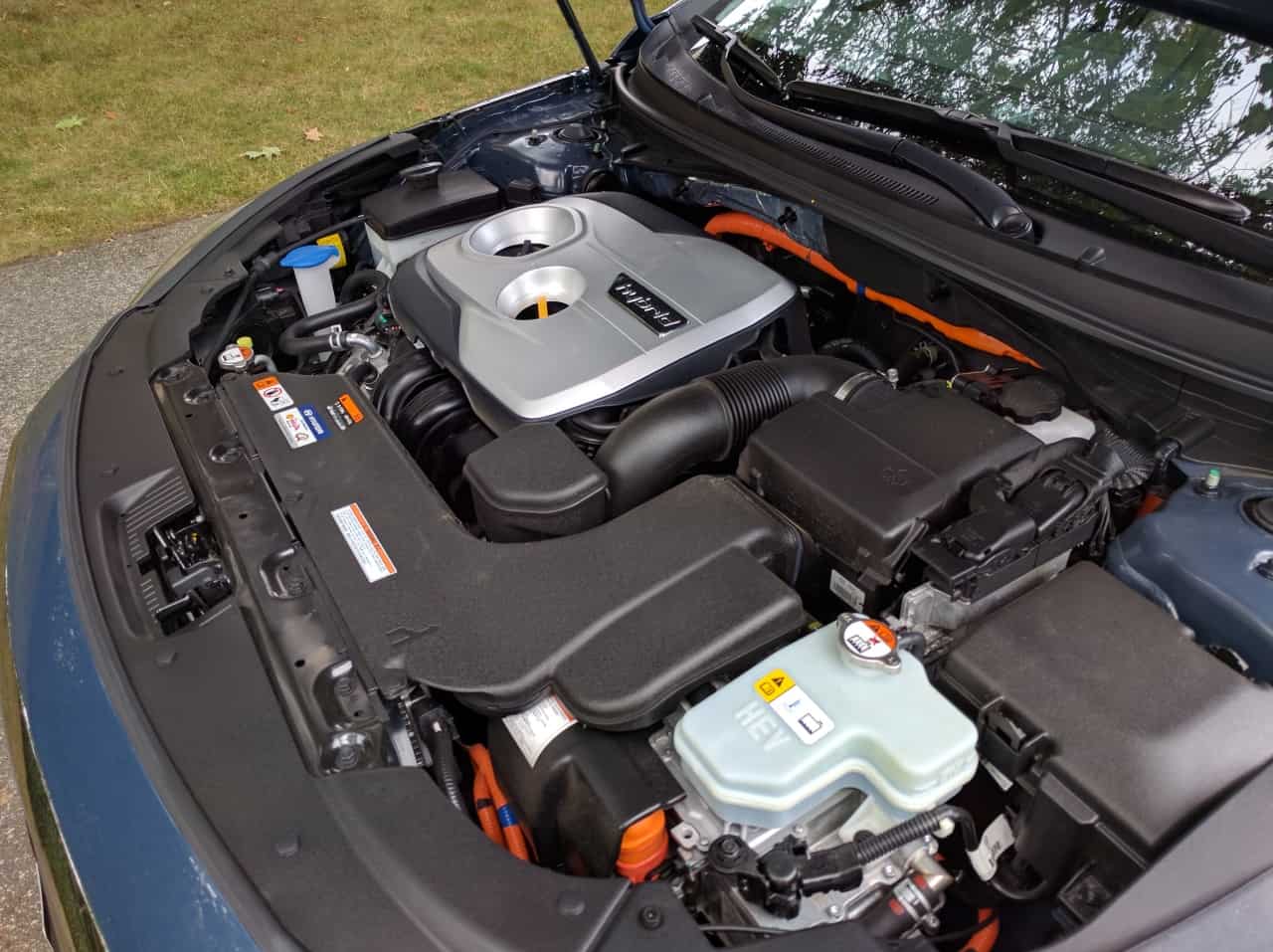 The non-hybrid versions of the Sonata are offered with two engine choice; a 2.4 liter GDI 4-cylinder engine producing 185 horsepower and 178 pound-feet of torque, and a turbocharged 2.0 liter GDI 4-cylinder engine producing 245 horsepower and 260 pound-feet of torque, mated to 6-speed automatic transmissions.
The Sonata Hybrid and PHEV are offered with 2.0 GDI 4-cylinder engines, producing 154 horsepower at 6,000 rpm and 140 pound-feet of torque at 5,000 rpm, mated to 6-speed automatic transitions. The Hybrid comes with a 38 kW (51 HP) electric motor and a 1.62 kWh lithium-ion polymer battery pack. The Sonata PHEV comes with a 50 kW (67 HP) motor and a 9.8 kWh battery pack. The Sonata PHEV's combined output is 202 horsepower at 6,000 rpm.
The 2016 Hyundai Sonata PHEV can be driven on electric power alone for up to 43 kilometers and it takes less than 3 hours to fully charge the battery pack on a level 2 charger (240 volt outlet) and if you use a regular level 1 charger (120 volt outlet), it takes 9 hours.
So you can charge the Sonata's batteries fully overnight, if you don't have a 240 volt outlet, and be on your way the next morning. As I mentioned in my review of the C-Max Energi, the amount of range that car's batteries provided was great for my driving needs, because during the week, most of drives are about 20 – 30 km per day. So the Sonata PHEV takes things a little further by increasing that range by over 10 kilometers.
According to Hyundai, the Sonata PHEV should consume 6.1 L/100 km in city driving, 5.7 L/100 km on the highway, and when combined with the juice provided by the batteries, the eL/100 km (or Le/100 km) should be 2.4. For our weekly driving of about 110 kilometers, the on-board computer showed a combined consumption of 1.7 Le/100 km, with mostly city driving. Your consumption will vary depending on how long your commute is and how often you charge the batteries. For our review, we mostly took short trips, using the electric motors, with the exception of the last day when we went on a longer drive and depleted the batteries completely, and used the Sonata PHEV as a hybrid, rather than a plug-in.
Driving the Hyundai Sonata PHEV is pretty good experience, it's after all a vehicle that strives to use as little gasoline as possible, so I didn't expect it perform like a sports sedan. Thanks to the use of a traditional 6-speed automatic transmission, over a CVT, the Sonata PHEV drives more like a normal car than a hybrid. There's plenty of power for normal daily commute that most people would buy these cars for. In electric-only mode, the Sonata rides very smoothly and doesn't feel slow, but if you do need to pass a slower vehicle quickly, the gasoline engine comes to life to give you an extra boost of power.
The transition from electric to gasoline and gasoline to electric is seamless, at lower speeds it is hard to tell whether you're being powered by the electric motors or the gasoline engine. At higher speeds the gasoline motor does seem a bit loud, but that's only because driving in the electric mode is so quiet, anything would seem loud. You can also choose between three driving modes: all-electric, hybrid, or charge (which uses the gasoline engine to charge the batteries).
Normally on hybrid cars the brakes feel quite different to regular gasoline cars, I find hybrid cars' brake pedals to be very hard, the Sonata's brake pedal felt more like a normal car, however, it felt a bit too soft, kind of reminded me of the brake pedal feel Subaru cars.
The steering feedback is also non existent, the steering feels very numb and you don't really feel the road. I would've liked the steering to feel a little tighter, maybe not sports sedan tight, but tighter than what's on offer.
Design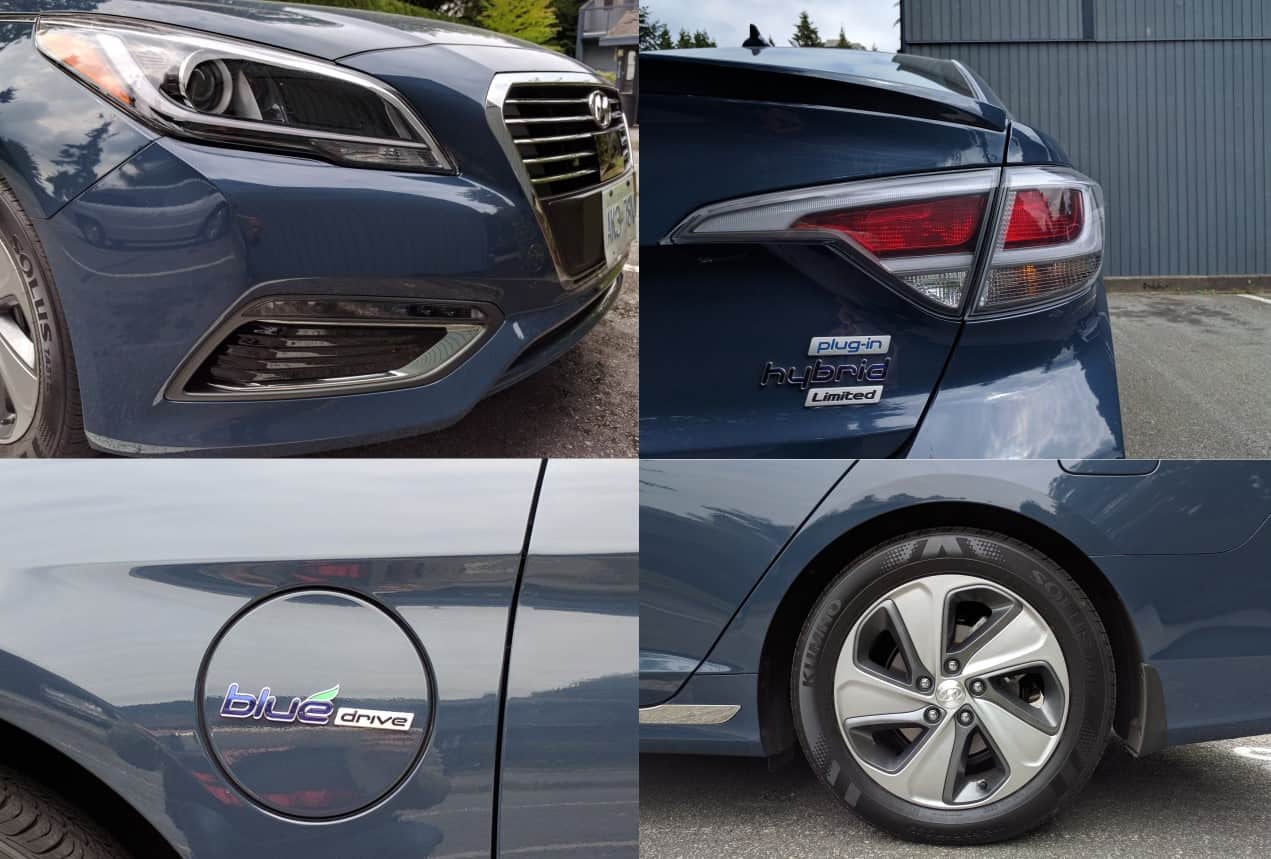 The Hyundai Sonata is a pretty good looking car, it has a lot of straight lines which should age well. The Sonata PHEV does look a bit different compared to the gasoline Sonata, with a different front fascia with wider looking grill and different lower air intakes. On the side, the PHEV also has different side-skirts for better airflow, with an overall drag coefficient of 0.24, which is the same as the Tesla Model S.
Interior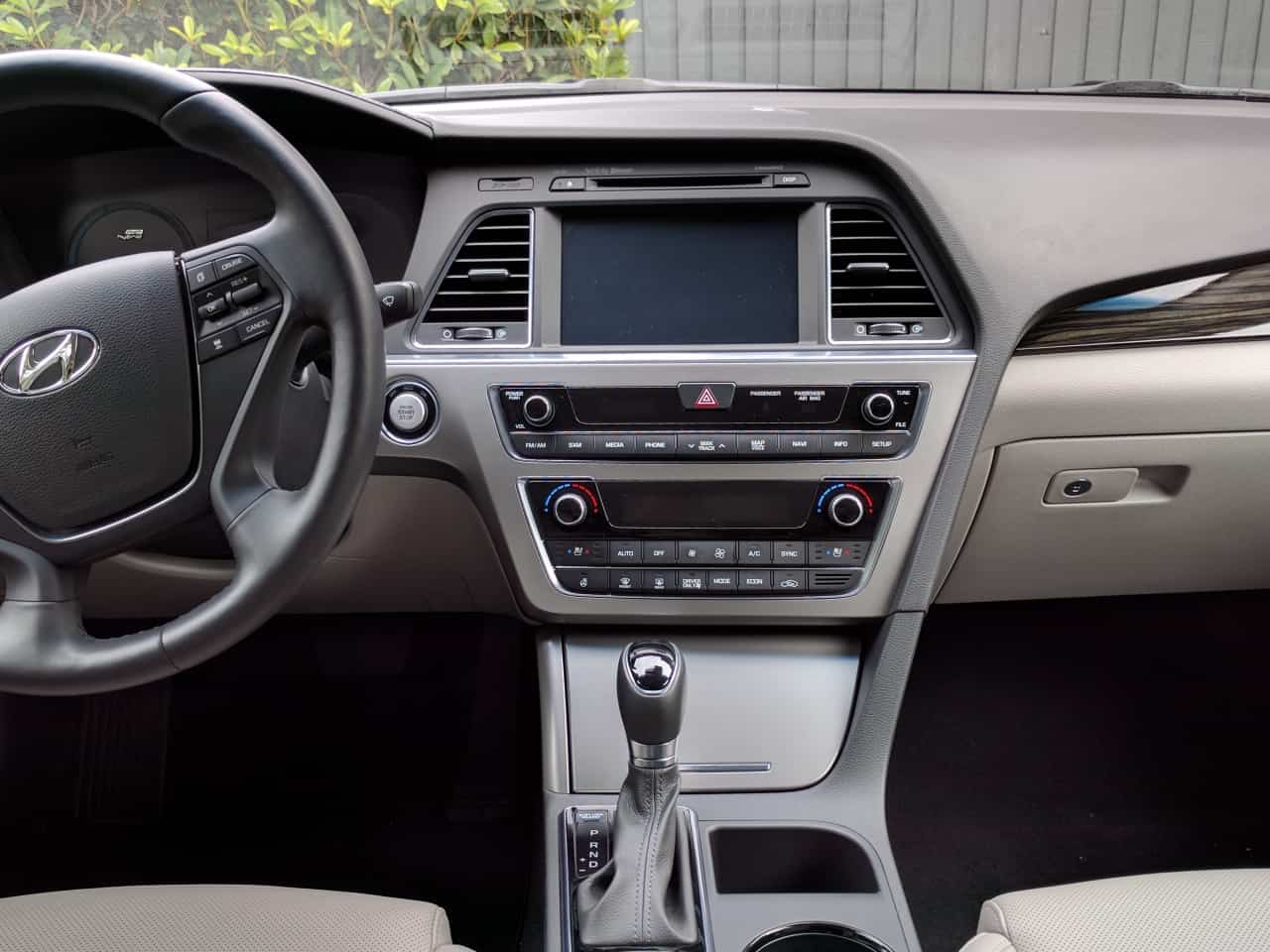 The interior on the Sonata is quite nice, with a very elegant looking center stack. There are lots of buttons for those that don't enjoy the super-minimalist look, and there's also a touchscreen that controls some of the features of the car. The touchscreen has a beautiful display and the maps on the navigation look crisp and have good graphics, however, when the screen is displaying images from the rear camera, the resolution is lower than what a $40k+ car should have.
All the controls are well laid out and really easy to understand. The materials used on the inside are a mix of hard and soft plastics, overall they look good. I personally wouldn't choose the white-ish interior that our review car came with, however there are other interior colors available.
The Sonata is also equipped with auto up and down windows, but only for the two front windows, again, for a $40k car, this feature should be available on all four windows.
The interior is also very quiet, as you'd expect from a car that uses electric motors. Most hybrids I've driven are very quiet but the tires always make a noticeable amount of noise, not the case in the Sonata. The car's low-resistance tires make very little noise, making the driving experience more quiet and giving the car a very luxurious feel.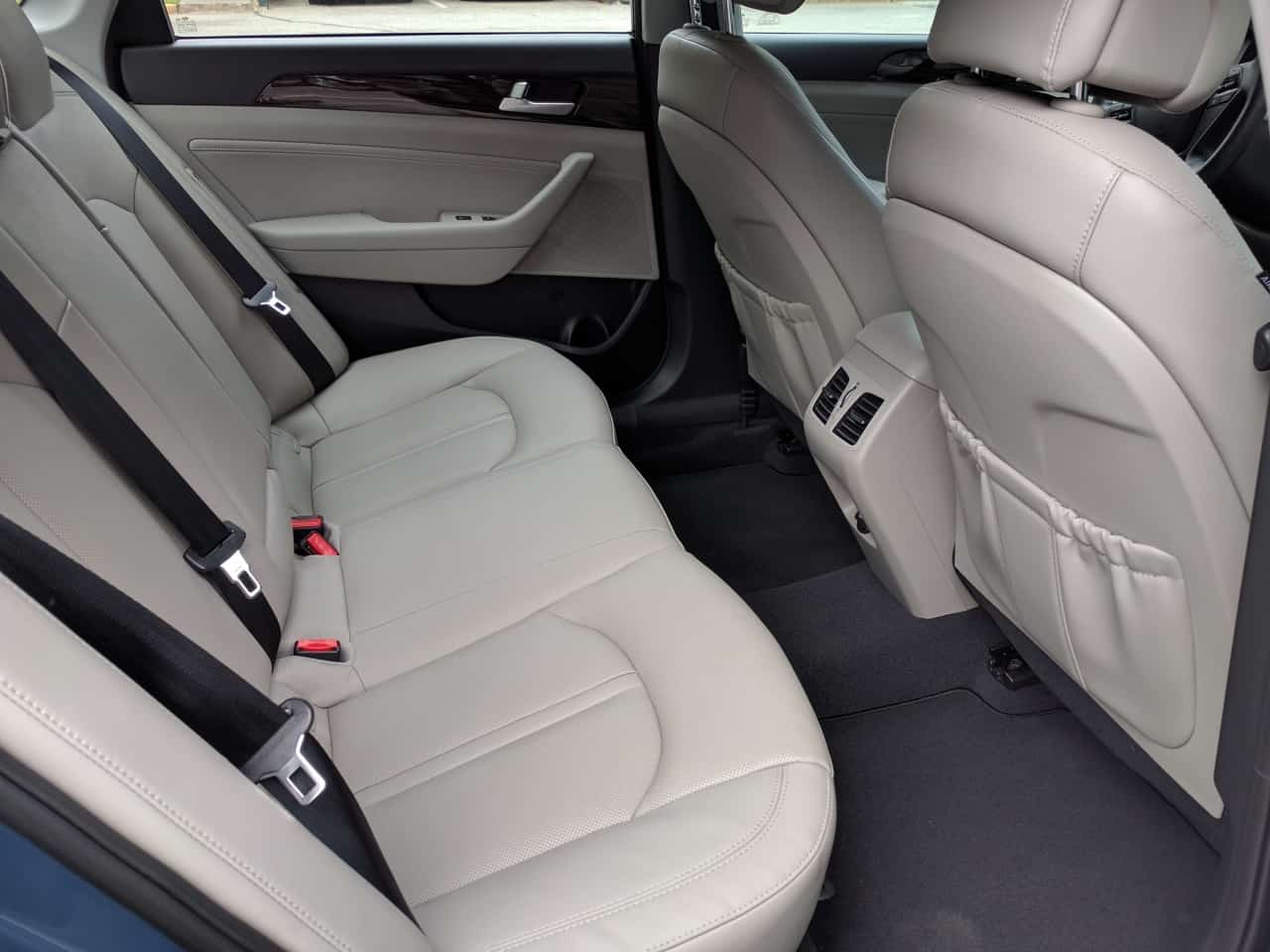 The interior has a lot of room, the front seats can easily fit very tall people and the back seats have room enough to stretch your legs. Even with the front seat in the furthest position away from the steering wheel, there's still room between the rear passenger's knees and the back of the front seat. The Sonata is great for tall people or people that just want lots of room.
Technology
Hyundai was one of the first companies to offer some of the tech features found on higher-end models on their mass market cars. Thanks to Hyundai most of the other manufacturers are now making available tech features normally found on much more expensive cars, in their entry level cars.
The Sonata is not an entry level car, it's quite pricey actually, but it does offer a lot of tech features, below are some of the highlights.
Blind Spot Detection
Rear-view camera with Cross-Traffic Alert
Lane Change Assist
LED tail lights and Daytime Running Lights
Heated and ventilated front seats
Heated rear seats
Heated steering wheel
8.0" colour touch-screen navigation system
High Beam Assist
Adaptive Cruise Control with stop-and-go capability
Forward Collision Warning
Lane Departure Warning System
Rear parking assistance sensors
Auto-open trunk
BlueTooth connectivity
Voice command
Overall Impressions
Overall I think the 2016 Hyundai Sonata PHEV is a very good mid-size car. It is a pretty good looking car and unlike some of the electric/hybrid cars, it looks like a normal car and most people won't even know this is a plug-in hybrid. The Sonata PHEV is especially good for people that have short commutes, helping them save money by using cheaper electricity. And if you run deplete the batteries completely, the Sonata PHEV will drive like a normal hybrid car, helping you get the range anxiety out of the equation.
I would definitely get the Sonata PHEV for my family, my only concern is it's price, which is on the higher side. But there are dealer incentives available and the government does give rebates in some provinces (British Columbia is currently offering $2,500).
For more information on the Hyundai Sonata PHEV and other vehicles in their lineup, check out hyundaicanada.com.