As much as I like small, sporty cars, I'm starting to see the appeal of a midsize to large SUV/CUV, now that I have a couple of kids. And as you know, with kids, comes a lot of baggage, like strollers, car seats, trips to the store for giant boxes of diapers and other wonderful things.
If you have two car seats, a third person is not sitting in the back seat, no matter how big your car is. So that's one reason the midsize SUV/CUVs are so popular; older kids also love the fact that they can see out the window (the higher seating also prevents motion sickness, and we all know what kind of nasty things come with motion sickness).
So, a three-row SUV/CUV might be an option for those that need the extra space; sure there are minivans that can do the same thing, but most men wouldn't want to be seen in a minivan, I know I wouldn't.
One option that fits the above criteria is the third generation Honda Pilot, we spent a week behind the wheel of a brand-new 2019 Honda Pilot Touring, below are my thoughts on the vehicle.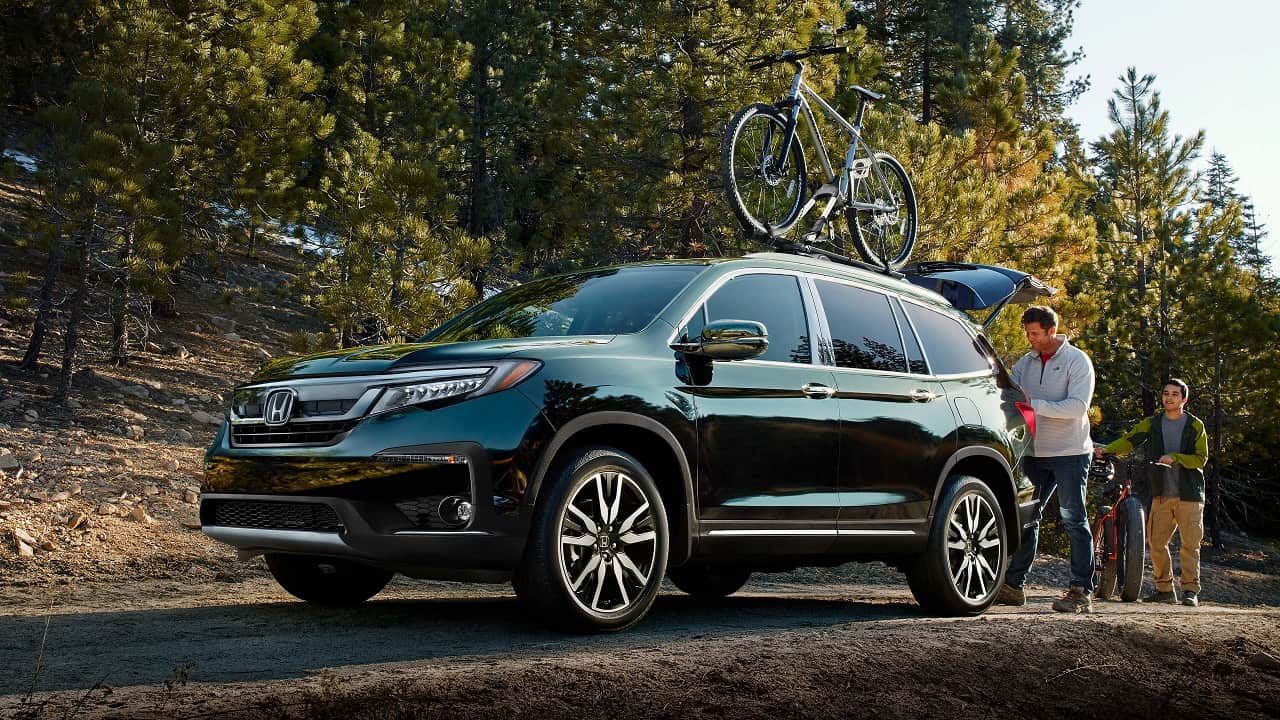 Pricing
The 2019 Honda Pilot comes in six trims, which seems like a lot of trims, but Honda has actually streamlined these trims and even added a "Black Edition" trim. The last time we reviewed a Pilot was the 2016 model-year, which had nine trims. Although some of the trims were pretty much the same but with a bit of added equipment, but now the trims are more streamlined, which makes it easier on the consumer.
Below is a list of the trims and prices:
LX: $41,090
EX: $43,090
EX-L Navi: $46,890
Touring 8 Passengers: $52,490
Touring 7 Passengers: $52,490
Black Edition: $53,990
These prices do not include Freight & PDI, levies, and taxes that your locality will need to add on to the final price.
Engine
All trims of the 2019 Honda Pilot are powered by 3.5 liter V6 engines, producing 280 horsepower at 6,000 rpm and 262 pound-feet of torque at 4,700 rpm, which remains the same as our 2016 review. Power is sent to all four wheels via a 6-speed or 9-speed automatic transmissions, depending on trim. The 2016 Honda Pilot was available with FWD on the base trim, which has been dropped.
All trims of the 2019 Honda Pilot have a tow rating of 1,588 kilograms (3,493 pounds) or 2,268 kilos (4,990 lbs) with the optional $2,560 tow package. All trim are offered with a 3 year/60,000 kilometer warranty, which can be extended at additional cost.
The 6-speed automatic transmission is standard on the LX, EX, and EX-L Navi trims, while the 9-speed automatic transmission is standard on the remaining trims; the 9-speed equipped vehicles come with steering wheel mounted paddle shifters.
There is a slight difference in fuel consumption numbers, according to Honda, 6-speed equipped Pilots consume 13.0/9.3/11.3 in city/highway/combined driving, 9-speed transmission equipped Pilots consume 12.4/9.3/11.0 in city/highway/combined driving.
Driving
Our 2019 Honda Pilot was the Touring trim, which came with the 9-speed automatic transmission. I really liked this transmission, it's pretty responsive and makes good use of the 280 HP and 262 lb-ft of torque. The engine has more than enough power to haul this large CUV around town and on the highway, I never felt the need to for more power and the all-wheel drive system did a great job in keeping the vehicle pointed the right way in winter driving conditions.
The engine and transmission work well together, the engine is very smooth, giving the Pilot a very luxurious feel. I was also reviewing the MX-5 at the same time as the Pilot, going back and forth between the two car was quite a fun experience; one is a large luxurious family-hauling CUV and the other a no-nonsense small sports car with seating for two.
Styling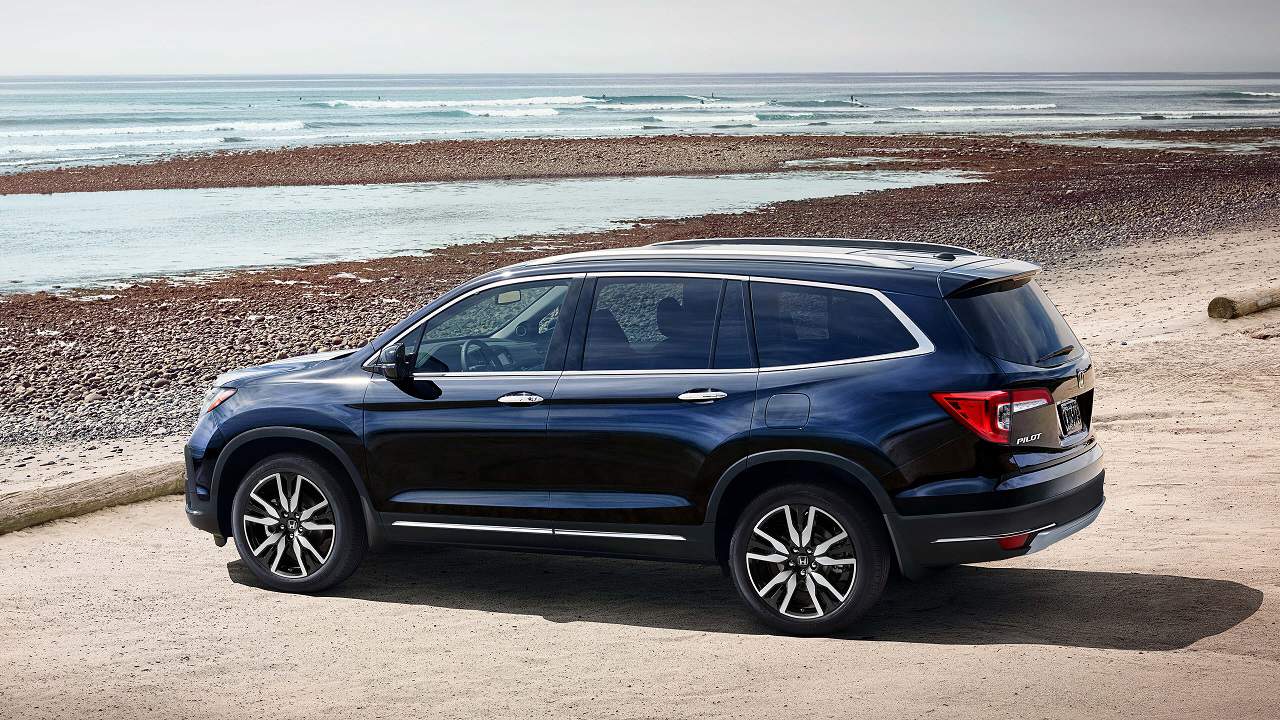 I think the 2019 Honda Pilot is a pretty good looking vehicle, it's a family crossover, so styling is conservative, but appropriate for this segment. There are minor changes in the looks of the 2019 Pilot and the 2016 model year we reviewed a few years ago. The major difference is at the front, the look of the grill and bumper have been changed. At the back, the taillights include amber turn signals now (the 2016 was all red) and the reverse lights have been moved up from the bottom of the bumper and integrated into the taillights. The rear bumper also has different chrome trim, which is also applied to the lower section the doors on the side.
Interior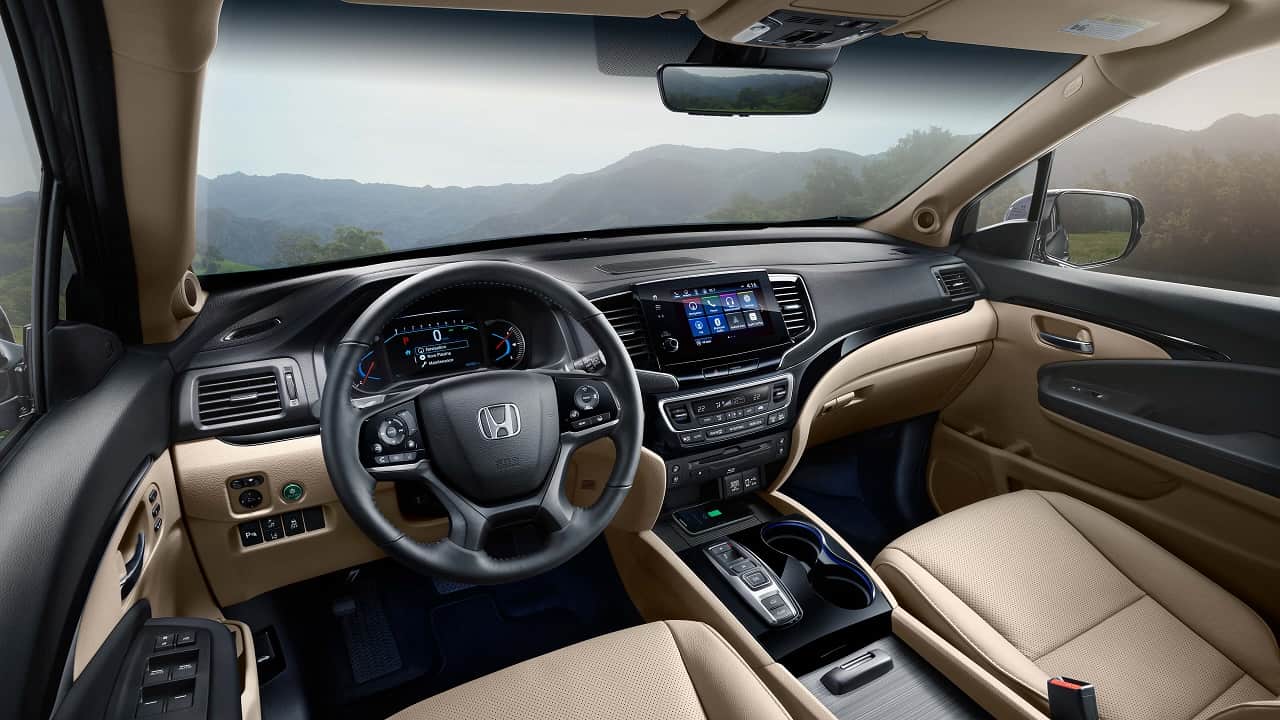 I was already a big fan of the interior on the 3rd generation Honda Pilot, which had taken a big step forward from the previous generation. I don't think anything major has changed here, which is a good thing. The thing that stood out the most to me was the infotainment system, it has some of the crispest graphics I've ever seen. The backup camera picture is crystal clear (especially in the day time) and the navigation graphics are beautiful (Garmin navigation is used on the Pilot). These graphics are better than a lot of luxury vehicles I have reviewed, very impressive.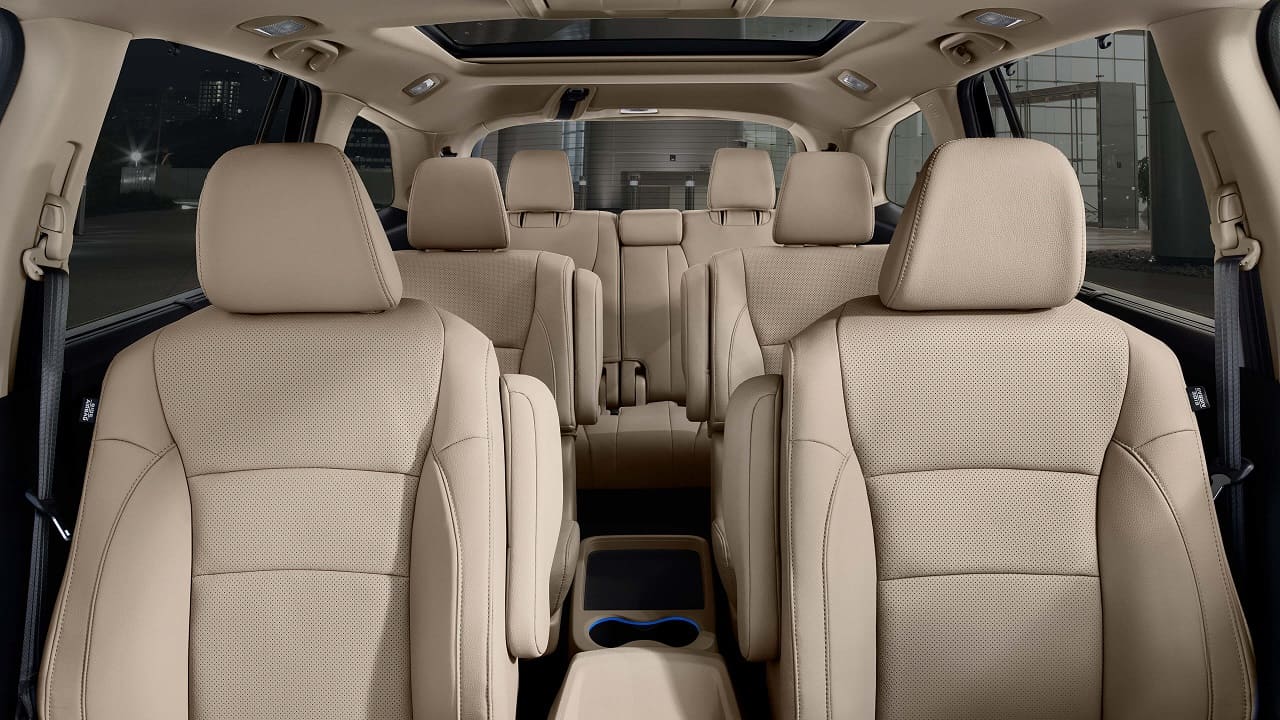 The interior is very quiet, on par with luxury vehicles that cost twice as much. The Pilot could be a good alternative to the more expensive Acura MDX. Our Touring trim Pilot was equipped with 10-way power adjustable driver and 4-way power adjustable passenger seats with heating and ventilation, these seats are very comfortable and should be great for long journeys. The second row captain's chairs are also heated and are comfortable, these seats can slide forward and backward for added leg room and ease of entry into the third row seats. The third row offers seating for three, but middle seat would not be a nice place to sit if there were three adults in the back seat, the third-row seat is best left for kids.
Technology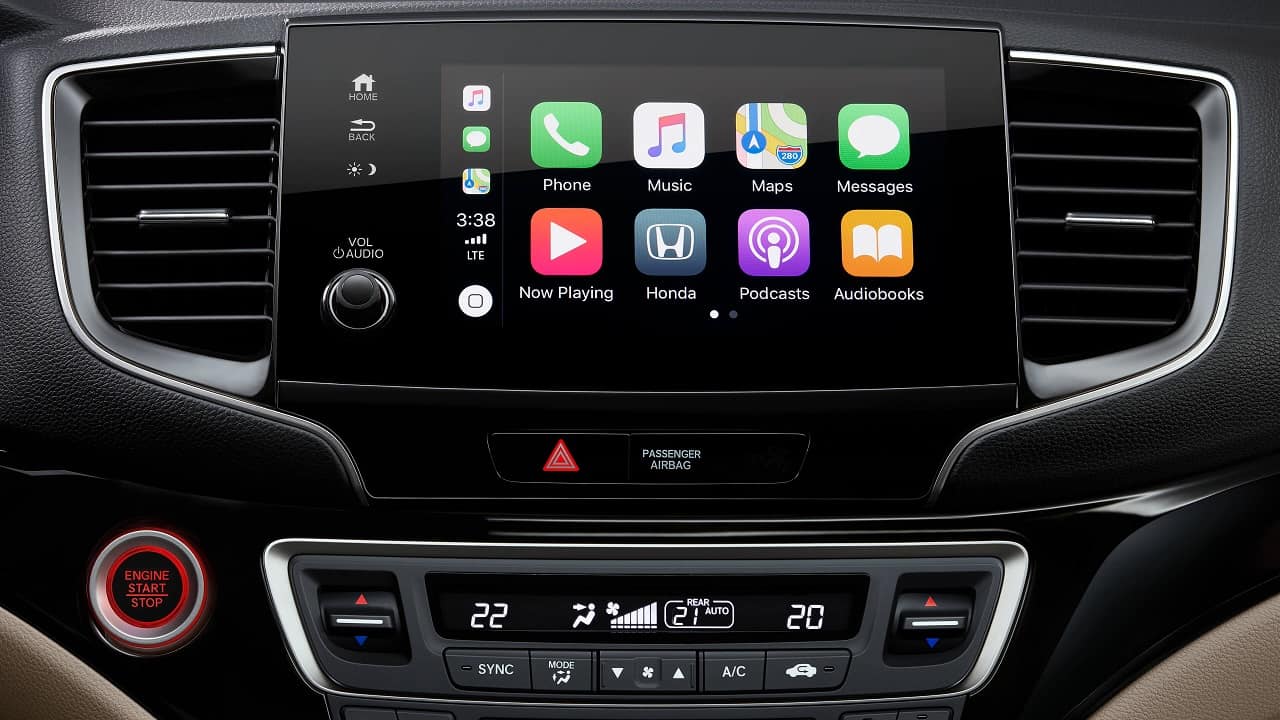 As I mentioned earlier, the Honda Pilot is a very luxurious vehicles and if you look at any luxury vehicle nowadays, they're loaded with all sorts of tech, convenience, and safety features. The Pilot is no different, it can be loaded up a lot "goodies", below is a list of everything you can expect to get on a 2019 Honda Pilot, some of these items might not be available on all trims, but they are there if you're willing to pay.
Proximity key entry system with push button start
Remote engine starter
Tri-zone automatic climate control
Walk-away door lock
Wireless charging
USB outlets x 4
12-volt power outlets x 3
115-volt power outlet
Front doors acoustic glass
Active Noise Cancellation
Auto-dimming rear view mirror
CabinTalk in-car PA system
Bluetooth connectivity
Apple CarPlay & Android Auto
10.2″ rear entertainment system
LED headlights with auto-on/off
LED daytime running lights
Auto-leveling front headlights
LED taillights
Variable Cylinder Management
Idle-stop
ECON mode button
Intelligent Variable Torque Management AWD system
Intelligent Traction Management System
Collision Mitigation Braking System
Forward Collision Warning
Lane Departure Warning3
Road Departure Mitigation
Hill Start Assist
Tire Pressure Monitoring System4 with tire fill assist
Trailer Stability Assist
Vehicle Stability Assist3 with Traction Control
Adaptive Cruise Control
Lane Keeping Assist System
Auto high beam
Blind Spot Information system with Rear Cross Traffic Monitor
Honda LaneWatch blind spot display
Overall Impressions
The 2019 Honda Pilot is a great vehicle for people that are looking for something big that can haul the kids and all their stuff and still have room for non-kid related stuff. This segment is very competitive, but the Pilot offers a lot of tech/convenience/safety features.
The Pilot is not just a family vehicle, it can also be considered a luxury or near-luxury vehicle. The interior is very quiet with a lot of space and a comfortable ride. It's easy to drive in the city and makes a great road trip vehicle.
For more information on the Pilot and other Honda vehicles, visit honda.ca.