Porsche recently updated their 911 line of cars and now they've focused their attention on the Boxster.  The 2013 Porsche Boxster is code named 981 and will be available in April 2012.  In typical Porsche fashion the 981 Boxster's design is more of an evolution of the previous generation rather than an all-new design.  A quick glance at the picture above, the 2013 Boxster reminds me of the Toyota MR-S for a second. 
We still don't have detailed information on all the specs but we were able to find some info; the third generation Porsche Boxster's wheelbase has been increased and the front and rear overhang reduced.  The Boxster is 77 pounds (35 kg) lighter than its predecessor and will get the electric steering from its bigger brother, the 911.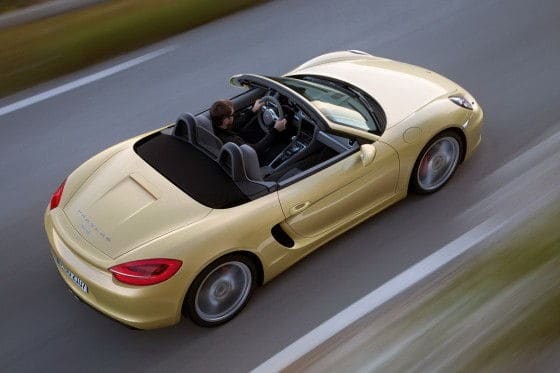 The base model will come with a 2.7 liter boxer engine with direct injection, replacing the 2.9 liter engine, the smaller engine produces 265 horsepower (10 more than the 2.9 liter) and hitting the 62 mph mark in 5.7 seconds.  The Boxster S will be equipped with a 3.4 liter engine producing 315 HP and getting to 62 mph in 5.0 seconds.  Both versions of the Boxster will come with a 7-speed PDK automatic or a 6-speed manual transmission and will come with an engine start-stop feature for reduced fuel consumption.
The interior sees a nice upgrade, making it look more like the new 911 and it looks quite luxurious.  The car still comes with a folding cloth top that makes use of magnesium/aluminum frame; the roof opens in 9 seconds and can be operated at speeds of up to 50 km/h.
The 2013 Porsche Boxster 981 will be priced from $49,500 while the S model will have a starting price of $60,900 and will be showcased at the Geneva Motor Show in March 2012.
2013 Porsche Boxster Pictures