Mercedes-Benz just released quite a large number of pictures of the 3rd generation M-Class luxury SUV; you guessed it, in response to some recently leaked magazine or brochure pictures.
The 3rd generation Mercedes ML's design stays true to the previous generation, with quite a bit refinement in the front and the back; from the side it looks very similar to the 2nd generation M-Class.  The interior, however, sees a major upgrade and it looks like there is optional leather covered dashboard and other surfaces that are normally all plastic.  It's about time Mercedes started to use softer materials on their dashboards, I was very disappointed with the Chrysler-esque hard plastic dashboards on the E and C-Class cars.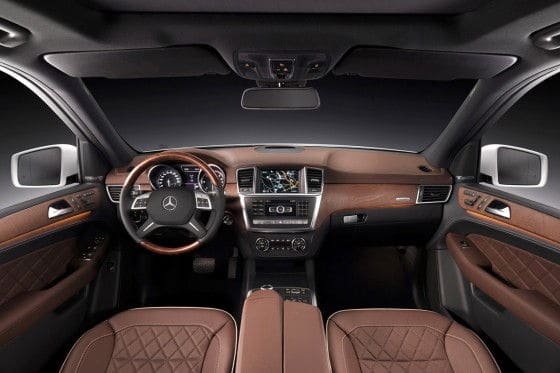 The other improvement in the 2012 Mercedes ML is the availability of a variety of gasoline and diesel engines ranging from 4-cylinders to 8-cylinders.  Initially the M-Class will be sold in three varieties: ML250 Bluetec, ML350 Bluetec, and ML350 BlueEfficiency.  All three models will come with permanent all-wheel drive 4Matic systems and will be equipped with 7G-Tronic Plus 7-speed automatic transmissions.
The ML250 Bluetec will be powered by a 2.1 liter 4-cylinder turbo-diesel engine producing an impressive 204 horsepower and 369 pound-feet of torque while achieving 36 – 39 mpg on the European cycle.  The ML350 Bluetec will be powered by a new version the 3.0 liter turbo-diesel V6 engine that will produce 258 horsepower and 398 to 457 pound-feet of torque while achieving 32 – 35 mpg on the Euro cycle.  The ML350 BlueEfficiency will be powered by a 3.5 liter direct-injection V6 gasoline engine producing 306 horsepower and 273 pound-feet of torque.  Mercedes will introduce hybrid and AMG versions after the M-Class has been launched in fall 2011.
The M-Class should be a decent off-roader since it shares its platform with the Jeep Grand Cherokee and comes with the optional self-levelling Airmatic suspension from the Grand Cherokee.  A new "On&Offroad" package is also available that provides six different transmission modes depending on the driving conditions.
The 2012 Mercedes-Benz M-Class will be officially unveiled at the Frankfurt Motor Show in September 2011.
[Source: MB]