A combination of a hairstyle and a beard is always in fashion. Stylists all over the world come up with new variations, which are followed by millions of men. There are no rules as for this combination. However, it is recommended to choose the variant, which fits your face shape, your hair type, lifestyle, and your taste. You may go for standard subtle and full beards or try something offbeat like an Anchor beard, Garibaldi beard, or a Van Dyke beard. Consult a professional in order to find out about the matching hairstyles. There is a great diversity of them: an undercut, pompadour, fade, long and curly locks, side part, Mohawk and a bald hairstyle. Look at these examples of stylish combinations and choose the one you like.
A Verdi Beard And An Undercut
An undercut is a perfect option for unruly and dense hair as the cut makes locks manageable. It is up to you which top length to choose, the cut looks equally awesome on long and moderate length. The top may be styled in different ways: swept to the side, slicked backward or messed up. The shaved or faded sides don't only look stylish make the cut easier to manage.
If you choose to combine it with a Verdi beard, then keep it no longer than 10 cm measured from the bottom lip and the mustache should be no longer than 1.5 cm. This combination fits all face shapes and may be a part of a formal and casual look. Here is an example: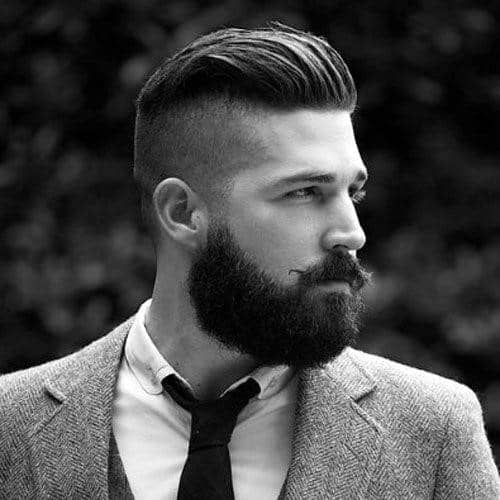 https://www.pinterest.com/pin/353391901993092586/
A Full Beard And A Fade
A fade resembles an undercut, but the transition between the top and the sides is not so significant. A fade may hide the problem of sparse hair on the temples and the sides and it creates the illusion of dense locks at the top. It doesn't matter which type of hair you have, if you comb the strands to one side and fix with wax or gel, then they will appear thicker than they are. Faded sides create a smooth transition between the cut and the beard.
If you want to look chic wearing this hairstyle, then opt a full beard. It features a mustache, connected to a full beard, which is allowed to grow freely. This combination is a part of a dashing look. Here is an example: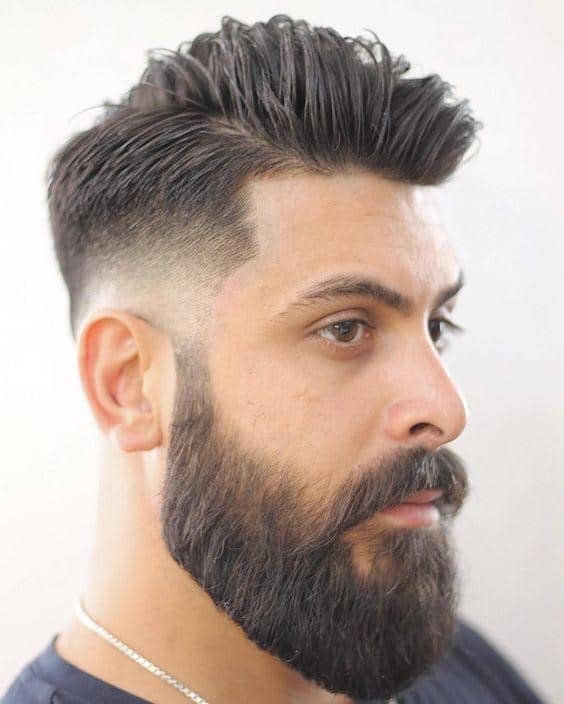 https://www.pinterest.com/pin/706713366496317171/
An Anchor Beard And Natural Messy Hair
A shaggy cut is always trendy, but note that this mess should be properly maintained. Each layer should be fixed with a setting spray and combed in the right direction. This hairstyle fits natural curly and thin hair. To achieve a bold look, it may be combined with an anchor beard. It extends along the jawline and is styled to a point, the sideburns are absent. This beard fits best oblong and square face shapes. Here is an example: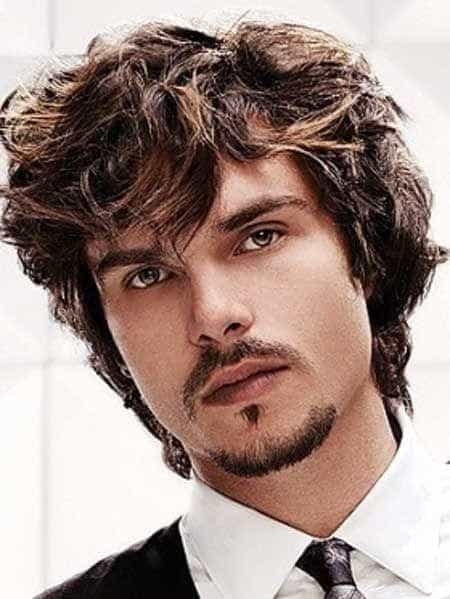 https://www.pinterest.com/pin/43980533841111122/
A Full Beard With A Caesar Hairstyle
A Caesar hairstyle is the most classic haircut for men, yet it may be freshened up by adding a full beard to it to make the whole image bold. This cut can perfectly disguise the receding hairline and make thin hair look thicker. Just have the top cut short, but leave a long fringe, which should be styled forward. Sides may be faded or shaved.
This classic cut should be complemented with a classic style of beards – a full beard. Just let your hair grow naturally and after four weeks define a neckline with the help of a barber. So, this combination keeps the look classy, yet fancy. Here is an example: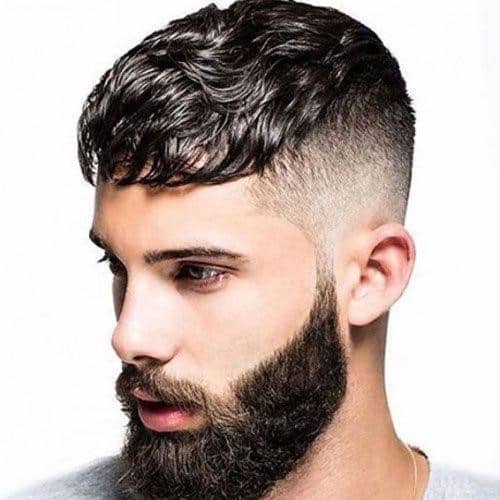 https://www.pinterest.com/pin/424042121147410897/
A Full Beard And A Top Knot
A top knot is a perfect cut to be paired with a beard. The locks are gathered at the top and sides may be faded to create a greater contrast. The bun may be short or long, sleek or teased, it is up to every man. This hairstyle looks well with any type of a beard, but a full beard is the most flattering variant. It starts at the cheek line and everything below grows naturally. This combination creates a brutal and attractive look. Here is an example: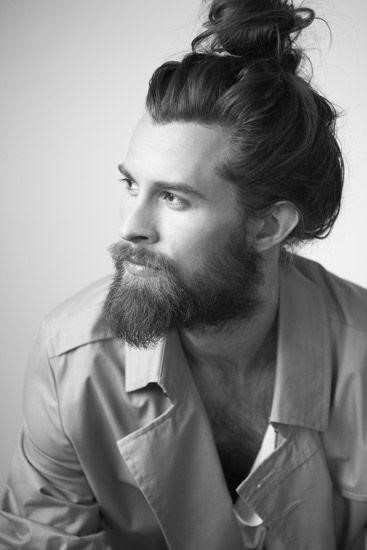 https://www.pinterest.com/pin/566609196839258262/
A Stubble Long Beard And A Textured Quiff
A nice quiff hairstyle is a focal point of your look. It may be hard to achieve because it involves a meticulous styling. The quiff may be maintained with the help of mousse, wax or gel and be either sleek or tousled and chaotic. It's better to combine it with a medium sized beard as it emphasizes the hairstyle and doesn't draw attention. You may go for a stubble long beard, which has grown for more than one week. It makes the look more masculine and goes well with any outfit. Here is an example: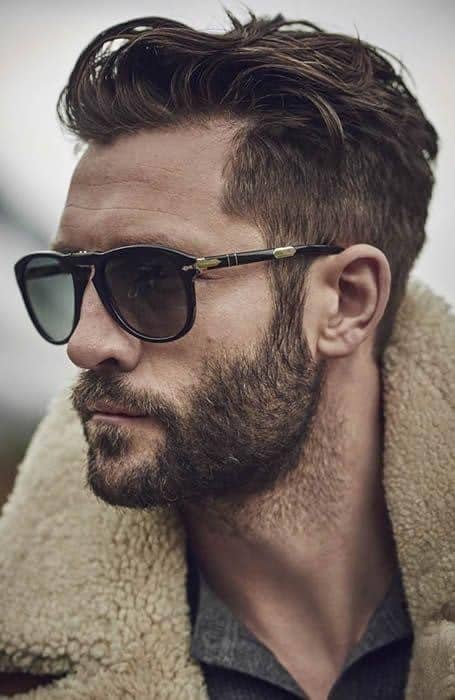 https://www.pinterest.com/pin/AQgX-IfmKJW2_pjmN-nFqhF-d2WLdLYLmubqX9LXotdrd_YfcNrWUd0/
A Stubble Medium Beard And A Side Part Hairstyle
A side part is a classic hairstyle, which looks well both in a formal and friendly ambiance. This cut allows playing with textures and contrasts. You may have a sleek top with a raised forelock and smooth sides with a clear line between them or go for a shaggy top with faded sides. To keep the image balanced, you should add a touch of ruggedness. For instance, a stubble medium beard, which is between 3 and 5 mm long is a good option. Here is an example of this awesome combination: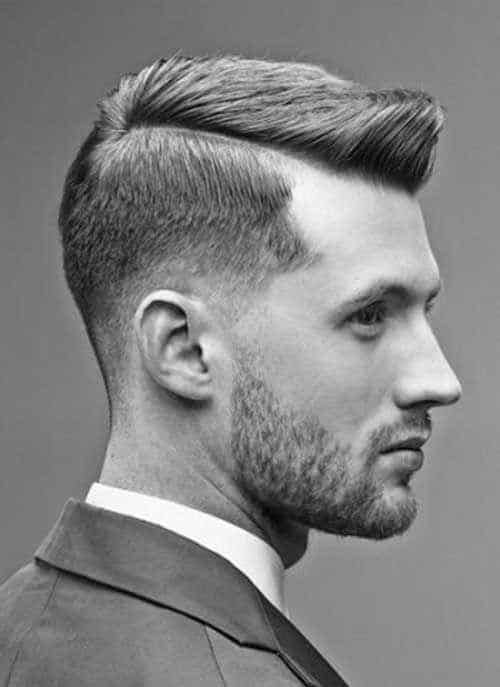 https://www.pinterest.com/pin/549579960754766097/
A Van Dyke Beard And Long Curly Hair
If you are the owner of a thin, kinky and long hair, then lucky you! All you need to look stylish is to add a touch of texture to your locks. You may moisten strands with mousse, let them dry and then fix with a spray. And a messy and attractive hairstyle is ready. In order to emphasize your cheekbones, you may add a Van Dyke beard. It implies a goatee, which is combined with a mustache. Make sure your cheeks are hair free and the shape of the beard has clear lines. This combination is perfect for creative and extravagant men. Here is an example: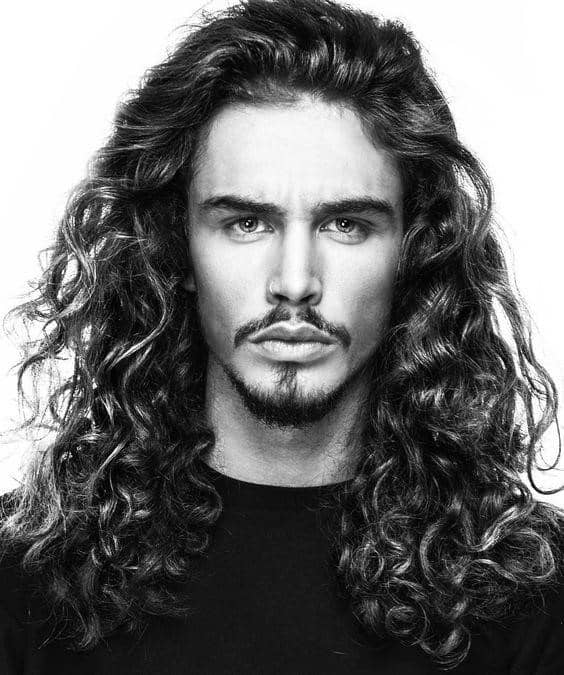 https://www.pinterest.com/pin/324540716878082776/
A Bandholz Beard And A Mohawk
A Mohawk is a rebellious style, which requires high-maintenance. You should have sides shaved every couple of days to preserve a clear boundary between shaven areas and long hair at the top. This cut looks nice on all hair types and provides a versatility of styles: it may be slicked back, combed backward, swept to the side. But it should be styled with sprays and holding agents to look well-groomed.
This rough hairstyle requires a masculine beard and the Bandholz beard is a perfect alternative. A beard may be longer than 20 cm and a mustache is bushy. This combination fits those, who pursue an urban lifestyle. Here is an example: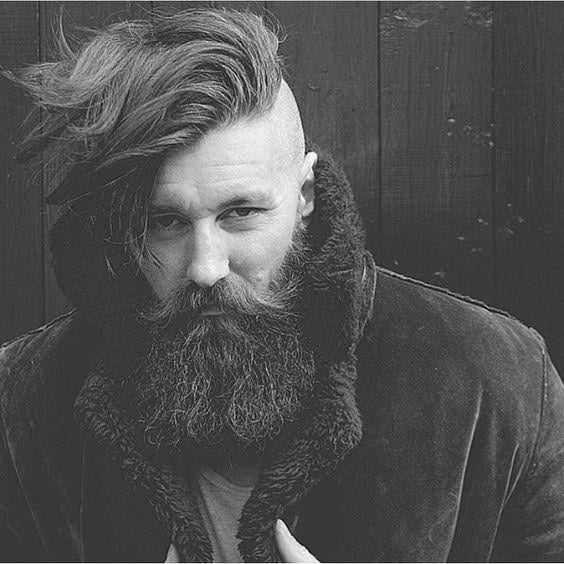 https://www.pinterest.com/pin/119345458852912079/
Medium Stubble Beard And A Bald Hairstyle
If your hair is thin or it goes bald naturally, then it's better to get rid of locks and have a bald hairstyle. However, a hairless cut will look awesome if you combine it with a beard. You may go for all types of beards, everything depends on your style, how your facial hair grows, etc. For instance, you may choose a medium stubble beard, which is achieved by growing the beard for some days, but it shouldn't be longer than 5 mm, otherwise, it may look sloppy. Look how Bruce Willis rocks this style: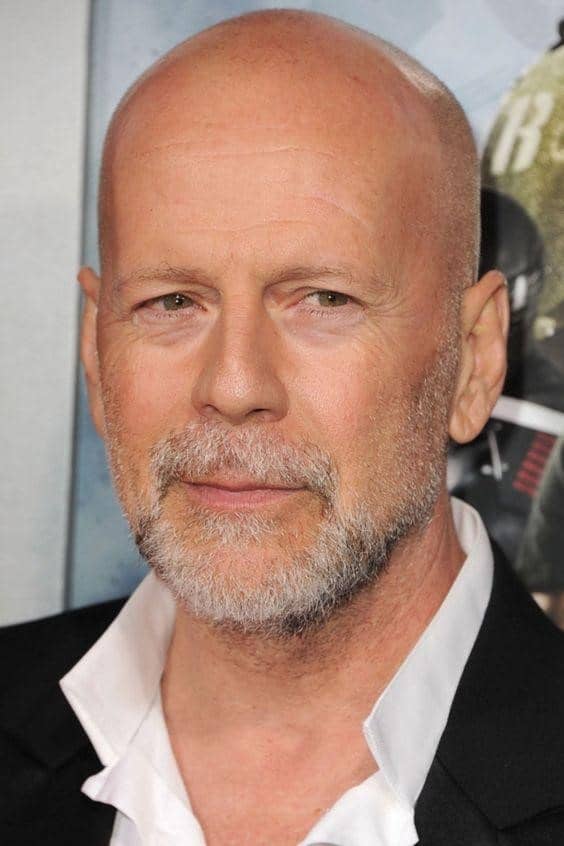 https://www.pinterest.com/pin/458663543281086226/
A Short Garibaldi Beard And A Pompadour
The key point in a combination of a beard and a hairstyle is a balance. So, if you choose a blow-dryed pompadour with a volume and textured strands, then go for a sleek finish to make the overall look sophisticated. For this, you may use all styling means.
To create a harmony, add a Garibaldi beard to the hairstyle. This is a wide and full beard, which has a rounded bottom and an integrated mustache. If you don't want it to look sloppy, it shouldn't be more than 20 cm long. Here is an example how this combination complements a stylish look: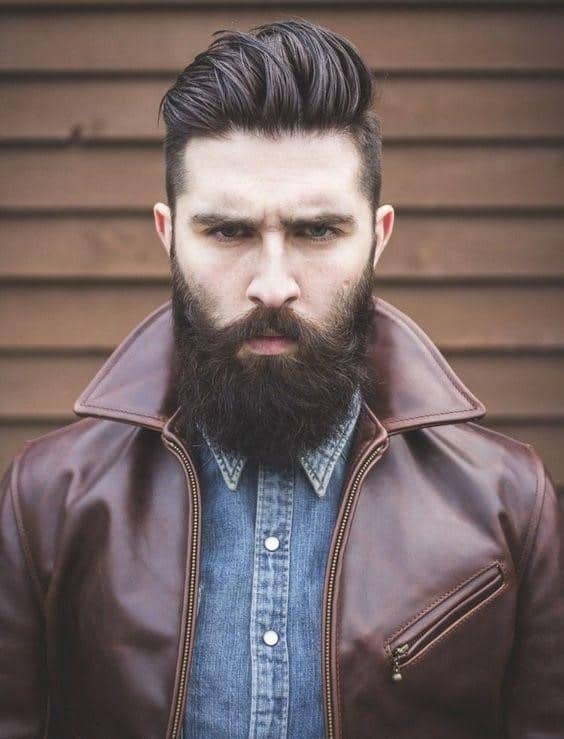 https://www.pinterest.com/pin/377528381250031206/
Thus, the focal point in a beard and hairstyle combination is a balance. Besides, only well-groomed hair and a properly styled beard will make the look sophisticated and trendy.