One of the best computing practices is to have a data recovery software installed on your computer at all times. That's because data loss is an eventuality, it is not something that does not happen. It can happen anytime, and if something can happen, it will. The best we can do is prepare for it, so that when we need a photo recovery app, a data recovery app, a video recovery app, or any other recovery app, we have it with us.
Part I: How Data Loss Occurs
So how does data loss occur? In general, data loss occurs for the following reasons:
-poor backup strategies
-hardware failure
-system crash
-software corruption
-disk file system corruption
-accidental deletion
While each or any of these reasons would be applicable to any of us, the most common way consumers lose data is through accidental deletion. Picture this.
We work with files everyday, more than ever today, without knowing. Photos, documents, videos, songs, what not, they are all files we work with everyday. Our computers and our phones are laden with data that can be lost at any time. One wrong click of the mouse and the file gets deleted. One wrong tap, which is something all of us have experienced time and again, deletes our precious photos, videos, songs and even documents on our phones.
When that happens, that is data loss. While the Recycle Bins on our computers are good to hold everything up to a file size limit that is specified, our phones are not so great at it. There is a Recycle Bin in our phones for images and videos, but not for files and documents. A document you were working on while commuting would not go into a recycle bin if it got accidentally deleted, it would simply be lost. On our computers, most of us are in the habit of skipping the recycle bin altogether. SHIFT + DEL anyone?
What you need is a data recovery software installed at all times that you can use to quickly recover lost data in case such a need arises.
Part II: What Is Wondershare Recoverit?

Recoverit is the single data recovery tool you need for all your data recovery requirements. Need a photo recovery app? Use Recoverit. Need a video recovery app? Use Recoverit. Lost office documents and presentations? Use Recoverit. You get the drift. Below are reasons to consider using Recoverit for all your data recovery needs.
Salient Features of Wondershare Recoverit
Did you know a recovery software is only as good as what it supports? Makes sense, right? If a software does not recognize a file, how is it supposed to recover it reliably?
Wondershare Recoverit understands over 1000 file formats and recognizes over 2000 devices. This means that there is little chance that Wondershare Recoverit will not work for you. You can plug in nearly any obscure device and chances are Recoverit will recognize it and will also recognize the file formats specific that device. All this is apart from the usual everyday file formats that we work with, such as JPG, PNG, HEIC/F, DOCX, PPTX, XLSX, etc.
Dedication To Data Recovery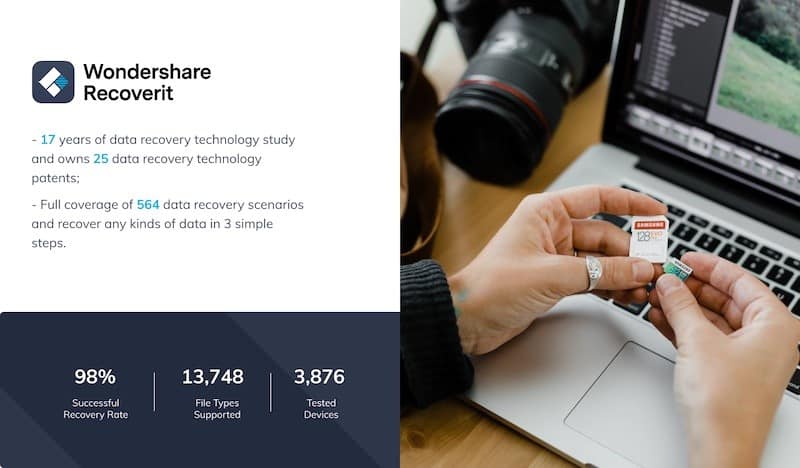 Did you know that Wondershare has 25 data recovery technology patents to its name? This means that the team at Wondershare is dedicated to the cause of data recovery and works tirelessly to support users when data loss occurs by making the best data recovery software for recovering lost data.
Advanced Video Recovery
Staying abreast with the need of users is one way why you use Wondershare Recoverit than another software out there. This is because Wondershare Recoverit is designed with an Advanced Video Recovery mode to help you recover 4K and 8K video files that are large in size and are becoming typical today. What does Advanced Video Recovery Mode do exactly?
To understand how Advanced Video Recovery Mode helps you, you need to know why the mode is needed in the first place. You see, when you store a file on a storage disk, the bits and bytes may not all be stored together. This is so as to ensure that no space is wasted on the storage disk. This is alright when the operating system's file system tables are intact and healthy, but in the event of a crash or software failure, the file system table could become corrupt.
In such cases, it is not easy to piece back data that is spread across the disk, location of which was accurately known only to the now-corrupt file system. Advanced Video Recovery Mode is able to gather such data and match the video data pieces, exponentially increasing your chances of recovering those large 4K/ 8K video files without damage.
Other Noteworthy Features
-564 data loss scenarios supported
-over 1000 file formats supported
-over 2000 devices supported
-video repair tool built-in
-bootable USB creator tool built-in
-free version available to try.
Part III: Recover Your Lost Data With Recoverit
Let's get down to seeing how easy it is to recover lost data with Wondershare Recoverit:
Step 1: Download Recoverit from https://recoverit.wondershare.com
Step 2: The Hard Drives and Locations view is pre-selected. Take your pick.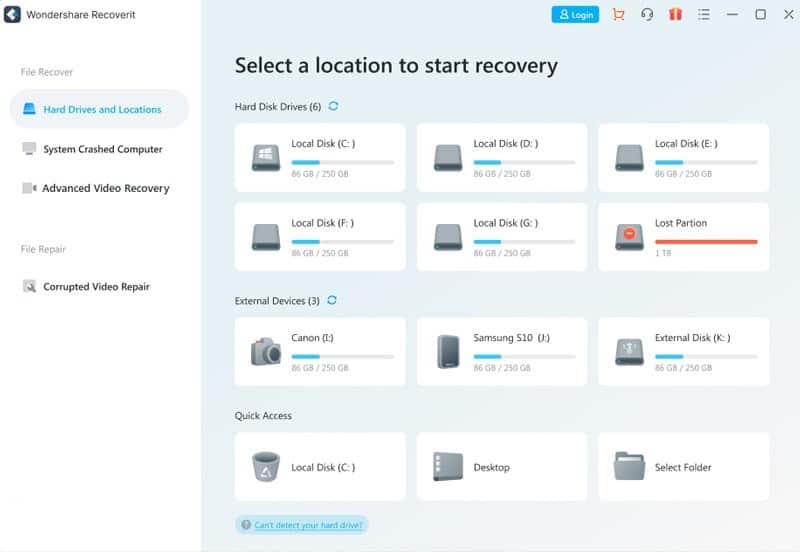 Click Start to start scanning.
Step 3: The software interface reflects key details such as percentage scanned, time remaining, number of files recognized for recovery, etc. You can pause/ stop scanning at any point.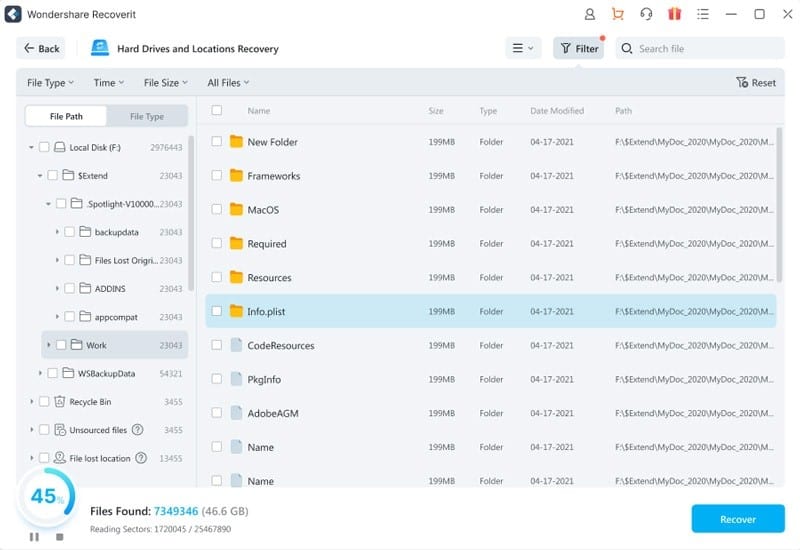 Step 4: The software provides filters to help narrow the search down as well as the ability to search for a filename directly – this is one feature not many data recovery software can boast of.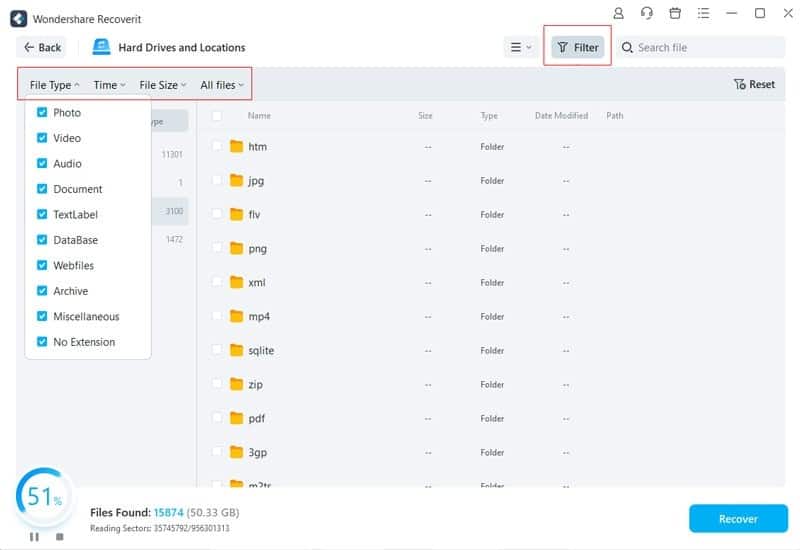 Step 5: There is a preview tool within the app to quickly view the files before recovery. This is a time-saver that helps you to view data quickly before recovery.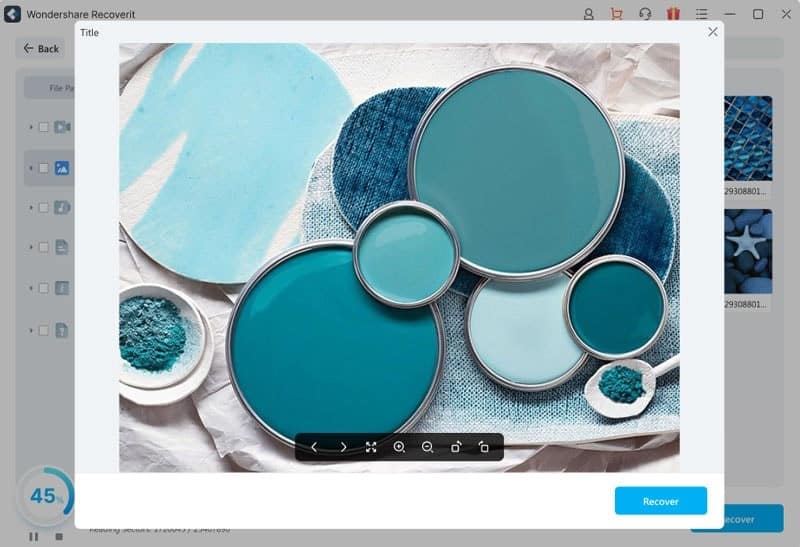 Step 6: Click Recover to start recovery and you will get a popup to select a Save location for the recovered files: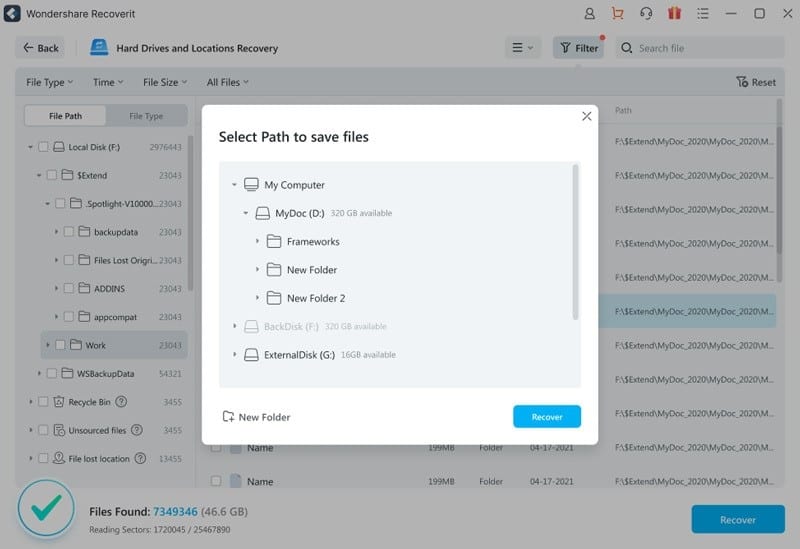 This is how easy it is to recover lost data using Wondershare Recoverit!
Part IV: What To Do To Avoid Losing Data
Now, while Wondershare Recoverit makes it uber easy to recover lost data and you might think you can rely on it, but it is best to not. This is because no matter how great a software is, there is nothing better than prevention. Prevention is better than cure, right? Here are tips you can use to avoid data loss in future.
Tip 1: Employing Data Redundancy
Data redundancy is about ensuring your data is never without a copy of itself. When you have copies of your data at all times, a large portion of your data is safe at all times. The only data that might be lost would be the data not backed up from the time of last backup.
Tip 2: Taking Regular Backups
Which brings us to the time of last backup. Ideally, backups are to be taken everyday so that at most only a few hours worth of data is lost in case of an eventuality. If that's not possible, aim for twice a week or maybe even weekly backups.
Tip 3: Ways To Backup
You might be thinking of ways to backup your data, and we can help. Besides the obvious use of external hard disks or even M-discs that are supposed to last even 1000 years, you can choose cloud services for everyday backup or backup of critical data that also needs to be accessible at all times. There are several options here. OneDrive offers 1TB, and if you're averse to paying monthly or annually for storage, consider pCloud that offers 2TB and even a custom 10TB offering, for a one-time payment.
And a shameless but completely helpful plug: Consider using Wondershare Inclowdz to manage all your cloud storage from one app with full interoperability – something that no other software solution out there offers. This means you can move, copy, create, delete and rename files and folders from within the app in any and all of your cloud accounts connected to InClowdz. Imagine that!
Conclusion
There is a bogglingly high number of data recovery apps out there, each laying claim to the titular crown. However, when it comes to delivering the claims, Wondershare Recoverit is the data recovery software you want for recovering any and all types of lost or deleted data. You could click Wondershare Recoverit to try it free.