I've always had trouble falling asleep. I would toss and turn, or stare up at the ceiling, and in every case my mind would be racing. You see, I have a sleep disorder called "onset insomnia", and though I have difficulty actually falling asleep, once I'm sleeping, I'm fine. The trouble is getting to that point, and after stumbling on a free computer program called F.lux, I realized that my work habits weren't doing me any favors in the sleep department.
F.lux is a simple program that gracefully adjust your screens color settings during the evenings to more closely mimic the natural lighting conditions that would happen after sundown. No, that doesn't mean that your screen goes black, but it does mean that the predominant blue tones of your screen are "warmed up", sparing your eyes from the retina searing color tones that are so useful during the day, but so detrimental to a good night's sleep during the evening.
Initial Concerns with F.lux
When I first read about F.lux, I was concerned that the color shifts would mess with my work, and even more importantly, my gaming experience. After a long day of writing poorly written and often tasteless articles for Unfinished Man, I usually feel like unwinding by playing some BF3, or watching ridiculous videos (obviously I do neither during the day) and I didn't want the colors to look messed up. Well, it turns out that's not an issue. Simply turn off the program, or better yet, click the "disable for an hour" button in F.lux to, well… I think you get it.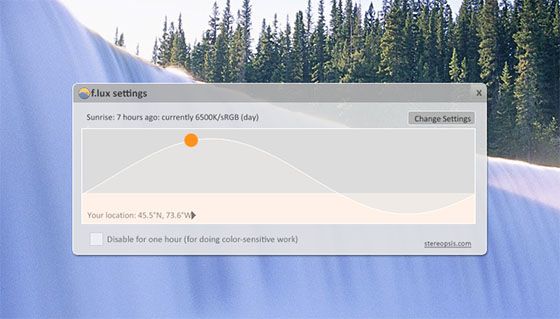 Thought F.lux only offers limited functionality for adjusting settings, there isn't really much for you to change. Just about everything is automated, and what I thought would be a CPU intensive bit of work (the actual color changing), it turned out that wasn't the case either.
A week of F.lux
Now, the question is… does it work? Surprisingly, yes, I would say that it does. I was skeptical that something as simple as changing the color values on my computer screen would have any noticeable effect on my sleep habits, but apparently it does. Though I have only anecdote to support this, I've had an easier time falling asleep, and for me that's greatly appreciated. Interestingly enough, I've also felt less groggy waking up in the morning. Not bad for a program that's absolutely free, right?
There's plenty of techno-babble and scientific data behind this amazing feat of sleep enhancing sorcery, but I'll leave that to Stereopsis, the creators of F.lux, to explain.
Final Thoughts
If falling asleep is a constant struggle for you, I recommend giving F.lux a shot. It's free, you've got nothing to lose, and I've now officially given it my gold stamp of approval. In addition to setting this up on your computer (and yes, even your iPad), consider also creating a computer cut-off time for yourself after which point you avoid staring at electronic screens. Yes, that includes your cell phone. Honestly, you'll thank me.
Sleep well, and if you have any tricks of your own for sleeping, and sleeping well, leave a comment below and share it with us.