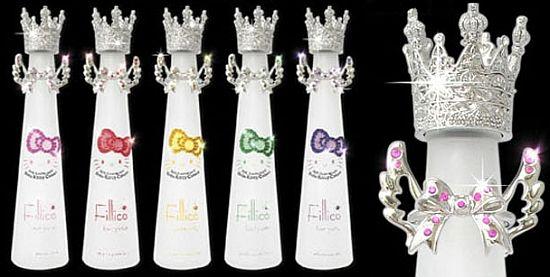 I've never understood the appeal of Hello Kitty, I see girls going crazy (and some guys) when they see Hello Kitty stuff.  I see people "decorating" their cars with Hello Kitty plush toys, stickers, pillows, and many other lame things.  To make things worse, a company from Osaka has now created a Hello Kitty luxury bottled water.  Now I don't know about you, but to me, a $1.00 bottle of Evian is luxury enough.  The Hello Kitty bottle, however, is going to cost you a whole lot more of your hard earned money.
The Fillico Jewelry Water cots a whopping $100 a bottle and comes in a bottle that is decorated with Swarovski crystals.  The Hello Kitty "luxury" water comes in five different colored crystals, each representing a different theme; Yellow (heartful), Pink (cute), Lavender (sweet), Green (wish), and Red (friendship).
It'll be a cold day in hell (or is that hot day?) before I spend a 100 bucks on a bottle of water, come to think of it, I don't think I've spent $100 on bottled water in my entire life.  If you do feel the thirst for a Hello Kitty Luxury Bottled Water, they are available at Fillico.