I've been obsessed with jeans and denim since before I can even remember.
My friends rarely hear the end of it, politely nodding as I gush over the latest new brand I've discovered, or the sweet honeycombing that's developed on my latest project. I'm simply trying to get people as excited about jeans as I am, but this has also made me realize something: it's not just about the brands, it's about personal style… about the right cut.
Today, instead of simply lecturing you on "good" brands (an area that's largely subjective), I'm going to share what I believe is a practical guide to picking out the perfect pair of jeans. I'll offer a few suggestions, a few insults, and hopefully at the end of this you"ll have a better idea what to look for.
Buying non-crappy Men's Jeans
1) Pick a cut of jeans that suits both your style, and your build. This is largely subjective, but as a general guideline I always suggest choosing jeans that are neither baggy nor tight. Skinny jeans can work for some people, providing they aren't so tight they ruin any chances of you ever having children. Baggy jeans (sometimes known as anti-fit) are fine too, providing they aren't hanging down around your ankles.
2) Measure both your actual waist size and leg length before ordering jeans online, and if you're buying jeans in person at a store, make sure to try them on first. Jeans are often "vanity sized" to make customers feel better about their disgusting gut. Whether you're thick or thin, own it and choose a pair of jeans that are actually going to fit.
3) If you buy your jeans at the same place you buy your groceries, pet food, and hardware supplies, stop it… stop immediately. These type of places generally stock the lowest quality crap they can pack on the shelves, and chances are their jeans look ugly to boot. Instead, do yourself a favor and start researching selvedge denim. Brands like Naked & Famous, Nudie, Samurai, and Sugar Cane all spring to mind, at least when we're talking about more traditional cuts, ie: Levi reproductions. This may sound slightly snobby, but I assure you there's a good reason for it.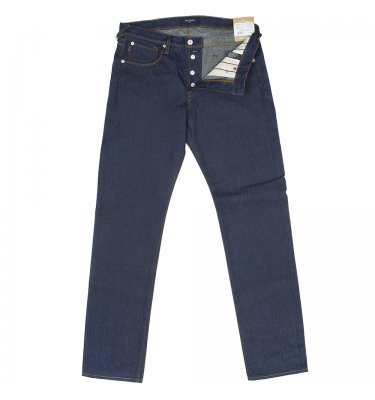 4) Jeans you buy for $20 may seem like a wonderful bargain, but what's the quality like? Though high price is not necessarily the mark of a high quality product, but buying too cheap is a near guarantee that the jeans you just bought are going to fall apart in no time. When it comes to the quality vs quantity dilemma, I always suggest spending more money and having the pair of jeans last you for many years. If you've picked a good cut and style, it will still be as relevant 3 years from now as the day you bought it.
5) Research before you buy… I can't stress this enough. There are hundreds if not thousands of denim companies, all of them vying for your hard earned cash. Try browsing around a few style forums (a quick search will reveal plenty) and see what people are talking about. If you're reading this article, chances are you aren't yet passionate about jeans. You will be… I guarantee. Until then, let other people do the heavy lifting. At the very least their ideas and suggestions will act as a spring board to helping you find the perfect pair of jeans, and be the stylish devil you always wanted to be.
More Information
I'm very particular about what I like, and that specificity is the result of many years of obsession. I've tried to boil down my system for picking out new jeans into a few simple guidelines, but there's most definitely plenty of things I've missed as well. If you have any questions at all, or even any insults towards some of the suggestions I've laid out, please feel free to share them in the comments below. I would love to hear from you.
(Photos by Charmer and Paul Smith)