I loved my old wallet, but after carrying it around for a lot of years, it was more than worn – it was falling apart. I started looking online for a new one and immediately decided that I had to get a wallet made of carbon fiber.
Why carbon fiber? They not only look cool; they're light and virtually indestructible. I liked the idea of investing in a high-tech wallet that would outlast my previous one. As I looked through all of the available options, one stood out in particular – a multi-function carbon fiber wallet by the phone case and wallet gurus at Pitaka.
I couldn't have been more psyched when this wallet arrived. Much more than a plain old folding wallet, the Pitaka Carbon Fiber Wallet has an amazing magnetic modular design that fans open to reveal different storage sections for your credit cards, cash, and even items like coins, keys, and important SIM cards.
Pitaka is even concerned with protecting my cards and my privacy. They include Smart RFID-blocking, and anti-degaussing technology as well as special MU material so that credit cards are kept safe from data skimming and magnetic fields that could erase them.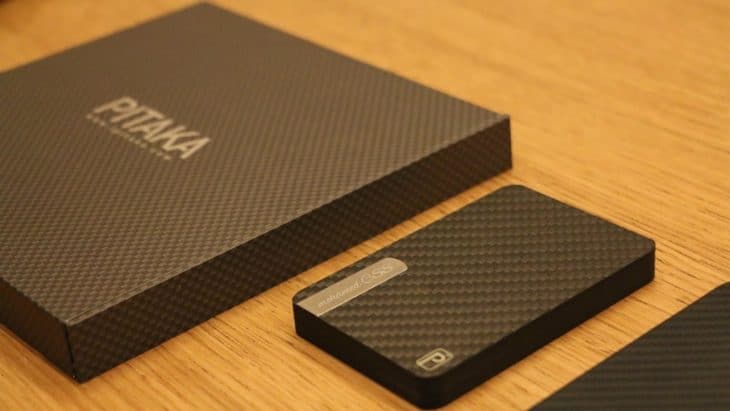 This is more than a novelty cash/credit card holder; it's absolutely one of the most convenient wallets I've ever owned. I can access my most frequently-used credit cards in a flash by simply sliding them out of the top module. My cash is quickly at hand in the money clip layer. As much as I loved my last wallet, over time, it got bulky and was a pain to carry in my back pocket. The Pitaka Carbon Fiber Wallet is sleek and slim. The carbon fiber body make it nearly weightless and incredibly comfortable to carry in my jeans or jacket pocket.
I would have been happy just with all of that, but I also discovered that my Pitaka has a handy little tool card included. It's convenient if I need to open a beer bottle or tighten a screw without wandering off to find an opener or screwdriver.
The only downside to my new wallet? The constant compliments and questions I get when I pull it out. It's so eye-catching and unusual that people can't help but ask what it is and where they can get one, too.
I always tell them that once they try one of these, they'll never go back to a frumpy, traditional wallet. I know I won't.