Today we bring you another factory tuned high performance sedan, this time it's the already fast Subaru Impreza WRX STi in the form of a special edition called "S206".  The bad news is that only 300 of these special edition cars will be produced and will be sold in Japan only.
Subaru is calling the Impreza WRX STi S206 the "crown of STi tuned cars".  The S206 comes with a lot of goodies to make it handle better than the already great handling STi.  It comes with Bilstein dampers and STi tuned coil springs in the front and back, Brembo brakes with drilled rotors, 19" BBS wheels with Michelin Pilot Super Sports tires, and a few other goodies listed at the bottom of the page.
The 2.0 liter turbocharged engine has been re-balanced and the ECU re-tuned to produce 320 horsepower and 318 pound-feet (431 Nm) of torque.  According to Subaru, the S206 has better throttle response and more torque at low rpm.  The interior gets minor upgrades with a leather steering wheel and Recaro bucket seats with red seatbelts.  The exterior gets a lower front spoiler, aluminum hood, fender vents, and trunk lip spoiler.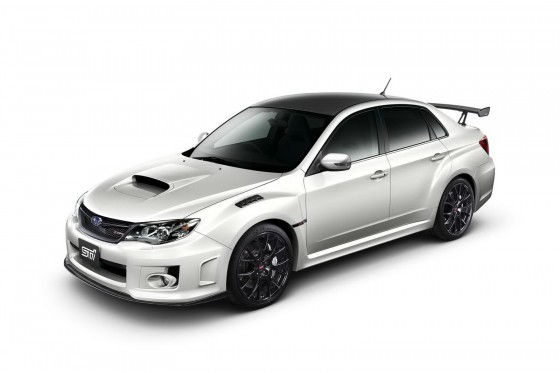 Subaru is also offering another package on top of the S206 called the NBR Challenge Package, celebrating Subaru's first class win at the 24 Hours of Nurburgring endurance race.  This package includes a carbon fiber roof and rear spoiler and a Nurburgring challenge sticker on the trunk.  Only 100 of these cars are being produced which have already been spoken for.
Major equipment of Subaru Impreza S206

-Mechanism-
STI tuned Bilstein upside down strut and STI coil springs for front suspension
STI tuned Bilstein damper and STI coil springs for rear suspension
S206 BBS designed 19-inch x 8 1/2J forged aluminum wheels (silver)
Michelin Pilot Super Sports 245/35ZR19(93Y) tires
Brembo 6-pot silver colored brake caliper with STI logo and 18-inch 2piece type drilled disk rotors for front brake
Brembo 4-pot silver colored brake caliper with STI logo and 18-inch drilled disk rotors for rear brake
STI designed flexible front strut tower brace
STI designed flexible draw stiffener, front
STI designed flexible support, rear
STI designed support, front kit
STI designed lateral rink with pillow ball bush (front inside, rear inside)
S206 engine balanced with STI
STI designed S206 ECU (Engine Control Unit)
S206 twin scroll ball bearing turbocharger
STI designed S206 sport muffler with lowered back pressure exhaust
Large intercooler with S206 logo
STI designed strengthened silicon intake duct
STI designed air cleaner element
S206 multi mode VDC (Vehicle Dynamics Control)
Subaru Impreza WRX STi S206 Pictures