This is a Sponsored post written by me on behalf of PERK for SocialSpark. All opinions are 100% mine.
There are tons of car fresheners on the market but the most iconic and recognizable one is the dangling Little Trees from Car Freshner Corporation. The same company, which has been in business since 1952, has recently released a new line of car air fresheners which not only smell fantastic but are virtually "invisible".  Okay, not quite invisible but very discreet.
The PERK Vent Wrap is an innovative auto vent air freshener with its unique patent pending design which will leave your passengers wondering where that great scent is coming from. They'll notice the fragrance, but not the product itself. The PERK Vent Wraps design allows it to secure itself around the blades of the vent so you'll hardly notice it. There are other vent products for your vehicle but they are so obvious, in your face, and create the 'feeling' of clutter in your car. For its "invisible" feature alone, I'm sold on this product. This will definitely be replacing my two cherries (liquid air freshener) which are dangling from my rear view mirror.
I got three packs of PERK Vent Wraps in the mail which included the scents Lush Valley, Absolute Zero, and Clean Laundry. They are all good but my most favorite was the Clean Laundry scent. I love the smell of freshly done laundry and the warmth of it fresh out of the dryer. Although the Clean Laundry vent wrap didn't provide warmth, I still mentally felt the warmth since scent and memory correlate and it gave me a feeling of comfort and feeling all cozy. Weird, I never thought a car freshener would give me the feeling of comfort.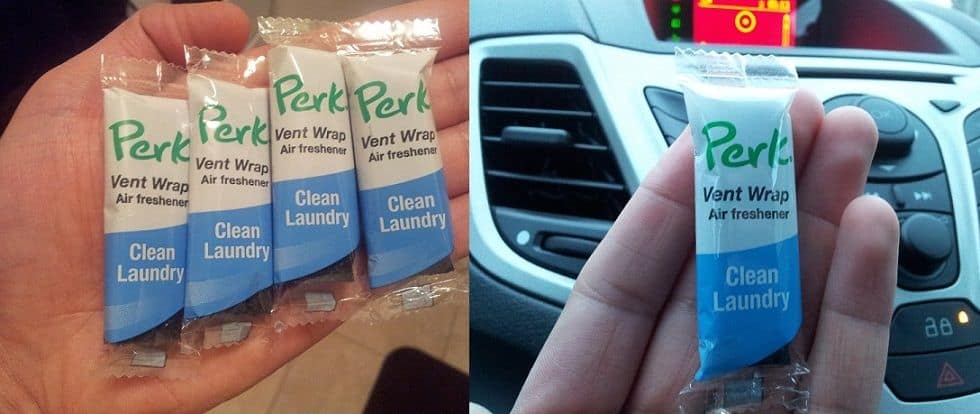 The PERK Vent Wraps also features their 'SteadiScent' technology which regulates the fragrance delivery to maximize the products life with a four-pack lasting you approximately 60 days. Along with the scents I already mentioned, the PERK Vent Wrap is also available in 'New Car' and 'Golden Vanilla' which are the two that I have yet to try. In a few months time, I'll probably give those a try as well.
Look How Discreet It Is!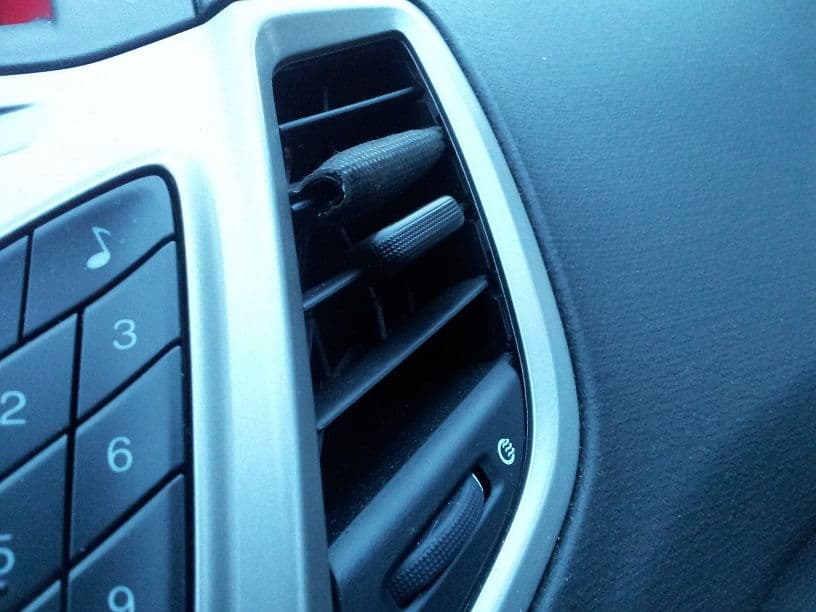 If you haven't tried or even heard about the PERK Vent Wraps, you should definitely check out PERK Fresh website and get your hands on these. Just one vent wrap is enough to fill your car with a great scent that will last and is very affordable with a four-pack costing between $2.99 and $3.99 depending on the retail location.
Giveaway Time!
Like free stuff? If so, you're in luck because Unfinished Man will also be giving you the opportunity to win a six-month supply of the PERK Vent Wraps for simply commenting below on why your car needs a PERK Vent Wrap!
We'll randomly pick one lucky person. You can have an additional entry if you share this blog post on your Facebook page, another entry for posting it on your Twitter, and finally a fourth entry for sharing it on Pinterest. Sometimes in life, there are no second chances, but here I am giving you four!
Don't forget to Like PERK on Facebook, and we're looking forward to bringing you more awesome contests in future.