Luxury watchmaker Patek Philippe has just released a watch aimed at the Middle East market, called the Patek Philippe Mecca World Timer Watch.  The watch honors the holy city of Mecca and is released just in time for the holy pilgrimage of Hajj.
The dial of the watch has an emerald green center, the color of Islam found on many of the flags of Muslim countries.  The watch case is made out of platinum, which could be because Muslim men are not allowed to wear gold.
The watch face features the word "Mecca" in green and has other major cities from around the world in black.  The emerald green center dial has 12 platinum markers indicating the hours of the day and the outer part has 24-hour markers in Arabic numerals and also indicating the position of the sun and the moon.  The front and the back of the watch are covered with sapphire crystal.
The Patek Philippe Mecca World Timer watch is powered by a mechanical caliber 240HU movement with 33 jewels and has a 48 hour power reserve.  The watch is water resistant to 30 meters, not that you would want to bring it anywhere near water.  The watch is finished off with a black leather crocodile strap.  Only 150 5130P Mecca World Timer watches have been produced and all of them are already sold out.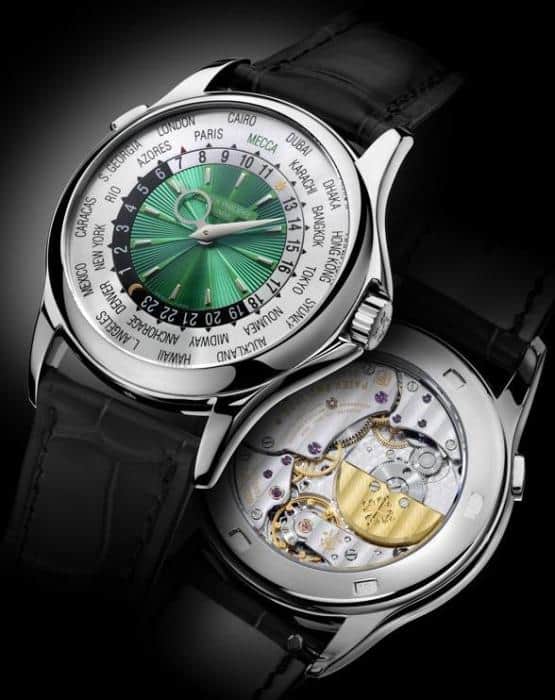 [Source: Patek Philippe]