Home theaters have been a thing for quite some time now. The concept isn't new. When they first came on the scene they were fairly uniform; standard recliner, flat screen, and if you were fancy you'd add in some surround speakers.
Like anything, advancements come into play, taking basic home theater design up a notch to fully optimize the experience.
Obviously there are a plethora of companies out there now that advance your sound, visuals, and comfort, so it can be a little overwhelming knowing what route to take and where to allocate your funds in the most optimal way.
Spend it on the chairs.
Yes, everyone's preferences are different, but think about it: you're sitting there for at least an hour and a half for one movie – comfort is of high importance! You're creating a zone where you'll be plunking yourself down for hours and hours … Spend. It. On. The Chairs.

Comfort, functionality and luxurious finishes are key players in building the ultimate theater experience.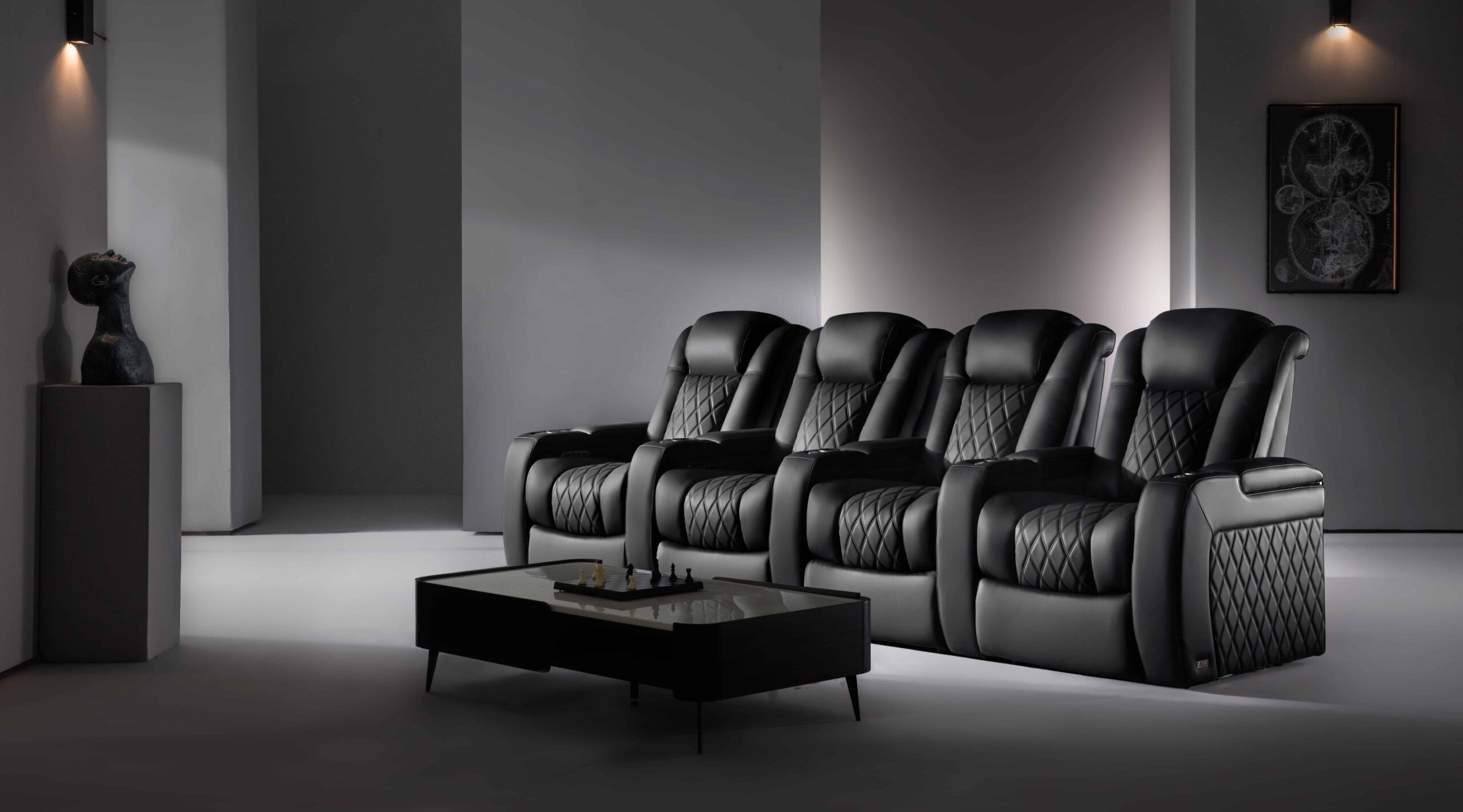 Valencia Theater Seating is one of the top manufacturers for home theater seating. With over 10 years of experience, their home theater furniture is constructed with precision, luxury and longevity in mind. Made of Italian luxury leather, with attractive designs that are infinitely customizable, their movie chairs and couches are truly a necessity to achieve a great home theater or media room. With multiple configuration options, luxury features, theater seat accessories, tons of  color choices, fabric theater seating options, and more, they can make any home theater furniture idea come to life. 
Valencia just came out with an upgraded model of their bestseller. They called it the Tuscany Ultimate Luxury Edition, and it truly lives up to its name. Stacked with Semi-Aniline matte leather, French diamond perforated leather, RGB lighting, power lumbar/headrest/recline, Persian velour-lined armrest storage, Black Chrome accents, and USB ports. This chair makes it possible to fully immerse yourself when watching movies, gaming or watching The Big Game.
Let's circle back to the custom work they do. I've seen some pretty rad combos and if you head over to their site, you can use their Customizer Tool and play around, creating your own personalized home theater seat, including embroidery.
You can also add some swanky wood paneling, choose velour over leather, add in some RGB lighting, and other cool features. You can check out the customizer here.
Whether you're in the market for a single luxury recliner, or multi-seat configurations for a home cinema, Valencia has it all.
Check out the custom work they just completed for Supercar Blondie here.