Over the past few years, I've become a coffee lover. I'm no expert but I'm at a point where I can distinguish between a coffee that is burnt and one that is roasted right. And with the popularity of single-serve coffee machines, I thought it was about time I jump on the band wagon. Now there are some pretty fancy coffee makers out there ranging in the $1,500+ side but I could never appreciate something like that so I'll leave that sort of machine to the coffee connoisseurs. I'm not going to say I've tried all the single-serve coffee machines on the market but what I can tell you is that the Nespresso Delonghi Lattissima+ is hands down the best single-serve coffee machine I've tried and is definitely a step above the rest. It also happens to be the most stylish and the entire thing screams quality.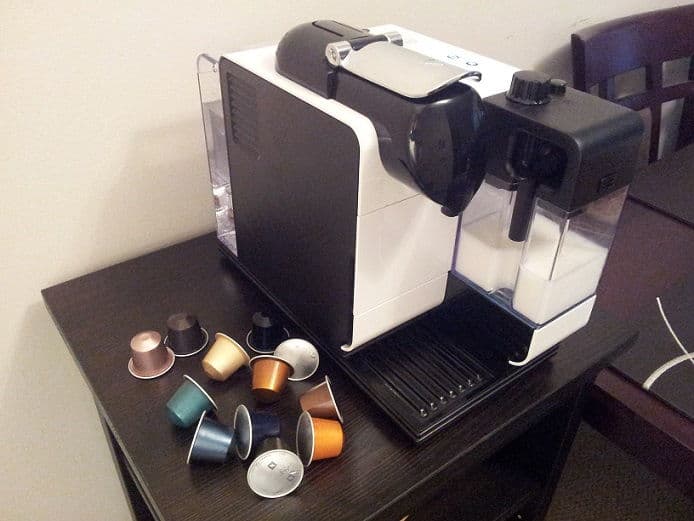 I've seen the demonstrations at the malls from companies such as Tassimo and Keurig and I was initially interested in purchasing either of the machines but I changed my mind once I laid my eyes on the Nespresso Lattissima+ a few months ago. It was in Australia when I first had a delicious cup of coffee made by the Lattissima+ and the feature which I really liked was the built in milk frother. Other single-serve coffee makers like the Keurig do not have such features. The folks over at Tassimo have milk pods to make lattes and cappuccinos but milk from a pod is just not the same as freshly steamed and frothed milk. And with the Nespresso Lattissima+, you can choose what type of milk you want to use such as whole milk, partly skimmed, or skimmed. And if you're a real health freak, you can even steam almond milk (although results won't be quite the same as dairy milk).
The coffee machine itself is very compact and sleek and in my opinion, adds value to the kitchen. Of course not monetary value but the kitchen space just looks a lot better when the Lattissima+ is around. The Nespresso Lattissima+ can brew espressos, cappuccinos, or lattes with a simple push of a button. All you have to do is simply fill the water and milk tanks, drop one of Nespresso's exclusive coffee capsules into the slot, and push one of the four buttons (depending on what you like). And right before your eyes, a piece of art is created. My wife says that I enjoy watching the coffee being made more than the coffee itself. That's not entirely true but it really is fun to watch all the layers develop and it's amazing how quickly it all happens.
What's In The Box?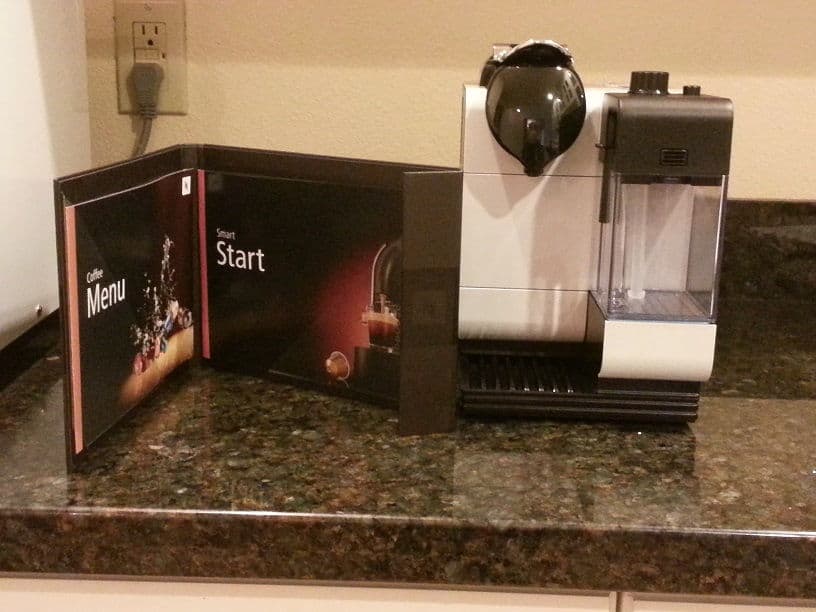 In the box, you'll find the coffee machine of course and a sample pack of exclusive Nespresso capsules. Nespresso's Grand Crus consists of 21 great blends of coffee and sometimes, a few limited edition capsules. It's hard to decide what you want to order online without having tried it first so having a sample pack which contains 18 of Nespresso's 21 flavors is great way to get an idea of what you like. I don't like dark roasts but I was pleasantly surprised that I actually enjoyed Nespresso's Kazaar flavor with an intensity of 12 (their most intense flavor). In the box, you'll also find the owner's manual which shows you how to use, clean, change settings, and take general care of the Nespresso Lattissima+ coffee machine. And the last thing you'll have in the box is the Coffee Menu. It's a list of Nespresso's offerings with a small description of the coffee.
Nespresso's Coffee Menu
The Intenso Range
Kazaar (intensity 12) – exceptionally intense and syrupy
Dharkan (intensity 11) – long roasted and velvety
Ristretto (intensity 10) – powerful and contrasting
Arpeggio (intensity 9) – intense and creamy
Roma (intensity 8) – full and balanced
The Espresso Range
Livanto (intensity 6) – round and balanced
Capriccio (intensity 5) – rich and distinctive
Volluto (intensity 4) – sweet and light
Cosi (intesnsity 3) – light and lemony
Pure Origin Range
Indriya from India (intensity 10) – powerful and spicy
Rosabaya de Colombia (intensity 6) – fruity and balanced
Dulsao do Brasil (intensity 4) – sweet and satiny smooth
Lungo Range
Fortissio Lungo (intensity 7) – rich and intense
Vivalto Lungo (intensity 4) – complex and balanced
Linizio Lungo (intensity 4) – round and smooth
Decaffeinato Range
Decaffeinato Intenso (intensity 7) – dense and powerful
Decaffeinato Lungo (intensity 3) – light and full-flavored
Decaffeinato (intensity 2) – fruity and delicate
Variations Range
Vanilio (intesnity 6)
Ciocattino (intensity 6)
Caramelito (intensity 6)
Nespresso Grand Cru Capsules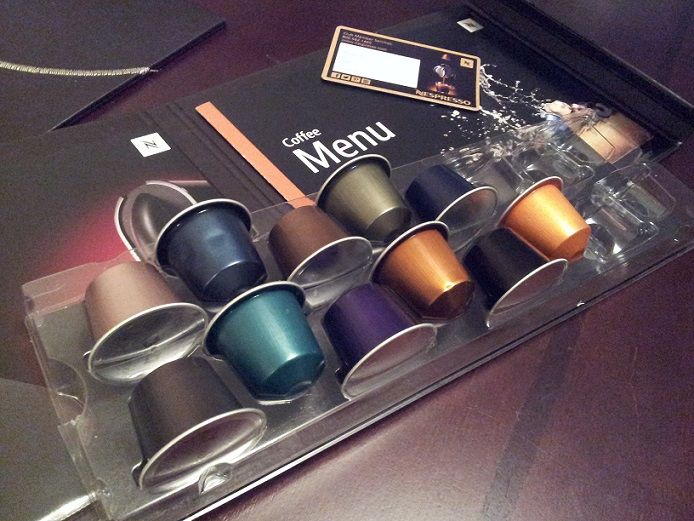 Like the coffee machine, the Nespresso capsules are also very sleek looking and each colored capsule corresponds a specific flavor. The capsules are recyclable and made out of aluminum. The coffee flavors can only be ordered from Nespresso Boutiques and directly from the company via the Nespresso website, phone, or iPhone/Android apps. The capsules are ordered per pack of 10 and each capsule ranges between $0.65 to $0.70 on average.
Espresso: Short or Lungo (Long)?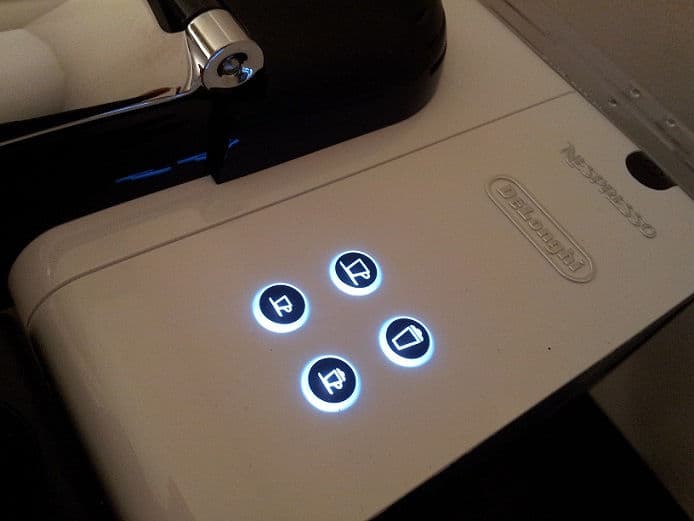 Nesspresso offers a unique choice of Grand Cru coffees from light and smooth to those who like their coffees strong and bold. For the Espresso range (short), the Nespresso capsules contain approximately five-grams of ground coffee while seven-grams for the Lungo range (long). I always have milk with my coffee so the espresso buttons don't get much use on my machine. In my experience, using the Espresso range capsule for a Lungo didn't make any noticeable impact on the taste of the coffee. Regardless of the capsules and its intensity, I always enjoy them as lattes and cappuccinos. I should also point out that when the milk tank is not hooked up to the machine, only the 'short' and 'lungo' buttons will light up. If the milk tank is connected, then all four buttons will light up (short, lungo, latte, cappuccino).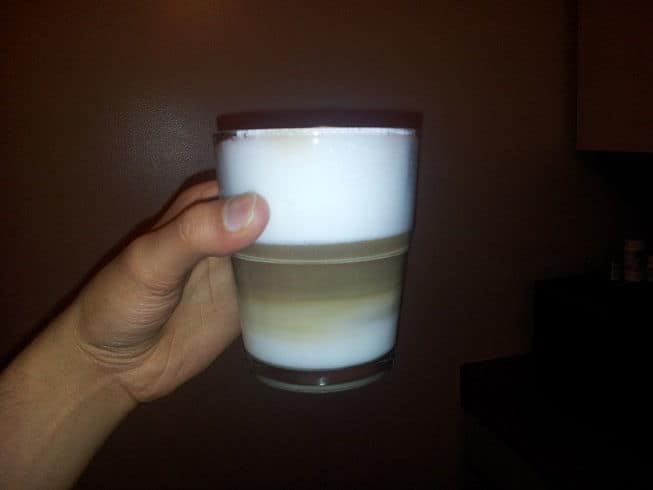 On the Nespresso Lattissima+, there are several adjustment you can make in order to brew the perfect cup according to your taste if you are not satisfied with the default settings. The first adjustment is the amount of water that is used to brew your coffee, the second is the amount of milk that the machine will steam, and the last adjustment is the amount of froth for your drinks with the turn of a simple knob. This single-serve brewing system also utilizes a 19-bar pressure pump to ensure that you get the maximum extraction of flavor from the Nespresso capsules. After you have made a milk-based drink, there is also a "Clean" button which uses steam to clean out the internal parts which were used to make the milky drink. Simply put an empty glass on the tray, push and hold the 'Clean' button, as long as the button is held down, the machine will clean which generally takes about 10 seconds.
Overall, I love my Nespresso Delonghi Lattissima Plus and would recommend it to just about anyone who enjoys a cafe quality drink in the comfort of their own home. The coffee maker is available for $399 and available for purchase at the Nespresso website or you can also purchase it on Amazon.