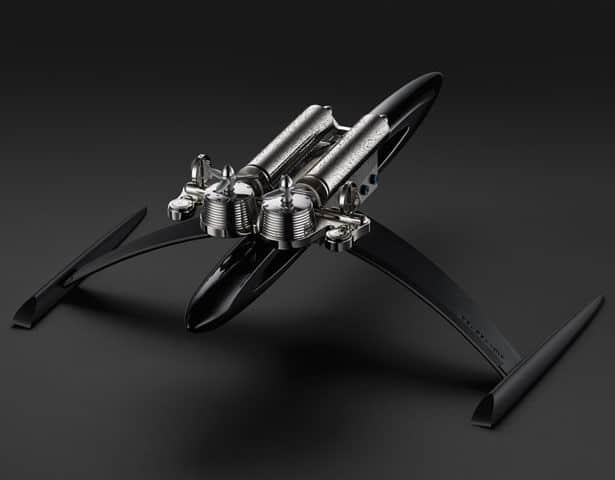 I'm not a huge fan of watches (shhh, don't tell the others!) but, after selling high end timepieces for years, I appreciate the intricacies that makes each one… tick. Tiny, fiddly machinery is a fascinating thing when it works and isn't just glued onto other things for show- I'm looking at you, steampunk- and the MB&F MusicMachine has both components and design in spades. Is it possible to have a manly music box? I guess so, judging by this sleek, instellar looking musical knick knack: sooth your inner savage beast with the music of Star Wars and Star Trek, carefully composed by what looks like a cross between a Galaxy Class ship and a Y Wing.
The MB&F MusicMachine: One Hell of a Playlist for a Music Box
If you recognize this striking, unique styling, it's probably because Faisal has posted about MB&F watches before. It makes sense that a watch manufacturer would branch out into other mechanical curios- it's a chance to show off serious design chops and incredible engineering in an unusual item that any guy would love to have on his desk. Unfortunately, the MB&F MusicMachine is limited to a special edition run of 66 pieces. Their website doesn't list pricing, but I get the feeling with the quantities being that low, the cash required to have a music box with no little twirling ballerina is going to be decently high.
If you're not able to get yourself a super space age MB&F MusicMachine, you can always enjoy it at your desk as if you totaly had a real one. Just print one of the pictures from this article and frame it, head over to the MB&F website here, and you can listen to each of the tracks it plays. There will be no warring with your inner fan boy or music buff either, as a wide range of man worthy music choices are carefully mixed into a symphony that will carry you away to space, where all the music comes out of tin cans. Seriously, check out this rad list:
"On the left, may the Force be with you with the 'Star Wars' theme, the 'Imperial March' from 'The Empire Strikes Back', and the theme from 'Star Trek'.
Back on earth, the right cylinder plays Pink Floyd's 'Another Brick in the Wall', Deep Purple's 'Smoke on the Water' and 'John Lennon's 'Imagine' – all tunes synonymous with MB&F's radical, nonconformist attitude."
I very much want a music box that looks like a rocket ship that will play Floyd and The Imperial March back to back. Think of how amazingly confused (and then totally excited) people visiting your office will be. You could pass it down to your children, if that's your thing- they'd definitely grow up better on Deep Purple than the Disney Wish Upon a Star music box standby. If you want to learn more about it, you can digitally pull it apart and learn about the inner mechanisms and materials on the MB&F MusicMachine page. I'll leave you with a video of the MB&F MusicMachine in action- cool technical toy or useless paperweight?
http://vimeo.com/66304535