Most guys grow up loving everything firearm related, but if you aren't a range nut, it's hard to work that into everyday life without looking like a total crazy. Guns have a certain aesthetic- sleek, sexy, and dangerous, they've given inspiration to a number of designers and artists. So for today, I've held off  the kitschy-yet-fun crap like the Revolver Hair Drier in lieu of some of the coolest pieces of gun couture around.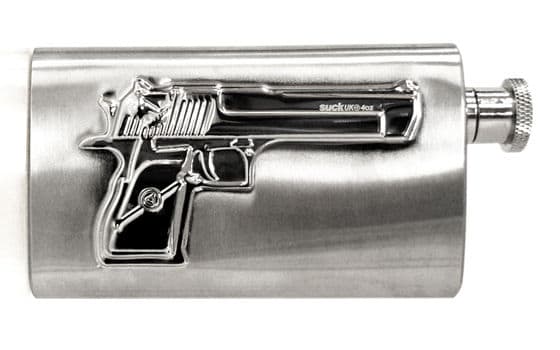 Shoot from your hip with this gorgeous stainless steel hip flask from Suck UK. Every man should have a flask, and there's no reason it can't look great and come ready to inspire all sorts of terrible puns that you'll begin to think are amazing as you drink more.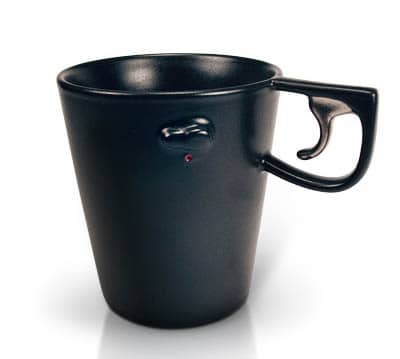 There are actually a surprising amount of deadly drinking vessels on the market, but this Gun Mug is our favorite by far. Just understated enough to make it completely practical while still unquestionably badass, the matte finish on this porcelain piece has a platinum plated trigger…All the better to imagine kneecapping a coworker with when raging on the inside, while maintaining an appearance of coffee sipping calm on the outside.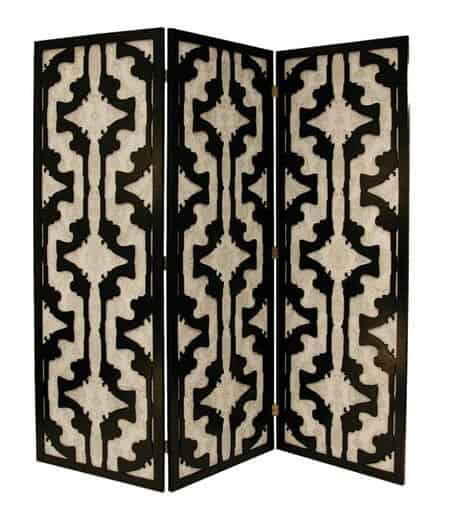 Room dividers are one of those things that can look really good, or really, really awful. This one from Mutt Design is a killer, with a retro brocade design that just happens to be interlocking pistols done in muted man shades. When it comes down to it, subtlety is king, and guests who don't think guns are rad might never even notice your decor is armed and dangerous.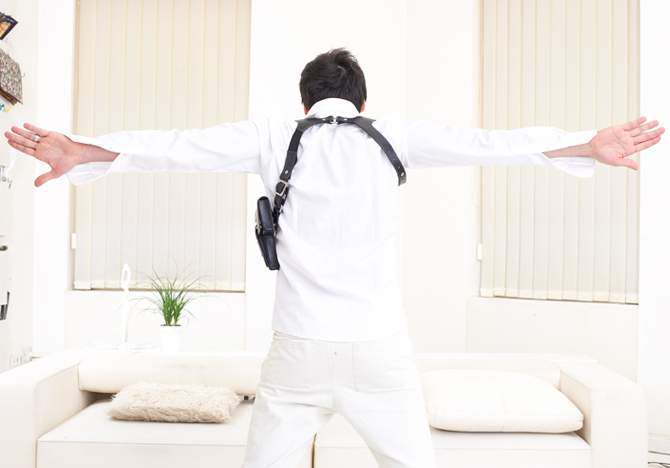 Koffski makes shoulder 'holster' bags and wallets that have officially been ruled the murder weapon of the murse. If you're looking for a way to carry all the stuff that makes your wallet too fat to sit on, but are still looking to cultivate a mysterious air, your search stops here.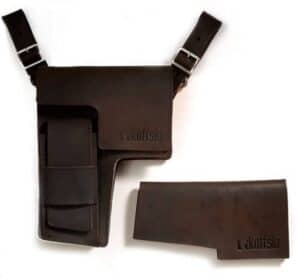 Wearing the Koffski under your jacket and letting it peek out now and again is a sure fire way to have girls thrilling at your bad boy style, but we'd be willing to bet it's going to get you stopped at every public venue on the planet. You can use the shoulder holster, shoulder strap, belt straps, or carry it, but the shape and look isn't just an aesthetics thing; there's a dedicated mobile pouch, pen holder, card sheaths and karabiner all tucked into one sexy package.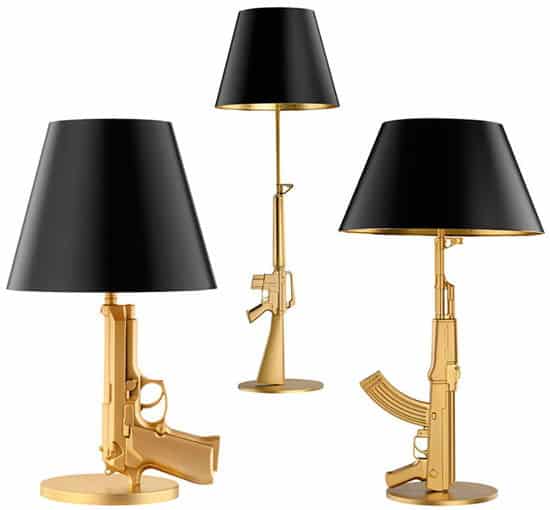 HiveModern is home to a lot of sleek, sexy lighting pieces, but this trio of lamps caught our eye immediately. Designed by Philippe Starck, they're cast in aluminum and then 18k gold plated for James Bond villain shine. Starck has a lot to say about politics and culture across continents with these lamps, but frankly, they're awesome, available in chrome, and whatever message he's trying to put across metaphorically is lost in the shadow of the words engraved on the base of each piece: "Happiness is a hot gun."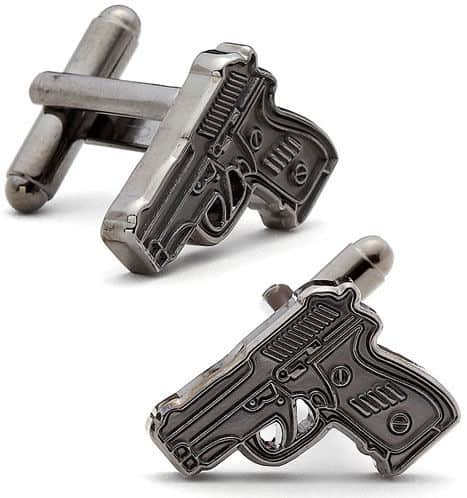 If you're an understated type of guy, a lot of this stuff might not be for you; for just a touch of dangerous, check out these silver Pistol Cufflinks. Intricately detailed and awesomely styled, any guy can get away with rocking a pair of these, and every man should have a slick pair of cufflinks.
A part of the Honey Trap collection by MAVO this gun condom holder never went into retail production, but we sure wish it did. Honey Trap is a term that was thrown around a lot during the cold war, referring to espionage employing sex as a lure. Based on the classic looks of a Browning 1910, having one of these on the bedside table is like being a sexy spy yourself; you just happen to have hidden condoms instead of a pen that explodes or a shoe that's a phone. She won't realize your real intentions until you're already deep undercover and scouting out her secret territories.
If you're lucky enough to have a fireplace in your man cave, designer Jason E. Kay has just introduced his Heat series: prototype fireplace tools with strikingly detailed firearms handles. All his furniture pieces are made out of recycled materials, so you can disguise being a do-gooder beneath looking like a badass with great taste. The Heat set doubles as a threatening and handy set of bludgeons, should a burglar actually be stupid enough to think there's anything of worth in your man cave.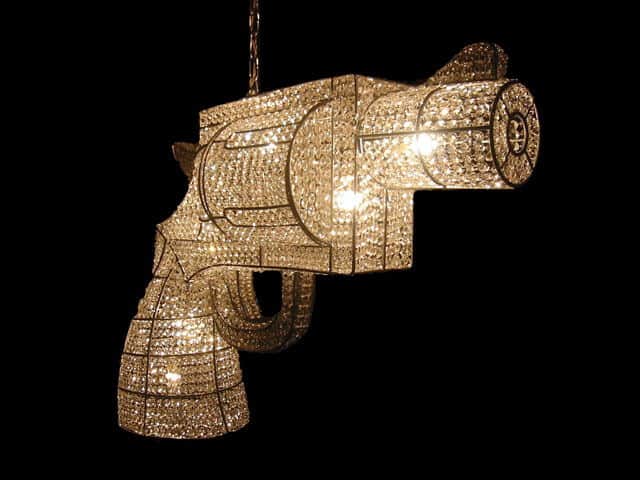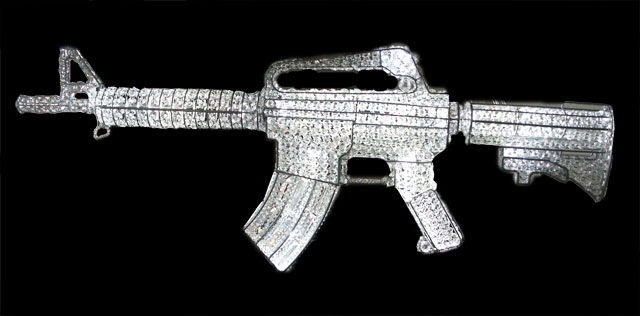 If your man cave is more like a man cavern, then you might have room for one of these insane custom made chandeliers by Rock and Royal. It might not be practical, or subtle, but these things are unbelievably cool. There's just something about crossing an M16 with the finest bohemian crystal that tells your guests, "Don't fuck with me, I am a gentleman."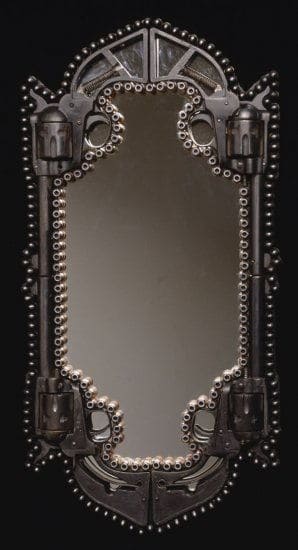 Artist Al Farrow creates some pretty unbelievable sculptures, but his gun mirror is one of our favorites. Instantly recognizable as deadly, it still manages to pull off manly class. Farrow has been one of my favorite sculptors for a long time, and his series of Reliquaries uses spent munitions, guns and bones to amazing effect. You can see them all at his online gallery here.
Since his works are unique and not meant for retail sale, choice pieces like this hall mirror and the over-the-top, devilishly festive Gun Menorah won't be gracing the average man's home, but they deserve top honors for this homage to high caliber design.