As someone born and raised in British Columbia, Canada, I like to think that I know a thing or two about natural beauty. BC has lush forest, high mountains, pristine lakes, and a wide range of animal life. It even has a desert! But even so, there's another place of great natural beauty that I've been yearning to visit for years now: Iceland.
When people think of Iceland, often the first thing that comes to mind is cold, barren wasteland. Men and women trudging around in the type of weather that would make huskies shiver, while making ice houses… or whatever it is they do there. Fortunately, this just isn't true. They have all sorts of jobs that don't involve carving ice! As for the temperatures, yeah… pretty much. I mean, at least during the winter months. But that's not a bad thing, it means that for people like you and me, we can come when it's a bit nicer, and see places like Svínafellsjökull Glacier.
Svínafellsjökull Glacier – Skaftel National Park
Svínafellsjökull, pronounced spin-a-fellows-yokul, is the second largest national park in Iceland, and covers almost 5000 km/2! It's year round, and offers a wide range of activities such as camping, hiking, and being very, very cold. But it's worth it for views like this…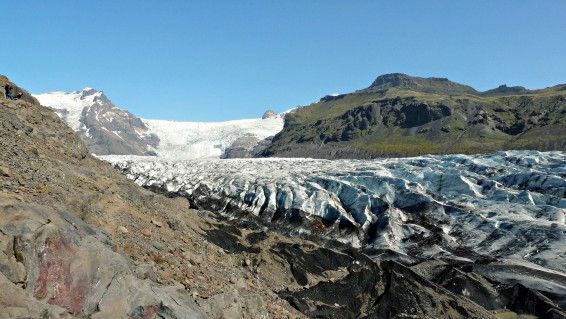 Quite beautiful, no? The scene almost looks otherworldly to me, like a scene from, oh… I don't know, maybe Prometheus? I'm just waiting to see our creators trudging along the ice, spilling their genetic goop into the ice beneath.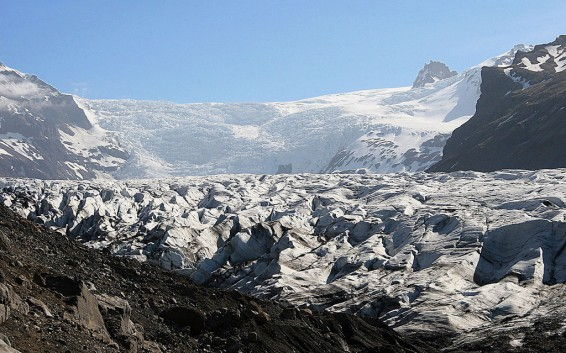 Look at that… is this not worth flying half way around the world to visit? I can tell you one thing, Svínafellsjökull is on my short list. If you browse around, you can actually find pretty good deals to Iceland. It just sounds expensive.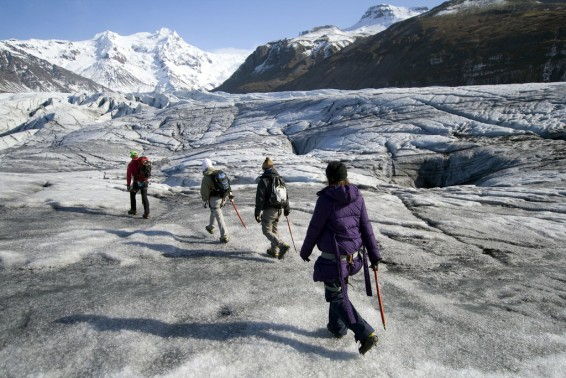 If you removed the actual mountains of snow and ice, you could place these guys onto the cover of a Beatles album. But no, I bet they're having a lot more fun right where they are.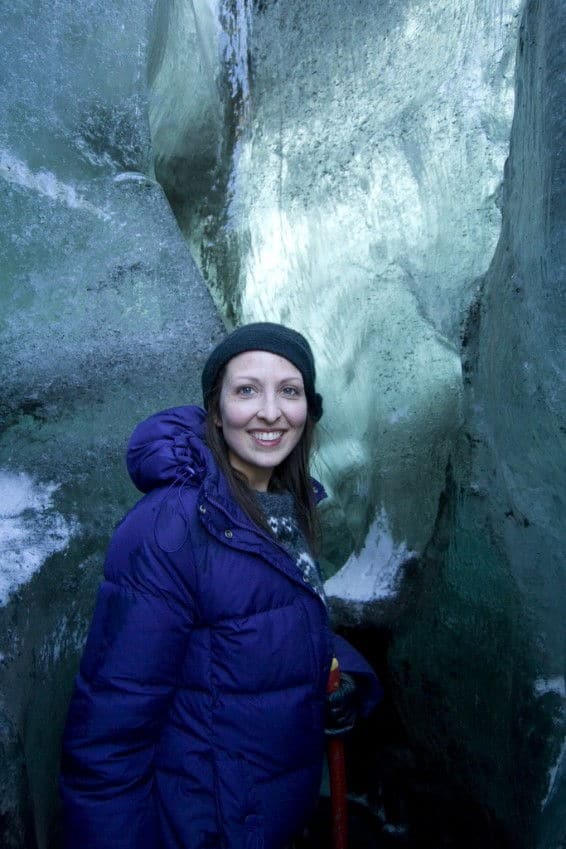 Look at all that ice, cripe. The funny thing is that what she's standing beside is nothing. Svínafellsjökull is also home to a massive glacial cave which is often called the Blue Ice Cave, or Crystal Cave.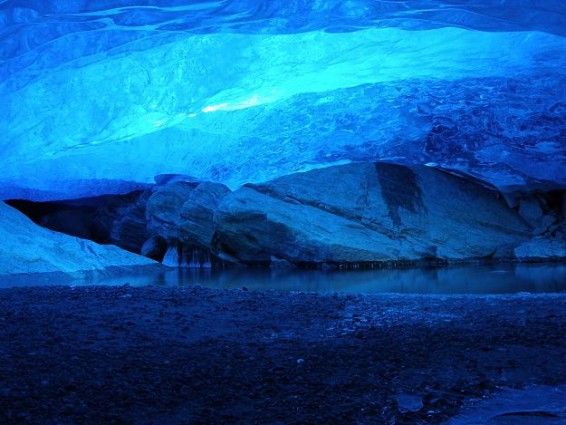 Like I said, blue ice. It's like a scene straight out of Kim Stanley Robinson's Red Mars trilogy. For those of you that have read the book, you'll no doubt know what I'm referencing. For the rest of you, go read it. In fact…
Travelling to Iceland
You may as well book a flight and read the novel while you're flying there. If the beautiful photographs and the fellow holding the ice axes weren't enough to hook you, then you've got no soul. That, or you're actually from Iceland, and are reading this shaking your head. Whether from the frigid temperatures, or from my terrible puns, we'll never know.
(Photos by Ben Husman, MindsEye, Guillaume Baviere)