We've talked about New York City quite a bit over the last few months. It's a popular tourist destination, and worthy of at least a few "awesome places in NYC" type lists. What really fascinates me, though, are forgotten places. NYC has them in spades, but I'm going to focus on just one spot today.
If you've had a chance to ride on NYCs expansive subway system, well… I guarantee there's one station you haven't seen.
Beneath City Hall, Long Ago…
On December 31st, 1945, a beautiful subway station beneath City Hall closed its doors… forever. Well, actually that's not quite true. The station remained closed for 65 years until the city got wise and decided to re-open it to the public. In a moment I'm going to show you exactly why it's an awesome place to visit next time you're in New York, especially if you're on a budget. After all, it will only cost you the price of the subway fare. Not too bad a deal if you ask me.
Now, before you start browsing, let me apologize in advance for the blurriness of a few of the photos. It can't be helped, and that just gives you one more reason to visit this place for yourself.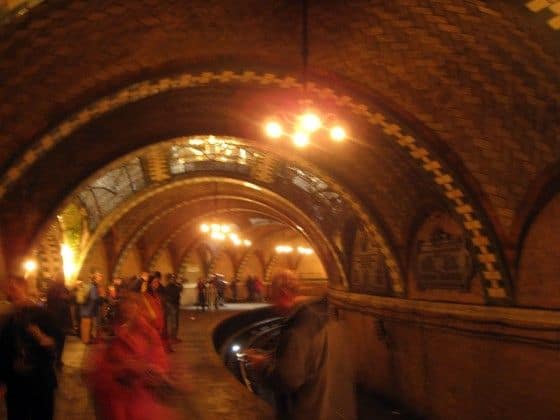 Before you ask, yes… these are ghosts. They're the long dead spirits of tourists who got lost in this tiny little subway station. This shit's confusing, okay?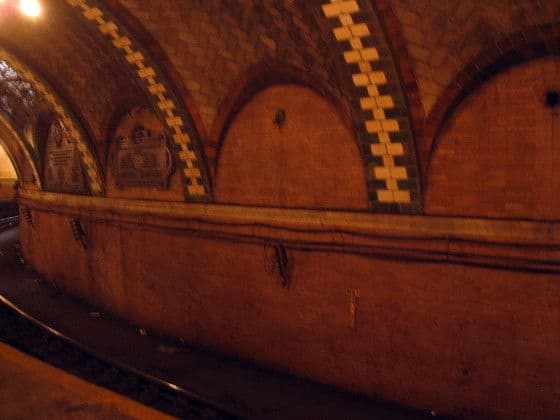 This is the tile work and arches I was gushing about. How often do cities build subway stations like these nowadays? Just about everything is unpainted concrete now, with a few hideous murals splashed around for good measure – and that's  if we're really lucky.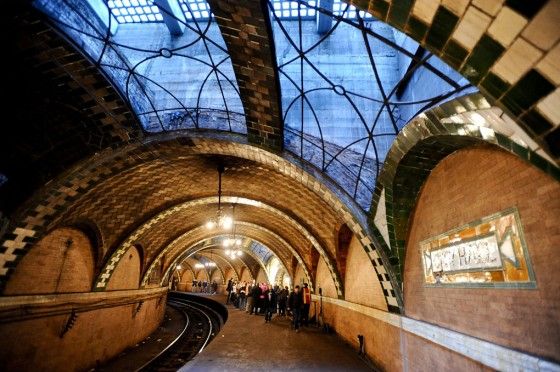 Imagine what it would have been like to visit the station during the 65 years that it was abandoned. Were people living down here? Perhaps entire secret societies used this stretch of track as their meeting place. Wait… the Ninja Turtles lived underground, right? They're a secret society, of a sort.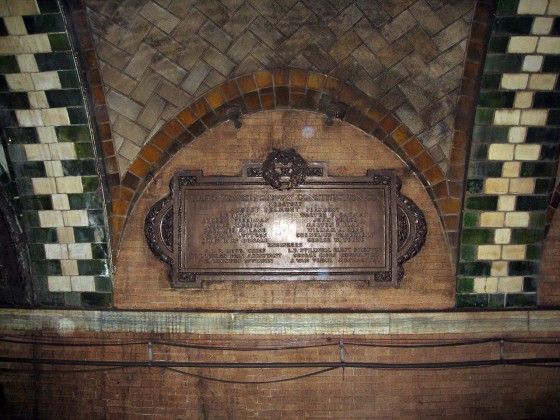 Here's a little historic shout-out to the workers who designed the station, and the organization that was responsible. What are these people up to these days? Perhaps some of them are actually still alive. Probably living it up, maybe even going to raves. That's what I plan to do when I get up there in years.
How to Visit the City Hall Subway Station
Earlier I mentioned that the price of admission is no more than the cost of your subway ticket, and that's true, but there's a bit more to the story. Since this subway station is no longer actively used, you'll have to be a bit crafty to see it.
Start by taking the number 6 train to the Brooklyn Bridge/City Hall station and stay on the train. The train will then go around the City Hall loop, and you'll be greeted with an awesome view of this once bustling subway station.  That's it… it's really not that complicated, and you'll be able to show your friends photos of an awesome "secret" place you visited when you were in NYC.
(Photos by Salim Virji and Joe Wolf)