One of the main selling points of laptops is their amazing portability. Unlike a PC, you can take a laptop with you wherever you go. It is a fantastic purchase for those who want to have all the perks of a computer without any of the bulk. With a laptop, you are untethered from the countless wires, plugs, and sockets that come with PC use.
A Comfortable Workspace
The main issue when using a laptop without a desk is comfort. Having it on your lap the entire time can become very uncomfortable, especially if your laptop is prone to heating up. This also prevents you from moving freely without having to readjust the laptop's position each time.
To prevent discomfort, it is a great idea to purchase a laptop stand. A laptop stand is a small, secure desk to hold your laptop in place. These small tables can fit in many places, giving you the freedom to set up anywhere in the house. The table layout also provides plenty of legroom for those who want to use their laptops in bed.
There are plenty of laptop stands available on the market today. Some are steel, some plastic, while others offer wood laptop stands. While any basic stand is perfectly acceptable for laptop use, those looking for more should check out custom-made selections. Whether you want a built-in fan, a cup holder, or simple aesthetics to match your living space – there is a laptop stand out there just for you.
Here is our Grovemade laptop stand review.
Aesthetics Comes First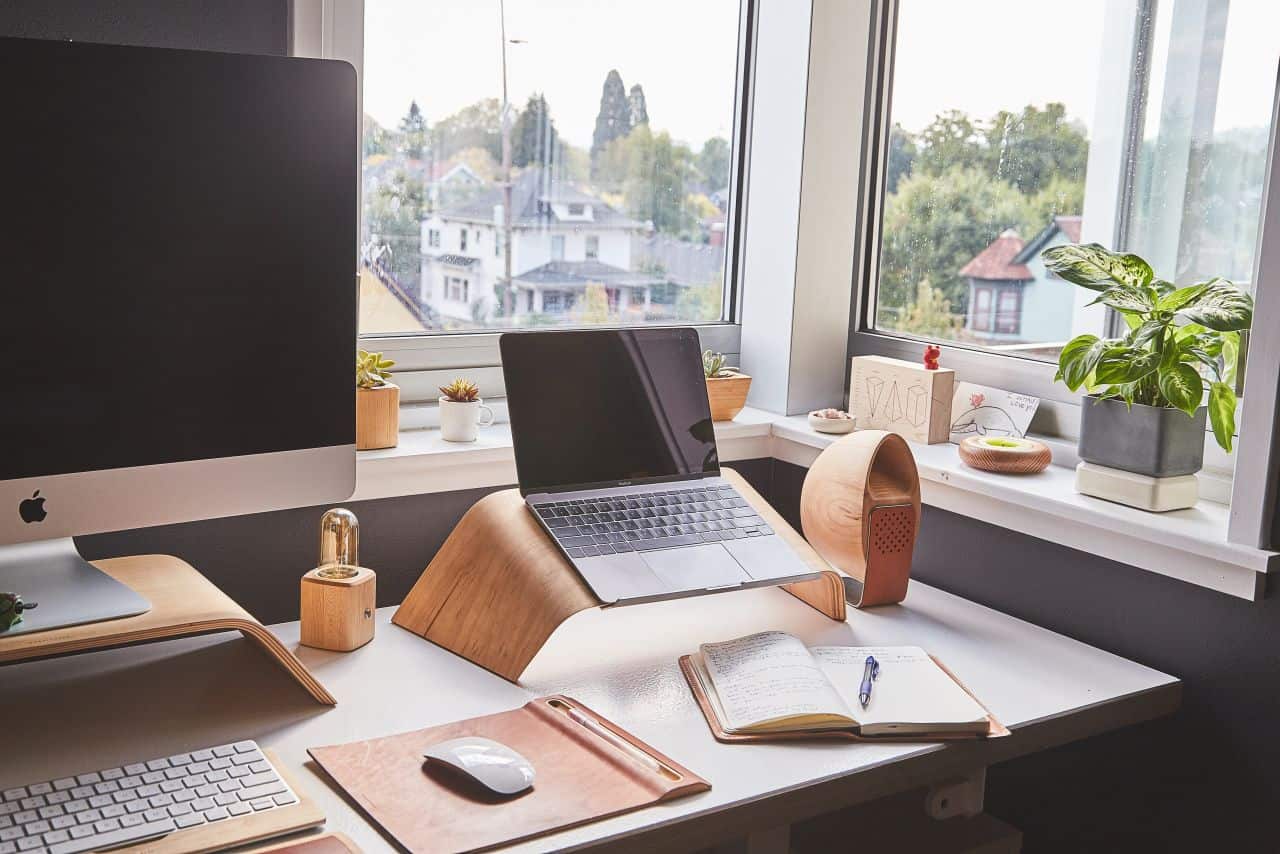 When shopping for items, most consumers often look at the aesthetics. There is a cozy appeal to wood laptop stands that one should look into. Aside from their simplicity and warm tones, wood laptop stands are also easier to carry. They can blend well into their surroundings, and can even exude an aura of home.
The Grovemade Walnut Laptop Stand exemplifies these factors to a tee. It is a fantastic blend of a minimalist and sturdy design perfect for home or office use. It takes the thrills and spills of modernization out of the picture and presents you with a solid, elegant stand. The wood motif creates a more cozy, homely, and natural look, perfect for any home office.
Minimalist Function
The simple design of the Grovemade Walnut Laptop Stand is also a brilliant example of emphasizing minimalism while still providing excellent function. The laptop stand offers a natural curve, which makes it easier to both see the monitor and use the keyboard. The slot underneath can be a great storage compartment for your PC accessories, such as wires, chargers, and casings.
This Grovemade laptop stand review would not be complete without mentioning the item's affordability. For such a durable, high quality item, you may doubt if you can get one right now. The great news is that Grovemade not only offers excellent furnishings, but they also come at affordable prices.
Enjoy the comforts of a laptop from anywhere! Grab your Grovemade laptop stand now!