I attempt to live my life as minimalist as possible. My room is assembled like a game of Tetris, my desk is also my book shelf, I have exactly 3 pairs of pants, 2 shorts, and just as many shirts. I own exactly 1 pot, 1 pan, 2 plates, 5 beer steins, and can fit a weeks' worth of groceries into my backpack (beer not included). That's why these super-efficient little trailers really caught my eye last years.
But before I dive into the details, I want to stress just how important it is to take a break every once and a while. Whether your idea of a relaxing mini-vacation is a weekend stay in a secluded cottage or tiny "Tumbleweed" home (as I'm about to tell you about), or doing it old school by a few days of camping, I highly recommend taking the time to do so. Life moves pretty fast. If you don't stop and look around once in a while, you could miss it.
The Joy of Escaping the City
The Tumbleweed Company is a pretty interesting concept for those of us who live with a lite load. Their home start at just 89 sq ft, but come equipped with all the necessities for life. Being portable and light enough for nearly any vehicle, these tiny homes are great for the adventurer on the road. This little carriage is perfect for the migratory mammals some of us are. Ranging from ice fishing in the winter, to hunts in the summer and fall, these custom homes are built for anything, or rather can be made for anything.
Now while these homes do come in at the fraction of the space, they also come in at a fraction of the cost. With many homes coming in at under 20 Grand, and a years' worth of utilities under $100 the savings couldn't be greater. Plus, add in that 89 sq ft could snugly fit in someone's backyard and you cut the cost of not only purchasing land, but the associated taxes that go with it if you intend on driving stakes.
Of course for some this might be an extreme measure, especially given the size of houses we're accustomed to. You will have to draw water for your home in some instances, and the small size leaves little space for anything but the bare essentials. If you like your cable provider that might very well be out the window and without a mailing address and constant movement a dish is less than practical. However, if you can put this all aside you might find yourself with a nice bachelor pad scaled perfectly to the size of one.
If, on the other hand, the cabin is appealing but the thought of living in a tiny home is just too much there are always rentals available. Whether you're looking to host a cozy weekend for your family away from the hustle of everyday life, or throw a small weekend party for friends these are always a good choice. With a lack of immediate neighbors not only will you not have to worry about privacy, but you'll also be able to rest easy without people traipsing back and forth outside your room.
A nice Cumbrian-cottage overlooking the lake might just be the thing to sway you from the big city. If not, a relaxing weekend is always welcome and surrounding yourself with the beauty of nature is sure to recharge the proverbial batteries. Who knows, perhaps you'll create some new traditions and happy memories once you leave it all behind.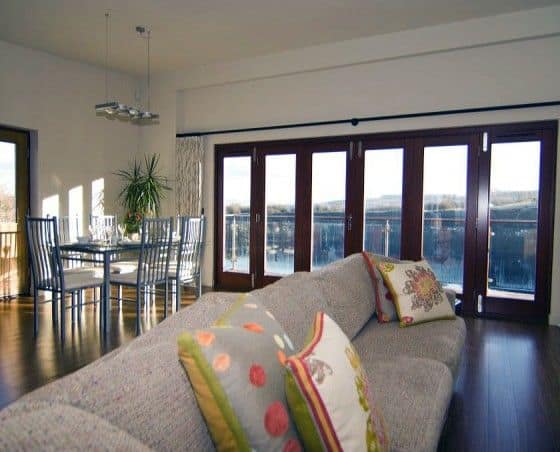 If you have any of your own relaxing, "city escape to a cottage story", we would love to hear them. In fact, if you had a crazy wrecker at a cottage or in one of these wonderful tiny homes, then please… tell us all about it in the comments below! Perhaps you're also wondering where you can learn more about The Tumbleweed Company, and we've got you covered there too. If you head over to their official website, you'll find plenty more information and photos.