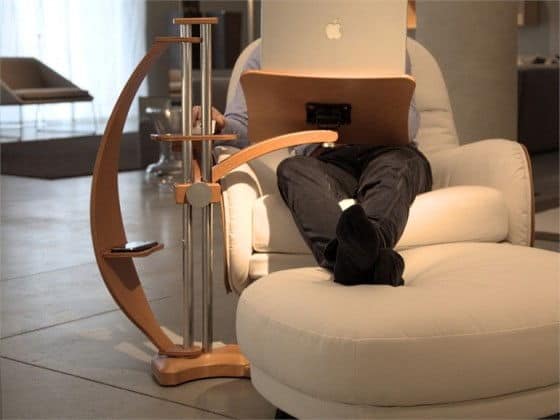 With the ever increasing popularity of portable computer devices, the lines between work space and relaxation/entertainment space are getting blurred.  We constantly take our iPads and laptops out of our work space and into the living room and other places that used to be strictly used for non-work related things.  I find it very hard to work on a laptop if I don't have a proper table, sure I can use my lap but it gets pretty hot in a hurry and dragging tables close to couches is not very practical or ergonomic.
There are however, various stands available to help you work more efficiently when you're not in proper working conditions.  The Lounge-Wood is one of those stands and is one of the more elegant ones I've seen in a while.
The Lounge-Wood is made out of eco-friendly material, wood, and features some steel to make it more rigid.  The design is very modern and minimalist and at first sight doesn't look like a stand for your portable device.  It can be used with many portable devices like laptops, iPads, or even e-book readers.  The stand is made with ergonomics in mind, the main stand can be adjusted up and down and also has a tilt feature, there is also a mouse holder which is also adjustable and can double as a drink holder if your device doesn't need a mouse.  There is a third small stand for holding various items such as cell phones, books or even wallets.  The Lounge-Wood stand is available in various wood finished and also comes in an all-black version.
[Source]