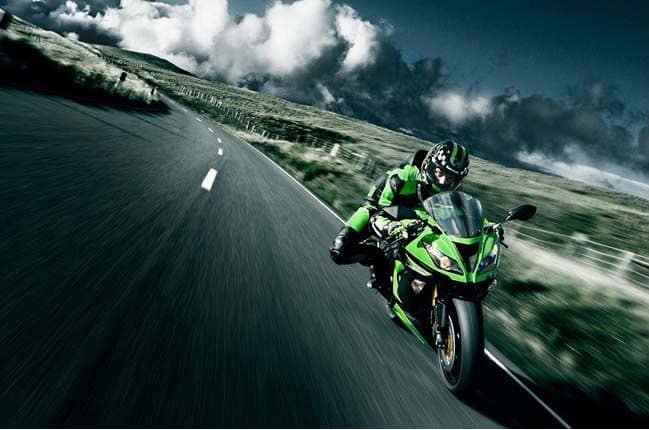 Always wanted to modify and tweak your Kawasaki but never went for it? Almost every little boy out there dreams about owning a motorcycle some day and when they do purchase it, it usually involves a lot of stress and drama from the family since most parents consider that one of their nightmares.
I'm talking about motorcycle modifications today because one of my older brothers is in the process of finding a motorcycle that will suit him. He is leaning towards a Kawasaki Ninja as my eldest brother also owned a ZX-6R a few years ago.
My favorite Kawasaki of all time is the 2003/2004 636. They had a very "shark like" look and were very beautiful in my eyes. Even though the is bike isn't purchased just yet, we're already compiling a list of potential modifications and tweaks which will improve it.
Adjust the Suspension
When motorcycle manufacturers setup their bikes, they assume that the rider is a 150 pounds. Did you know that? In order to improve the performance and riding characteristics of the bike, the suspension should be adjusted. Many bikes offer varying amounts of adjustability but most will at least have preload adjustment for setting laden sag (suspension compression under the rider's weight).
Brake Pads & Lines
Upgrading the brake pads and lines will improve the brake feel as well as your stopping distance. This is a relatively inexpensive upgrade especially if your have an older bike. The new bikes these days come equipped with HH-rated and braided stainless steel brake lines for the best possible braking performance. The braided stainless steel lines are able to resist deformation under system pressure for quicker braking response. The upgrade to this will cost you between $110 to $150 usually. If you don't want to make the change yet, just wait for your brakes to wear down and then make the switch. The difference will be significant.
Frame Sliders
When a dude gets kicked in the testicles, everybody within sight automatically puts their hands over their groin and says, "ooohhhhhh"…even the girls. It's almost the same feeling when somebody accidentally tips over their motorcycle. It's never a pretty sight. To avoid annoying insurance claims and damage to the paint/body of your motorcycle, bolting on frame sliders should really be considered. Frame sliders help protect expensive parts of the bike such as turn signals, mirrors, levers, pegs, and just about anything that sticks out. You can even get them to compliment your motorcycle as they are available in various sizes, shapes, and colors.
Regearing For Improved Acceleration
Some riders do this while others don't want to mess around with it. By shortening the motorcycle's overall gearing is an inexpensive and easy way to even faster acceleration but at the expense of your top speed. I would personally take faster acceleration over top speed because let's be honest, how many people actually push their bikes to their absolute limit? If you do, good for you! I know a handful of riders and they have all done some stupid things in terms of going super fast but none have ever pushed their bike to its limits. Just a heads up, the engine will spin faster when you regear which will result in increased vibrations.
Antifog Methods For Your Helmet Visor
Does the visor on your helmet ever fog up? If so, an inexpensive solution is to wipe on shaving cream or toothpaste and wipe it right off. Some people even spit on their visor but maybe use that method in an emergency situation. There is also a popular product called Cat Crap which you can get at bike shops and its sole purpose is to act as an anti-fogging solution.
That's it for my inexpensive tweaks and modifications. There is plenty of stuff I didn't mention or maybe didn't even consider. If you have inexpensive modifications of your own, feel free to comment below. After all this motorcycle talk, I would love to pickup a 03'/04′ Kawasaki 636!