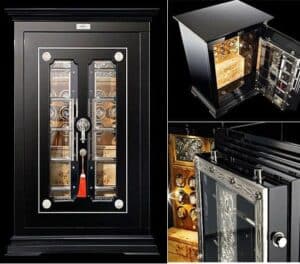 Like the Erwin Sattler Thesaurus watch desk, "The Skeleton" is for people that love watches as much as they love money.  The Skeleton watch safe is made by German luxury safe makers, Döttling, who built the world's most expensive "Döttling Narcissus" safe designed by Karl Lagerfeld.
Döttling is also known for restoring historical safes, giving them a modern look and equipping them with modern technologies.  "The Skeleton" is also a restoration job done to a safe from Emperor Wilhelm II era, from about 120 years ago.  The safe is a one-off piece made for a wealthy US based client who wanted to showcase his expensive watch collection in high-style while still keeping it safe.  The safe, which has been converted to showcase watches, took 18 months to be restored and brought to its current glorious state, at a price of €250,000.
The Skeleton watch safe uses a bullet-proof (25 mm thick) glass door in the front to showcase the beautiful watches without compromising safety.  The metal parts on the door are covered by engravings and the interior consists of cognac-colored goat suede and the finest poplar.  In addition to storage compartments, there is also a 15 watch winder to keep the automatic watches wound.  The exterior is finished in a hand-polished grand piano lacquer, giving The Skeleton watch safe an exquisite look.
[Source: Dottling]