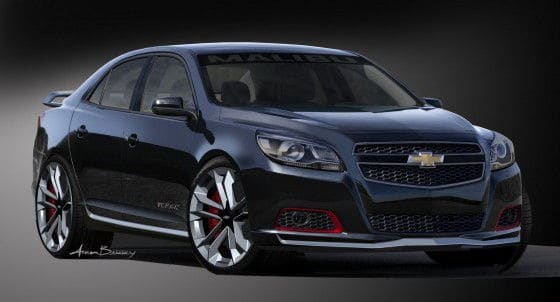 I drive the 2012 Chevrolet Malibu almost on a daily basis and it's a very forgettable vehicle. Nothing really stands out about the car in terms of performance or interior features. In terms of American vehicles, Ford seems to be the only guys that have stepped it up in the quality department. But it looks like Chevrolet is starting to play a little catch up with an all-new design for the 2013 Malibu which is also available in the ECOTEC 2.0-liter turbo producing 259 horsepower.
But for the upcoming 2012 SEMA Show, Chevy will be showcasing a new 2013 Malibu Turbo Performance Concept which is based on the stock ECOTEC 2.0 turbo model seems to have been inspired by the '2 Fast 2 Furious' series but it's fun to look at.
The 259 horsepower Malibu can do the 0-60mph in 6.3 seconds and achieve a top speed of 155mph. The Performance Concept features a special Berlin Blue Tricoat paintjob and is given a aggressive looking bodykit which includes a front splitter, rear diffuser, rocker panels, and spoiler.
The concept Malibu also features bigger, 20-inch alloy wheels wrapped up in Pirelli PZero tires, lower mesh grill and mesh grill around the fog lamps with red surrounds. On the rear, the Malibu has clear tail lights which are very Camaro like as well as the 'Turbo' badges on both the driver and front passenger doors.
Although no interior images have been provided, this particular Malibu features RECARO sports seats with leather trim and Navy Blue suede with red stitching. The same color pattern can be found on the door panels, steering wheel, and instrument panel.
Other improvements include HiPer Struts in the front and performance springs for the rear. Stopping power is also improved with six-piston front brake calipers and two-piece cross drilled rotors. Not many details are available about the performance upgrades besides a cold-air intake system which helps deliver a few more horsepower. More details will follow once the car is officially released at the 2012 SEMA Show.