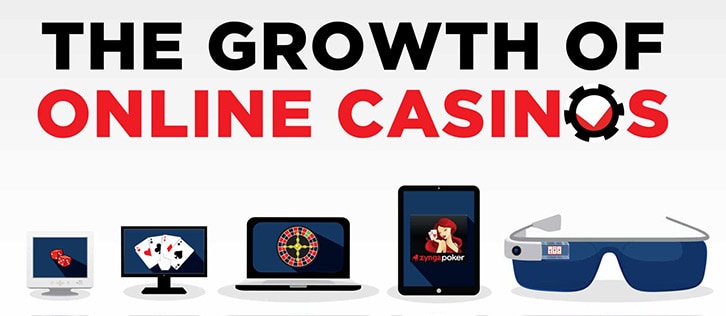 So long ago that millennials are unable to remember it, when people wanted to gamble, they had to head to a casino. They'd book a flight for a fun-filled trip to Vegas. If that wasn't possible, they'd hop in the car or on a bus and take a weekend trip to a casino operating nearby. The casino experience was like no other: the lights, absence of clocks, sounds, and the thrill of the win made casino gambling one of people's favorite ways to pass the time and spend (or win) money.
When the internet hit the scene in the mid-90's, all of this changed. It may seem quaint when we think back to the early days of screeching telephone modems and electronic shouts of "You've got mail!", but this was the start of the golden age of gambling. Why? The internet was about to bring casino play and other kinds of gambling right into people's homes – sparking an industry that would generate billions of dollars every year.

Happy Birthday to Online Gambling
The official "birthday" of online gambling was in 1994. That's when Antigua and Barbuda passed its Free Trade & Processing Act. The act allowed organizations to apply to become online casinos, and soon a flood of companies were filing applications. The first "official" online casino, InterCasino, took its first wager in 1996, sparking a wave that would sweep the internet – and the entire world.
Early online casinos were incredibly crude by today's gaming standards. The sites were glitchy. Graphics and music were poor and gaming options were practically nonexistent. Still, people rushed to log on and place their bets. InterCasino has paid out over $3 billion in winnings since that very first wager in 1996.
Heated Competition
As time went on, competition ramped up and online casinos began battling it out for customers. Many of them started offering bonuses for new customers upon signup. Others worked to upgrade their software and add fun and flashy features to bring people in. Another way that online gambling companies have tried to outpace one another is through touting their security. As online transactions are susceptible to hacking and data theft, cyber security firms like CryptoLogic have worked to make sites safe and secure for financial transactions.
New Technology Expands the Boundaries
One of the technologies that has been key in bringing people to the (poker) table is games featuring a real, live dealer. Players no longer need to imagine that a pixelated figure is dealing the cards when live video streams put them right in the action with a real dealer on the other end. Current online casino technology allows players to interact with the dealer, as well as chat with each other.
Today, in addition to live video streams and secure sites that work seamlessly, online gambling customers have gaming options like never before. Far from the days of only having online slots or poker to choose from, today's offering include online bingo, blackjack, baccarat, and sports betting. Mobile gaming has taken the online casino experience from the home computer to anywhere a smartphone can travel. Such has been the evolution of casino gambling. People no longer need to take a vacation or a long weekend to play – a world of online gambling is now available to everyone, everywhere, at any time!